Breezy Afternoon, Increasing Clouds
We've had a beautiful day with plenty of sun so far today, but clouds will begin to push their way into Middle Tennessee, especially into the evening hours as a weak front approaches. Along with this front comes not only some rain, but also gusty winds for us into the afternoon.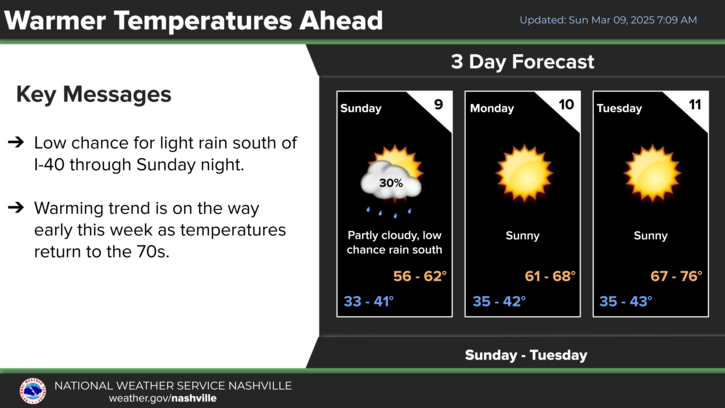 Winds 15-20mph gusting to nearly 40mph are possible for all of Middle Tennessee as this front approaches. Rain wise, we're not going to be getting a whole lot, up to 0.5″ for some areas. The HRRR has these showers moving in around 9PM-11PM.
Cooler Saturday, More Rain Sunday
You'll notice a little difference in the high temperature on Saturday. 63°. Clouds will be on the increase, but nonetheless there will still be some rays of sun to brighten up our cooler afternoon.
Sunday on the other-hand will likely be a washout. More showers and possibly a thunderstorm or two begin moving in from the West before noon, and continuing throughout the day. Here's what the NAM has in store for us:
A few rumbles of thunder aren't out of the question, but no severe weather is expected. Rain totals not very impressive, still only up to an inch.
Nice And Clear Through Midweek
Once the rain pushes its way out on Sunday night, the sun returns and leaves us with a beautiful first half of the week. High temperatures start off near 66° on Monday and make their way back into the 70s.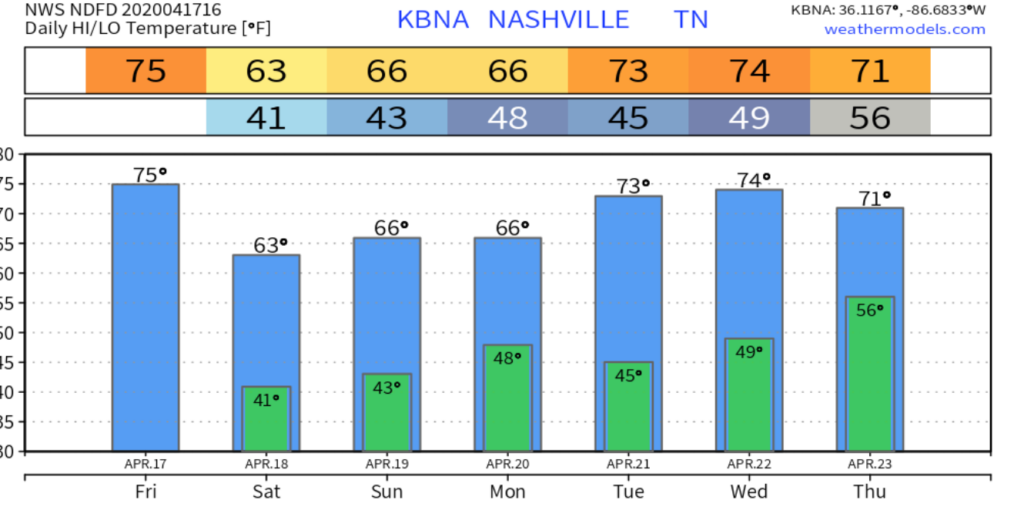 More rain comes into the forecast for Wednesday night and Thursday. Stay tuned for more updates!
NashvilleSevereWeather.com/shop & Subscribe to our YouTube Channel.