Warm Up after Subfreezing Temperatures
We hit 30°F before sunrise. Bit of a scare for those who have already planted their gardens. Temperatures are expected to rebound nicely afternoon. High around 60°F.
A high pressure system is in place to make sure it stays sunny. Lows tonight will dip back into the upper 30s. Some frost may still be possible in many spots, though another hard freeze is not expected.
Warming Trend Continues into Thursday
Thursday looks to be saved by the high pressure as well. Thursday is Day 2 of a multi-day warming trend. High for Thursday around 64°F.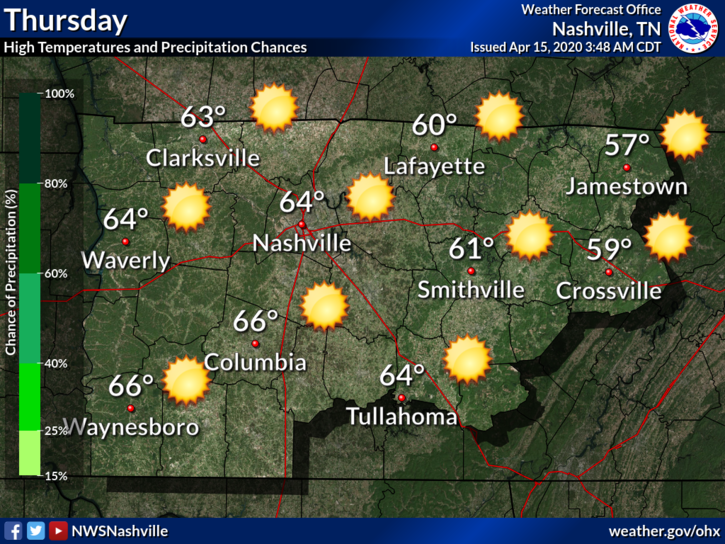 No frost expected for Thursday night. Low will be in the mid 40°s. Still chilly for April, but plants and gardens should be okay.
The Next Shot of Rain
Friday will be the warmest day in this 7 day period. High of 73°F.
We are warming up thanks south/southwest winds. Winds Friday will be around 15 to 20 MPH, with gusts up to 25 MPH. The NAM3 illustrates those winds: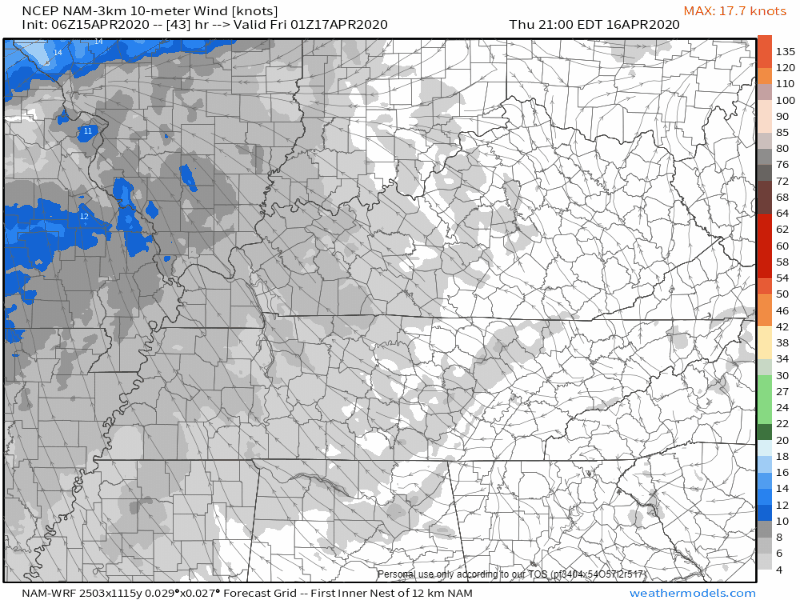 Our next rainmaker comes Friday night. Some showers and maybe an isolated thunderstorm or two. No severe weather is expected.
A slight chance of rain will linger Saturday and Saturday night. It won't be much rain at all. Total rainfall over the next 7 days (through to Monday) is only around a quarter of an inch for our area.
Be sure to check back for updates to the forecast and follow us on Twitter for more @NashSevereWx!