Note: this forecast is for Davidson and Williamson Counties only. It is not written for all of Middle Tennessee. This forecast would be much different if our audience was in southern or eastern Middle Tennessee.
Flash Flood Watch
Heavy rain will continue off and on through today in multiple waves. 2″ to 3″ is forecast.
The Metro area can generally handle 2.3″ or less in 6 hours before flash flooding occurs, more than that and there are problems. Will Co and other wooded areas around Nashville can handle about 3″ in 6 hours before flash flooding is a problem.
But if we get storms "training" heavy rain across the same area in an hour or so, water can rise quickly.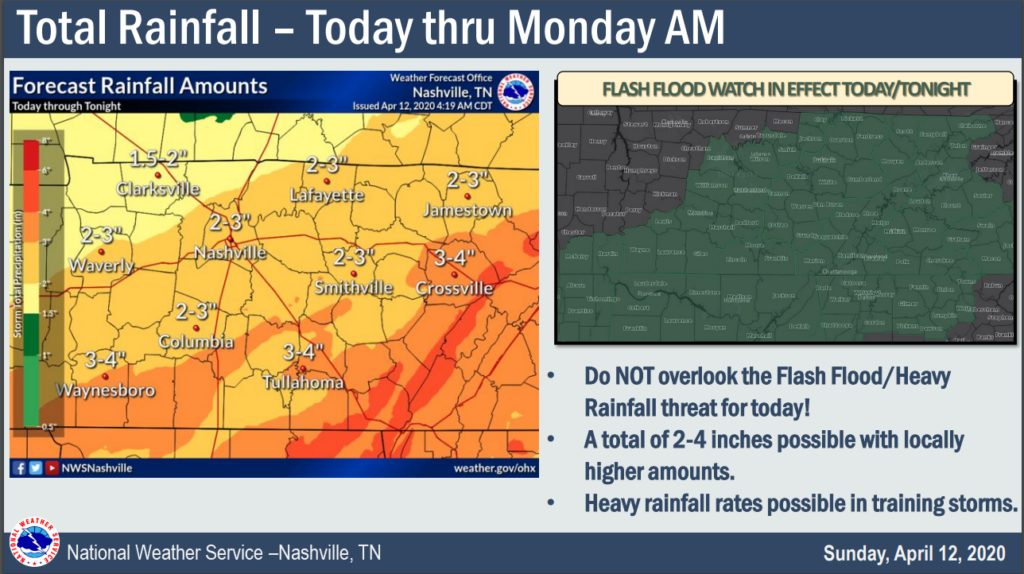 Most flooding injuries and deaths occur in vehicles. Do not drive across a flooded road. Your vehicle is not a boat. Water is stronger than you think.
Wind Advisory for "Regular" (Non-Thunderstorm) Winds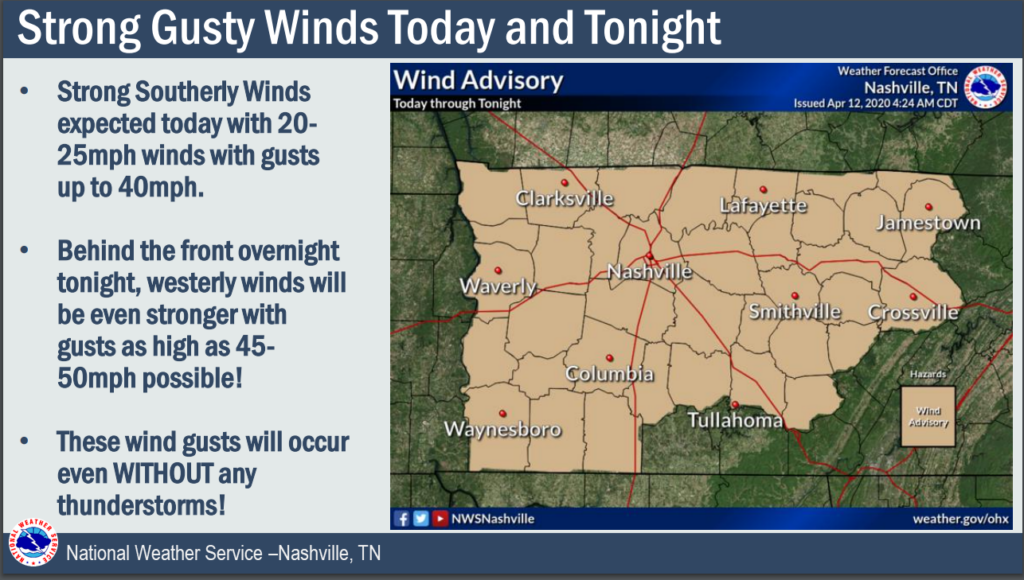 Main Storm Event: 3 Scenarios
There are three competing ideas.
First, the HRRR idea. Heavy rain culminates in a line of embedded storms around 6 PM, plus or minus two hours. This is the "main event."
This "early evening HRRR" idea is interesting. Look behind the pretty model picture at what the model says is happening. It has zero surface based instability and negligible MLCAPE when these storms arrive. It also has insane wind energy, with (nerds will go "whoa") SRH 0-1km of 1,018 m2/s2. What does this mean? It will be difficult, probably impossible, for a tornado to form with so little instability and so much shear.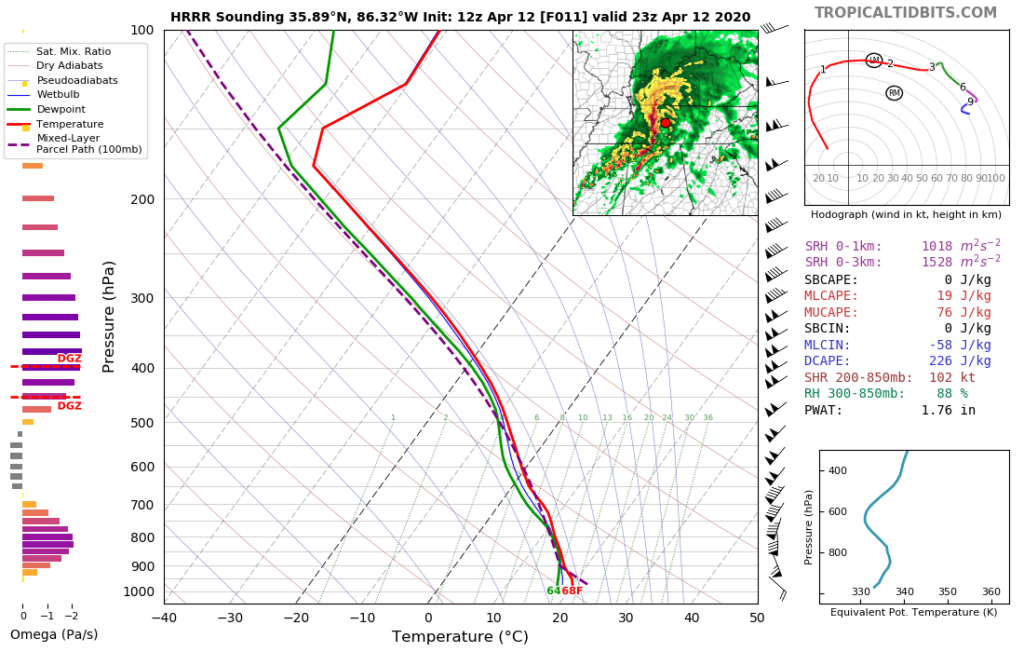 In fact, if you look close, the 12z HRRR thinks a meso-low will form right on top of us early tonight.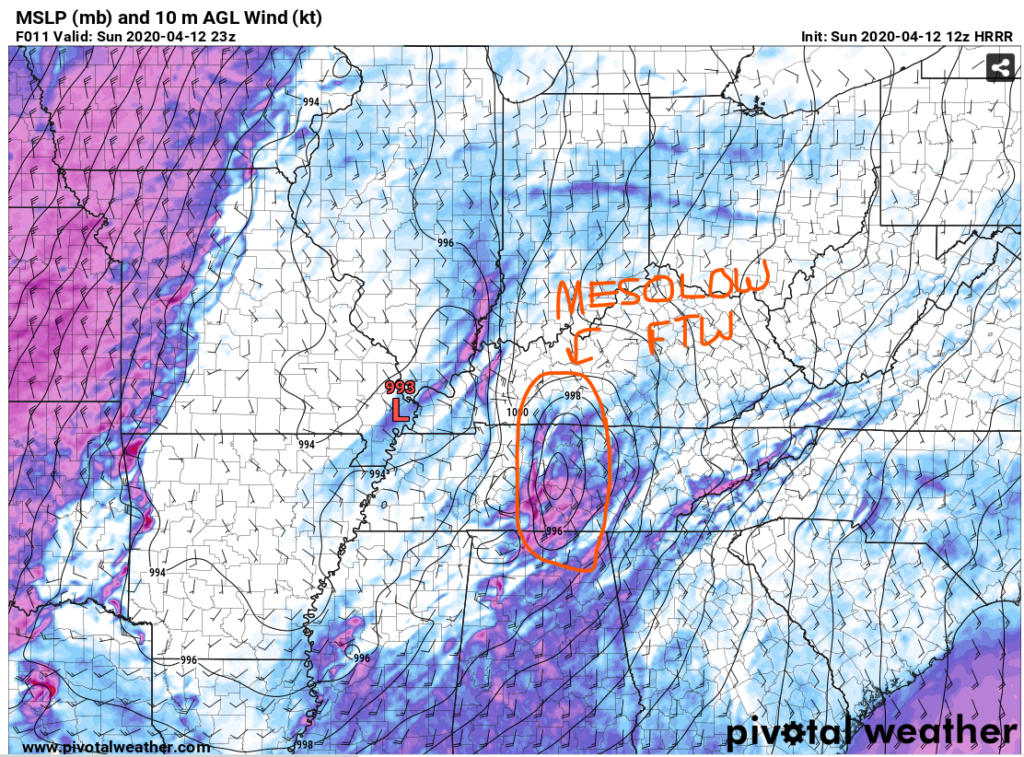 Alert readers will also be comforted by the big Red L near Paducah. Recall that's good for us, and we may be rescued by the mesolow forming overhead. This is Batman and Robin defeating the Instability Joker, good job guys.
All this is . . . assuming this model is correct.
All models are wrong. Some models are useful.
Second, there is the NAM model idea. Compare the HRRR above, at 6 PM tonight, to the NAM at 6 PM tonight:
Watch what happens when you hit play, starting at 6 PM. A main line forms, ETA to I-65 around 11 PM, but it's south of us. Maybe part of Will Co will get it. But it kinda misses us.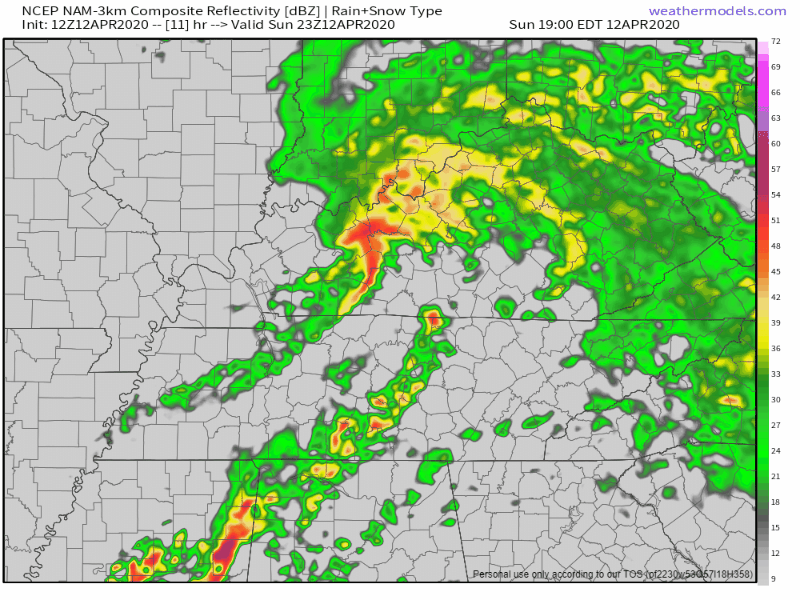 As the line moves through, it's totally lacking in surface based instability. Like the HRRR model, this solution is pretty safe for us.
All models are wrong. Some models are useful.
Third, is the fact we may be wrong. Future prediction is hard. These models may be hot garbage.
The system is powerful. Wind energy will be substantial. There will be plenty of lift. Any breaks in the clouds this morning and the afternoon will reverse what's pretty much OK news for us severe storm wise in the HRRR and NAM models. If we get any meaningful instability this afternoon or tonight, this situation will become serious, quickly. Tornadoes can form in supercells and/or inside a squall line. Be alert.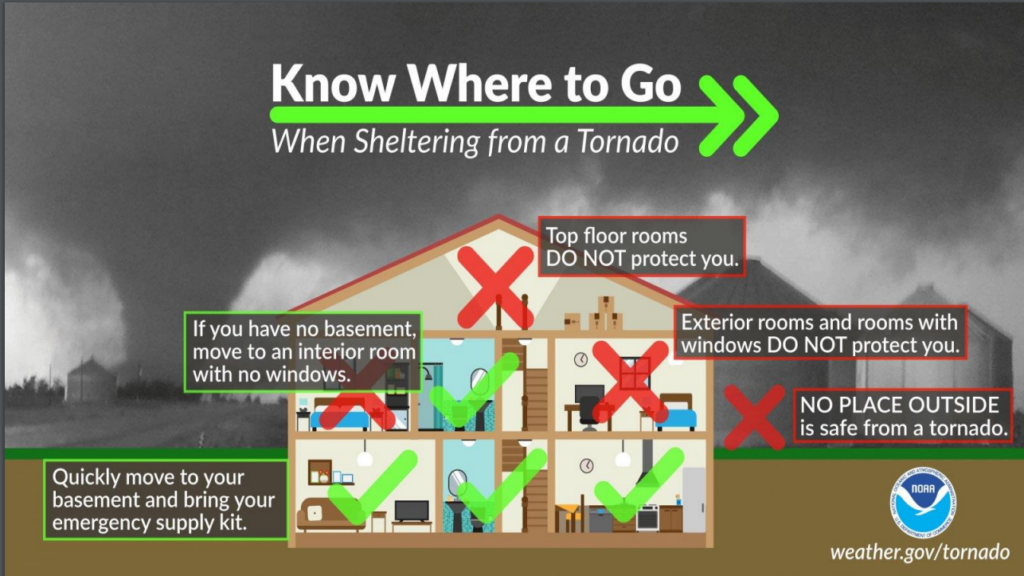 So, with reason for optimism, keep a close eye on this system. Do not forget the flood threat. Winds will be strong today and tonight regardless of storms.
Storm Prediction Center Probabilities
58+ MPH thunderstorm winds: 45% within 25 miles of us.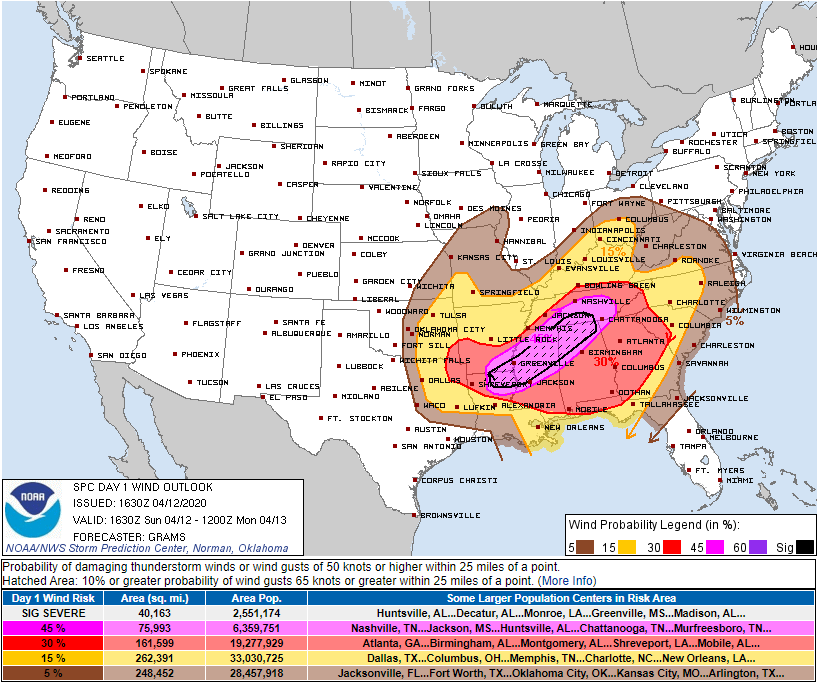 Tornado: 10% within 25 miles of us, with a 10% probability such a tornado will be EF-2 or stronger.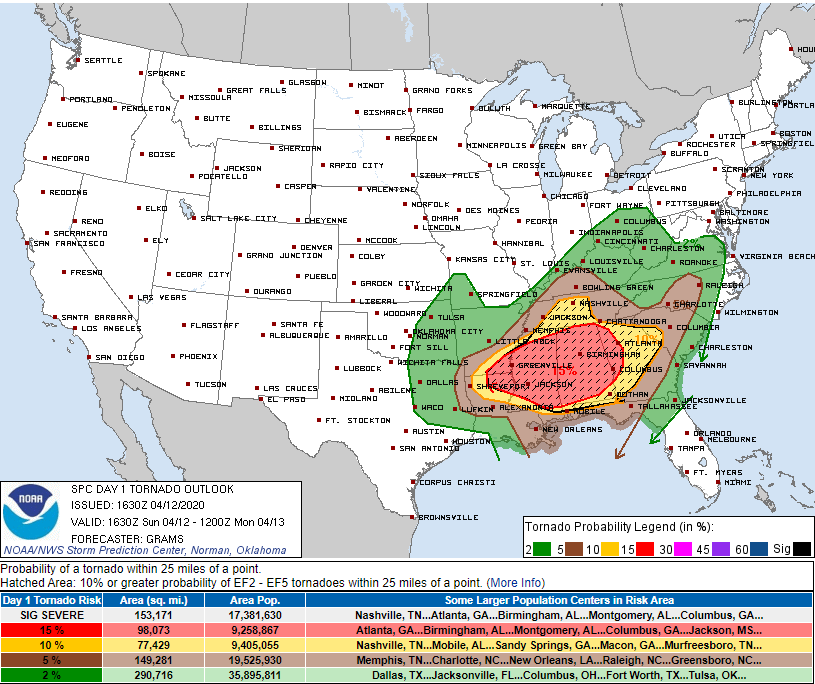 1″ hail: 15% within 25 miles of us.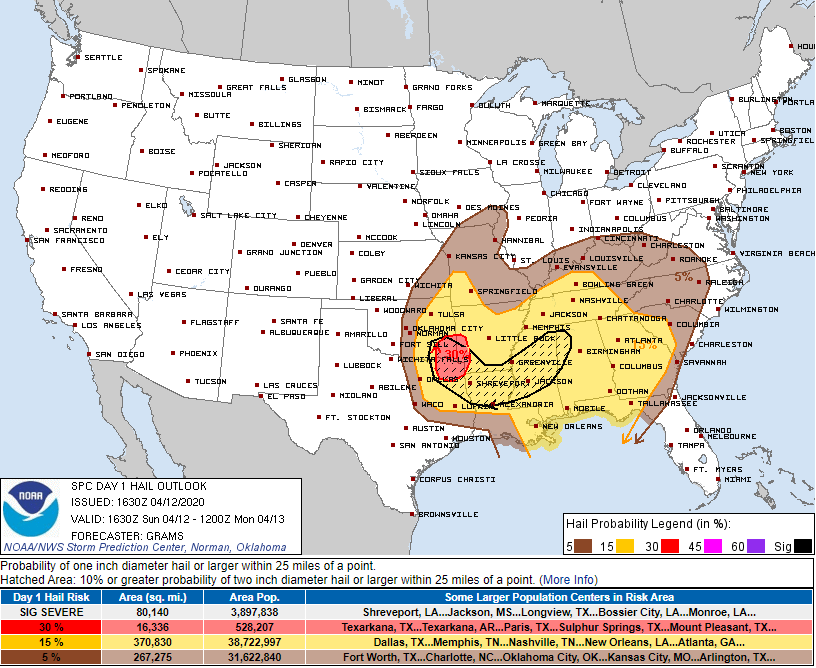 Expect updates to this forecast on Twitter throughout the day; if you're reading this after noon, information may be old, and better information may found on our Twitter page. There will be no changes to this website unless/until a Tornado Watch is posted later today. We may also post a few videos to this site with an update. We'll see how it develops.