This forecast may change tomorrow as uncertainties clear up. Stay connected. Have multiple reliable ways to get warnings.
Morning. No Concern.
We think it'll rain in the morning. Starting before sunrise, off and on through the morning. Just rain, not severe weather.
If it doesn't rain in the morning, watch out, storms later will be bad.
Afternoon. Some Concern.
Heavier rain in the afternoon.
If it rains in the morning, afternoon severe weather will be unlikely. Why? There won't be enough instability, and a "cap" will limit tornado potential. (The cap is a layer of warm air aloft that will prevent storms from originating at the surface, a necessary ingredient in tornado formation).
If it doesn't rain in the morning, and instead it's sunny out, supercells capable of damaging winds, hail, and tornadoes may break out.
Rain or not in the morning, storms may form along a warm front lifting through the area around mid/late afternoon. These will need to be closely watched for rotation, but the wind shear may be too strong: rather than make a tornado, crazy strong winds may shear apart updrafts like a kid kicking over a sand castle.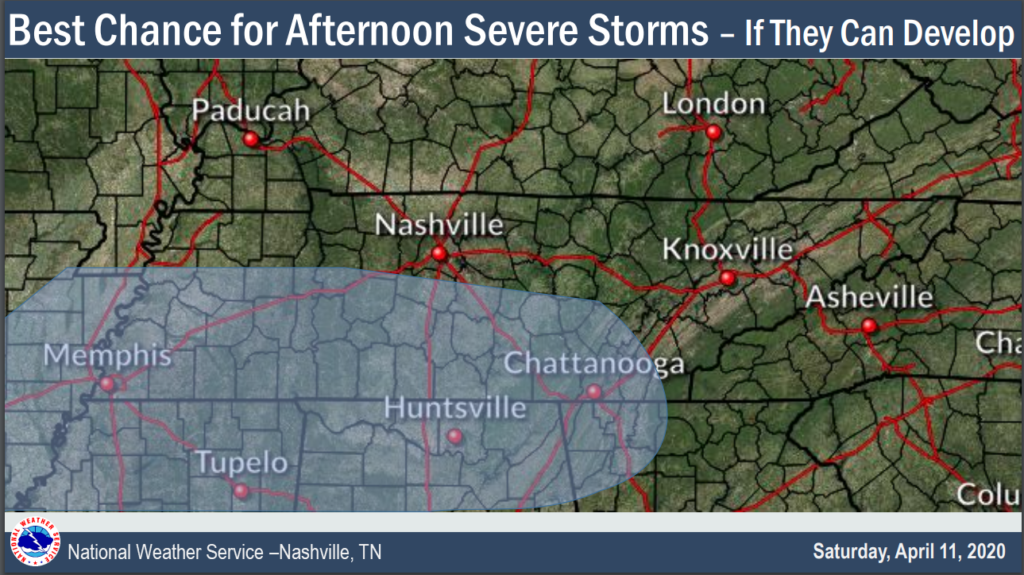 Rain will be heavy. A Flash Flood Watch is in effect from Easter noon until 1 AM Monday.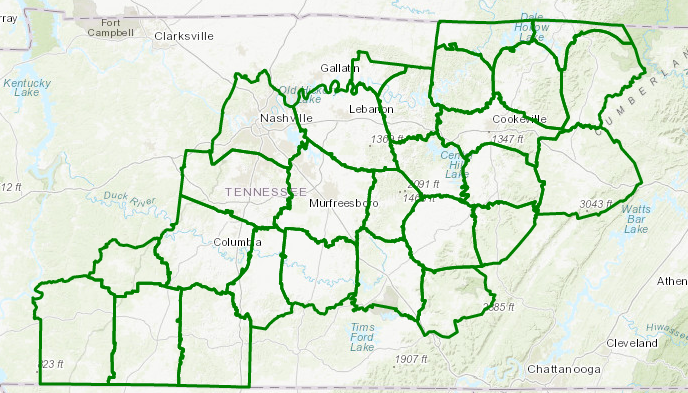 And while we're talking Advisories, there's a Wind Advisory from 10 AM Sunday to 7 AM Monday.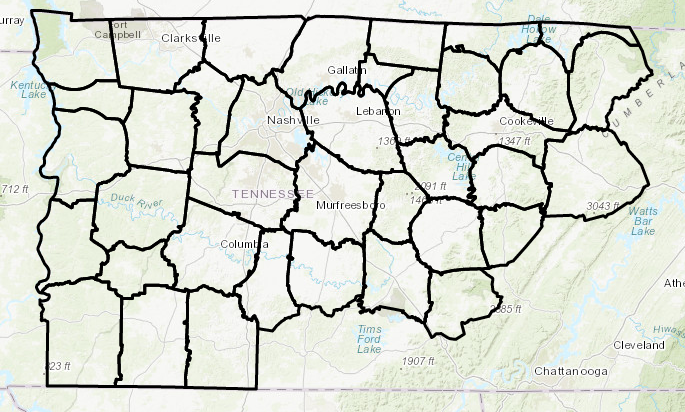 Winds could reach 45 MPH outside the thunderstorms.
Night. Most Concern.
Afternoon rain will end, and we get a break between storm events.
Those storms should be here between 11 PM and 1 AM.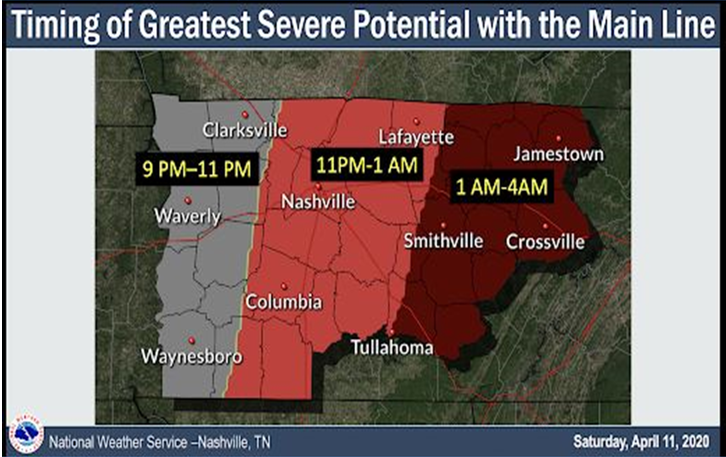 If the atmosphere cannot recover and recharge, the line will dissipate on arrival.
But if more instability streams into Middle Tennessee Sunday night, it'll power and strengthen the storm line at the same time wind shear will be substantial. This will set up a damaging wind and tornado concern.
Model Ideas About Late Sunday Night
No model is perfect. Some models are useful.
The 00z HRRR forecast model for midnight Easter evening shows just enough instability, shear, dry air aloft, and the departure of the "cap" to materialize a somewhat tornadofriendly atmosphere. But, note the model doesn't think any big storms will be entering our area then.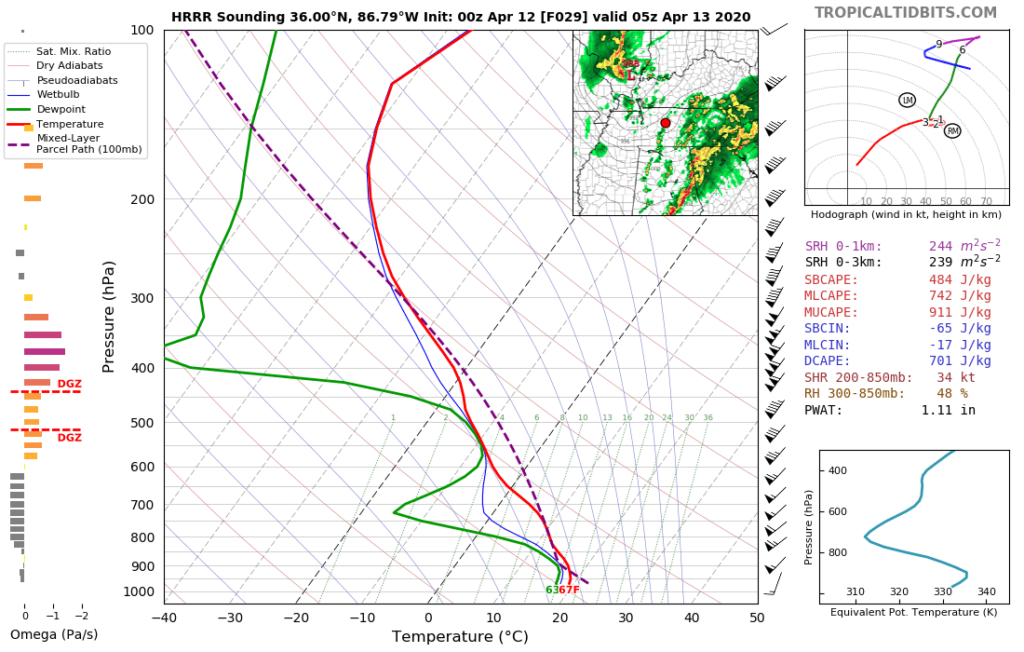 The Short Range Ensemble Forecast thinks our atmosphere will have no problem generating instability before the main line arrives. It gives us a high score in its Significant Tornado Parameter, which had me shift in my seat a little: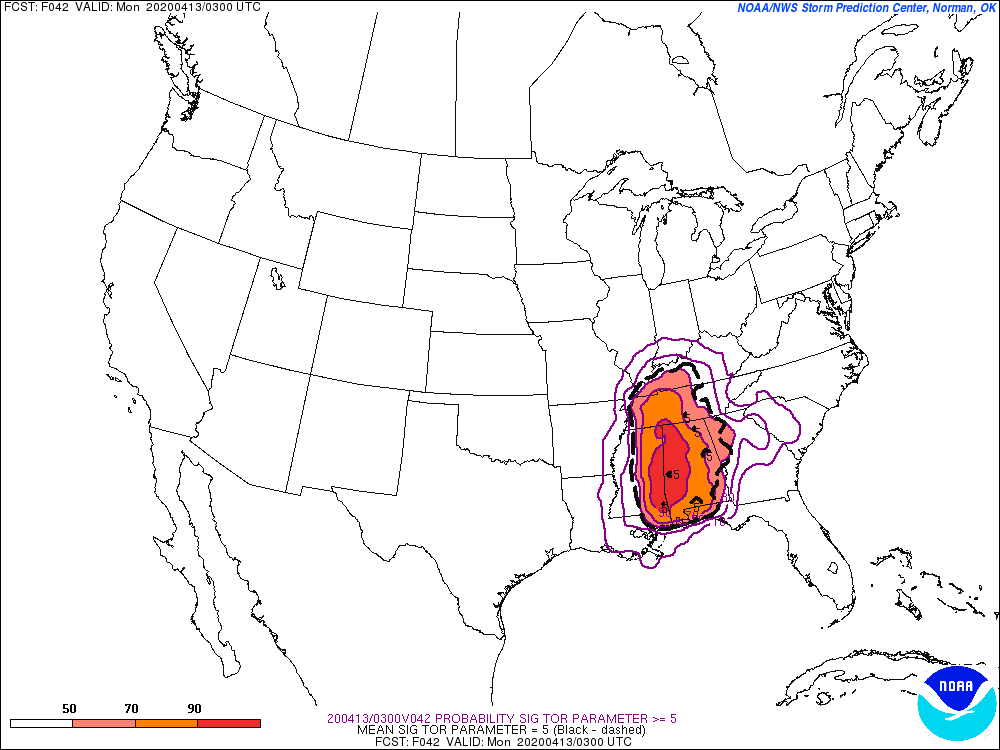 The usually overreacting NAM model is tossing storms at us like tokens in Chuck E Cheese games. The NAM model thinks every Chuck E Cheese skee-ball toss we make misses the machine altogether, hits a drunk uncle, causing a cardboard pizza and beer riot in the restaurant (the salad bar is not bad by the way). If the NAM was right, storms would have already destroyed earth. So let's not give it too much credit. But let's not ignore it, either. The NAM model thinks every trip to Chuck E Cheese is like this. (Ummm parental discretion advised; if you are among the 8.2% who voted against this, don't watch).
(For the record, 99% of Chuck E Cheese visits end like normal: fake smiles, money lit on fire, planning what to do next, trying not to lose your kid, one liter of hand sanitizer while dying quietly inside).
I leave you tonight with the HRRR Significant Tornado Parameter from 10 PM to 3 AM. This shows a marginal tornado environment, assuming something can even form.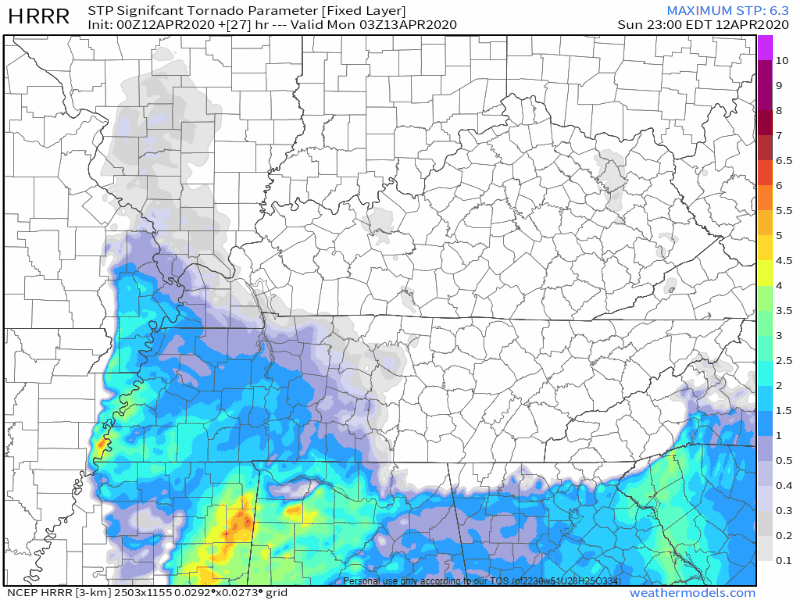 I think it's entirely possible the line weakens on arrival. But I don't know. Way too many uncertainties. Draw conclusions only if you stifle dissent to confirm what you want to happen. The weather acts independently of our wants and desires. As we know.
Like most forecasts, this one will require several checkups throughout the day. We'll be all over it.
It looks Much Worse to our south, in LA, AR, MS, and AL. But that doesn't mean we can't get it.
Rise tomorrow, things will get clearer.