It's going to rain hard on Easter, but probably not raining all day. The flash flood threat is mostly for those to our SE, but some models deliver us heavy rain so be alert.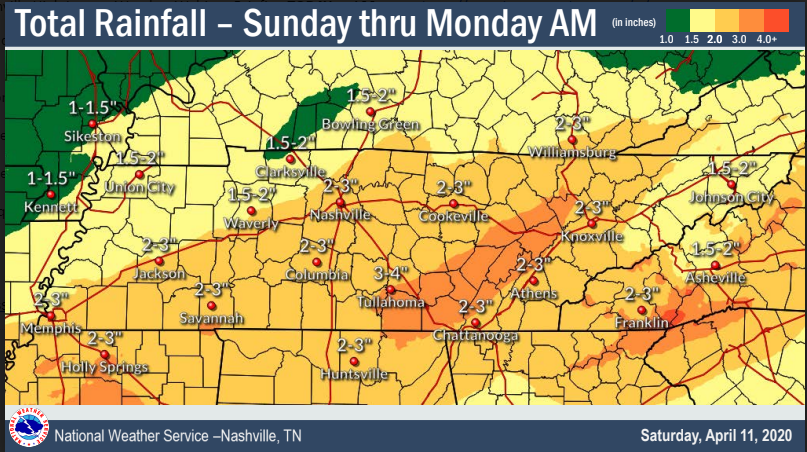 Severe weather? I'm glad you asked.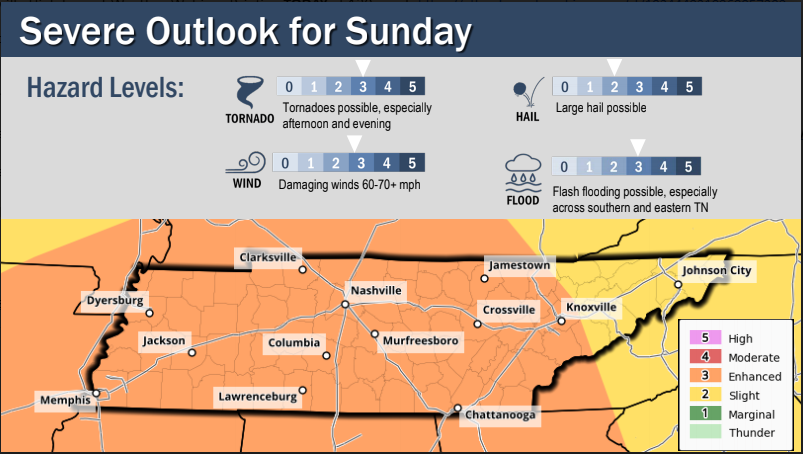 Morning rain/storms may occur (hopefully, they do, keep reading) but there is no severe weather concern with these.
In the afternoon, IF storms can get going, NWS-Nashville is mostly concerned with the area below. Confidence is low about whether this area is drawn "correctly," so much depends on the uncertainties discussed below. This is the time of least confidence.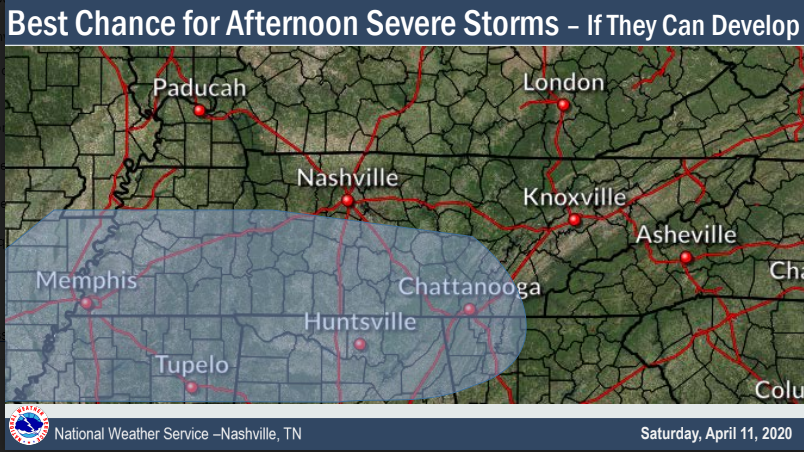 Sunday night, a line of storms should develop and speed superfast east. Early ETAs are below, expect these may change.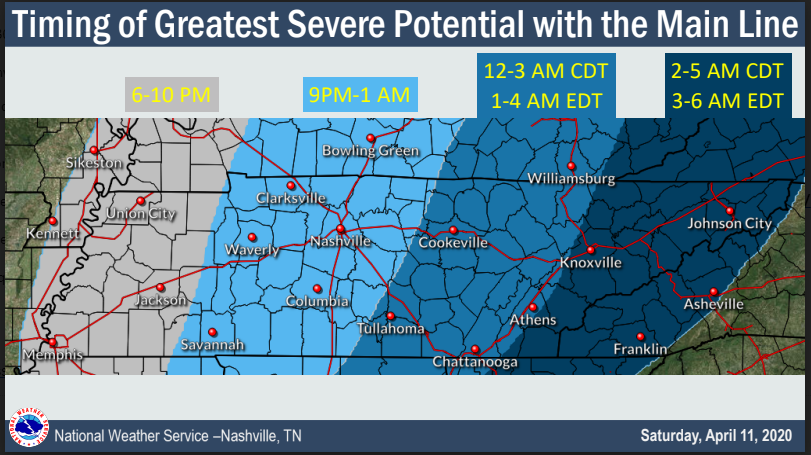 Even without severe thunderstorms, it's going to be very windy Sunday afternoon and night. Gusts over 40 MPH are likely.
---
Details
The Storm Prediction Center's 1235 PM update kept us in the 5% probability of a tornado.
The 10% tornado probability area was extended closer to us. Inside that 10% area is concern for long-tracked, significant tornadoes. We are uncomfortably close to it, but we're not in it.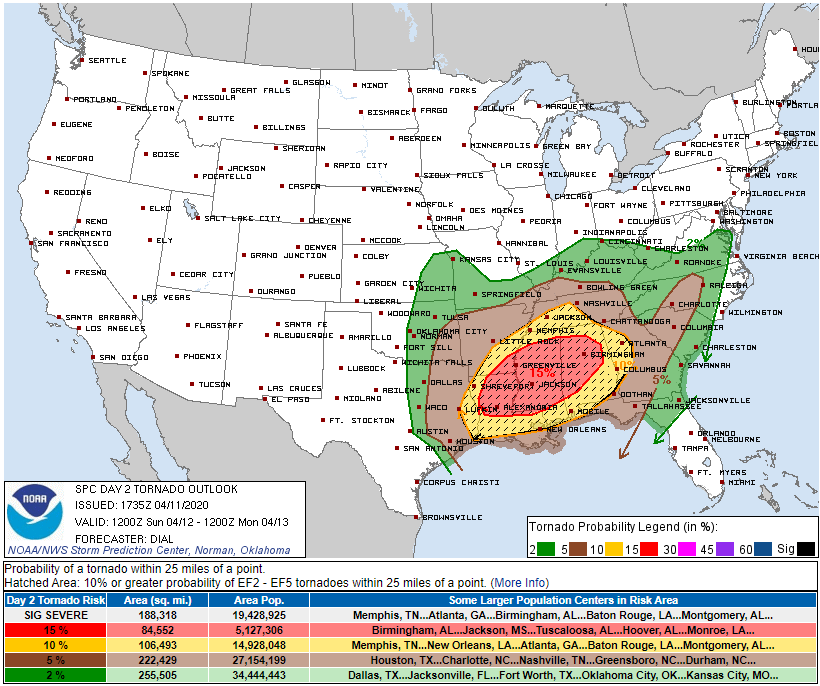 SPC says our damaging wind (58+ MPH) probability is 30%. One inch hail, 15%.
These probabilities mean the percentage chance of tornado/hail/damaging winds happening within 25 miles of you.
---
What We'll Watch For Sunday: Key Uncertainties
The track of the surface low pressure. Below is the Short Range Ensemble Forecast, showing multiple potential tracks of the surface low Sunday night. If the low takes a track toward St. Louis, that's bad for us. If it's closer to the MO bootheel, that's good for us.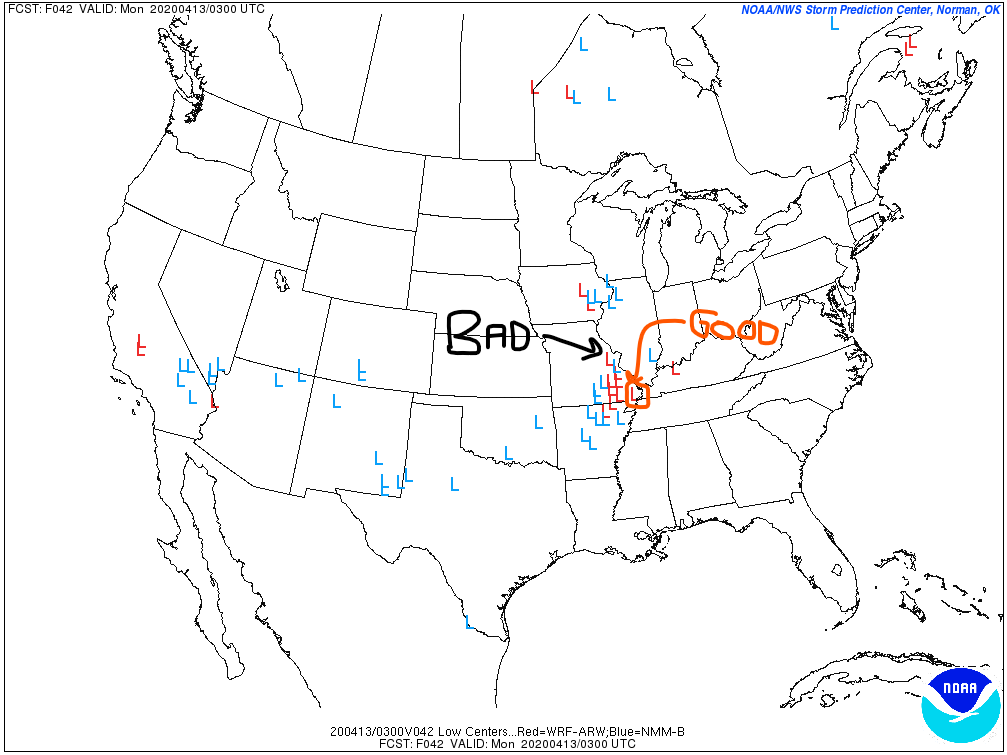 Why? The further away the low is, the easier it will be for Gulf of Mexico moisture to get pulled by the low into Middle Tennessee. Storms will need humid air.
This will be closely watched. The above data suggests it can go either way. Most data suggests the low will be too close, and all we'll be left with is a low chance of a brief spinup tornado instead of a monster powerful tornado outbreak. But. We. Just. Don't. Know. Exactly. What. Will. Happen.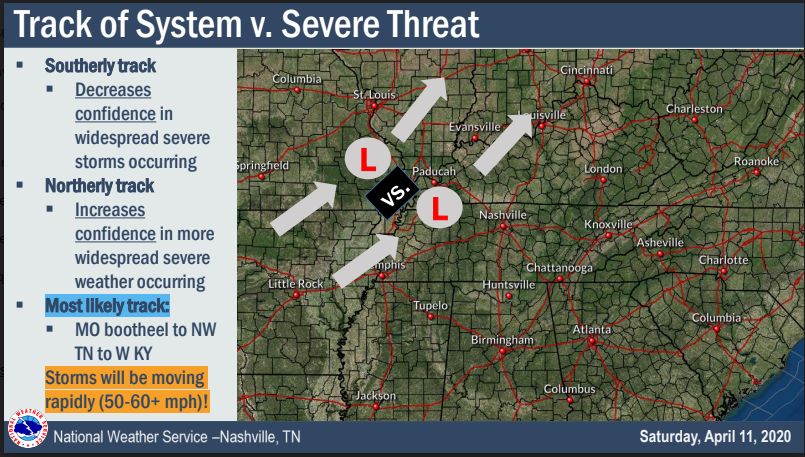 How much rain/cloud cover we get Easter morning. That's what they're talking about here:
While the conditional risk of all severe hazards will be quite high if supercells develop, uncertainty remains regarding how convection will evolve from the morning into the afternoon. . . . Substantial uncertainty remains regarding the potential for destabilization from northern portions of the TN Valley into the OH Valley, due to the potential for widespread convection to the south of this area.

Storm Prediction Center, 1235 PM Update.
Think of bad storms like water coming out of a wet towel. Soak the towel in a tub full of water, carefully bring it out of the tub so it doesn't drip, then twist/wring that water out. You'll get a lot of water on your floor, a real mess.
That's what'll happen if we don't get a lot of rain and cloud cover early Sunday. Afternoon/Evening storms will be able to soak up all the energy, and release it powerfully.
Now try the same thing, except take a wet, already wrung out towel, put it in a different tub with hardly any water, and twist/wring it out again. It's not holding as much water as before. It will produce less. But there will still be a little water in there, so we'll have to watch for any tornadoes that try and spin up.
Sunshine tomorrow morning and afternoon will fuel the atmosphere. We don't want that fuel.
---
We will have a much better handle on this in the morning and through the day Sunday. We will be updating this here, but mostly on Twitter, throughout the weekend.
Those in that red area above (LA, AR, MS, AL) are in a bit trouble.