Middle Tennessee is under an enhanced risk of severe storms on Sunday, mainly in the late afternoon and evening. Damaging straight line winds, large hail, and isolated tornadoes are all possible.

NWS-Nashville
I'm going to trust you. If you're going to skim this, don't read it at all because you'll miss important details.
March 3 is still fresh in my mind, too. Let's put aside that anxiety, clear our heads, remember every event is different, and think about this rationally.
Let's do best case, worst case, then I'll tell you what we think, then I'll tell you what we know (spoiler: what we know is that what we think might be wrong).
First, the best case.
WHAT THE HRRR MODEL SAYS
Morning
Rain moves in around 6 AM Sunday morning and lasts most of the morning.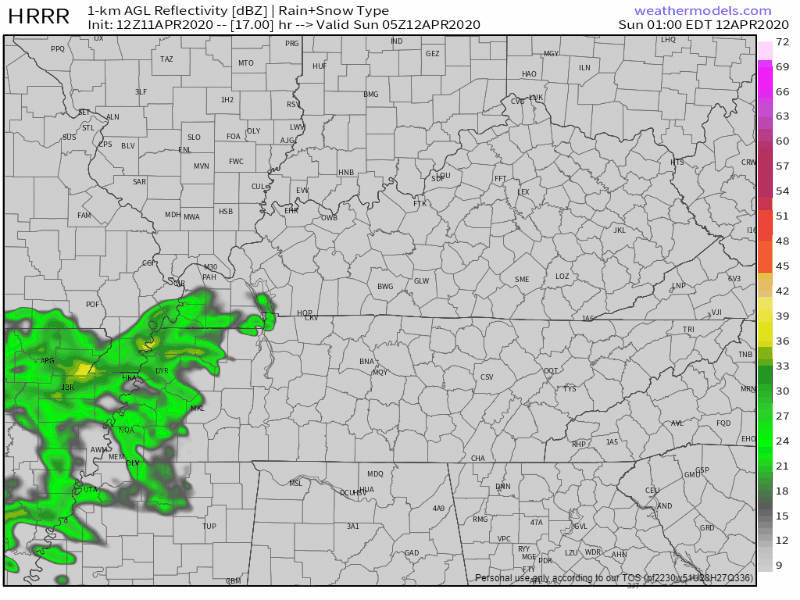 No big deal. Dewpoints 40° to 55° during this time . . .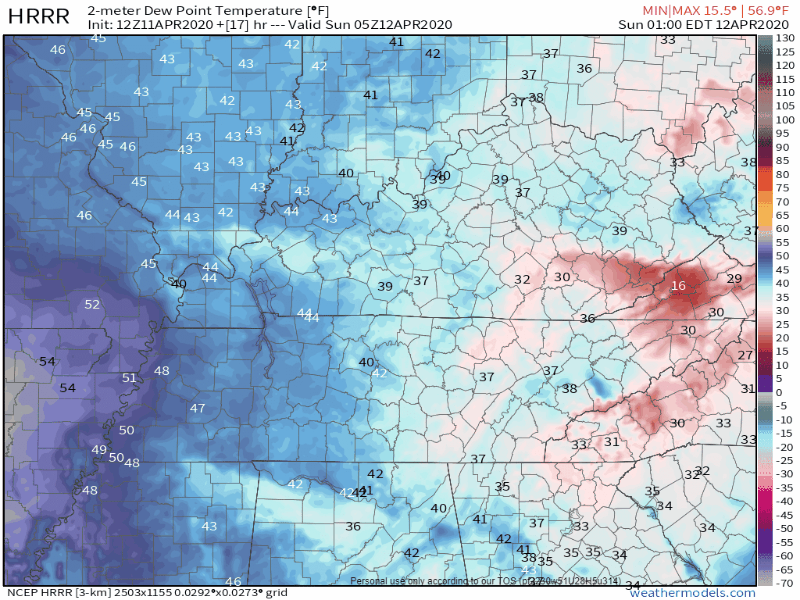 . . . no appreciable instability, so no storms expected. Just rain.
Afternoon & Evening
Afternoon winds will be substantial. HRRR model is cranking out 50 MPH non thunderstorm winds in isolated spots across Middle Tennessee, with most of us seeing 30+ MPH wind gusts, destroying all umbrellas.
More rain, with a squall line embedded inside, develops in north MS and moves into Middle Tennessee mid/late afternoon, raining heavily before departing our area shortly after dark.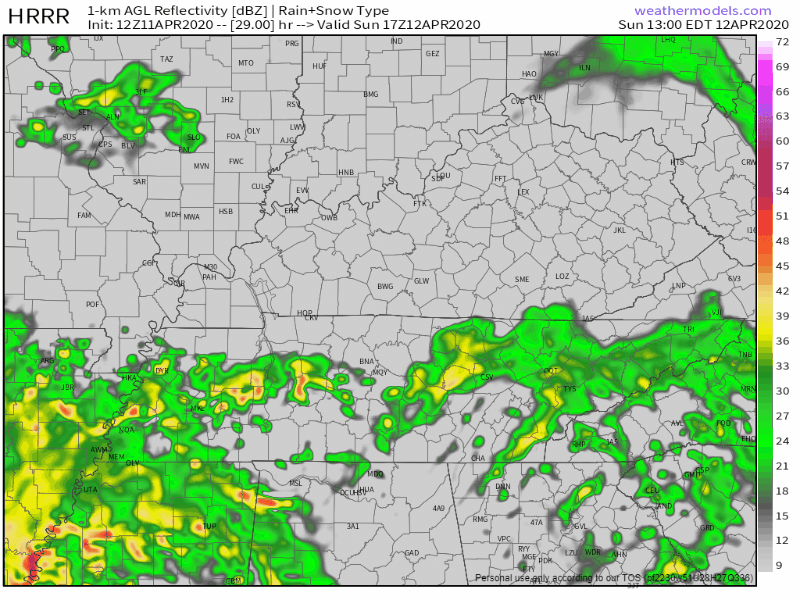 But morning storms will have blocked our supply of rich, storm making moisture from the Gulf of Mexico. And the warm front will never really make it to us — our dewpoint never makes it past 60° — there's no way we're going to have a major outbreak of tornadoes in Middle Tennessee . . . IF the HRRR model is correct. Probably won't even have severe weather, although with substantial wind shear we maybe have to worry about "low topped" storms producing quick tornadoes embedded in the heaviest rain.
Below is about as far north as the "Significant Tornado Parameter" gets to us Sunday, and it's far, far, far away: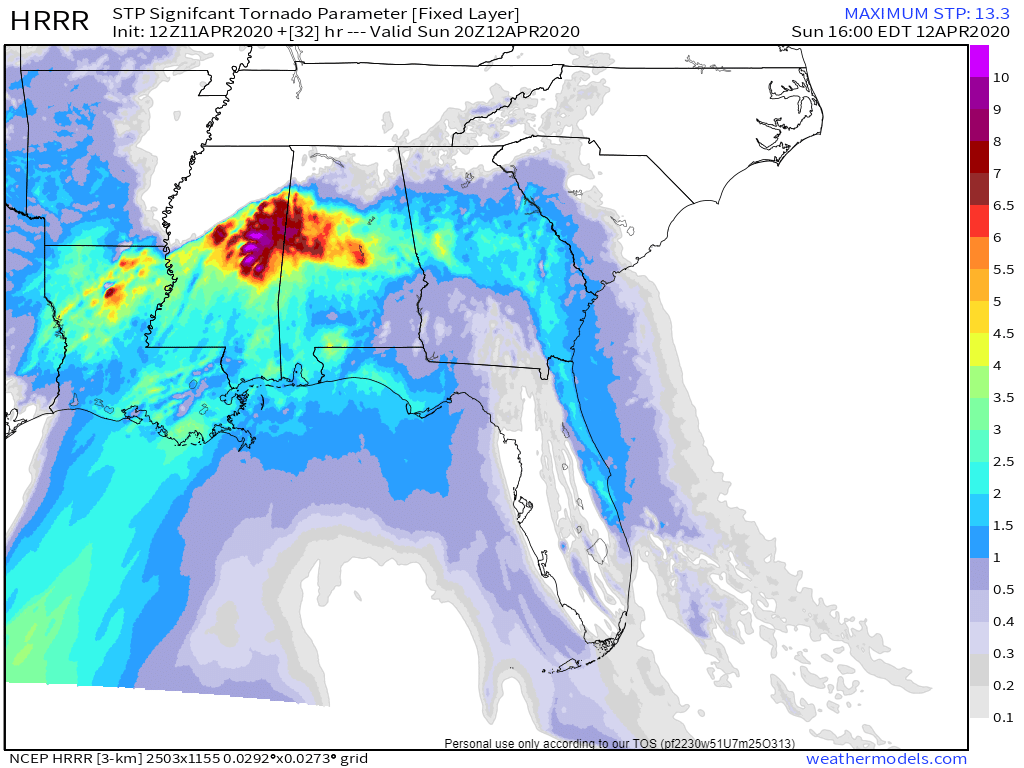 Pretty much great news, really, if this happens.
WHAT COULD GO HORRIBLY WRONG: THE NAM3 IDEA
The NAM/NAM3 model illustrates a significant severe weather worry.
What if the warm front actually makes it into Middle Tennessee Sunday afternoon? By Sunday night, dewpoints around 66° spill in, substantial wind shear will be in place, so when a line of storms moves in Sunday night it'll be packing a legit tornado, damaging wind, and hail threat: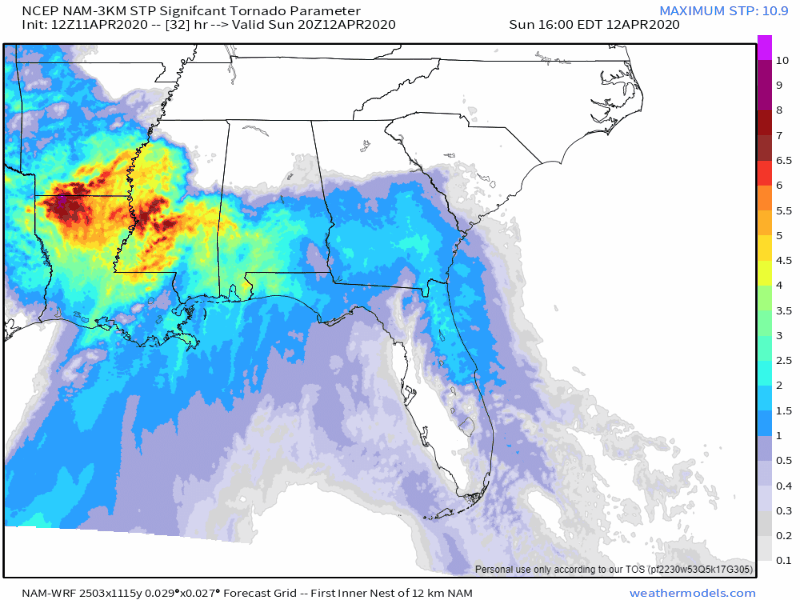 The good news is if this happens tomorrow, we'll be able to tell.
WHAT WE THINK, BUT DO NOT KNOW
We think morning rain destroys our environment's ability to supply power to a late afternoon or early evening round of bad weather.
We think the red L passes too close to us (see the Euro model below), so the system can't pull in enough moisture to create sufficient instability to make strong storms. What we think is supported by most, but not all, model data.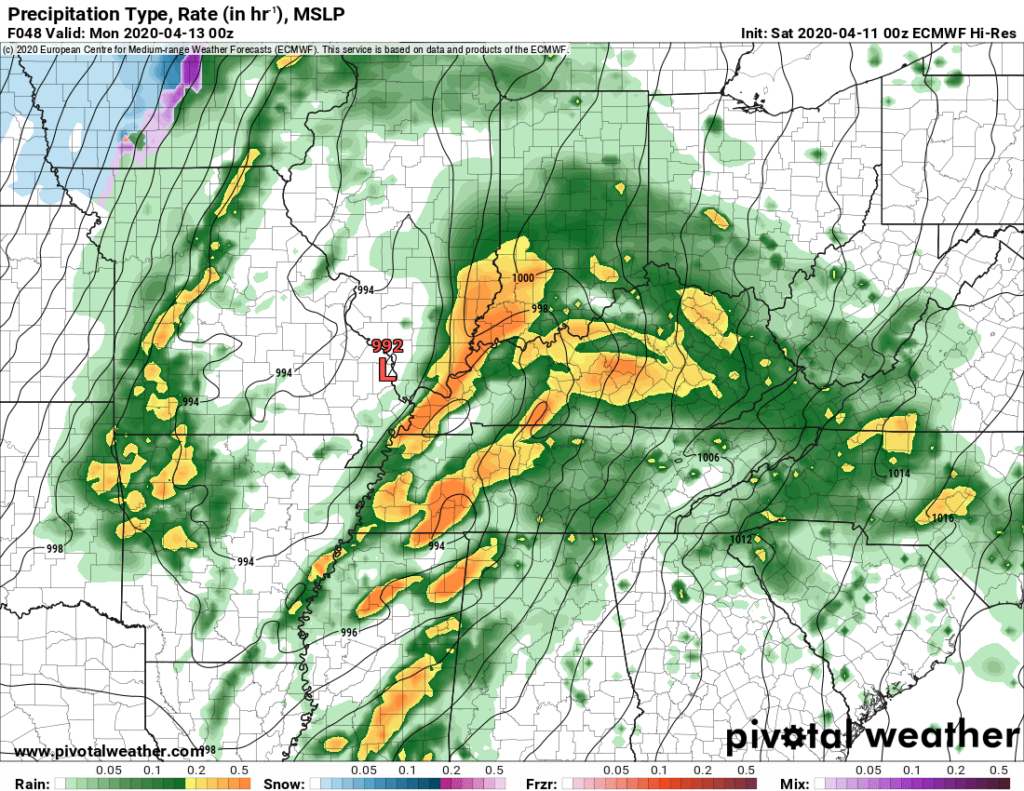 We know we might be wrong. Models could be wrong.
We know that if instead of a rainy Sunday morning we get a sunny one, that would be bad. Or, if rain moves out quickly Sunday morning, then the sun comes out and a warm front races in, that would be bad, too. Also possible that Red L moves closer to St. Louis than Nashville, increasing our risk of all modes of severe weather, setting up a terrible day for all in the path.
---
The Storm Prediction Center reduced our probability of a tornado down to 5%, removed us from the significant severe area, and maintained the higher risks for those in the shaded area south of us: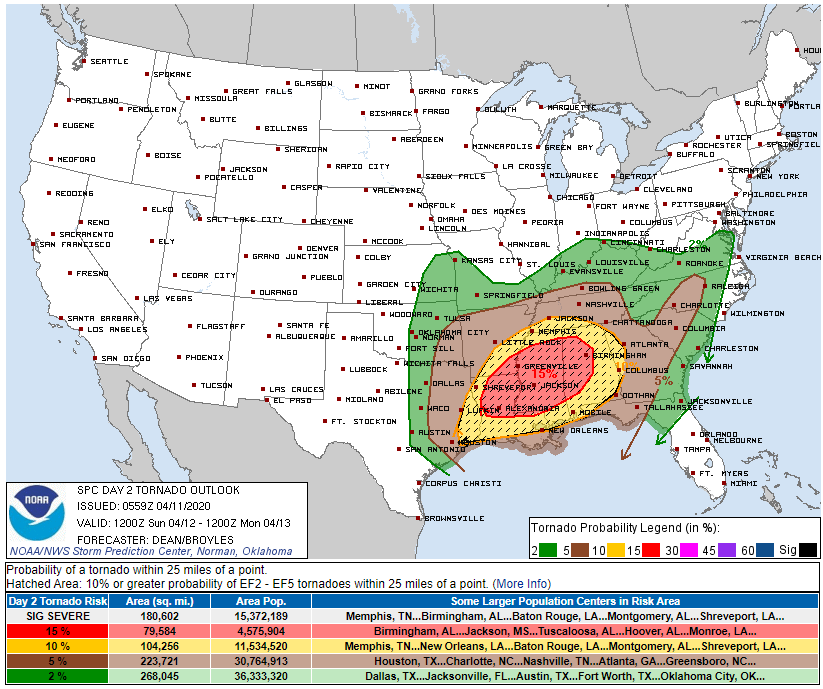 This reflects current thinking. Not promises. This can change. Stay connected.
---
Heavy rain is likely.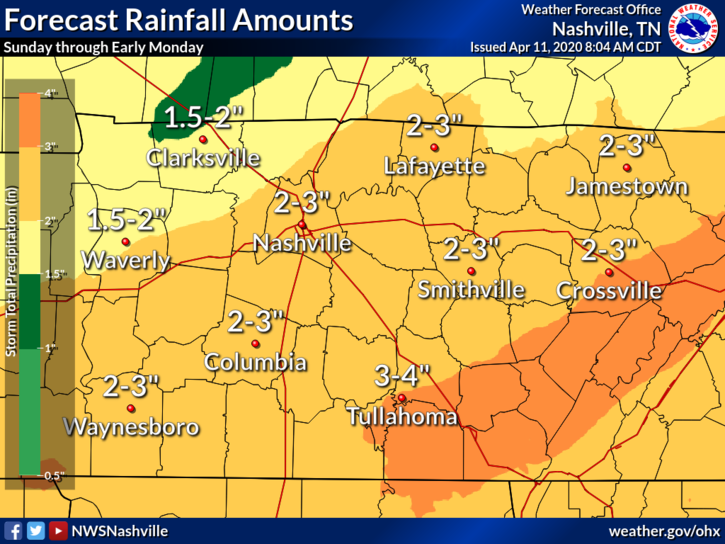 2.3″ in 6 hours should trigger flash flooding, but our rain event may be spread out over more than 6 hours. No Flash Flood Watch has been discussed, but heavy rain has.
---
NWS-Nashville is hosting a conference call at 1:30 PM for media and emergency management. We will attend then report back to you, updating this forecast.