Our severe weather risk has been upgraded and could very well be upgraded again later today by the Storm Prediction Center. We are looking at a damaging wind and large hail event for tonight through the early morning hours. A tornado is less likely, but possible.
Most of the day will be dry. We'll warm up into the mid-80s. We could see a few isolated showers and storms this afternoon before the bulk of the event gets here. Those have a small potential to be severe but will not be the "main event."
The main event is late tonight. Stay connected through the day for changes and updates. For now, here's what we think: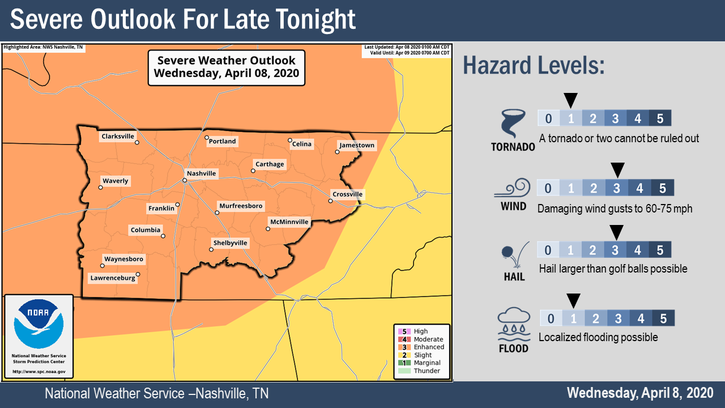 Main Severe Weather Event Timing
A line of storms will stretch across I-24 and move southeast, arriving here between 11 PM and 2 AM. Timing may need adjustment as we move closer to the evening and models develop consensus.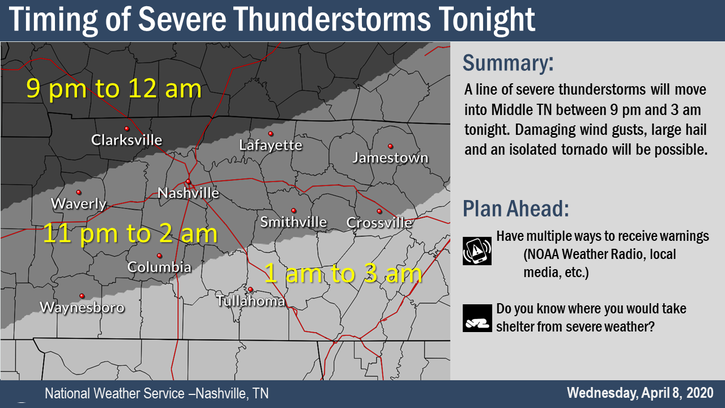 Here is the HRRR beginning to show that line of storms moving in around 12 AM: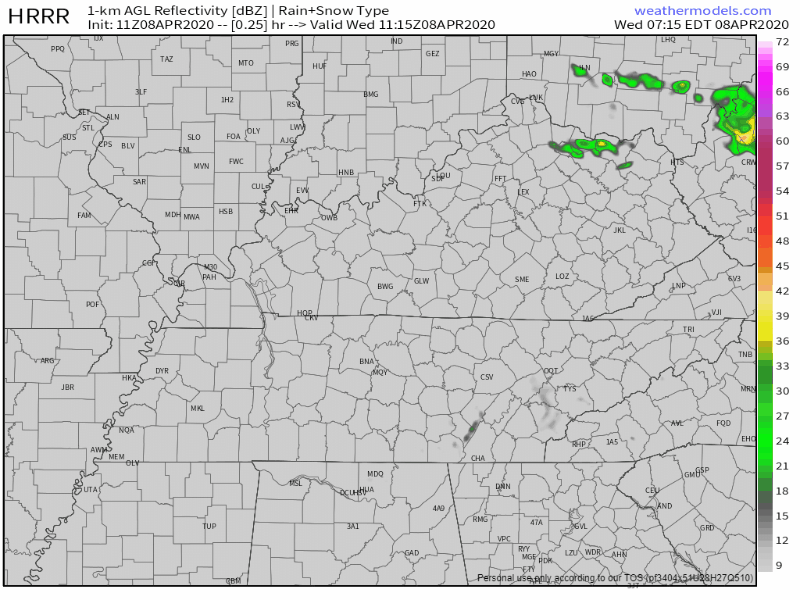 The NAM3 has the main line pushing through around 1 AM.
Threats
Damaging winds up to and in excess of 70 MPH
Large hail up to 2 inches in diameter (golf balls or bigger)
Isolated tornadoes embedded within the main line of thunderstorms
Frequent cloud to ground lightning
Brief, localized flooding from torrential rainfall
Damaging Winds
Watch the radar tonight for storms to be shaped like bows (not cute bow, bows from bows and arrows), there we find the strongest winds. These bows look like a closed parenthesis on radar. Do not want!
The probability of a damaging wind event happening within 25 miles of us (Davidson and Williamson Counties) is 30%.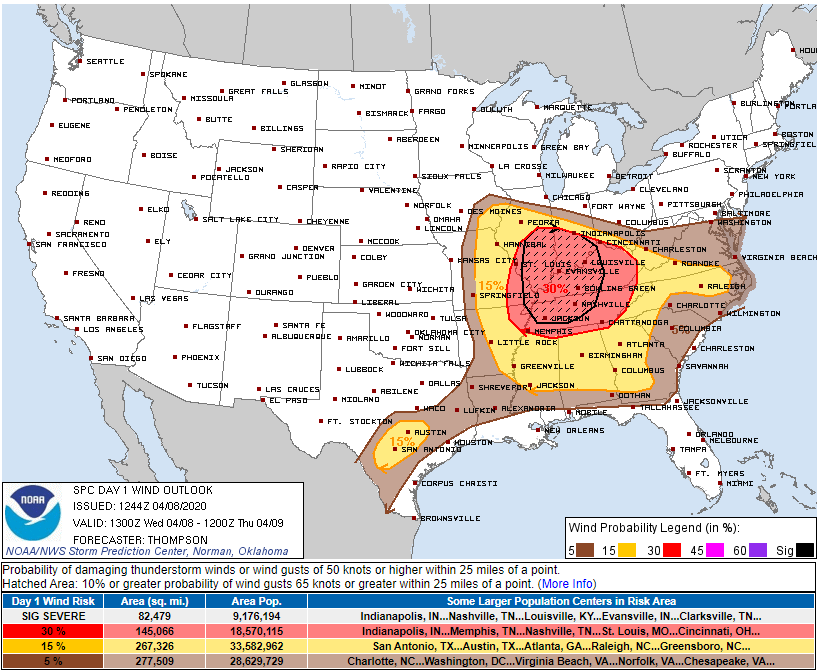 The shaded area means there is a "10% or greater probability" of winds greater than 70 MPH. These winds can drop trees and damage, perhaps severely damage, mobile homes. 70 MPH winds are near hurricane strength. This is a low probability of high impact event.
Secure your trampoline. Wind may convert them to frisbees.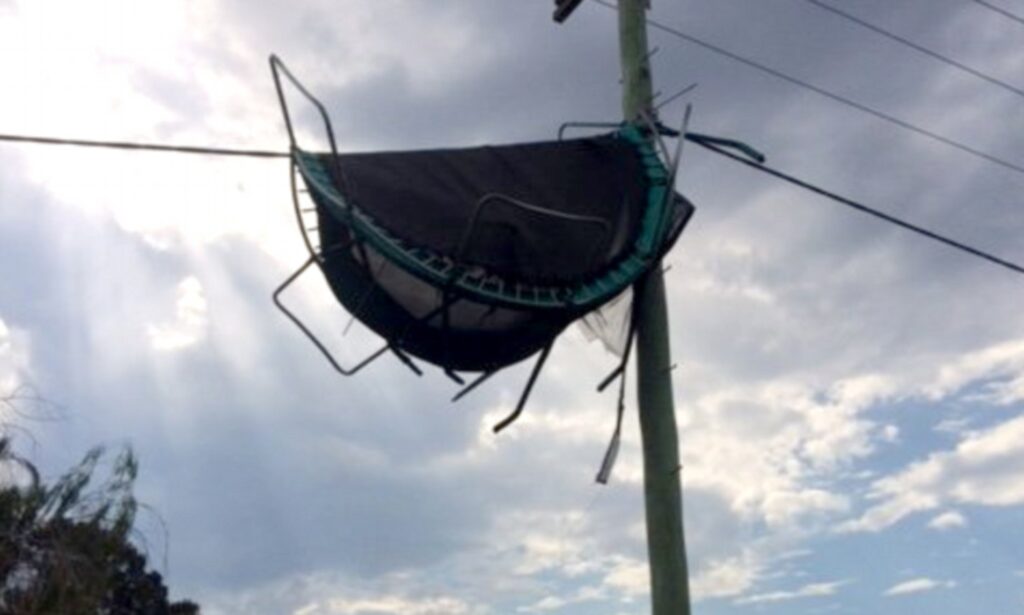 Large Hail
Hail size is difficult to see on radar, but we can know it's falling through good radar interpretation. The line will pass over the radar site in Hopkinsville, KY, about an hour before it gets here, so we'll have a good look at the storms before they get here. We hope to get reports of any hailfall from Clarksville.
Forecast data shows just about everything you need for big hail: dry air aloft, steep lapse rates at mid levels, decent enough midlayer shear.
The probability of hail the size of a quarter within 25 miles of us (Davidson and Williamson Counties) is 30%.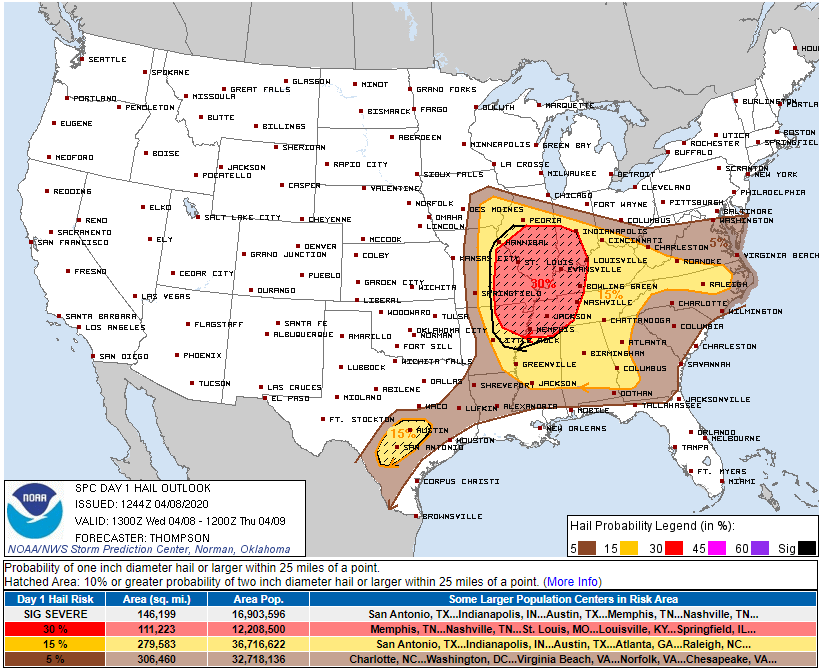 We're in the shaded area for hail. This means there's a "10% or greater probability" of hail the size of an egg.
Protect loved vehicles.
Tornado
Damaging winds and hail are more likely than tornadoes. SPC thinks our probability of a tornado within 25 miles of us is 5%. Low level winds should be perpendicular to the line (that's not a good sign), but surface winds are relatively weak which limits tornado concerns. Also comforting is that models seem to think there will be a shallow "cap" near the surface, which (without boring you with too much meteorology) will make it difficult for the storm line to tap surface moisture. This should limit, but not eliminate, tornado concerns.
Tornadoes can spin up in a squall line or within storm clusters. These tornadoes can be difficult to issue timely tornado warnings on because the circulations are often brief/short-lived. So be sure you're prepared to shelter before the warning is issued. These tornadoes are usually weak but can be strong, so they will require your attention tonight.
Other Thoughts & Considerations
Have multiple ways to get warnings. If you have a weather radio, turn it on and have it ready. Have your cell phone fully charged and ready to go, along with a charged battery bank if you have one.
Review and practice your family's safety plan. Where do you go and how do you prepare if you are put under a Severe Thunderstorm Warning or Tornado Warning? Not sure? https://www.ready.gov/plan is an excellent source.
Treat any Severe Thunderstorm Warnings like you would a Tornado Warning. Straight line winds are serious and can cause a lot of damage. Take shelter if any warnings are issued for you.
Protect cars and other beloved outdoor belongings from large hail. In the unlikely event we get egg sized hail, it can break windows, so don't be surprised.
Mobile homes may not be safe tonight. 70 MPH winds can demolish them.
Don't try and drive in it. Rain will be torrential, with potential for brief localized flooding. The rain/wind/hail combo in the dark is a no-go for safe travel. Let it blow through, then get in your ride and travel to where you must travel.
These storms will be in and out. Once they pass by, you can sleep peacefully.
It is going to be a late night for us, but we will be right here with you through it all.
Clearing out Thursday
Much cooler and not as humid for Thursday. High around 65°F.
Lows early Friday and Saturday mornings are expected to dip into the upper 30°s. A few low lying areas may see frost.
Much Cooler Friday and the Weekend
Friday's high will only be in the upper 50°s. Another low in the upper 30°s Friday night.
Rain comes back into the forecast on Saturday night, going into Sunday. There's a severe threat for the Southeast Sunday, but right now it looks like we will be too far north to concern us. However, we could get more than 1″ of rain.
Be sure to follow us on Twitter @NashSevereWx for more information as the event unfolds tonight. Keep an eye on any updates that may come out later today. We'll keep you posted.