The Storm Prediction Center has issued a tornado watch that includes both counties, Davidson and Williamson until 4:00 a.m.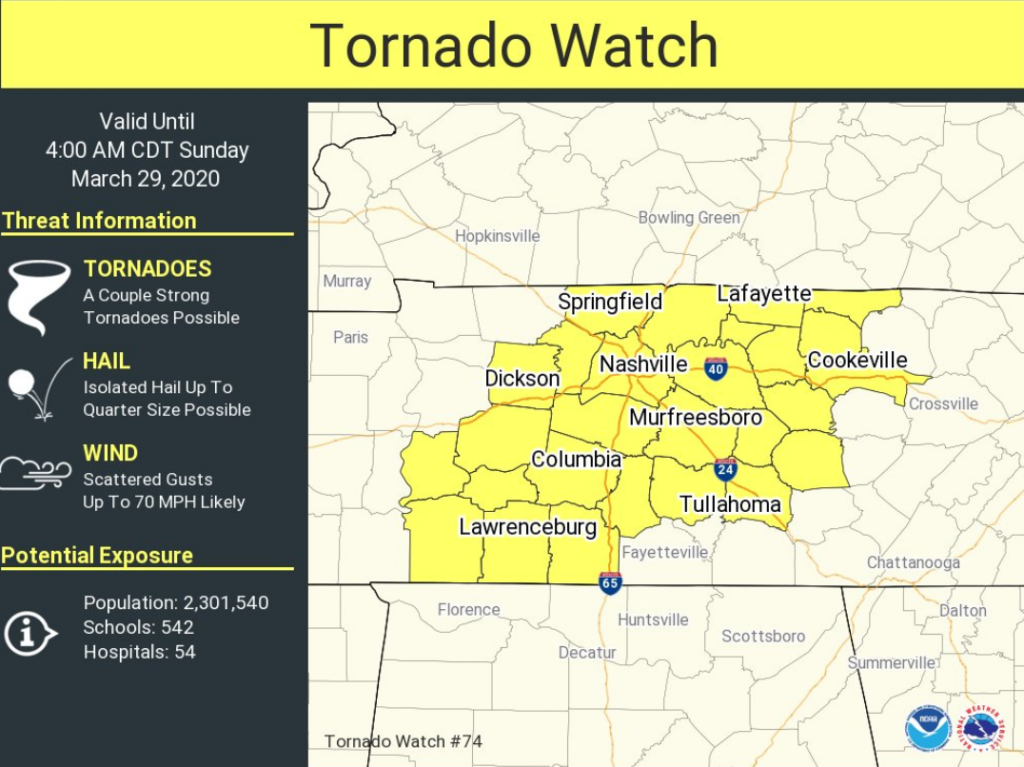 Text of the Tornado Watch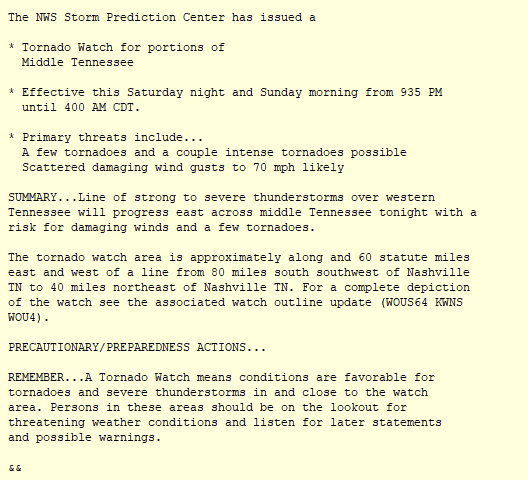 Probabilities
These are the probabilities of "x" happening anywhere in the tornado watch area. There is a 50% chance of 2 or more tornadoes in the watch area and a 30% chance of 1 or more strong tornadoes. See the table below for more info.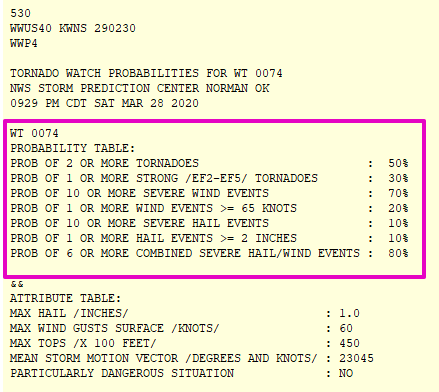 Preparations
Have a plan in place in case a warning is issued. Be prepared to take shelter on the lowest level of your structure away from windows putting as many walls between you and the outside as possible.
Mobile homes and cars are not good in severe weather. Seek other shelter. At the issuance time of this watch….this is the time to make those preparations and spend the night at a more substantial shelter if you live in a mobile home. Do not wait until a warning is issued. These storms will be moving quickly.
Have multiple ways to get warnings. Do not unplug or be disconnected. Be sure your mobile device is not set to Do Not Disturb or on silent. Make sure your WEA alerts are enabled. But, don't only rely on your mobile device. The more ways you can get warning info, the better.
Fore more info on what to do when watches and warnings are issued: https://nashvillesevereweather.com/what-to-do/
Damaging Wind Threat
There is also a risk of damaging straight line winds, a 30% chance within 25 miles of you, actually. These winds can be just as destructive as low-end tornadoes. Be in a sturdy shelter away from windows if a severe thunderstorm warning is issued.
We'll be on YouTube Live if a warning is issued.