Warm And Wet Friday
Scattered showers and storms this morning will lead into more widespread storms this afternoon, especially along/East of I-65. Here's the HRRR:
No severe weather is expected, but we still could see a few stronger storms this afternoon that bring heavy downpours and strong wind gusts of 40-50 mph. These showers and storms unfortunately will hang around Middle Tennessee into the evening hours.
It's going to be pretty warm and muggy as well, 75° for the high and those dew points in the mid 60. So, not the best type of hair day.
Break From Rain Saturday, Rain Comes Back Into Work Week
We'll get a small dry run from the rain for Saturday. Clouds will still hang around, but we should still see a few peeks of sun here and there. Nearly a 20 degree temperature drop from Friday, 56° for the high. It'll still be a bit breezy as well, winds gusting up to 25 mph.
Sunday Afternoon Rain
Starting off Sunday we'll be dry, but we'll see more rain move in during the afternoon. The NAM model shows these showers moving in around 1-3PM, and remaining scattered throughout the afternoon into the evening. ETA's are likely to change a little bit as we approach Sunday.
High of 57°
Rain Chances Hang On
More "splash and dash" type rain showers are expected through the work week, a chance every day. Temperatures continue to rise again through the week as well, reaching the upper 70s by later in the week.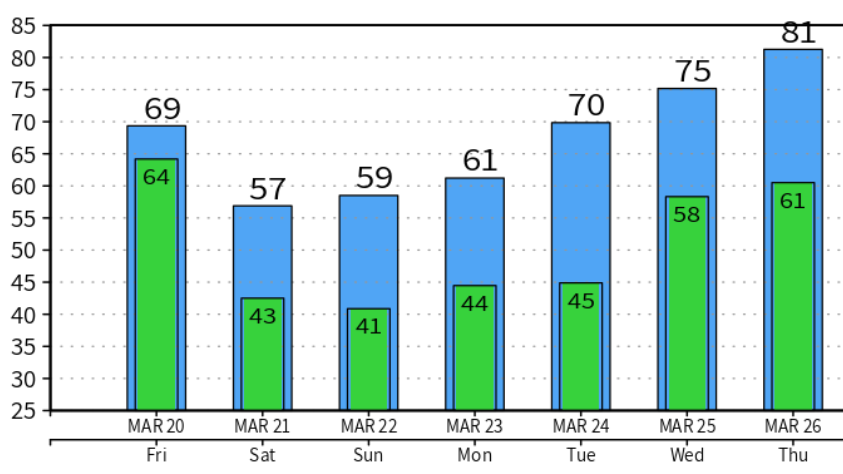 As always, check back for updates to the forecast and be sure to follow @NashSevereWx on Twitter!
NashvilleSevereWeather.com/shop & Subscribe to our YouTube Channel.