Warm and Humid Thursday
Showers moved through the area this morning.
Weaker showers are forming to our southwest and may or may not make it here today. They're scattered and light and will probably miss us. For most of the day, we should stay dry until late tonight.
Expect a warm, humid and windy day as winds could gust up to 25 MPH: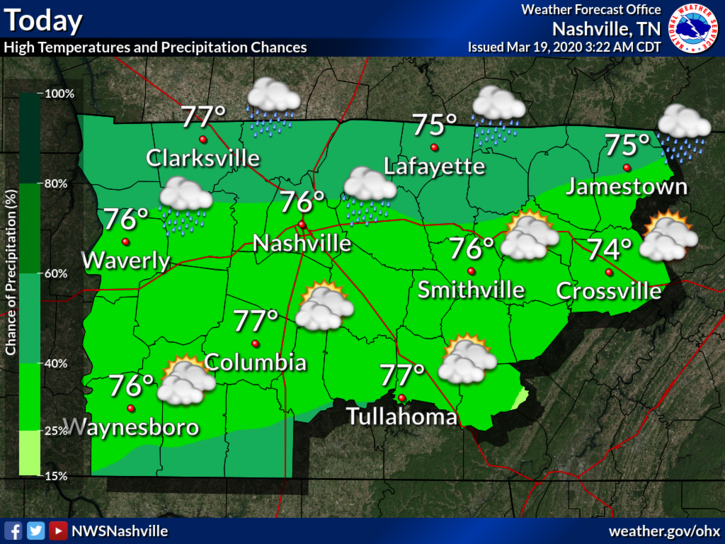 More Rain, Potential Storms Thurs Night/Fri
An incoming cold front will bring some more rain and possible storms overnight Thursday into Friday.
The NAM3 model shows more showers beginning around midnight, with a line of rain/storms around 8 or 9 AM Friday, and a second weaker line arriving Friday around 6 PM: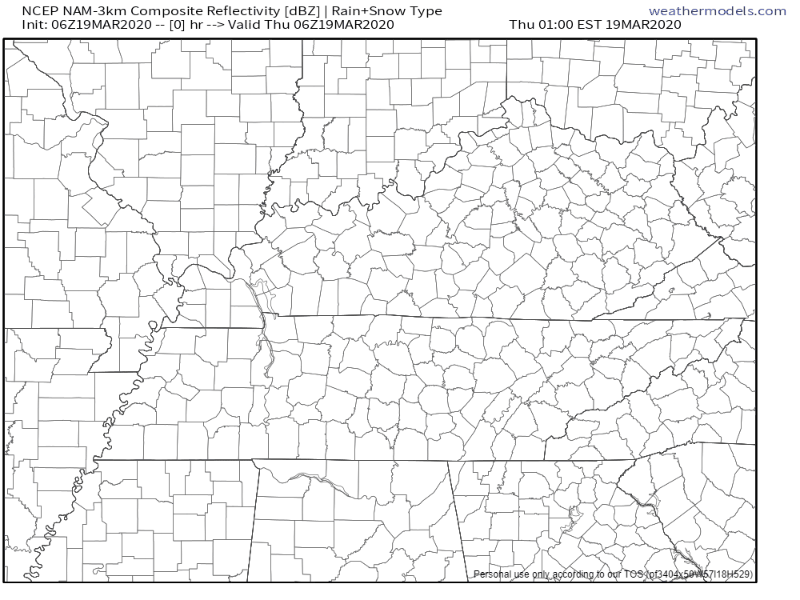 The timing could shift between now and Friday, but generally expect a rain line Friday morning/early afternoon and possibly a second line closer in the evening hours. Be sure to keep the umbrella on hand as we could also see isolated showers throughout the day. The lines may be strong or severe to our northwest, then weakening when they get here. More about this below.
Temps will be warm again as the high reaches 74°.
SEVERE CONCERNS?
Not really. Here's what NWS-Nashville says:
A far as severe storms are concerned, models continue to trend much better shear/instability northwest of the mid-state… with really our northwest having the highest chance. Chances really drop off as you head southeast as dynamics just not that impressive. There is a hint of instability ramping up again just ahead of the front Fri afternoon, thus a second line of storms may develop right along, but again remains marginal at best.


NWS-Nashville AM Discussion, 03/19/20
Greatest amount of storm ingredients are northwest of here, as illustrated by the SPC: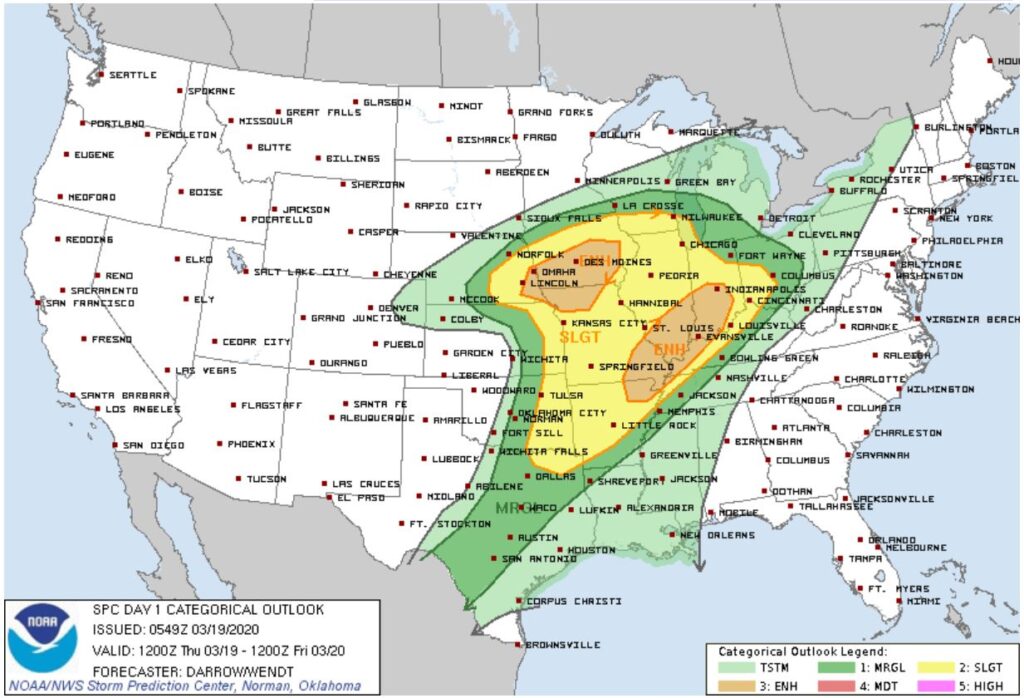 You may hear some thunder, but no strong or severe storms are expected as of right now. At best, we have a 5% chance of seeing a severe event within 25 miles of you. Always be suspicious of cold fronts passing through humid air, so check back later, but this isn't freaking anyone out for us.
Cooler Weekend
Saturday dries up as we should see partly sunny skies. High temps also drop down to 55°.
Rain chances return Sunday, but there is some uncertainty as to whether or not showers will arrive sooner or later on Sunday. The GFS model says sooner, and the EURO model says later.
Highs temps Sunday also reach 55°.