Sometimes they do a "growl" for certain sirens (not a full wail) for testing purposes, but until this morning I was never exactly sure when they might do it.
Sirens are a secondary warning method for those outside. You aren't guaranteed to hear them. Best to have a wake-me-up app on your phone and a NOAA weather radio in your house. Sirens aren't designed to be heard inside and there's no guarantee you will always hear them outside either, especially if you've got your earbuds in, Denise.
Official explanation issued at 8:49 AM, which I appreciate.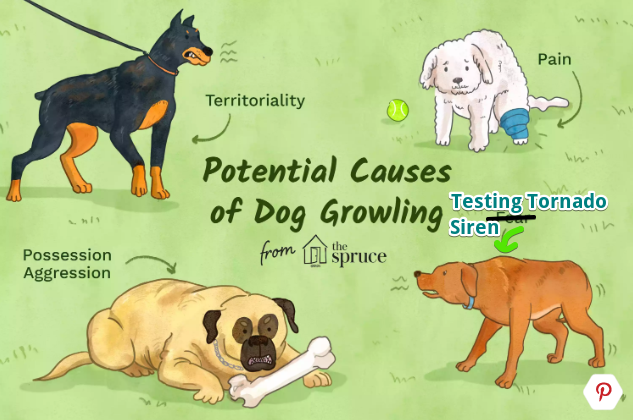 ---
Rain off and on in 2 waves through Thursday. Then a third wave Thursday night/Friday.
First wave tonight, intermittent showers of no consequence, 0.15″ total. It may start as early as this afternoon but more likely after 9 PM tonight, lasting overnight and ending around the Tuesday AM commute, assuming anyone is doing an AM commute this week.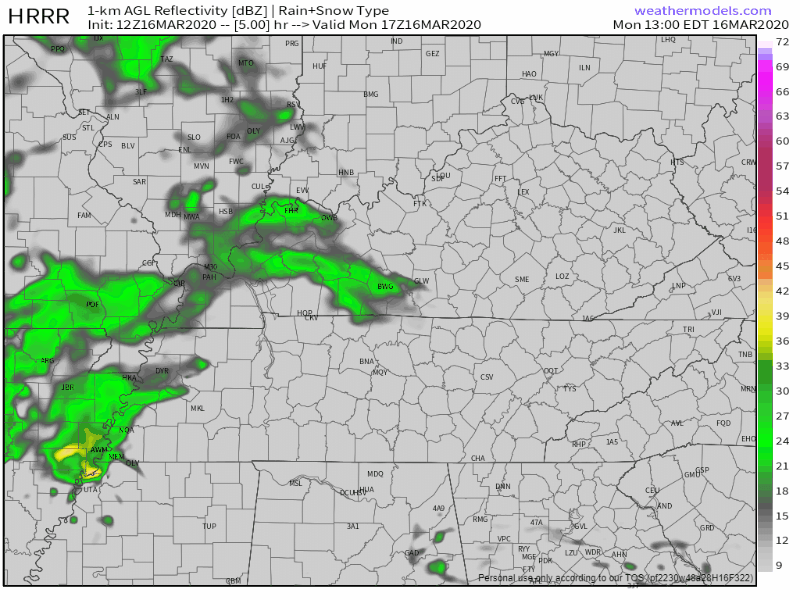 ---
Second wave begins as early as Wednesday morning but more likely an afternoon start, when
we will see temps soar into the mid/upper 70s. Instability will also be a bit more elevated, thus isolated storms possible as well, lasting into the evening.

NWS-Nashville AM Forecast Discussion
No strong/severe concerns Wednesday night.
---
Wave three Thursday night into Friday. This one may have teeth. Unlike the first two waves, this one's being caused by a cold front arriving Friday. Before it gets here,
shear/instability will ramp up, and this looks like our best chance for severe weather, although at this time this chance does not look especially high. Will have to wait and see how this evolves next few days.

NWS-Nashville AM Forecast Discussion
Shear and instability are basic strong/severe storm building blocks. Without them you can't get severe weather, but with them you might get severe weather.
Euro model data suggests severe weather possible with near 1000 j/kg of CAPE (that's instability). Low level bulk shear at 20 kt and storm relative helicity values under 150 m2/s2 isn't particularly alarming.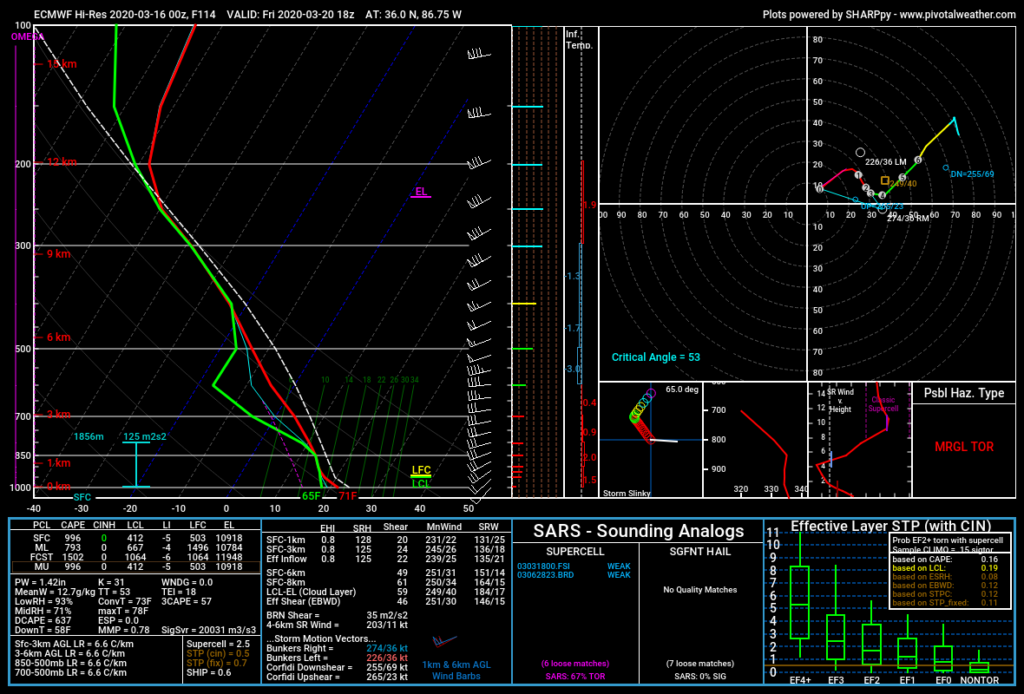 Euro model forecast sounding for Friday around lunchtime.
We'll need the hi-res model data to get in range — that'll happen Wednesday — to put specifics on this potential/iffy severe weather event, ETA range late Thursday night to midday Friday.
I'm more impressed by the precipitable water number of 1.42″ suggesting heavy rain.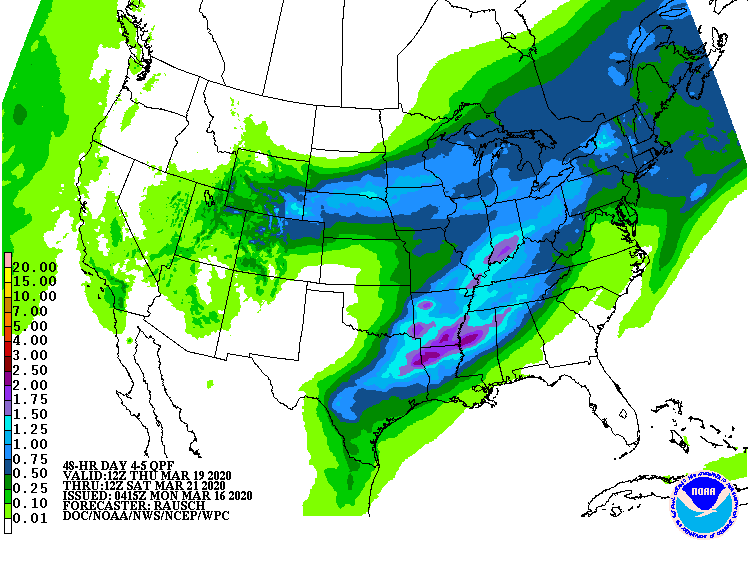 ---
Watch Friday's cold front do its thing this weekend: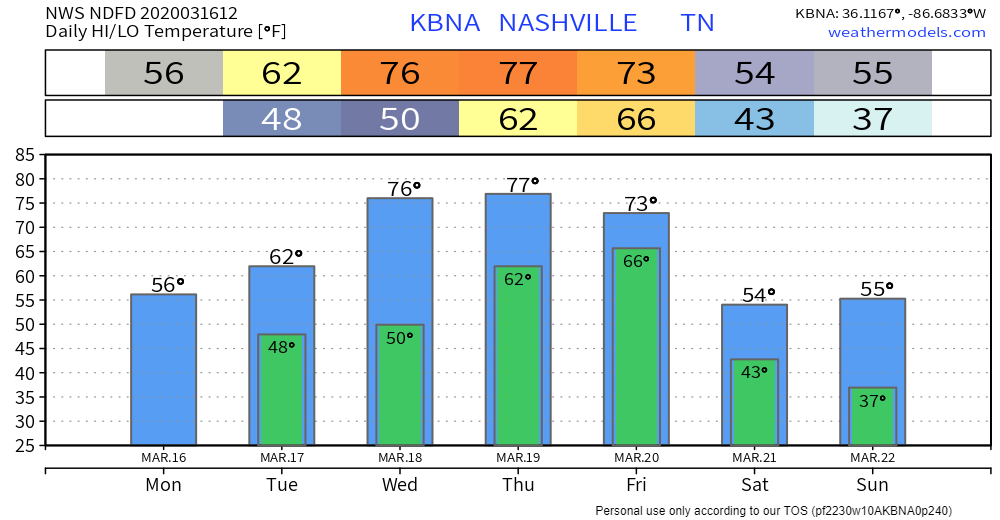 ---
It will take the balance of Friday night for precipitation to exit with passing front, and very little precipitation is expected next weekend. Shower/storm activity will again ramp up early next week as next system moves into the TN valley.

NWS-Nashville AM Forecast Discussion