This morning, Will tweeted "Do not seek definitive answers. Seek info." Wish definitive answers existed about what will happen today. They don't. Instead we have probabilities about what might happen. This forecast is not a prediction, it's a threat/risk assessment, expressed as probabilities and updated throughout the day. Later today information will be more precise, timing more certain, passed quickly to you via Twitter. Be flexible, stay alert. Have a way to get warnings, and consult multiple reliable severe weather information sources (local TV meteorologists are great!).
Two rounds of storms are possible.
---
Round 1. This afternoon there's a Tornado Watch until 5pm. At this time, the watch includes Davidson County but not Williamson County.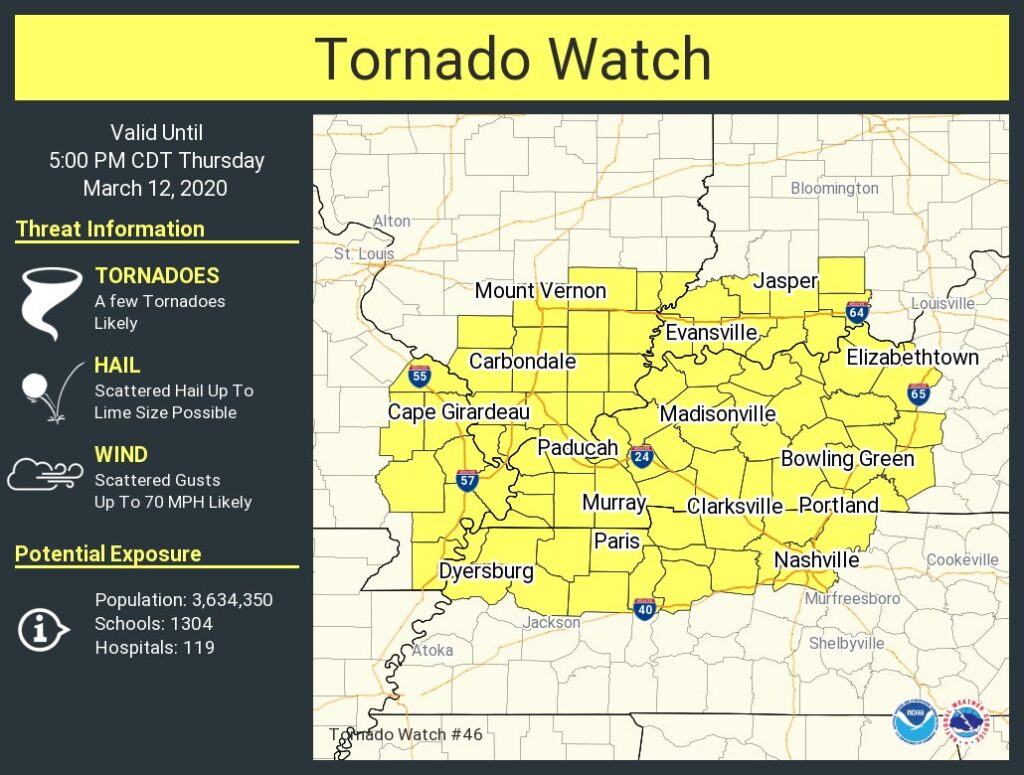 All modes of severe weather are possible, though the concern for damaging winds and tornadoes are the greatest.
The good news is at 108 PM, the storms look like they'll come close to, but pass just NW of, Nashville. We may just get a little rain. This may change. Find frequent updates on Twitter.
The Storm Prediction Center has a a 5% chance of seeing a tornado within 25 miles of you. Greater threat and risk is north of us.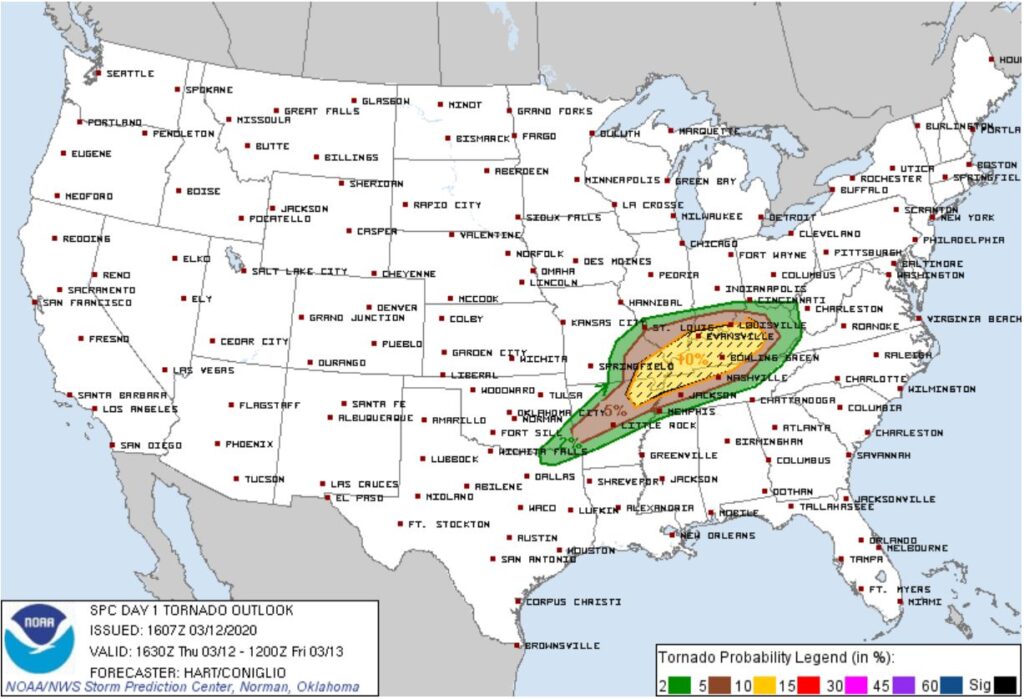 Concern for winds is greater as we have a 15% probability of seeing damaging winds (58 MPH + winds or gusts) within 25 miles of you. 30% probability lies just north of us.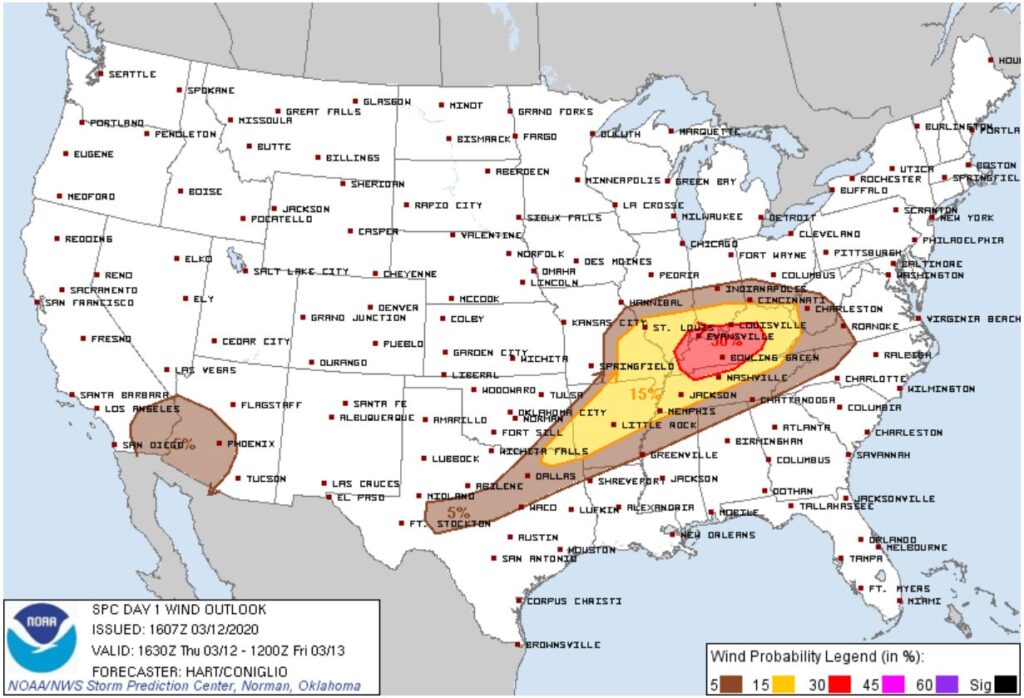 More storms may develop later this afternoon, but we're encouraged by the trend so far.
Round 2 storms are still coming tonight. Stay weather aware throughout the day and make sure you have multiple ways to receive warnings.
---
Round 2, tonight, 7 PM to 2 AM, a line of storms moving northwest to southeast across Middle Tennessee, with damaging winds the main threat – but large hail and a tornado or two are possible.
Confidence in this storm line developing is higher than our low confidence a round 1 storm will hit us, but whether the entire line in Round 2 will be severe (wind, hail, and/or tornadoes) remains uncertain. Usually, some parts of these lines produce severe weather, other parts do not. Other times, the entire line is severe, or the line runs out of gas, weakens, and we wonder what the fuss was about.
Below the HRRR model shows this line arriving around midnight, coming down I-24 from Clarksville:
The NAM-WRF model shows the storm line developing around 10 PM and arriving at 1 AM: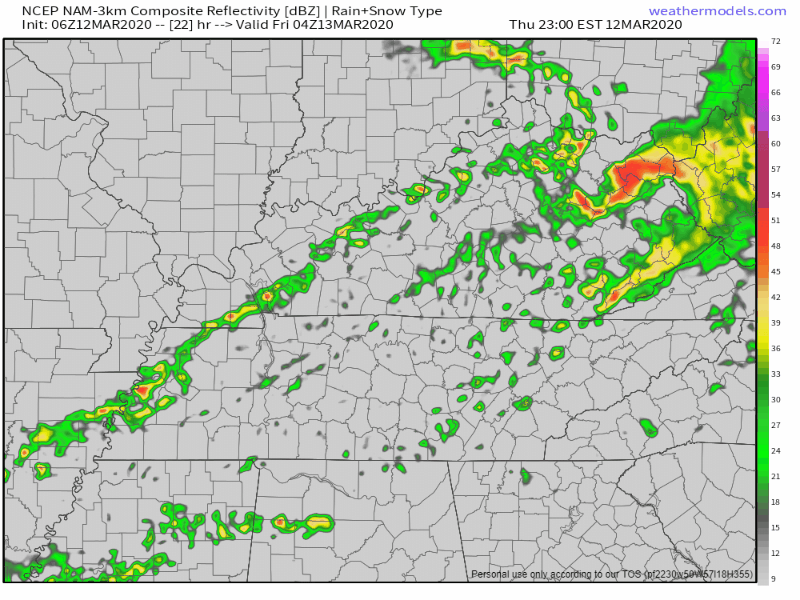 Both models show low-end probability to produce severe weather. This line will require your attention, but if the models are right (and they may be soooo wrong), it is not especially concerning. It's just regularly concerning.
---
Overall hazard levels are found in various graphics, like this one from NWS-Nashville: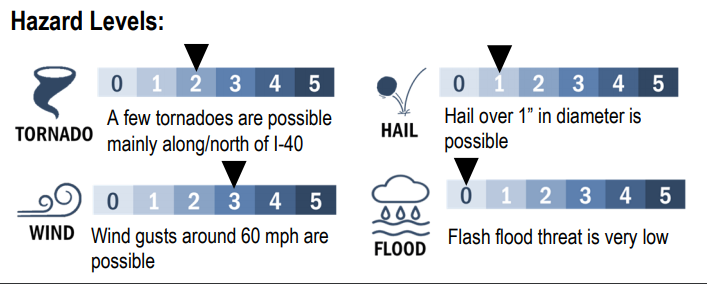 The most dramatic graphic is the tornado outlook from the Storm Prediction Center. It shows a 10% "hatched" area just north of Nashville, in fact, if you drill down to street level, that area covers parts of Davidson County north of Briley Parkway. The "hatched" area is dashed below, indicating tornadoes that form there may have EF-2+ power. Tornadoes are possible in either round, but the risk of the stronger tornadoes is mostly off to our north and northwest in that yellow dashed area later this afternoon and early tonight.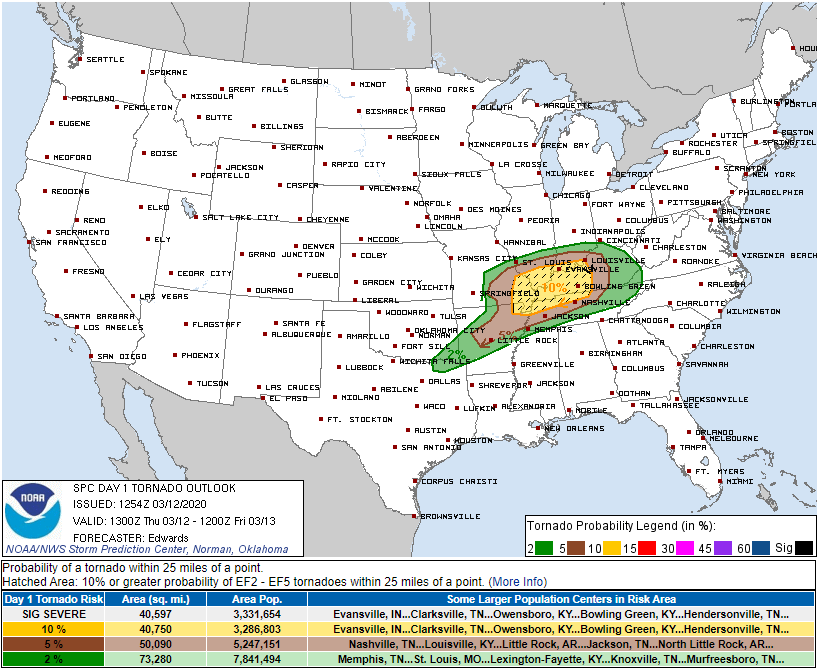 The hatched area is close enough to us to watch closely, but the best expression of our tornado risk is to say 5% probability of a tornado within 25 miles of us. Stated another way, 95% probability a tornado will not come within 25 miles of us. Low probability of a high impact event should require your attention. Sometimes low probabilities happen. Usually, they don't.
The most likely form of severe weather is damaging winds, defined as winds 58 MPH or stronger. 15% probability a damaging wind event within 25 miles of us. For large hail, that probability is 5%. Flooding is not a concern.