Rain this Afternoon
Today's atmosphere is stable and unsupportive of severe weather. As I'm writing this, all data indicates no instability which is key to making big storms. Other ingredients necessary to support severe weather are also missing today.
A storm complex is moving through West Tennessee and Arkansas this morning. Here it was at 9:30 AM.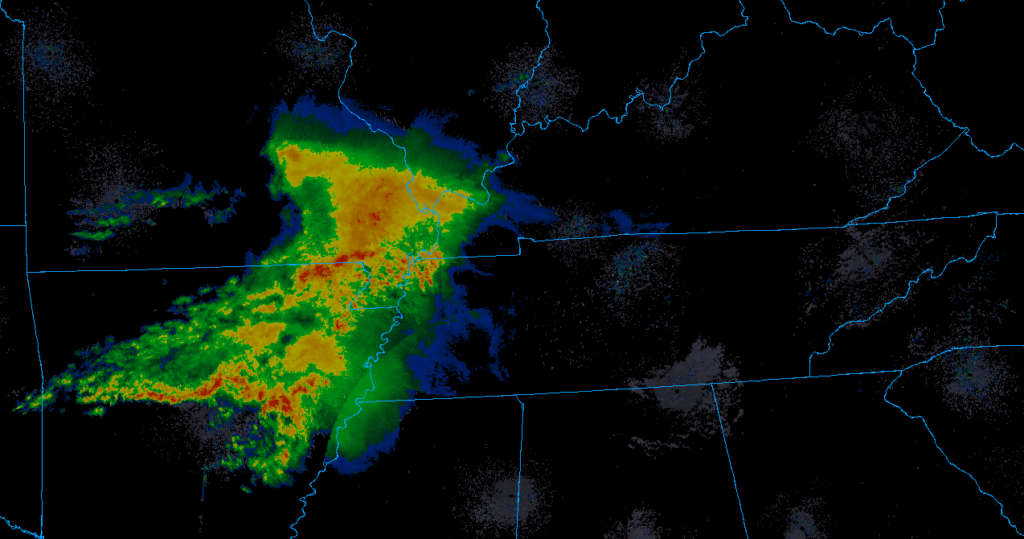 This is called a MCS (Mesoscale Convective System – fancy word we use for a system of storms). It will move in our direction today and "get here" early to mid afternoon, but it will encounter our storm-unfriendly atmosphere and weaken substantially.
Below, the HRRR model predicts the MCS will fall apart as it moves into our area.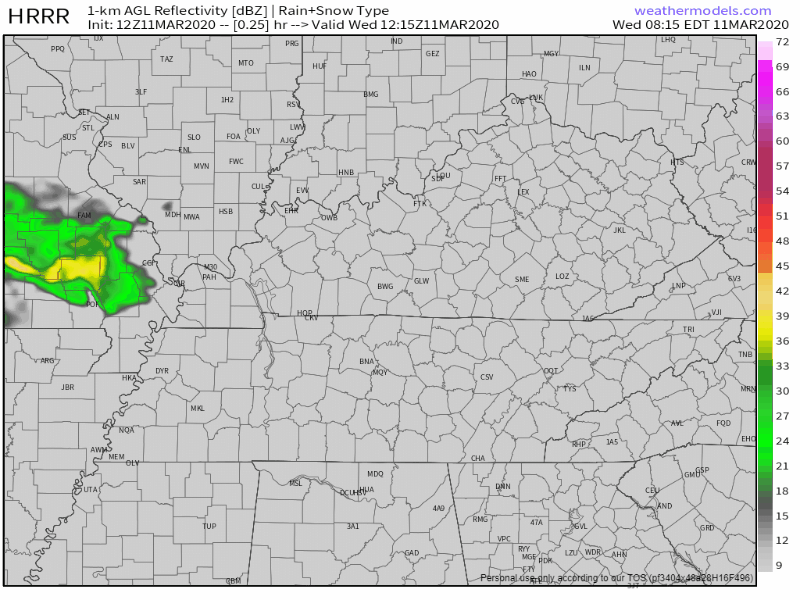 The HRRR is not the only model saying this. The NAM3 model also shows the MCS weakening as it moves toward us. We still may get some rain showers. Lightning on arrival looks unlikely. Winds may be gusty, but there is no concern for tornadoes today (Wednesday).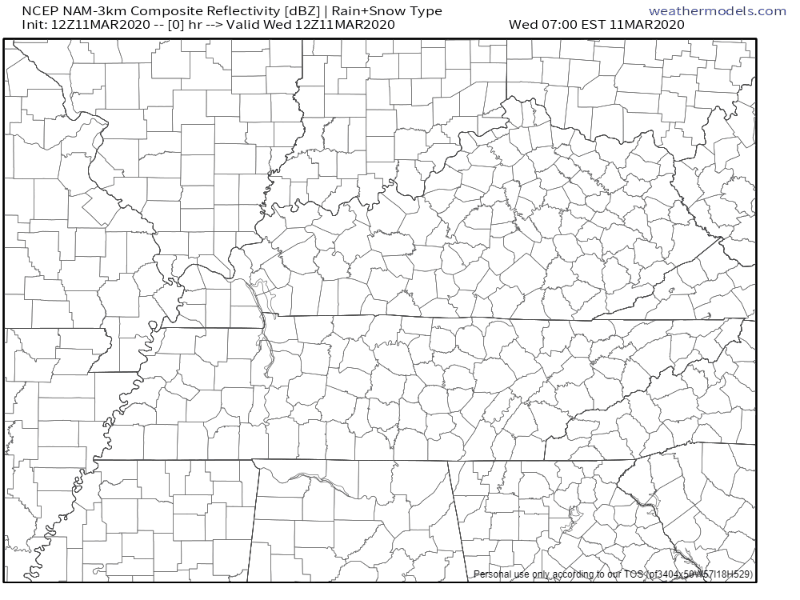 NWS-Nashville had this to say:
There is some suggestion that this MCS should erode as we get into the mid-to-late afternoon hours, so I've trended in that direction, but some leftover light showers will be possible across the south into the evening and overnight hours.

As with any MCS, they can create an environment ripe for strong, gusty winds, so if you live west of I-65, you will want to monitor the weather throughout today.

NWS Nashville Forecast Discussion, 7:55 AM on 03/11/2020
Maybe a few scattered showers tonight, fields may be wet.
Strong to Severe Storms Possible on Thursday
Thursday morning, a warm will lift north and cover us like a warm blanket. As that happens, a few showers, any maybe even a weak thunderstorm, will be possible, but there is no indication anything will be severe.
Severe storm potential begins as early as Thursday afternoon, but is more likely Thursday late-afternoon and night.
NWS-Nashville says:
A few storms could be strong or severe with damaging winds and large hail over northwest Middle TN. This risk area includes Nashville.
Cannot rule out an isolated tornado.
Total rain accumulations by Friday morning will be only around a half-inch to an inch, so no flooding concerns with this event
This is how the SPC breaks down our risks for tomorrow afternoon and evening.
Damaging winds are the most likely threat. We are in the yellow. This means a 15% chance of seeing winds of up to 58 MPH within 25 miles of us.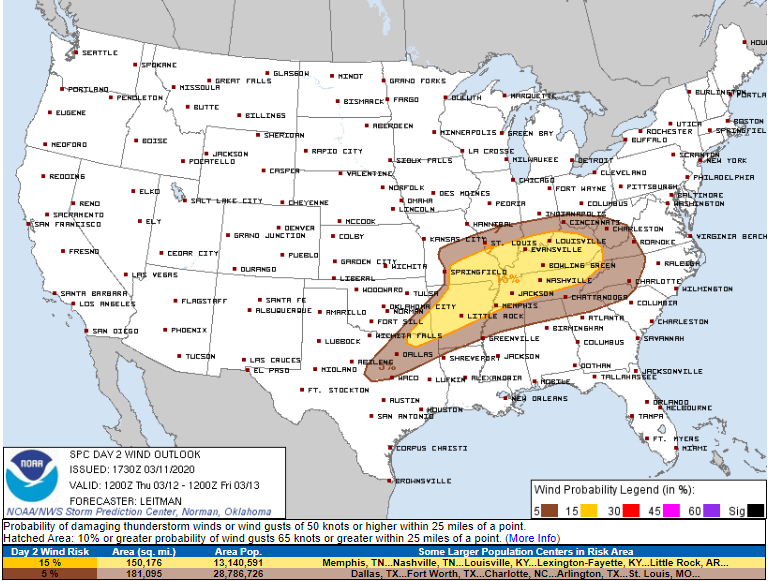 Next, the tornado threat. We are in the brown, indicating 5% probability of a tornado within 25 miles of anywhere inside the brown, us included.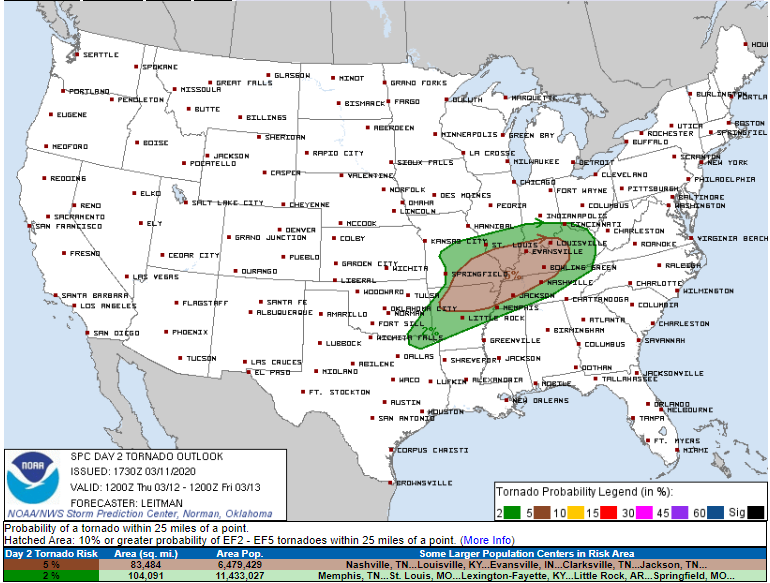 Lastly, the hail threat. In the brown as well, 5% chance of seeing 1 inch hail or larger within 25 miles anyone in the brown, us included.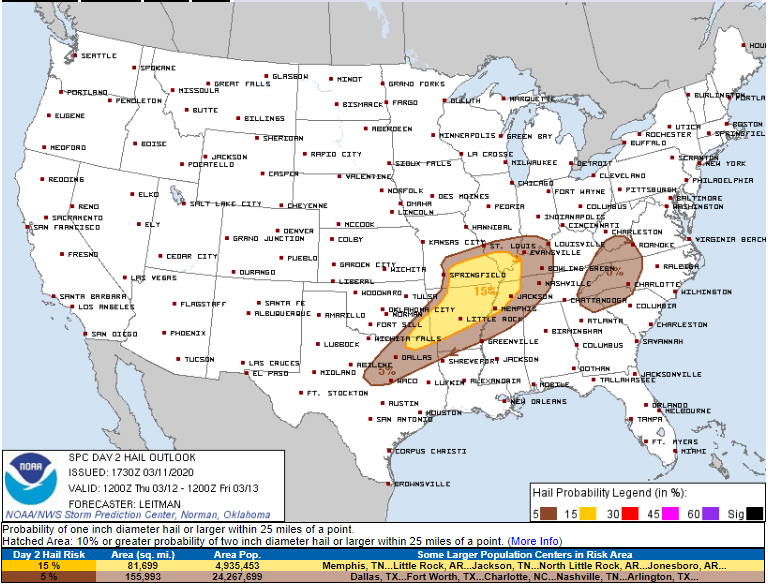 Editor's Note: Sometimes 2% probabilities happen. They did last week. Use probabilities to estimate risk and remind yourself to keep checking for additional, more recent information which will be more specific, actionable, and clear. Models disagree how this event will unfold. Some models are concerning, others not so much. Stay connected. Things change fast (sometimes, they change for the better!).
Always be prepared, and have a way to get information and warnings as these storms move through. Secure loose objects and tarps for wind.
We know it is too soon. We have no reason to believe this will be a repeat of last week, but regardless…we have no reason not to believe it. Avoid recency bias, which says if it happened recently it will happen again. What happened last week doesn't make what might happen Thursday more or less possible. But it sure feels different after the March 3 tornado. We will be here with you. We will be here for you. We are not going anywhere.
Friday and the Weekend
Showers early Friday, drying out by mid-afternoon. Cooler but still spring like with highs in the 60°s.
Models remains confused for the weekend, but it looks rainy.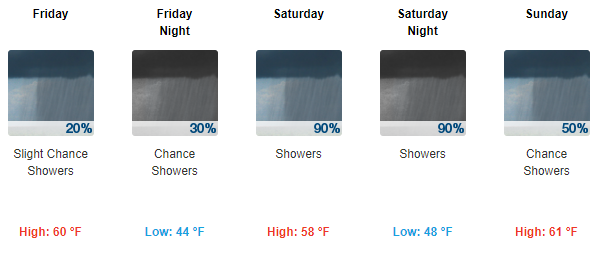 Be sure to check back for updates as this forecast will change and evolve as more information is made available to us. Also, check out our Twitter @NashSevereWx if you haven't already done so.