It was one supercell producing at least two strong tornadoes.
Our tornado was rated EF-3. Ratings refer to the highest damage reported; this one had EF-0, EF-1, EF-2, and EF-3 damage at various points, but it's called "EF-3" because that got the highest rating. EF-3 damage was in Germantown, Donelson, and East Nashville. Here's the zoom on Nashville/Davidson County: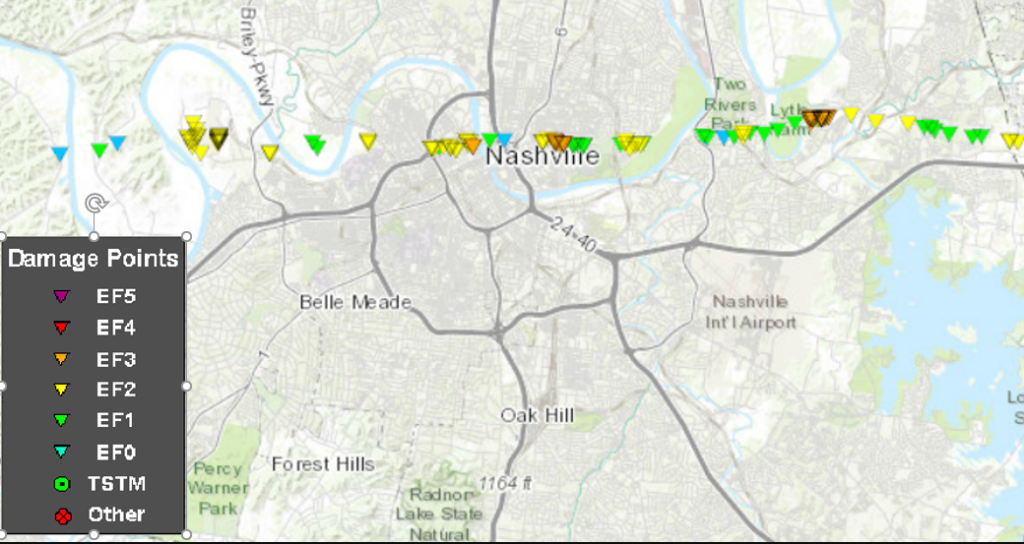 Tornado strength is measured by damage, from there the wind speeds are determined. Tornadoes can be stronger, but if they don't hit anything, you can't rate them. It's an imperfect system, but has value because it's standardized. Radar velocity deltas and debris lofted (18,000 feet) correlates with prior studies to EF-3 strength. 160-165 MPH winds.
50.25 mile path isn't the longest in Tennessee. Many other tornadoes, mostly in West Tennessee, were longer, but the "debate" about this in certain circles on Twitter is noise. No one hit cares whether it was the worst, or strongest. If it was weaker or stronger than a previous tornado so what? Homes, businesses, schools remain shattered. Lives remain lost.
Facts matter. Good science instructs good forecasting. Good forecasting helps people plan. Good warnings help protect people and property, and that's the mission. Bad science (or no science) passed around as fact has bad consequences.
Common errors exposed by this storm:
Tornadoes don't cross rivers. This one did. 7 times. In Nashville.
Tornadoes don't go up/down hills. Yes they do. This one did.
Tornadoes don't hit large cities. Wrong.
Sirens should alert me. The truth is you can't always hear them. Sirens are not designed for you to hear them indoors. You need @stormwatchplus or another app that'll wake you up in the middle of the night. You need a weather radio. You need to be aware during storm days – most of the time, tornado forecasts are low probability, high impact events. Most of the time, nothing happens, or the tornado misses you. Most of the time, not all the time. Your safety is worth taking every tornado event seriously. I'm comforted to read the stories of those of you who did just that. But you've got to be sure you've got an alert system that'll wake you up before you go to bed, or before you turn on Netflix.
Power through/ignore feelings of anxiety, grief, sadness, isolation. This is a lie. I've talked to a counselor myself, and encouraged others to do the same. I've never felt like this before, maybe so do you. It's not weakness, it's natural. Break a bone. Get a cast. Break your feels, see a counselor.
---
We've had an outpouring of kind messages, shared stories, financial support, I hope we have been responsive to them all but I am sure we haven't, and if that's you, I apologize. We see them all. Every time I see a message, or a PayPal or Patreon notice dings, it hits me in the feels. A few of them reduced me to a puddle. I went to the gym last night, was running, heard someone say my name, and lost it. Please know we hear you, we treasure your stories, it's hitting us in the chest where you're aiming it. We're feeling the way you are.
---
I can't make it make sense to you but please hear me on this: I have Several Massive Obscenities for that ****ing storm and it lit a hot fire. Andrew, Will, and I reviewed parts of our coverage. I liked our coverage; it could have been better, it will be better. We have not let the feels delete our memories about what it was like in real time, we've noted things we can do better. We've written them down and developed a plan, and we will revisit our process when we have a bit more distance and objectivity. Your financial support will empower us to do that. Some improvements are process-related, others required financial backing we can now undertake. Thank you. There will be more storms. We will never be perfect, but we will be better.
---
The Forecast
Clouds are streaming in.
But the rain is south of us. A few brief showers could wander in but no storms. Most, probably all, of the rain will pass south and east of us. HRRR model through the rest of today: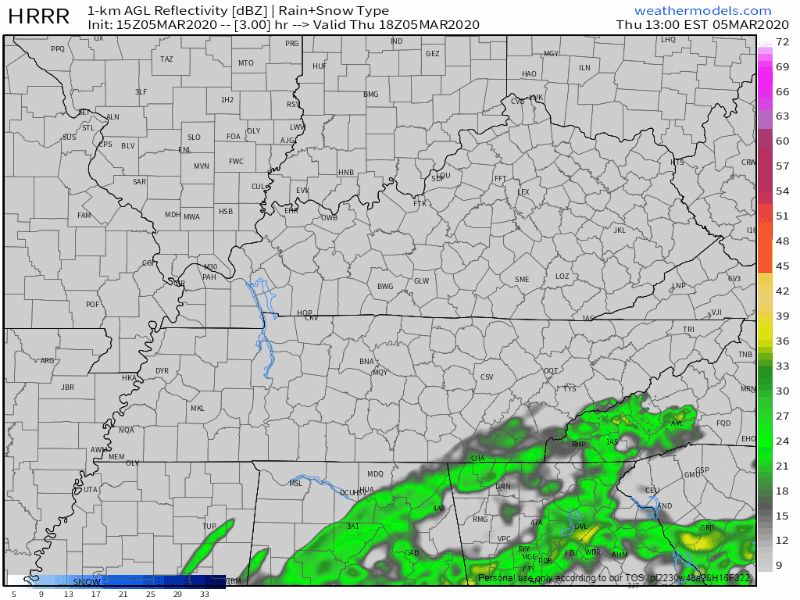 It's Going to Get Cold
Those without power, plan. Winds will shift NW, blowing in wind chills below freezing early Friday morning. Wind chills mid 20°s Saturday morning. Highs both days 50° and 54° but that wind will make it feel much colder.
Next Rain Event Next Week
Monday night – Tuesday, maybe even Wednesday. We're all on edge so I did a deep dive into forecast models. Those models perform poorly at this range, but I studied them anyway, and I can't find reason to worry about more severe storms. Both GFS and Euro forecast soundings show no instability, a key ingredient in severe storm formation. This looks like a rain event, total 1″ to 2″. Of course this can change, it's storm season, and we'll stay atop it.
To reassure you, from NWS-Nashville:
The instability is so weak don/t see any threat for strong or severe storms.

NWS-Nashville, Forecast Discussion, 3/5/20, referring to the rain event Monday-Tuesday-Wednesday next week.
Temps, next 7 days: