Editor's Note: You've poured love, encouragement, and support into @NashSevereWx for years, but never like we've felt in the past 36 hours. We love you guys, we love weather, we hate tornadoes, we hate the lost life, injuries, destruction.
Thank you for your kind words on Twitter and on Patreon and Paypal, for sharing your stories, we need to read them. I don't know what to say or do to properly acknowledge them. Our response to your overwhelming financial support feels inadequate. I can only thank you.
I'm having post-event stress. I didn't know it was a thing, but it is. Every "thank you" you've sent is a blessing. I'm processing all this . . . slowly. I'm having emotional swings. I've been told by broadcasters and NWS people who've been through this emotional swings are natural, isolating yourself is the worst thing to do, give yourself time to process. This was a nighttime tornado, through the heart of our community, with EF-2 and EF-3 damage. I have 100 things to say about this event, from the meteorology, to the warning process, to the storm itself, to everything in between, and there will be time for that. For now:
If you're feeling anxiety, stress, etc., it's normal, you're not alone, there is help. Not all stress is the same. I was on the phone yesterday seeking counseling to deal with the stress of being a voice people turn to, yet watching destruction happen in real time. I've stood in damage of Katrina (I went to high school in Gulfport, MS). I've been on tornado surveys. I've never been a tornado victim, but I had one hit the house behind us (thankfully the weakest tornado ever) while I was not at home, but my family was. Your story is unique, the stress real no matter how you were impacted. You aren't too tough to get help:
Helping helps. There are ways to plug in.
@NashSevereWx will keep going. Spring severe storm season just started. We aren't going anywhere. We will review this event, find out what we can do to get better, to be better.
Show grace, empathy, and compassion to each other. Nashville has done that before, we will do it again. –David.
Here's Hunter's blog:
---
Mostly Dry Wednesday
Afternoon high of 65°F today, a chance of rain to our south. We expect to stay dry; only a remote chance of a shower around/south of I-840 later today.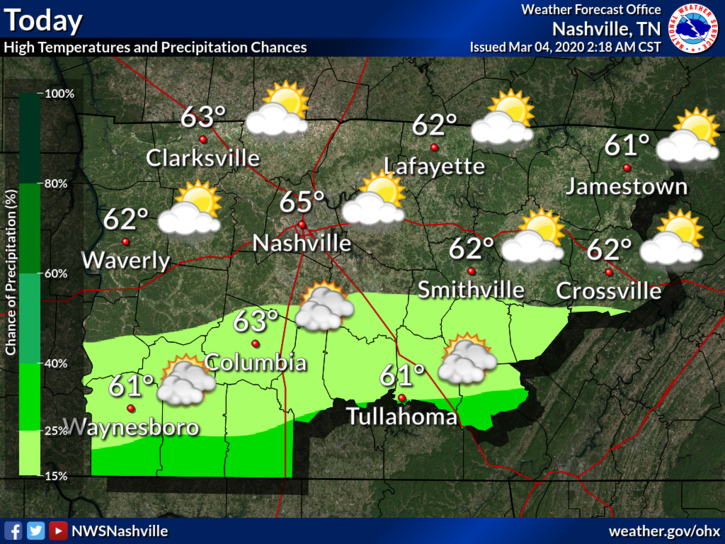 Maybe a Little Rain Thursday
High around 60°F for Thursday.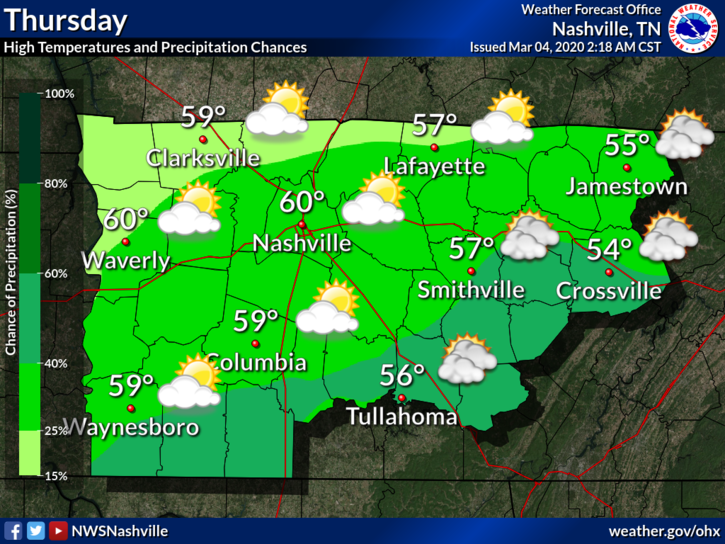 Not much rain at all really – around a hundredth to up to a tenth of an inch is in the forecast, but it may just be cloudy.
The HRRR model shows a warm front hanging to our south and triggering rain, the rain sticking around northern Mississippi/Alabama/Georgia. It thinks no rain for us Thursday.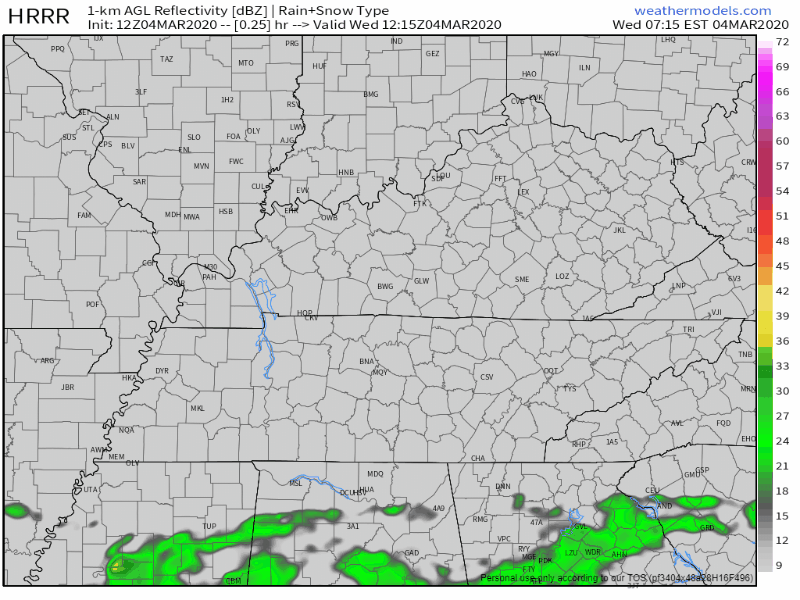 The NAM3 model thinks the rain will be a bit further north, but not by much. If this model is right, maybe a stray shower or two with this model's eyes.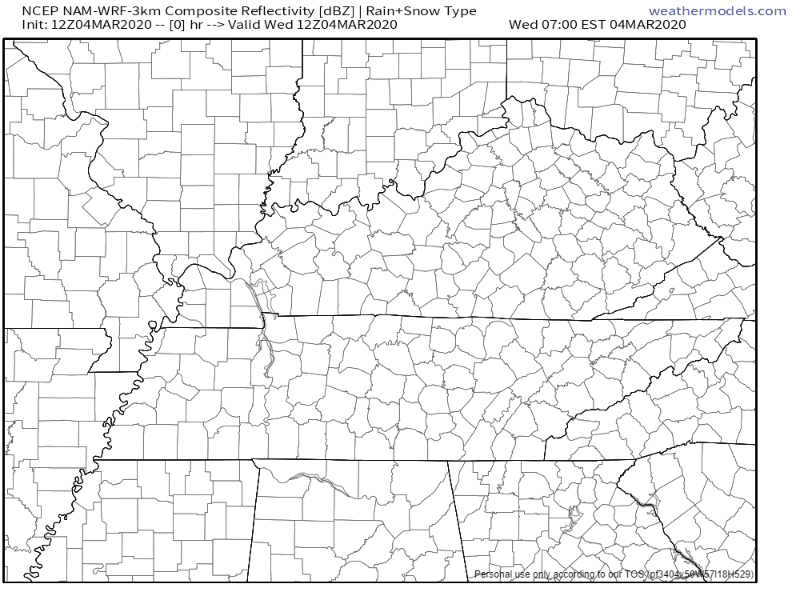 NWS Nashville:
There is no thunderstorm potential which is good for clean up efforts and storm surveys that will need to continue across Middle TN. It also looks like any heavy rainfall will stay south. [Rainfall] amounts today through tomorrow will be light ranging from a hundredth or so across the north to a couple of tenths across the south.

NWS Nashville, Forecast Discussion – 03/04/20
A Much Needed Break
We finally clear out. Highs in the 50°s, lows in the 30°s.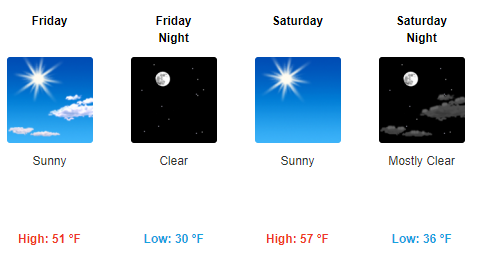 This will be great weather for clean up efforts. Go out and share the love, find out ways you can help if you can!
Be sure to check back to updates to our blogs as the forecast evolves and check us out on Twitter @NashSevereWx!