Isolated Showers This Afternoon, Strong to Severe Storms Possible Tonight
We've gotten a break from the rain for a few hours this afternoon. Clouds will stick around, so not much sun there for us today, but regardless we'll be up to 64° for the high. Strong to severe storms will move in from the west this evening. Here's more on that from the NWS-Nashville:
"Latest guidance shows instability increasing later this afternoon, with MLCAPE values around 500 J/kg or slightly higher by 00Z. This instability looks to hang around through the early overnight hours, and combined with the strong deep layer shear, severe thunderstorms remain possible later today and tonight. The HRRR and other CAMs show thunderstorms developing just northwest of the area around 00Z, and spreading into northwest zones in the evening."

NWS-Nashville 3/2/20

Instability is like fuel to the fire for thunderstorms when developing. The Storm Prediction Center has us under a 15% chance of seeing severe storms within 25 miles of you.
Here's what the HRRR believes the next several hours will look like. Loop through 4:00 am.
Notice a few splotches of red and yellow signifying the heavier rain and storms.
Timing
The stronger storms will begin to move into our area between 11PM-1AM, and eventually moving to our east overnight as the instability drops off. Rain will become more isolated once the stronger storms pass through.
Threats
With the small amount of low-level shear, tornadoes aren't going to be a primary threat, but still cannot rule one out. The main threats will be potential damaging winds and hail. The NWS-Nashville goes into more detail:
"With mid level lapse rates still pretty steep along with the drier air in that layer, hail remains the primary threat, with damaging wind gusts also possible with any strong to severe thunderstorms. Low level shear is on the weak side, however, can not rule out an isolated tornado especially if low level shear picks up this evening."

NWS-Nashville Forecast Discussion
[Editor's Note: Notice the "if." If shear increases the tornado threat will go up from where it is now. Don't disconnect from future revisions to this.]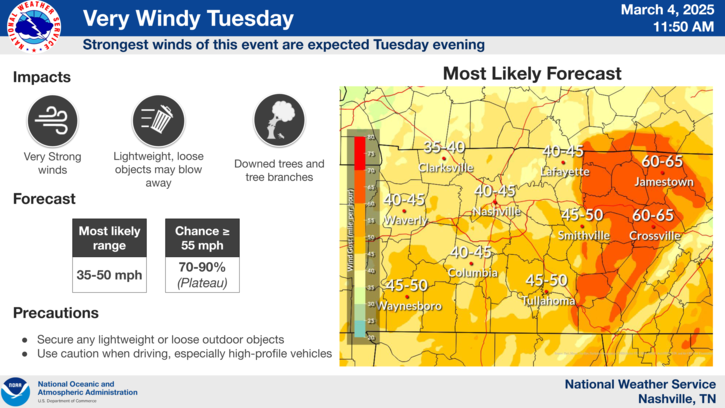 [Editor's Note: Don't go to bed "unplugged" tonight. Have multiple ways to get warnings including a wake-me-up app.]
More Rain For Tuesday Through Thursday
Yes I said rain, and that may make you a little sad. The good news is that it's not going to rain all day every day until Thursday. Tuesday's rain will move in early morning, last us through the morning commute and into the early afternoon, before moving out and leaving us cloudy, but dry and 65°. Here's the NAM illustrating this out for you:
Wednesday we'll see a few what I like to call "splash and dash" showers before they become more widespread overnight. High of 62°. Thursday you'll still want to have that umbrella or rain jacket with you when you head out the door, but not a complete washout. Here's the GFS for Thursday:
By the time all of this moisture has moved out of Middle Tennessee, we'll rack up 0.5-1″ of rain.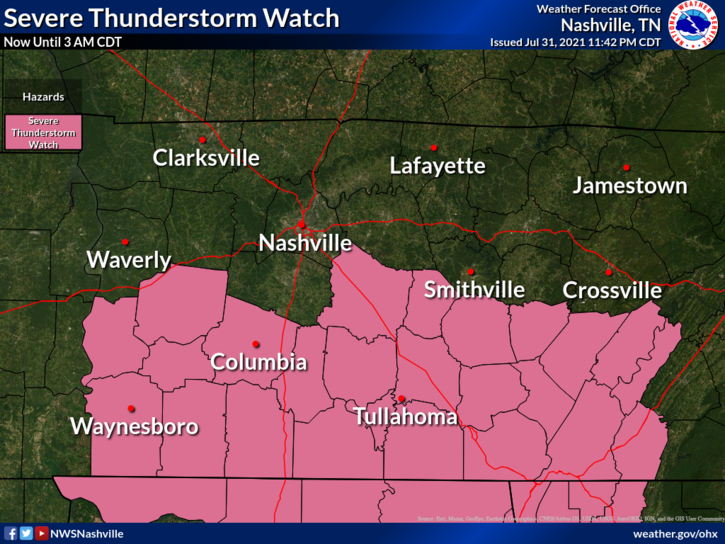 A Peek Into The Weekend
We'll be cooler this weekend, but the good news…no rain! Highs will be in the mid 50s to low 60s, and plenty of sun to go around for all of us.