The first line in yesterday's blog was
4″ to 6″ of rain (some may see a bit more) is the current forecast from Sunday night through Wednesday; however, timing and rainfall totals are uncertain because models disagree. We may need to decrease or increase these totals.
Totals are decreasing.
---
South wind delivers warm air Sunday, high 67°.
Personality, hearing trouble, height, etc., are reasons I'm not fun at parties. Add telling the truth that Spring begins March 19 as another reason.
Since 1871 Nashville recorded snows of
3.1″ on March 1
3.4″ on March 2
3.5″ on March 3
7.5″ on March 4
2.9″ on March 5
4.6″ on March 6
4.0″ on March 7
1.0″ on March 8
5.5″ on March 9
0.3″ on March 10
2.6″ on March 11
3.3″ on March 12
3.1″ on March 13
1.0″ on March 14
4.2″ on March 15
0.3″ on March 16
17.0″ on March 17 (SEVENTEEN INCHES), and
0.2″ on March 18
It's been 2° on a March 3, 3° on a March 7, and 17° on a March 18, so forgive me if I'm unwilling to bend universally accepted rules and declare a premature death to winter.
We can have a cold Spring (it can snow in early Spring), but let's wait til Spring for a cold Spring. Let Winter be Winter.
---
We think there will be two rounds of rain: Round 1 Monday morning, Round 2 Tuesday morning.
Models, including the HRRR model below, predict rain off and on beginning midnight tonight through Monday lunch:
Then, a break Monday afternoon. Total rainfall one-half inch.
A few storms may mix in Monday morning; Storm Prediction Center says 5% probability of large hail to our west: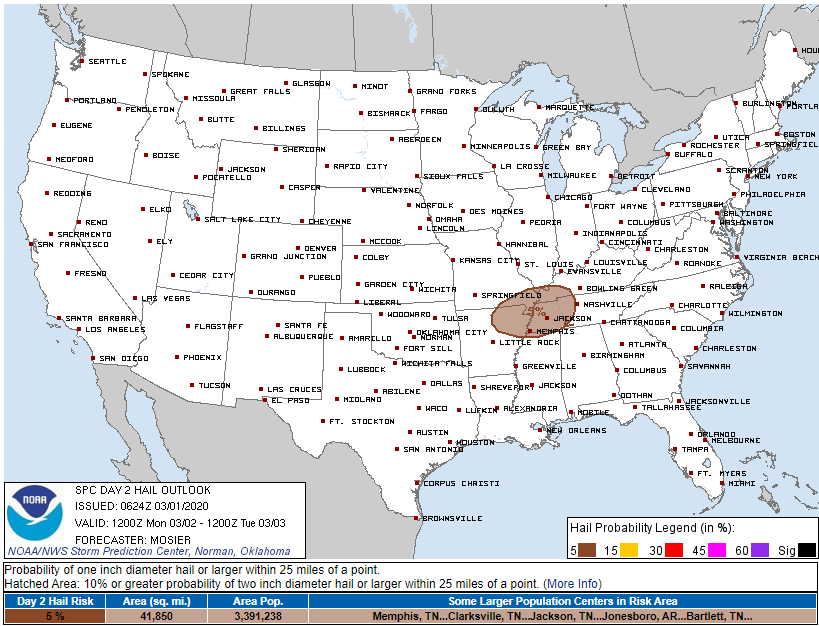 No tornado worries. This whole thing is meh for us.
---
Round 2 rain Tuesday morning will be off and on. Total rainfall around 0.4″, tapering off in the afternoon. Few rumbles of thunder possible but no storm worries.
---
Wednesday, current data thinks all rain will be really close to, but south of, us. Four model runs (GDPS, NAM, Euro, GFS) all show Wednesday morning rain passing south of us: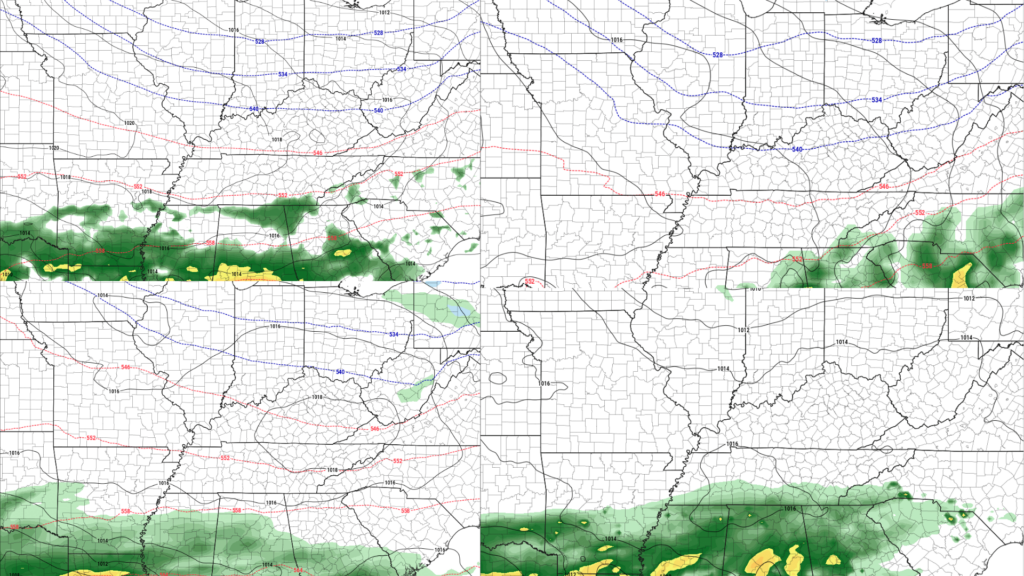 Models had heavy rain on top of us, but they've now shifted it south of us. It may still move back on top of us. To account for uncertainty we have to mention a chance of rain remains Wednesday.
---
Mild temps ahead: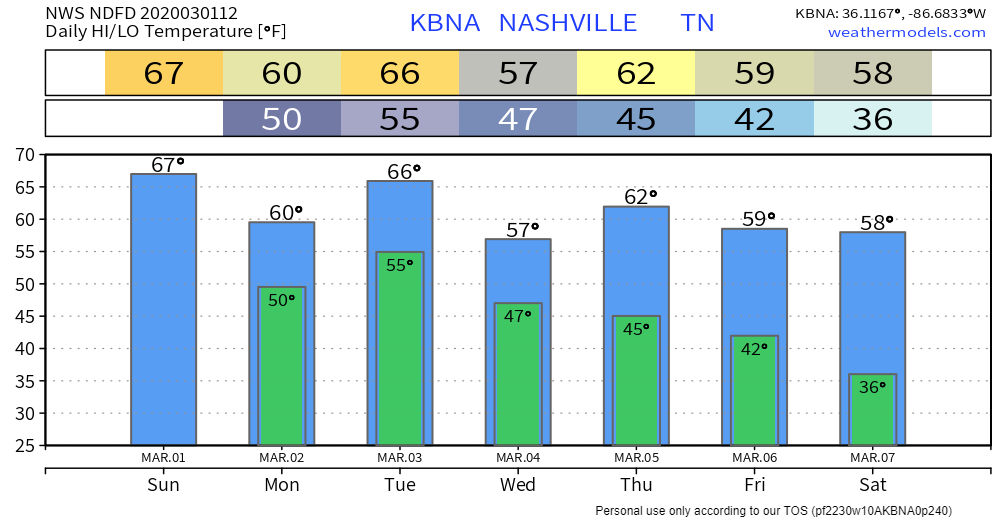 ---
Rest of the week Thursday – Sunday looks dry. These are the same models that had us down for 5″ to 8″ of rain for Monday – Wednesday (current thinking 1″+), so approach this dry weekend forecast like a relationship game show love promise.