Today: Flood Watch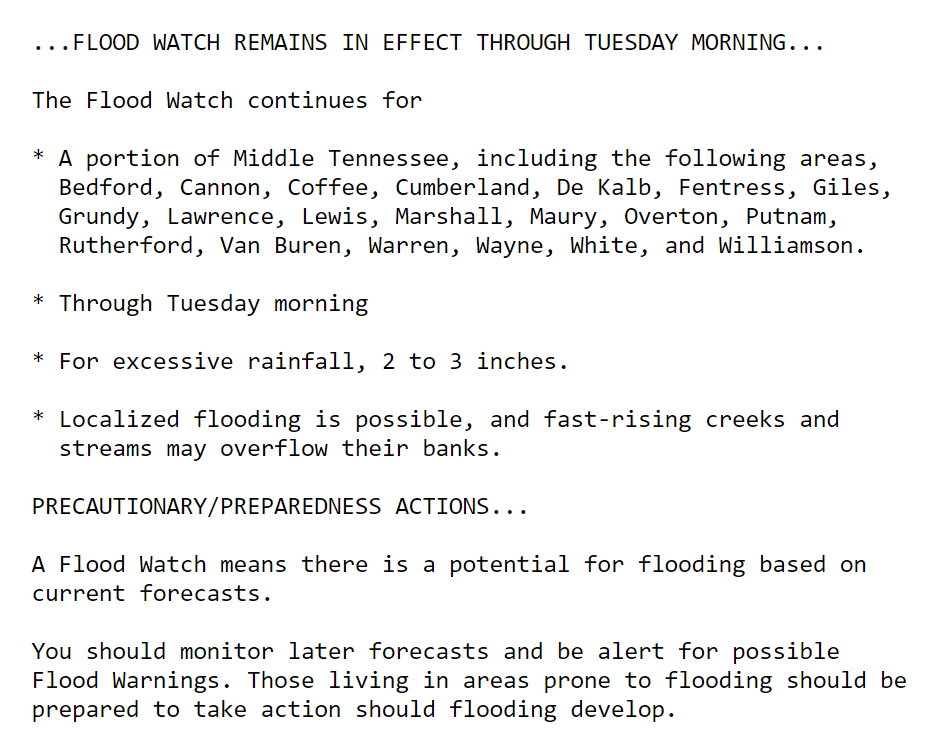 Most of us received between three-quarters of an inch to an inch of rain around dawn this morning, which is why you probably noticed streams running pretty high on your way into work this morning. There were no flooding problems, but it's obvious the ground is soaked, and anything that falls for the foreseeable future has no interest in soaking in. It's going straight to a stream or river.
Expect on again/off again rain today with a high in the upper 50s. We may get a break in the rain this afternoon, which could help the creeks drain somewhat before our next round of heavy rainfall.
The HRRR illustrates. The loop is from 11:00 am through 5:00 am tomorrow morning.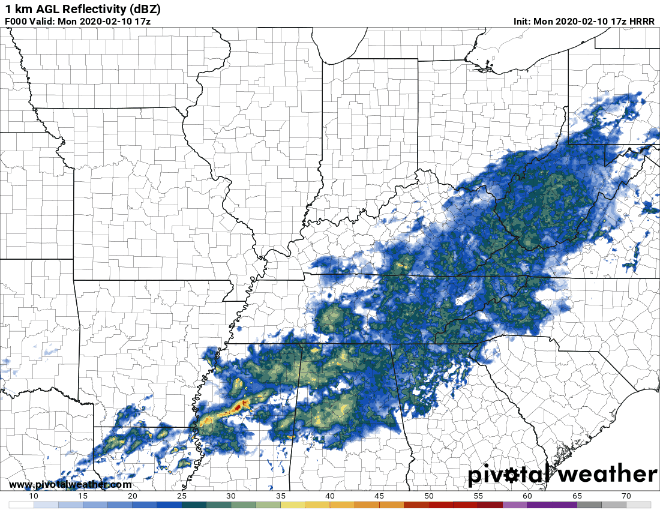 Tuesday
We will likely find ourselves getting a break from heavy rainfall on Tuesday. While off/on rain is possible, we're not expecting continuous rainfall. It'll feel damp and cold, however, with a high of only 50° and no sunshine.
Flood Potential Increases Wednesday
Our second round of heavy rain is forecast to arrive Wednesday, especially Wednesday night.
All told, the Euro model thinks we'll see around two inches of rain by Thursday morning at 6:00 am.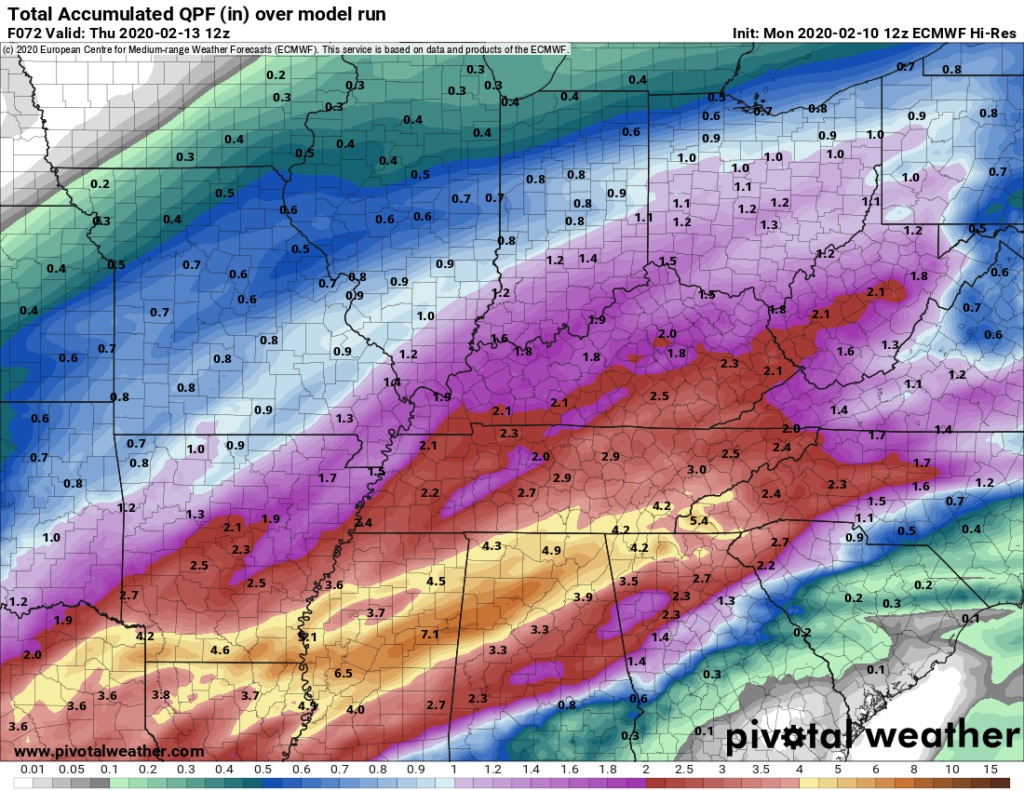 The GFS thinks we'll get a little more, closer to 3″.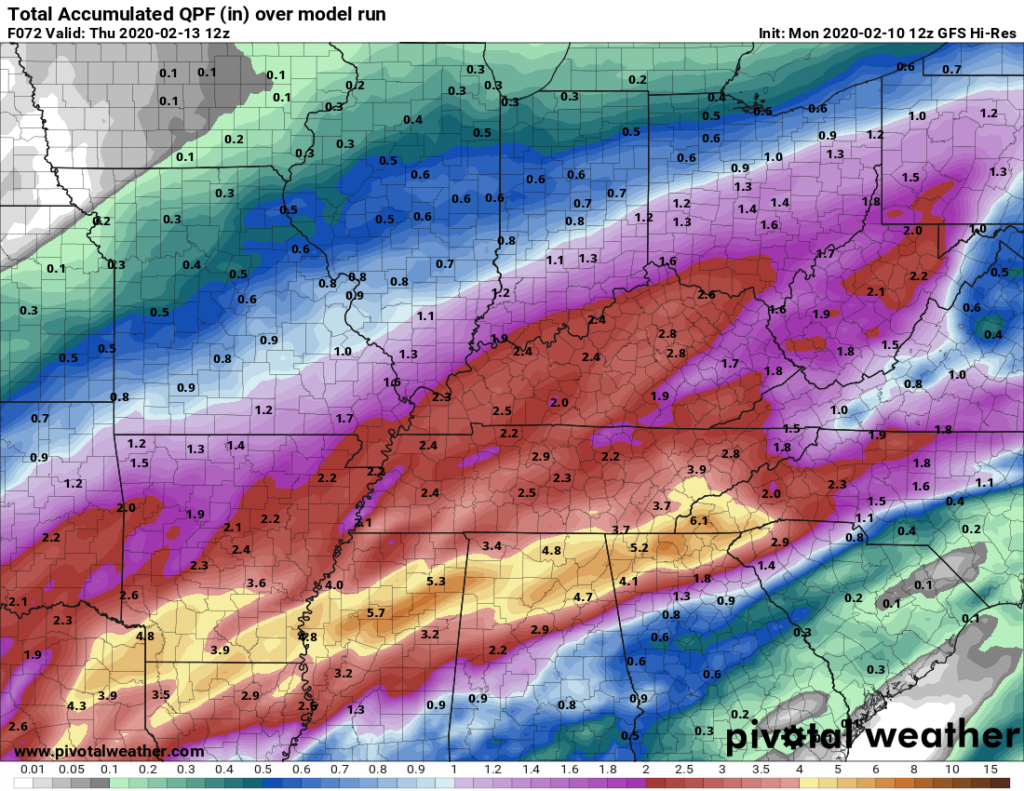 While the heaviest rain is expected to stay south, 2-3 inches of rain in our watersheds is enough to keep our full attention.
Severe Potential
We're flipping through model soundings today looking for severe ingredients that could come with the system on Wednesday. A good place to start is to look for CAPE and shear, then go from there. This time of year, we often see high shear, low/no CAPE systems. This one is no exception. On the models, CAPE is awfully hard to come by, but the shear is more than adequate for severe storms. If we do get some CAPE (models struggle with giving us much/if any), severe storms will be possible. For now, it's a low end threat.
SPC currently has Nashville in a borderline 15% probability of seeing severe weather within 25 miles of a point.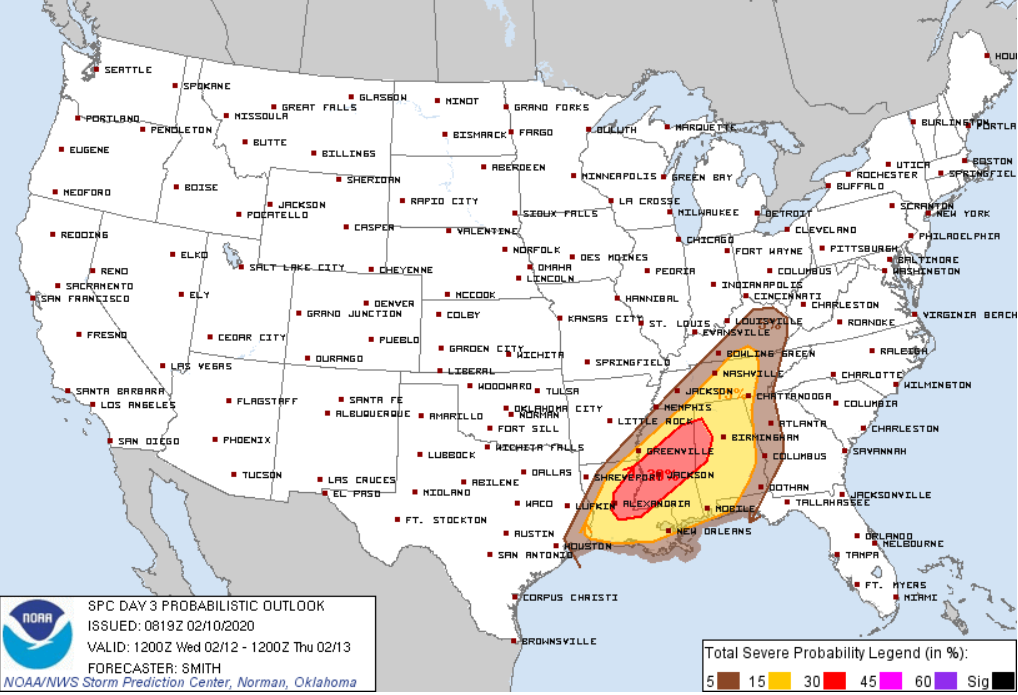 Some Reminders
Don't continue driving on a road if it's covered in flood waters. Just don't.
If you live near a creek or river, you know when those times are that you keep one eye on said creek/river. Might be a good idea.
If the heaviest rains come on Wednesday after dark, don't be caught unprepared. Have a way to get warnings/advisories for your area while you sleep.
Sun Returns Friday/Saturday
We hope.