Warm And Windy Friday
We're going to have on and off rain throughout your Friday afternoon and into the evening hours. Hold onto your hats if you have any plans this evening as winds will continue to gust up to 30-40mph. Here's the latest HRRR model, not all of us will see rain this afternoon and evening, but some will.
Not a complete washout for any plans tonight, but bring an umbrella with you just in case (and be sure to hold onto it). We're way above average temperature wise today as well, at 69° for the high.
Severe Storm Threat Saturday
Middle Tennessee has a decent chance of seeing strong to severe storms on Saturday. That being said, the time to prepare and be connected to severe weather information is now. Make sure your emergency alerts on your phone are turned ON for tomorrow. Don't rely on sirens only!
We're going to see a fast moving squall line moving into the area from West Tennessee tomorrow morning and afternoon. That being said, remain close to a potential shelter in order to not be vulnerable to what will be a potentially damaging squall line moving in from the West tomorrow. Ahead of the squall line will be winds approaching 50mph, which could easily knock down trees and some power lines. Once the line moves into our region, the main threat of strong winds continue, gusting up to 60+mph. Keep the above graphic in mind in preparation for the strong winds.
Timing
Noon to 3PM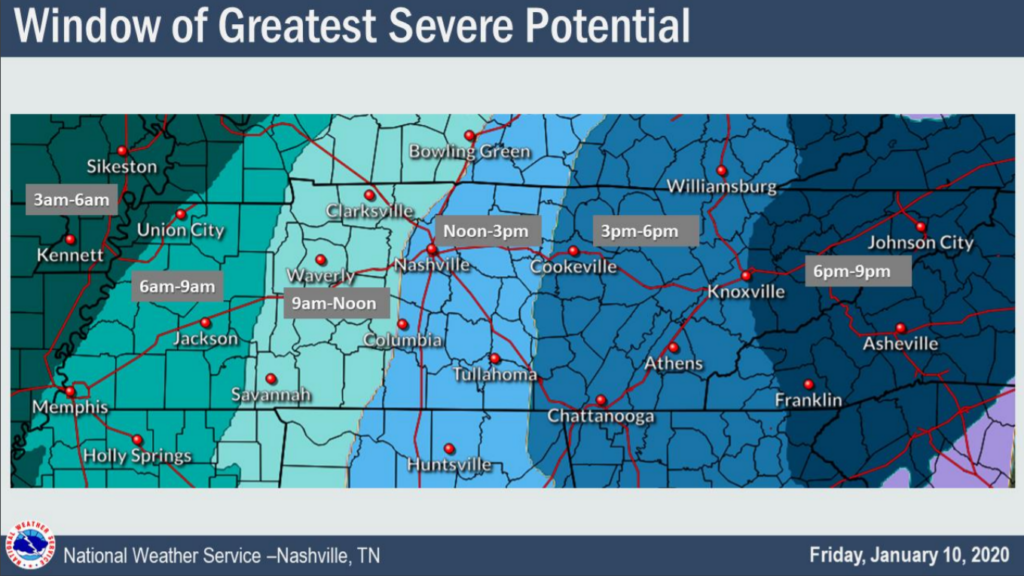 The latest NAM3 model confirms this time period for the squall line, right around 1pm-3pm, but of course, is subject to change.
Potential Hazards
The Storm Prediction Center has moved us into an area with a 15% chance of seeing severe weather within 25 miles of you.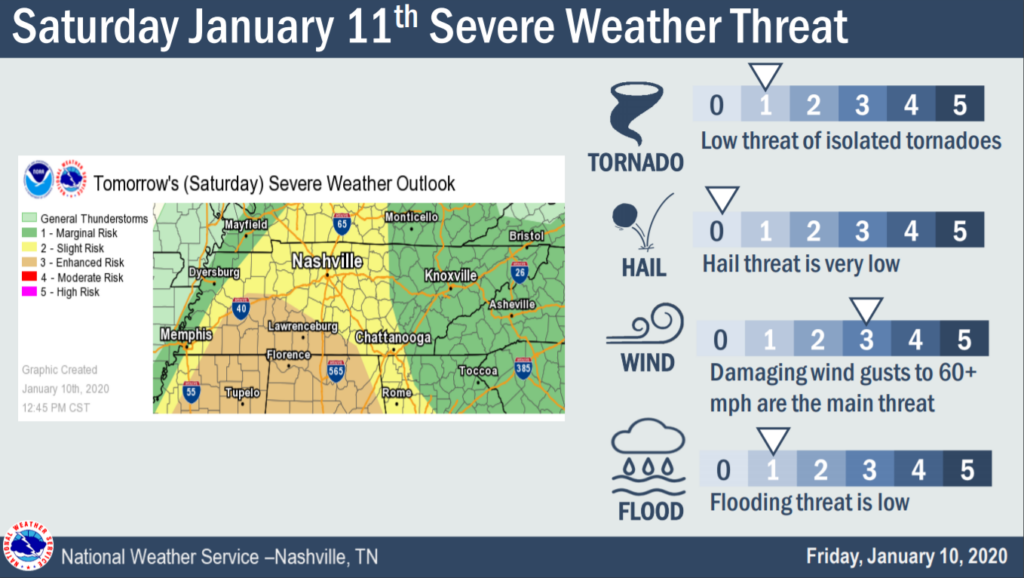 MAIN THREAT: Like previously stated, the largest threat associated with this system is the damaging winds up to 60+mph as the squall line pushes its way on through. Trees and power lines could be knocked down as well as other damages to buildings.
LOWER THREATS: Isolated spin-ups/tornadoes, especially South of I-40. Rainfall of 1-2″ could cause some localized flooding. Very low hail threat that can't be completely ruled out.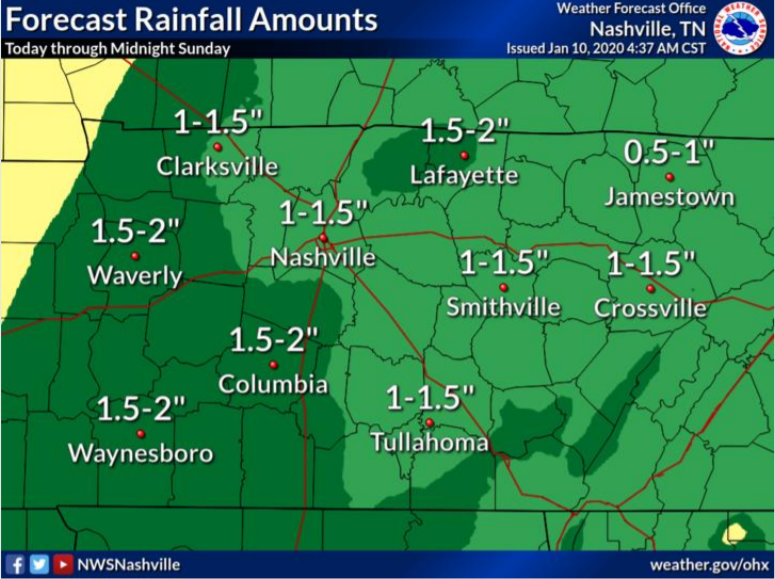 Even with the higher potential, the severe weather risk for Saturday remains uncertain and not set in stone. Stay weather aware as potential severe weather approaches tomorrow and have a plan and shelter if the need arises. You can follow us on twitter @NashSevereWx and the NWS-Nashville for updates as the weather ramps up this weekend. Have a great day!
EDITOR'S NOTE: We're going to lean on the YouTube live tool for forecast explanations and discussions and for wall-to-wall coverage if we are placed in a warning. Make sure you subscribe below so you get those notifications. Also, consider turning on twitter notification for our account, if only for tonight/tomorrow.
Do you have anxiety related to severe weather? Check out this page on our website about what to do.