Warm & Windy (62°) Thursday
15 to 20 MPH winds with gusts as high as 30 MPH. Secure hats and lightweight aunts.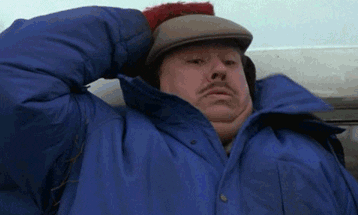 It'll be windy Friday and especially Saturday.
Rain Begins Friday, Storms (Strong/Severe Possible) Saturday
WHAT THE MODELS SAY
The GFS model shows light, scattered showers late Friday, with the heaviest rain and storms sweeping through Saturday afternoon: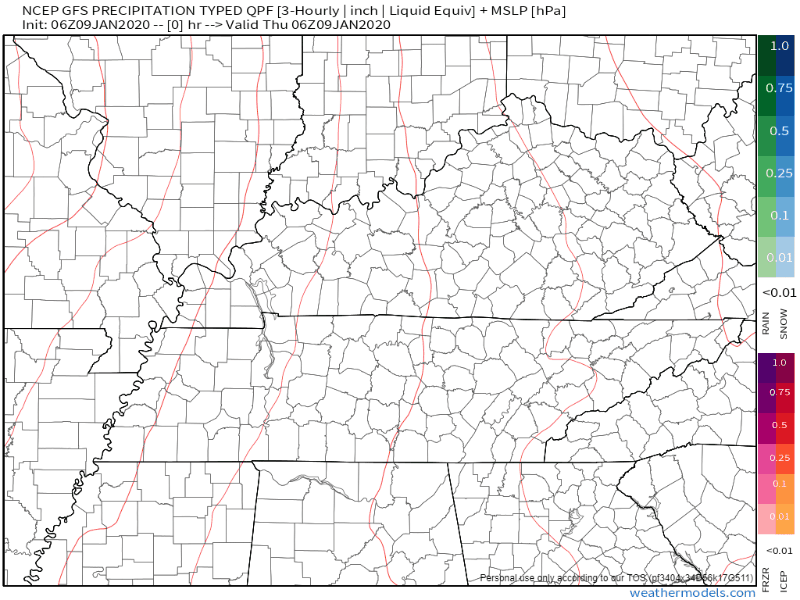 The EURO model says Friday afternoon rain, with heavier stuff Saturday afternoon/evening: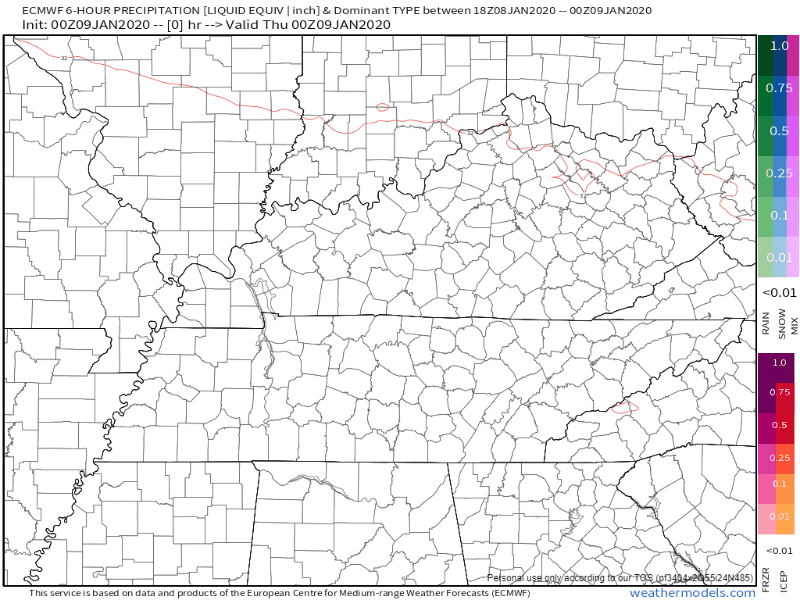 The NAM3 model says scattered showers beginning Friday afternoon, heavy rain Saturday evening: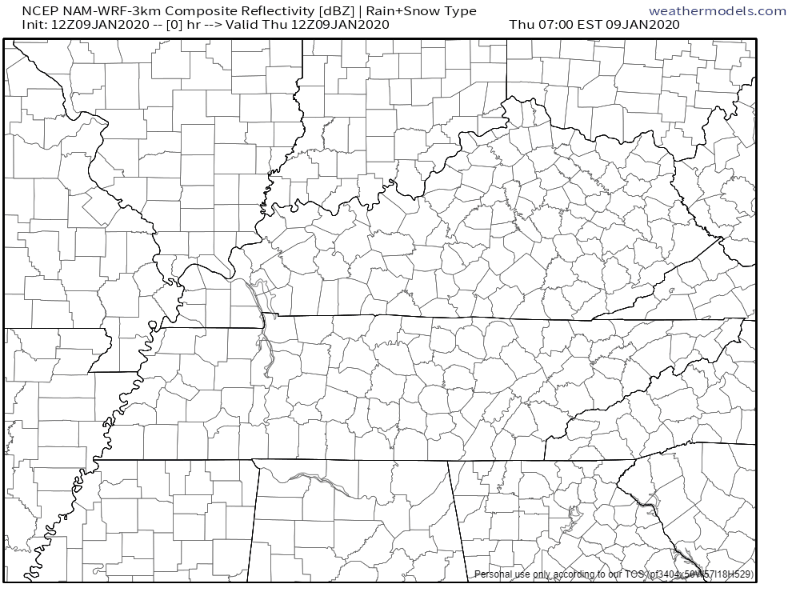 Expect showers Friday. Then, it looks like heaviest rain Saturday afternoon/evening. Of course there could still be some adjustments given this is 1-2 days out.
Rain should move out Saturday night (possibly before) and leave us with a clear and dry Sunday.
EXPECTED RAINFALL, MINOR FLOODING THREAT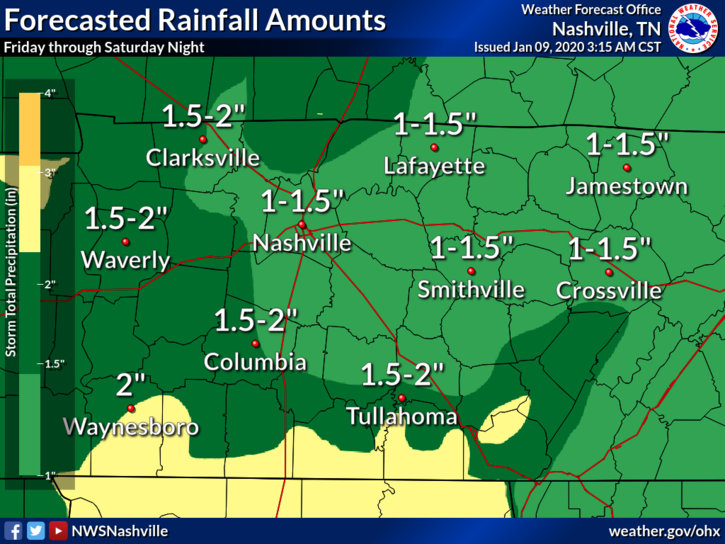 Minor flooding is possible in some areas due to heavy rainfall rates, but we don't expect widespread effects because rain will move through quickly. Earlier this week models showed twice as much, some more, rain than this. This downward trend is a good sign.
SEVERE RISKS & THREATS
Before the main storm event Saturday afternoon, winds will be exceptionally strong. Winds will be blowing from the south at least 30 MPH, maybe 40 MPH, possibly as high as 50 MPH. Again this is before the main storms show up.
When the storm line arrives Saturday, ETA 11 AM to 2 PM, severe weather is possible.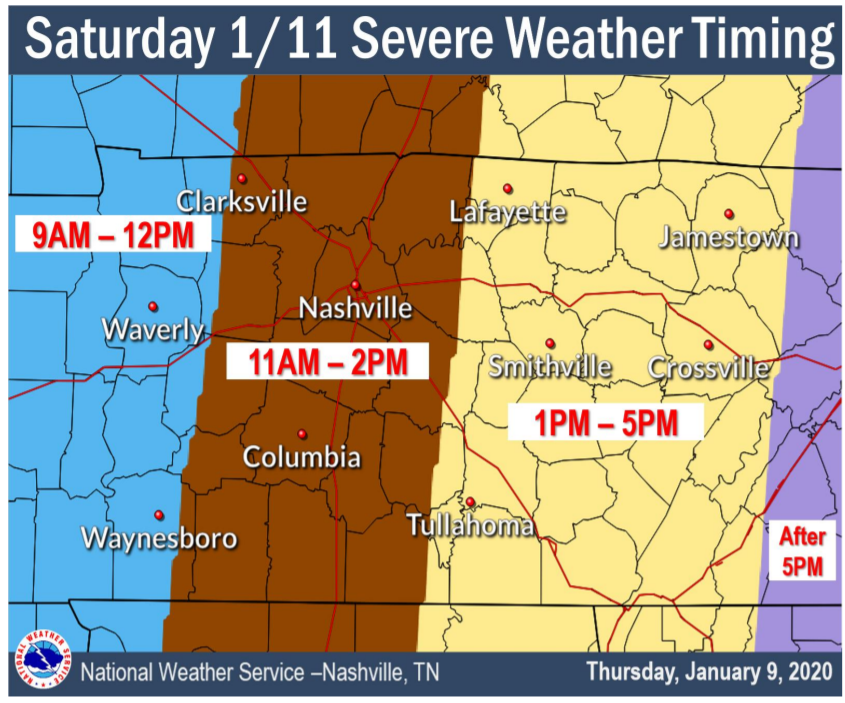 This ETA may need revision. It may arrive sooner or later than that.
The line will speed west to east, so it'll be in and out quickly.
The main threat is damaging winds. These winds may be strong enough to knock down trees, power lines. This is a powerful system.
A secondary, less likely, threat is a few spin up tornadoes. NWS-Nashville held a weather briefing this morning. The lead forecaster mentioned the tornado threat may change, so "don't rule out the possibility of a tornado." This forecast will need to be updated, especially as it relates to tornado potential. The system is very strong; right now models think tornadomaking instability will be lacking, but if that changes, we may have to deal with tornadoes. For now, the concern level is low.
Deep layer shear really increasing Fri night and goes pretty high-end on Sat. Models however continue to show limited instability. ML/MUCAPE is higher on latest GFS than previous runs, EURO slightly higher as well but both keep under 300J. Even so, parameters easily sufficient for isolated strong/severe storms on Sat. If we get a bump in instability, which is very possible, we could see a decent tornado threat.

NWS-Nashville AM Discussion, 01/09/2020
NWS-Nashville hazard graphic:

Translation: ingredients are there to potentially see some severe weather. CAPE (storm fuel) is still on the lower end, but an increase in CAPE would be cause for concern. At this moment, we aren't too concerned, but it is something to watch.
After the rain . . .
Dry and cooler Sunday, with more rain possible next week. Some models show cold air next Saturday the 18th (a few show snow), but the more reliable models keep the colder air bottled up. It doesn't get here. No wintry weather is expected in the foreseeable future.