Today is the Best Day of This Forecast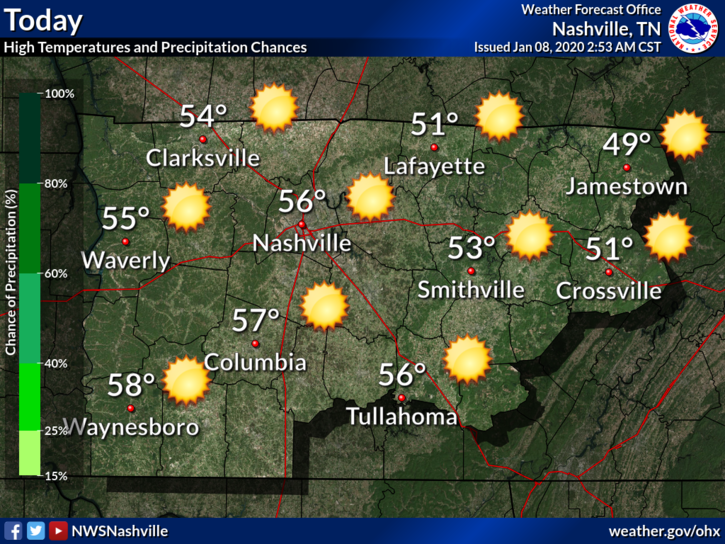 Windy, Afternoon Up To 63° Thursday
Gusts up to 30 mph possible.
This warm in January? Something is up.
What's up is a cold front coming through late Saturday night. Watch the cold air race in at the end of the Euro model below: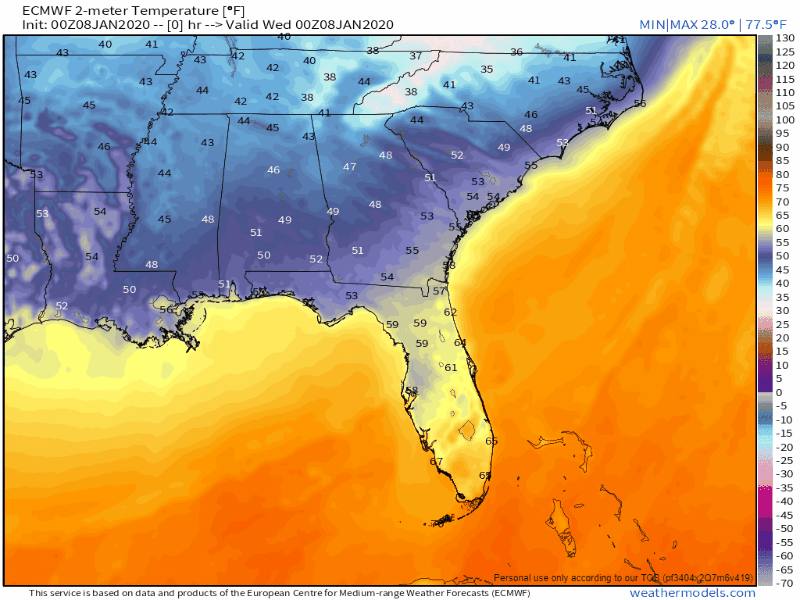 Before the cold front: rain Friday, heavy rain and storms – possibly severe – Saturday.
RAIN ETA
Rain may start as early as Thursday night. The NAM3 model (below) thinks so.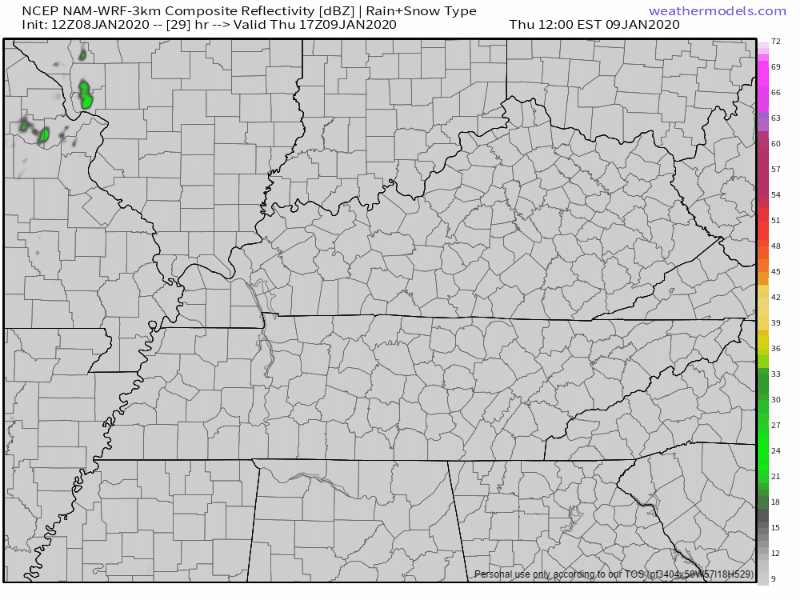 The Euro model thinks rain will wait to start sometime after noon Friday and continue through Friday night. Then it shuts off as the system out west builds, ready to ruin Saturday. This is the more likely scenario: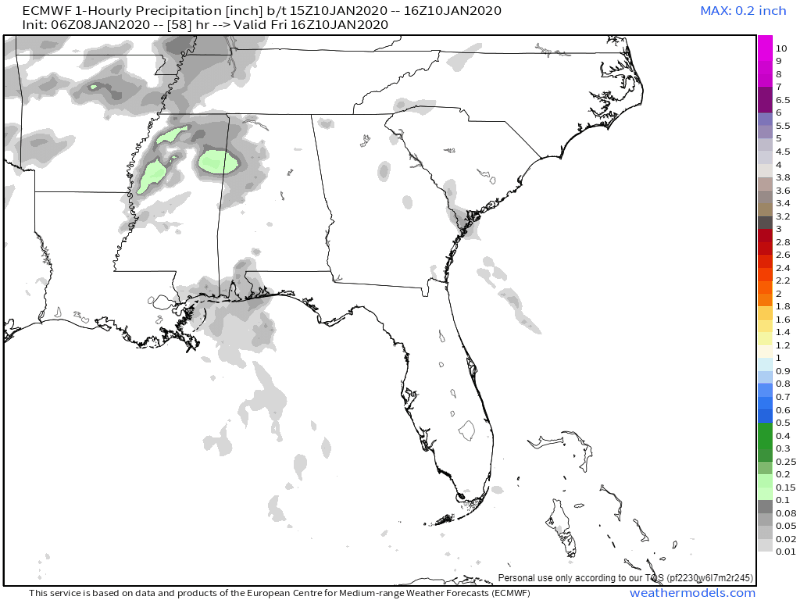 Big rains come Saturday afternoon. Again, the Euro:
FLOODING POTENTIAL.
Widespread flooding isn't expected, but heavy rainfall rates Saturday afternoon may cause creeks to rise and urban "usual spot" flooding. Issues should be temporary. However, if we end up with more rain (possible), we may have more problems. Rainfall totals have trended down (encouraging) but may reverse up, so keep an eye on this.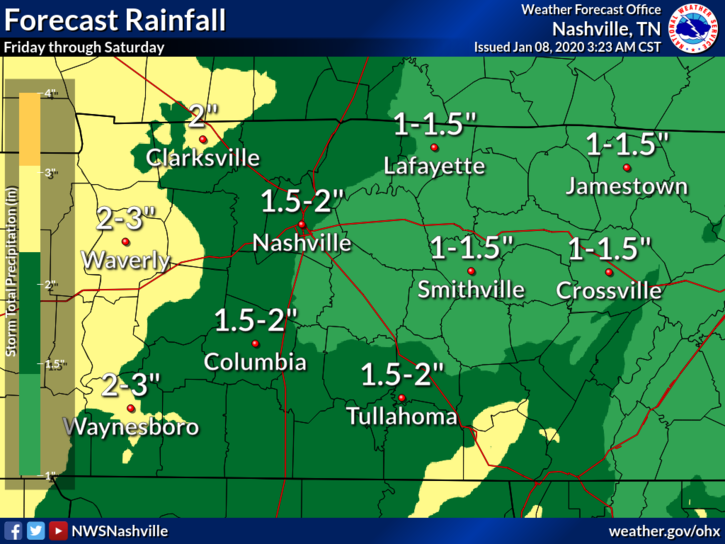 SEVERE WEATHER
Shear, lift, instability are three main ingredients for severe weather. Saturday afternoon we will have plenty of shear (maybe too much), lift (thanks to our cold front and upper level support), but instability may be lacking.
This system is quite dynamic with an impressive jet structure on Sat, which boosts Helicity 500+, with 1KM bulk shear 45+. Instability remains very unimpressive but depending how negative this trough goes, we could see an increase. Even a small bump will be significant with such high shear, meaning we have at least a small chance for severe storms Sat.

NWS Nashville, Forecast Discussion for 01/08/2020
Winter systems don't need much instability to cause wind damage or tornadoes. CAPE often represents instability in the models, and they don't agree how much will be present Saturday afternoon.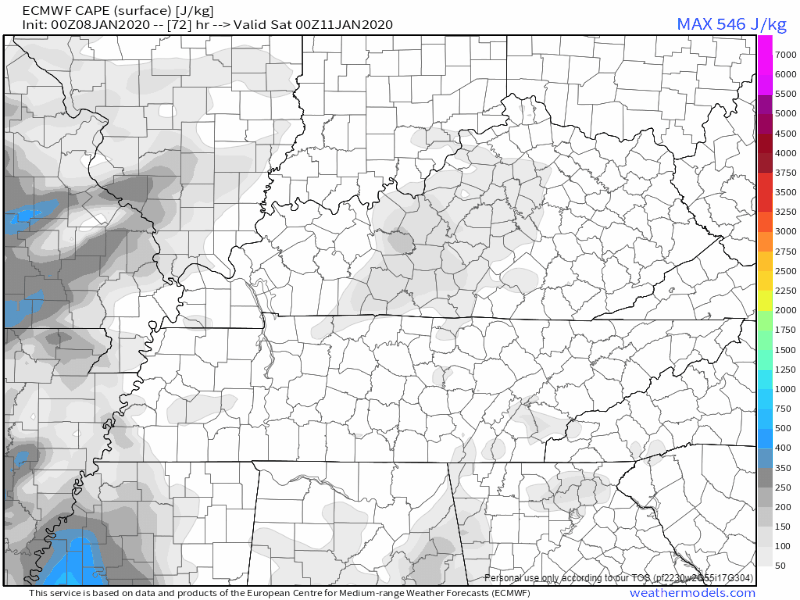 These storm forecasts are subject to boom/bust — often the difference between a very windy and rainy event and a very windy, wet, and tornadoey event is a few hundred J/kg of CAPE. When models disagree like they do, a confident severe weather prediction is intellectually dishonest. Our alarms aren't going off, but don't ignore this system Saturday. Plan to be within reach of severe weather information and appropriate shelter if you're going to be out Saturday.
For now, the Storm Prediction Center's probability of a severe weather event (more likely damaging thunderstorm winds, less likely tornadoes) within 25 miles of you is 15%.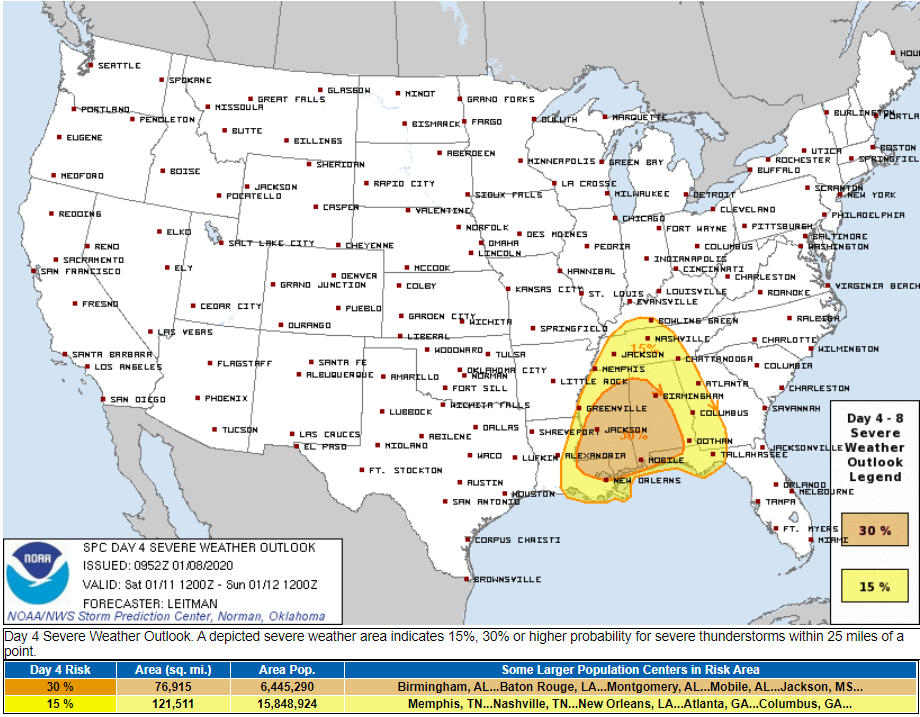 By Friday, the damaging wind probabilities for hail, tornadoes, and damaging winds will be more specific and reliable than probabilities expressed today.
Rain ends Saturday night. No rain Sunday, then more rain arrives Monday into Tuesday. Next week looks wet:
Check back as forecasts evolve and follow us on Twitter @NashSevereWx!