Happy New Year!
Cold morning temps will rebound nicely into the mid-50°s this afternoon.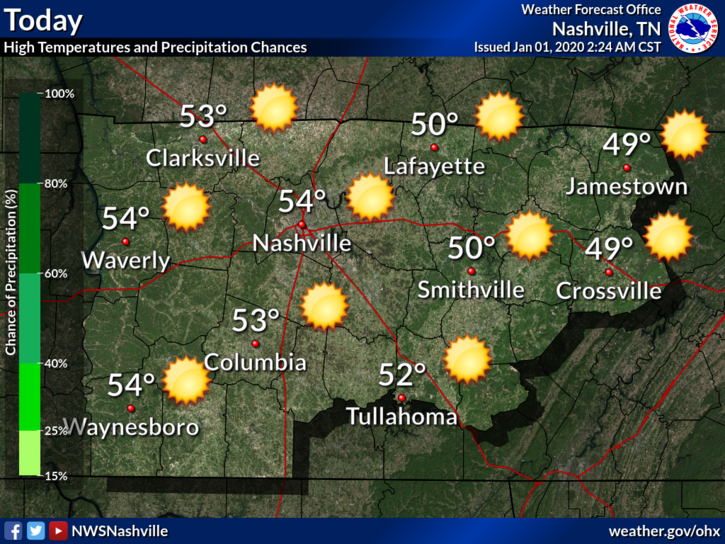 Rain approaches overnight tonight into Thursday morning.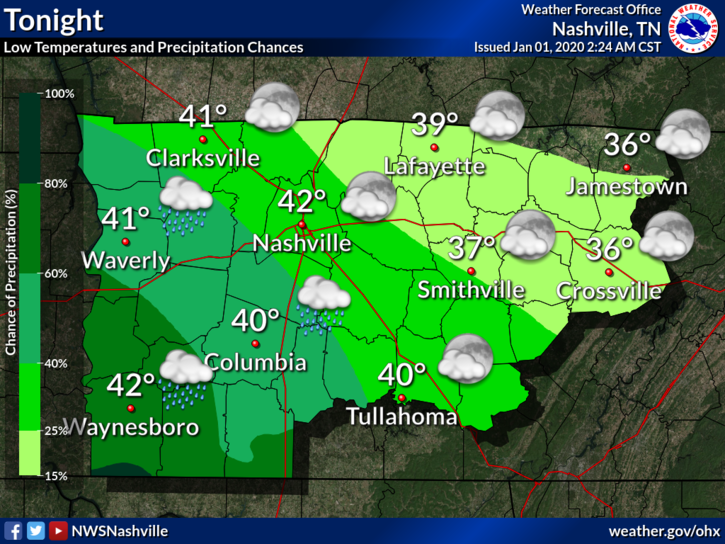 Flooding Concerns Begin Thursday
Rain starts Thursday morning.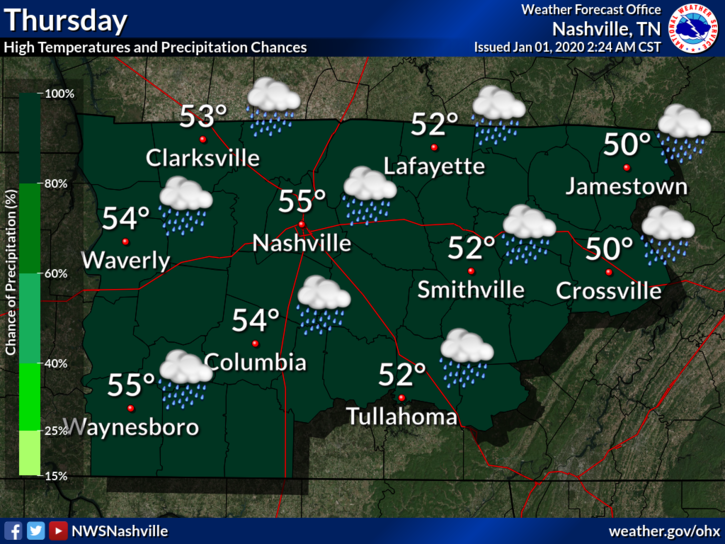 Rain heaviest Thursday afternoon and evening.
Around 2 to 3 inches for most of the area, with some higher amounts possible.
Rivers, creeks, streams are still up from Sunday's flooding. If we get that 2+ of rain in the wrong spots, we will have another round of minor flooding.
Therefore NWS issued a Flood Watch for Thursday and Friday.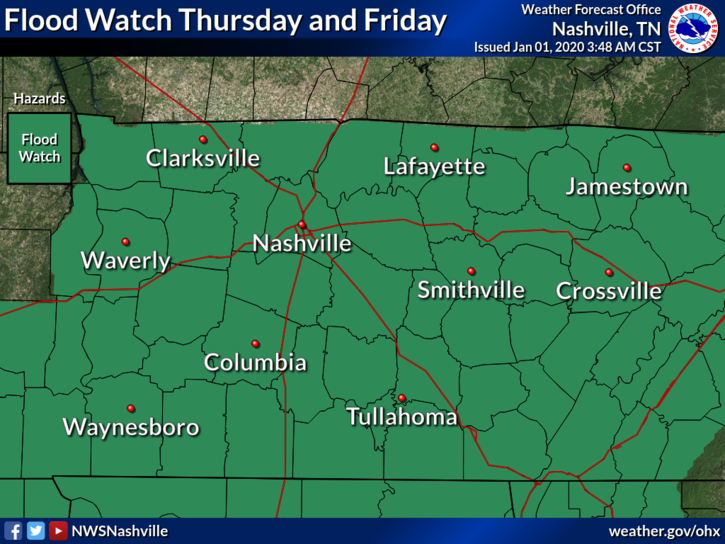 Rain totals will be similar to what we got Sunday.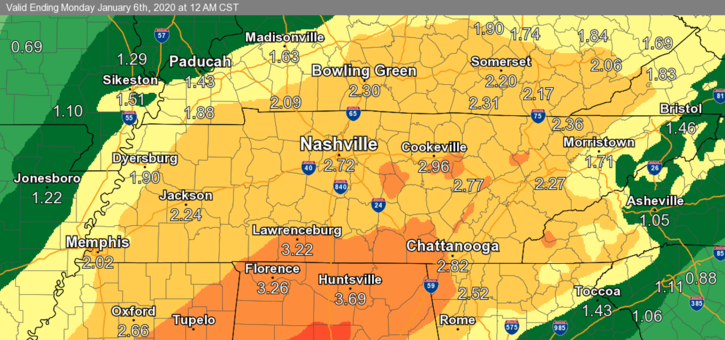 Rain continues Friday, but it should be lighter.
The GFS model shows the rain moving out around Saturday morning…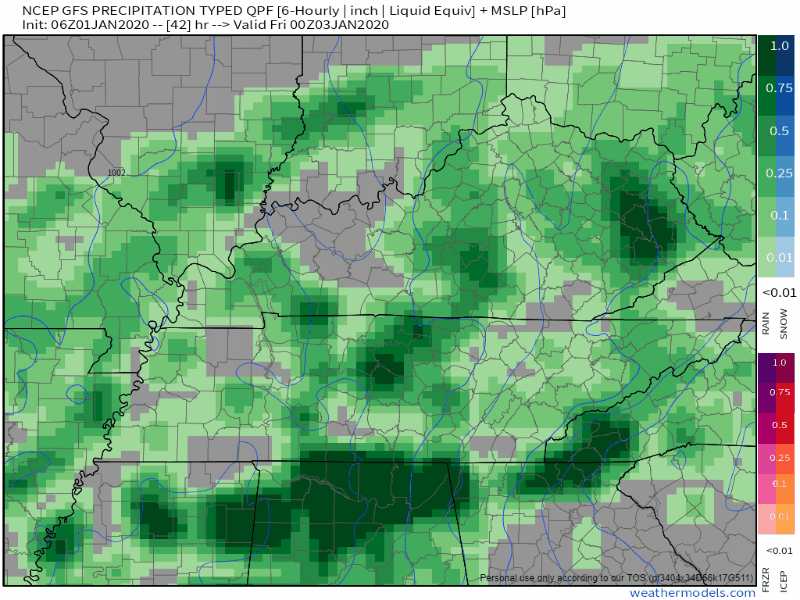 …and the Euro has the precip moving out Saturday night.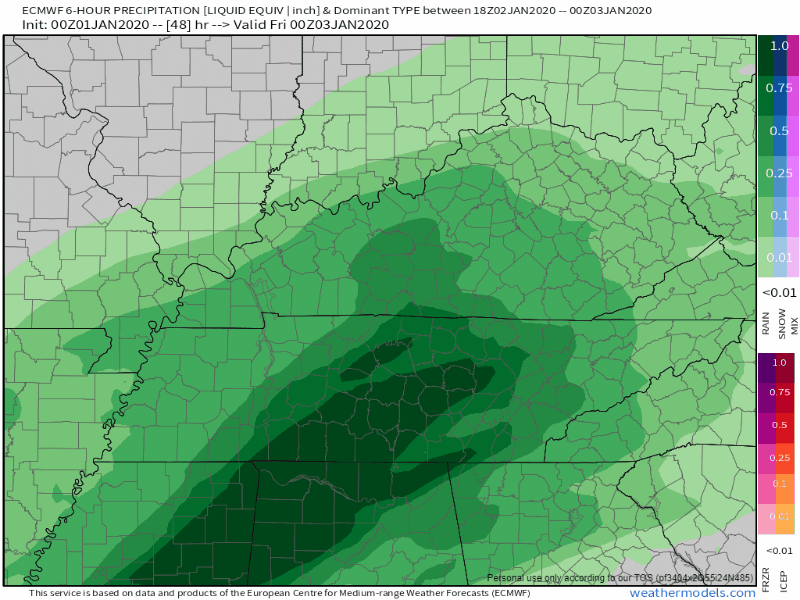 Before it leaves, expect another round of heavier precip Saturday morning.
Then, as the rain leaves, cold air will race in. Snowflakes are possible for the higher elevations to our East, but probably not for us. Still no clear signal. Some techie stuff from NWS Nashville:
By Friday evening into Friday night, rainfall will become more light and scattered as the main upper jet shifts east of Tennessee. However, GFS/ECMWF both depict a very intense upper low swinging southward through Tennessee on Saturday, bringing another round of precipitation. Very cold air aloft associated with this feature, 850mb temps falling into the -5C to -10C range, and surface wet bulb temperatures near or above freezing indicate a mix of rain and snow showers will be possible Saturday afternoon into Saturday evening – with any snow most likely in the Upper Cumberland counties and on the Cumberland Plateau where surface temperatures will be colder. Some light snow accumulations appear possible, especially if the more bullish Euro model pans out, but there is still a lot of uncertainty this far out in time.

NWS Nashville, Forecast Discussion 01/01/2020
Too much uncertainty for the blue stuff. The ground will be warm and wet. Accumulating snow is very unlikely.
Be sure to check back as the forecast evolves and check us out on Twitter @NashSevereWx for more!