Rest of Saturday
Today began with a good misting of rain for many of us.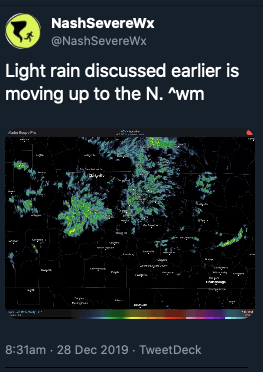 That rain has pulled out and taken some of the cloud cover with it, but it won't last long.
Here is a wide angle view of the radar at 12:35pm showing more light showers similar to this morning on our SW doorstep.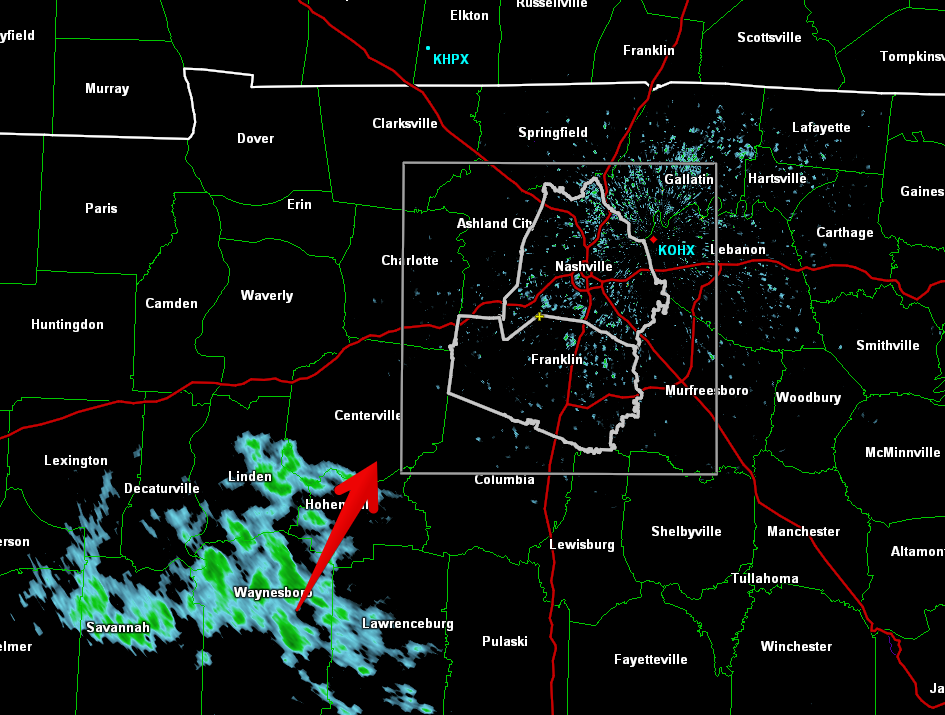 This won't ruin any plans, but it will make the roads wet again, and usher in some cooler temps while it's overhead. Bring a rain jacket to the honkey tonks tonight.
Sunday Rain/Storm Chances
An upper low will deepen as it swings off the Rockies and through the central part of the country. Southerly surface flow will pick up ahead of this system encouraging temperatures to warm into the
mid to upper 60s again on Sunday. PWATS are still running very high for the time of the year. Values of 1.5 inches or higher could be possible through the early morning hours on Sunday to Sunday night. 

Models have shifted the axis of heaviest precip to
the west, over portions of west Tennessee and western Kentucky. However, this axis could easily wobble east or west over the next 24 hours as we see how the system evolves. For now, expect anywhere from 1 to 2 and a half inches of rain in Middle
Tennessee.
The National Weather Service in Nashville has done a bang up job expressing uncertainty in who will see the most rain on Sunday.
All week, we've been calling Sunday a washout, and we still think it will be. The Weather Prediction Center in Maryland has issued an excessive rainfall prediction that includes us on the edge of a slight risk. Slight risk means we have a 10%-20% chance of seeing rainfall that will exceed flash flood guidance.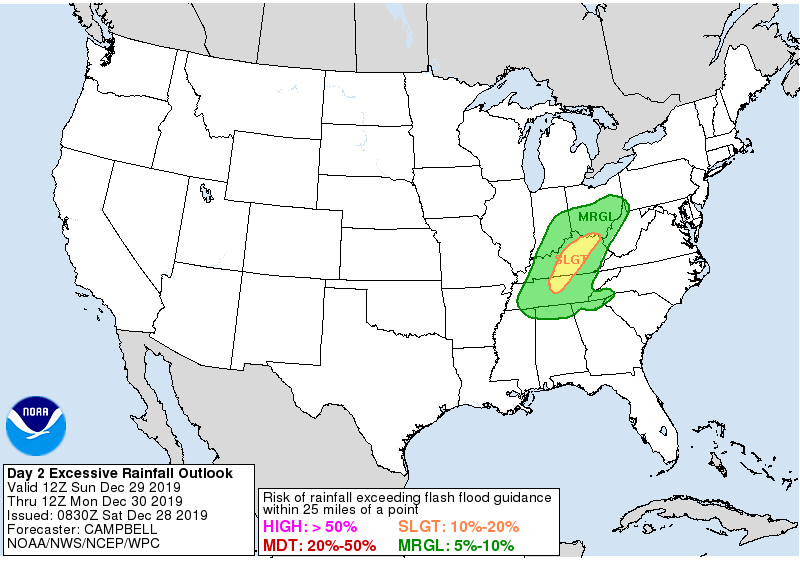 Are we expecting widespread flooding? Nope. Is it something we'll keep keeping an eye on? Yup.
Timing?
I knew you'd ask…
Here is 5am and 2pm. As you can see, rain.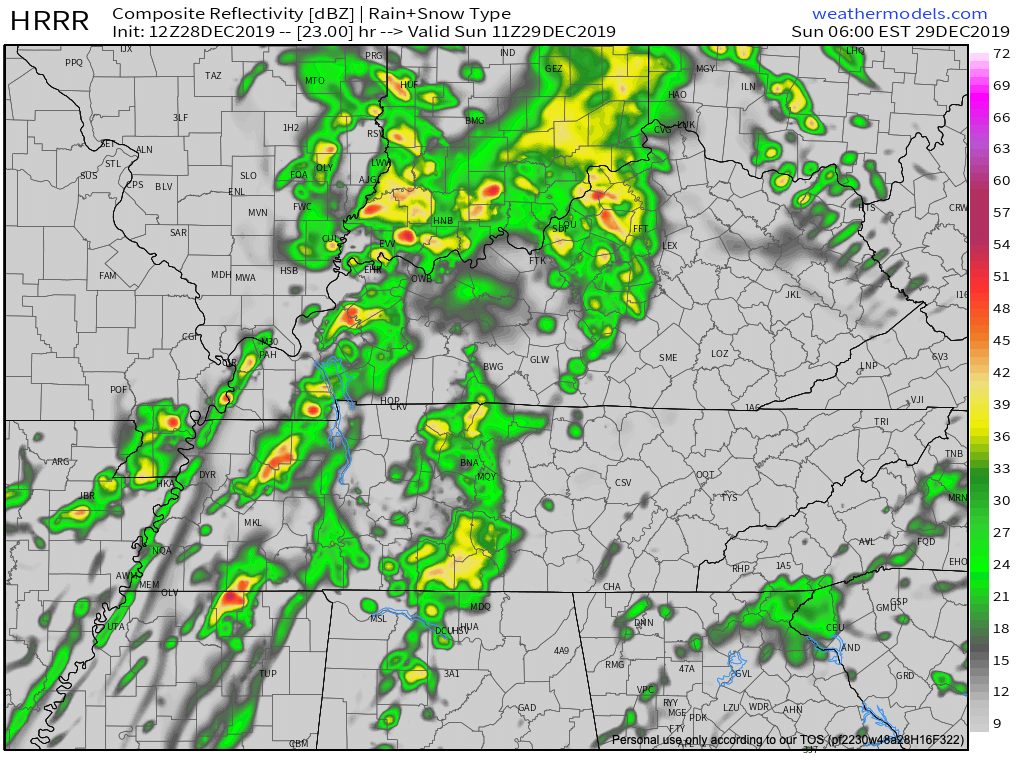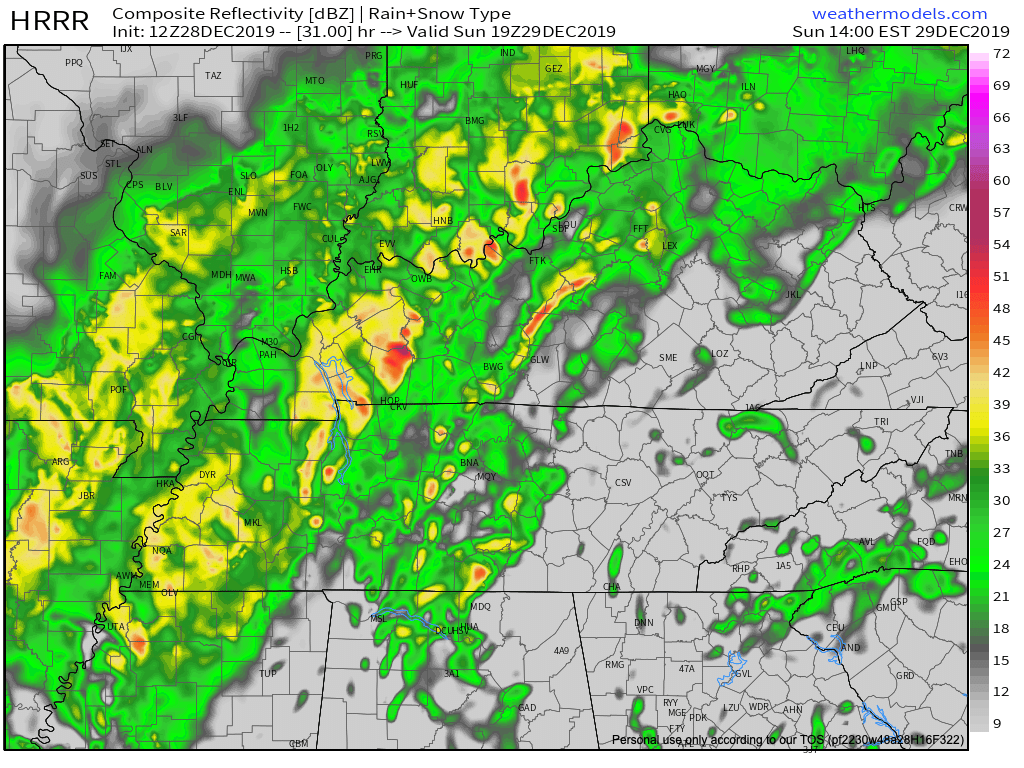 Washout indeed. We'll be posting updates this evening as timing get better.
Impacts
Besides low end flash flooding chances, we could see wind gusts of 20-22mph all day, and a big drop in temps into Sunday night.
We'll wake up Sunday to 62º and wake up Monday to 44º. Get ready. Temps will be in the upper 40's to low 50's through New Year's Day.
NYE Forecast