Severe Storm Threat This Afternoon/Evening
It was a noisy night N of I-40 last night as storms developed and dropped a lot of rain. Last night's rain will enhance the flooding threat later today. HRRR shows storms pushing E and crossing both counties again this evening.
WIND AND FLOOD THREAT
Damaging winds and localized flooding, especially those affected by multiple rounds of storms, are going to be the main concern with this system as it pushes through.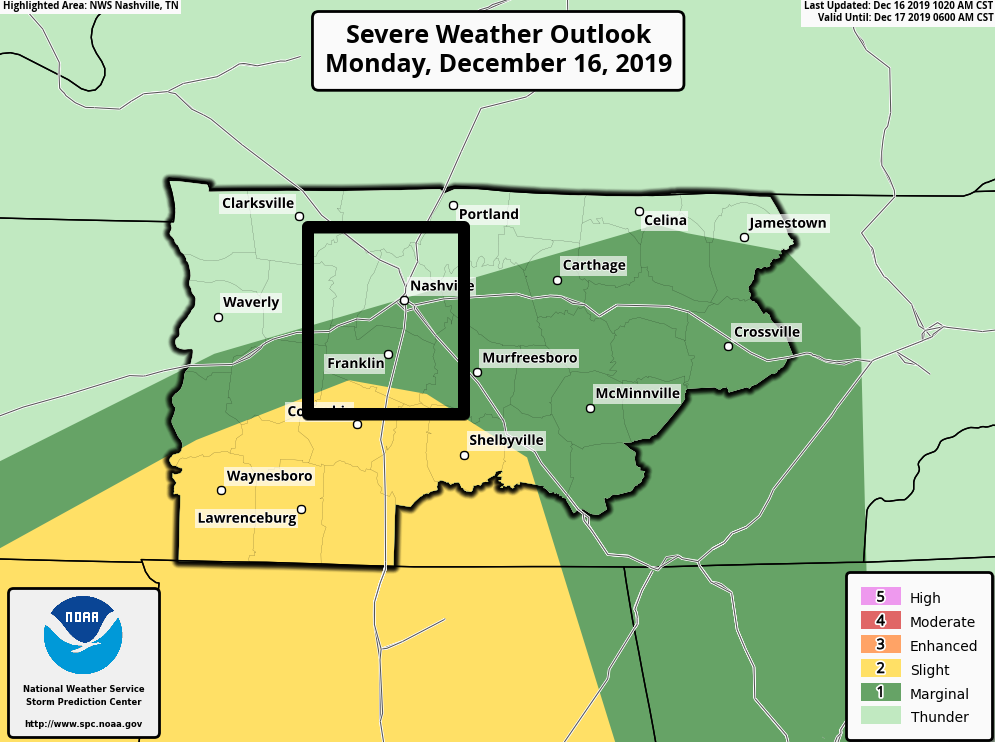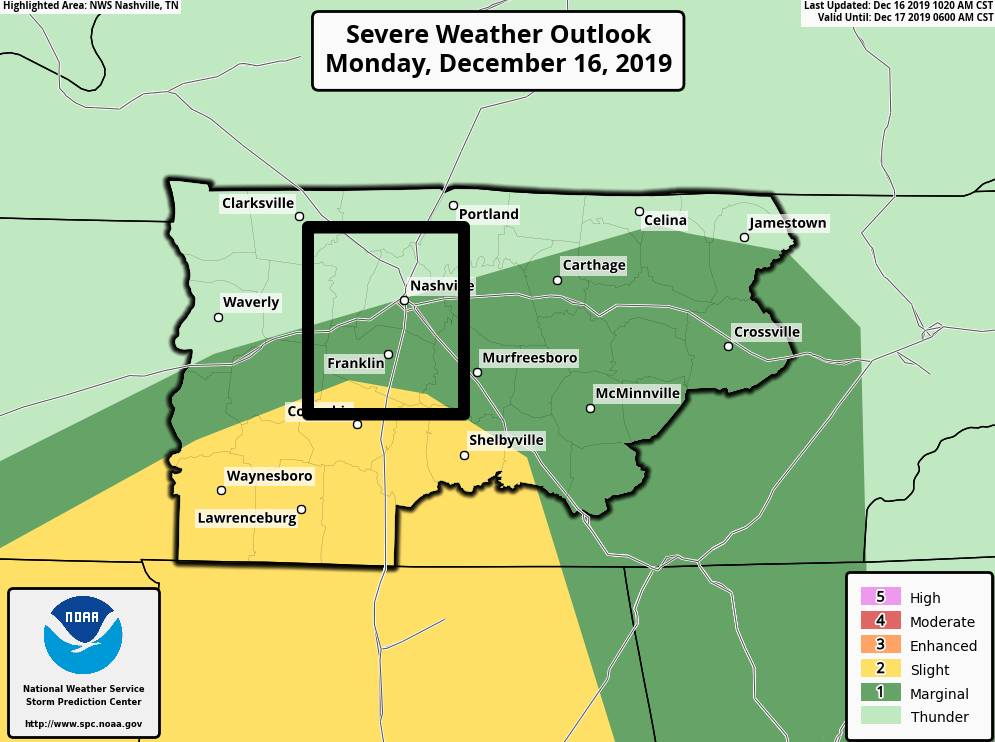 The Storm Prediction Center is giving most of us a 5% chance of seeing damaging winds and a 2% of seeing a tornado within 25 miles of a point. The main area for the severe threat will be along and South of I-40 where storm ingredients could be more favorable. Here's what NWS had to say:
"Strong wind gusts is still the main threat with very strong deep layer shear and MLCAPE values around 500 J/kg maximized in the mid to late afternoon. Areas that still have a low level inversion will have a tough time getting strong wind gusts to the surface, so again along and south of I-40 on the warm side of the front will be more favorable for stronger convection"

NWS-Nashville 12/16/19
[Editor's Note: Today's low end severe threat is low end and conditional, which is to say that conditions must be met for us to get severe results from storms. Questions remain on how far N the higher dew points will make it, which would provide more food to the storms. Of the three severe weather modes (tornado, hail, wind), damaging winds are the main threat if the ingredients make it here. But, then there's the rain…]
HOW MUCH RAIN?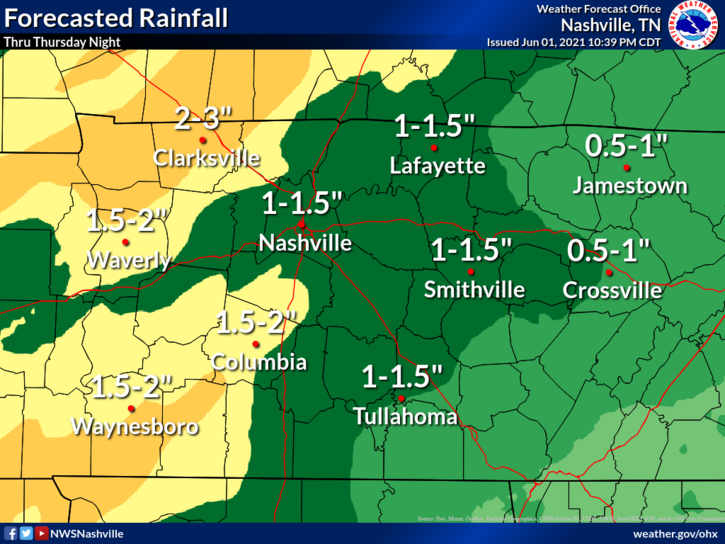 Nashville is forecasted to see 2-3″ of rain through tonight. This will be the area with the highest flood threat, especially if the front stalls and dumps more rain. The NWS-Nashville says that the timing for the highest risk of flash flooding will be early afternoon to early evening.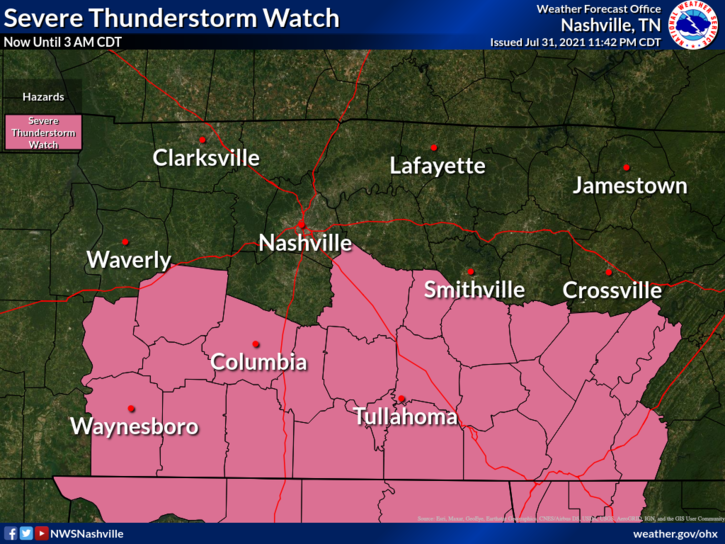 We're currently under a Flash Flood Watch until midnight tonight. We need to watch for "training rain", which is areas of repeated rain.
[Editor's Note: Areas N of I-40 in Davidson Co got a lot of rain overnight into this morning (looking at you Joelton, Bakers, Ivy Point, Luton, Goodlettsville). Soils are saturated there. Also, in this area, there are a lot of "hills and hollers" which enhance quick runoff when the soil reaches saturation. Many of the creeks run alongside roads in this area (Baker's Branch/Baker Road, Walker's Creek/Likton Pike, etc). If you see water over the roads tonight, don't drive through it. It's not worth it.]
Let's look at a couple models.
HRRR: You can see the tracks along the darker red/orange/brown colors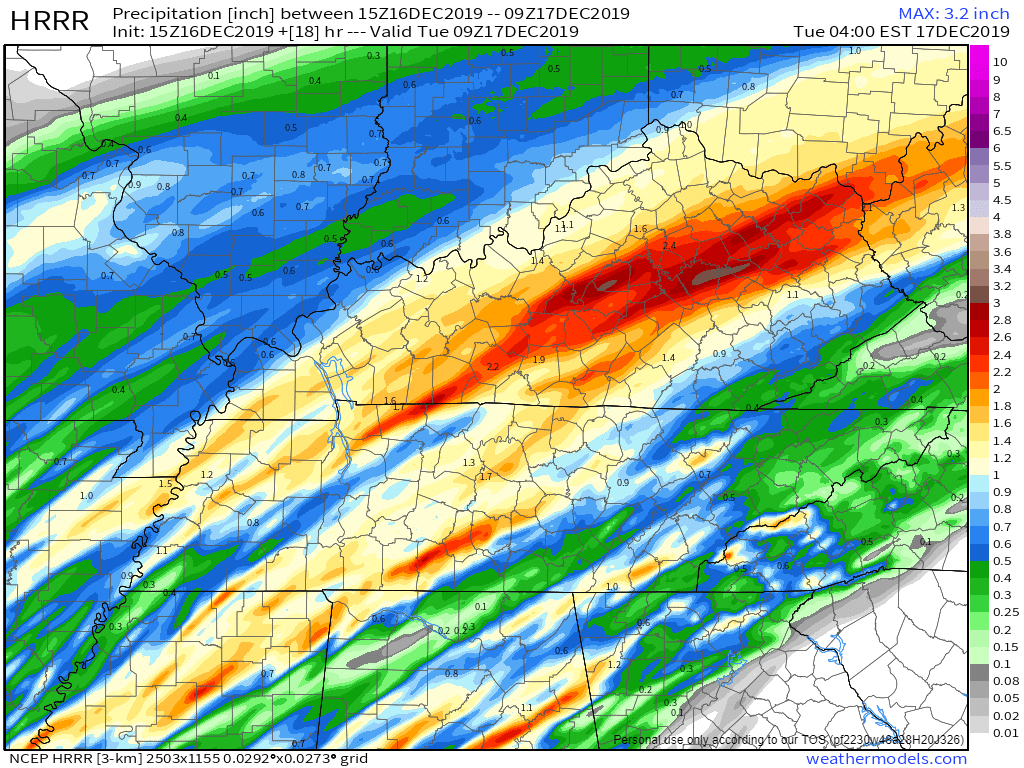 NAM3: Shows more tracks off to our West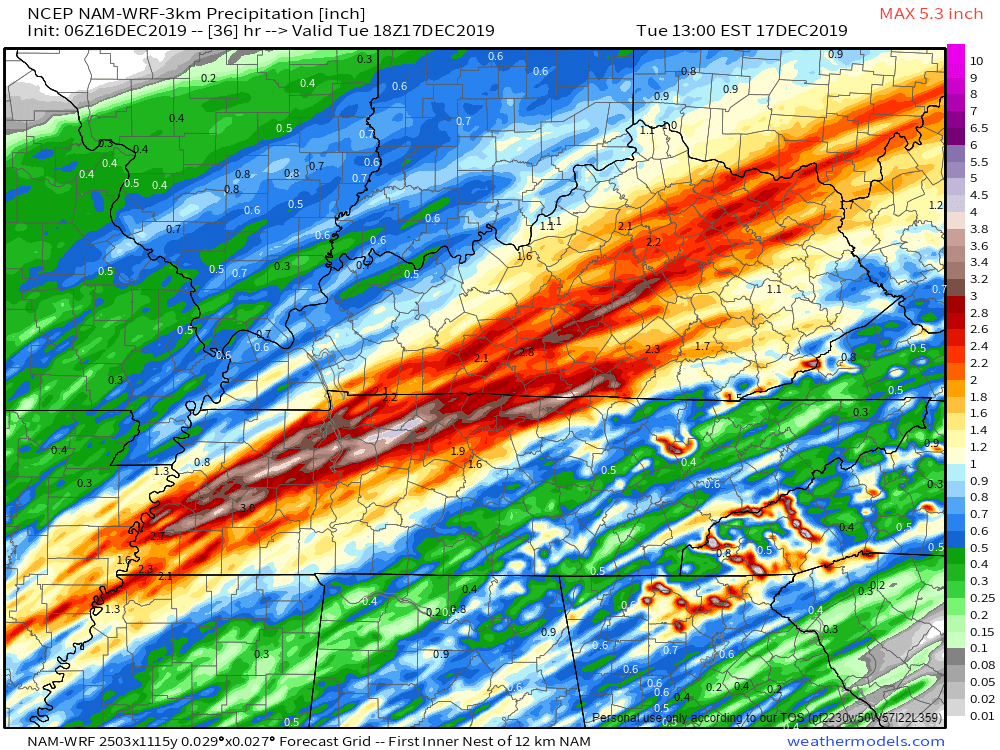 These tracks can happen more often when the front stalls and could determine how serious of a flood situation we see.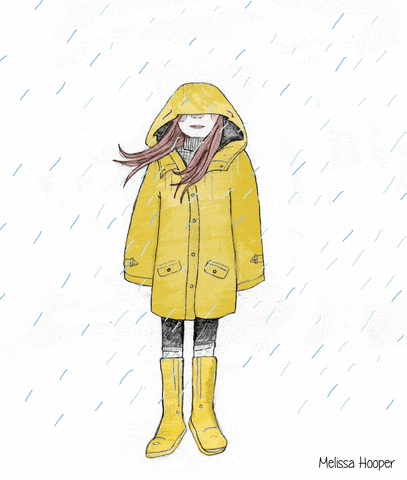 The Weather Prediction Center gives us a 10-20% chance that rainfall will exceed flash flood guidance within 25 miles of a point. In other words, the probability that we'll get enough rain for flash flooding to become likely.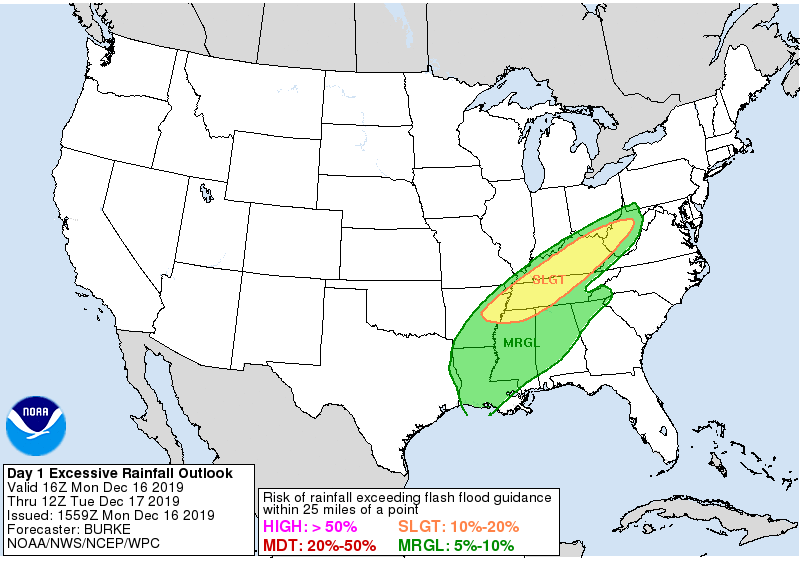 Dry And Cool Rest Of The Week
Once the cold front moves out, so does the rain, and bringing in cooler temperatures behind it. We'll be in the low 40s through Wednesday, then more ridging in the jet stream leads us up into the low 50s by Thursday and Friday.
Nine more days until Christmas!