Light off and on showers today. HRRR model: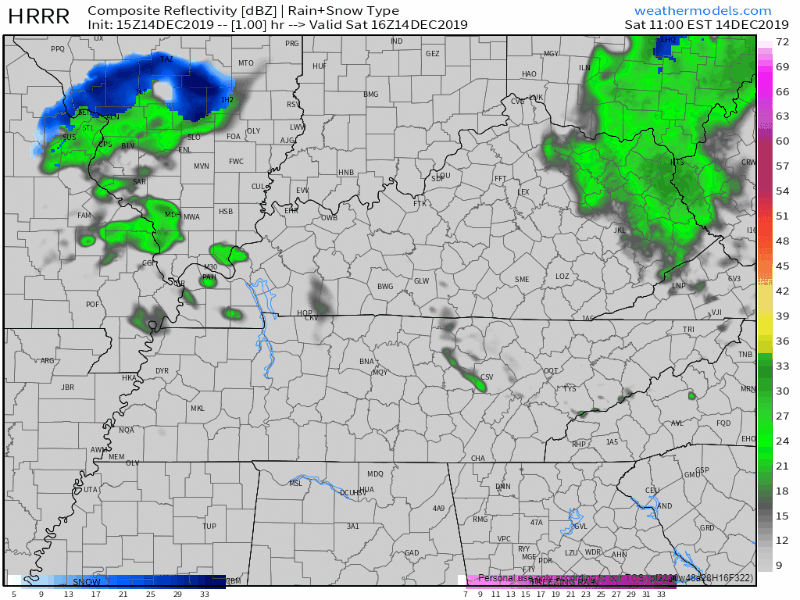 Not a washout, rain under 0.1″.
Fog
Fog between midnight and 6 AM in the "usual spots" near bodies of water and low lying areas. Low 37° with a dewpoint 35°, so freezing fog isn't expected right now, but it's close. Fog should mix out by sunrise.
Sunday – Titans
Cloudy. Upper 30°s to start, 50° by kickoff at noon. Winds SE at 5 MPH, increasing to 8 MPH by the fourth quarter. SE winds are uncommon. High 56°.
Next Rain Event Opens Sunday Night, Ends Early Tuesday Morning; Thunderstorm ETA Late Afternoon/Evening Monday
The rain window opens at dark Sunday and closes Tuesday at sunrise, but the most likely time for rainfall is Monday late afternoon/evening.
HRRR model suggests light rain will show up Sunday 6 PM: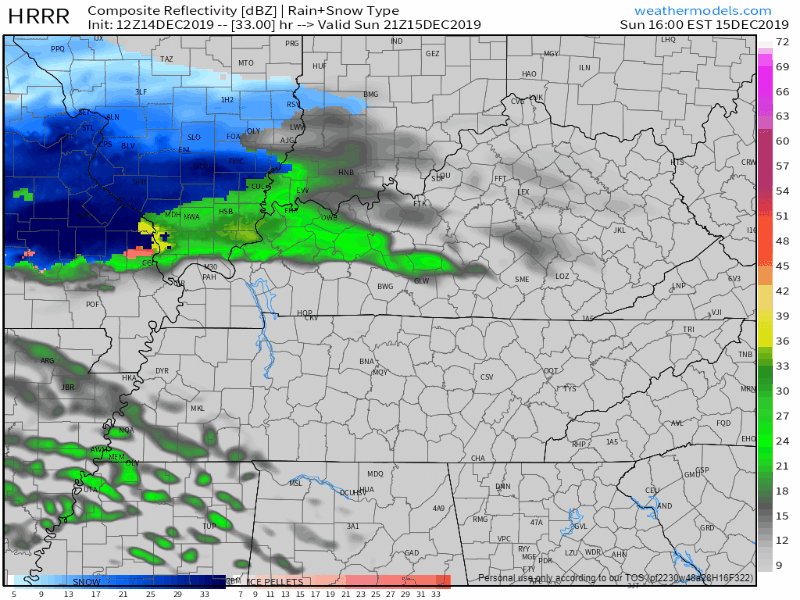 Late Sunday night into Monday, a pile of rain will build to our west. We may see a little light rain but end up mostly dry during this time.
The heavy rain and storm event should arrive at some point Monday late afternoon/evening. We aren't exactly sure when so we went with this range.
The Euro model illustrates this well. We dodge a few light showers Monday morning. Monday noon, we expect heavy rain and storms to develop to our west:
Heavy rain and storms arrive Monday night: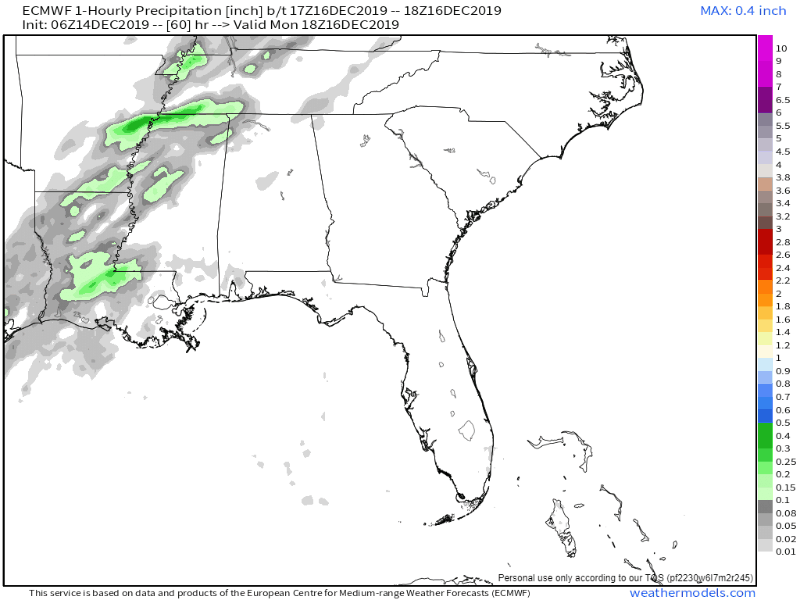 Rainfall amounts should range from 0.5″ to 1.5″. Euro model total rainfall: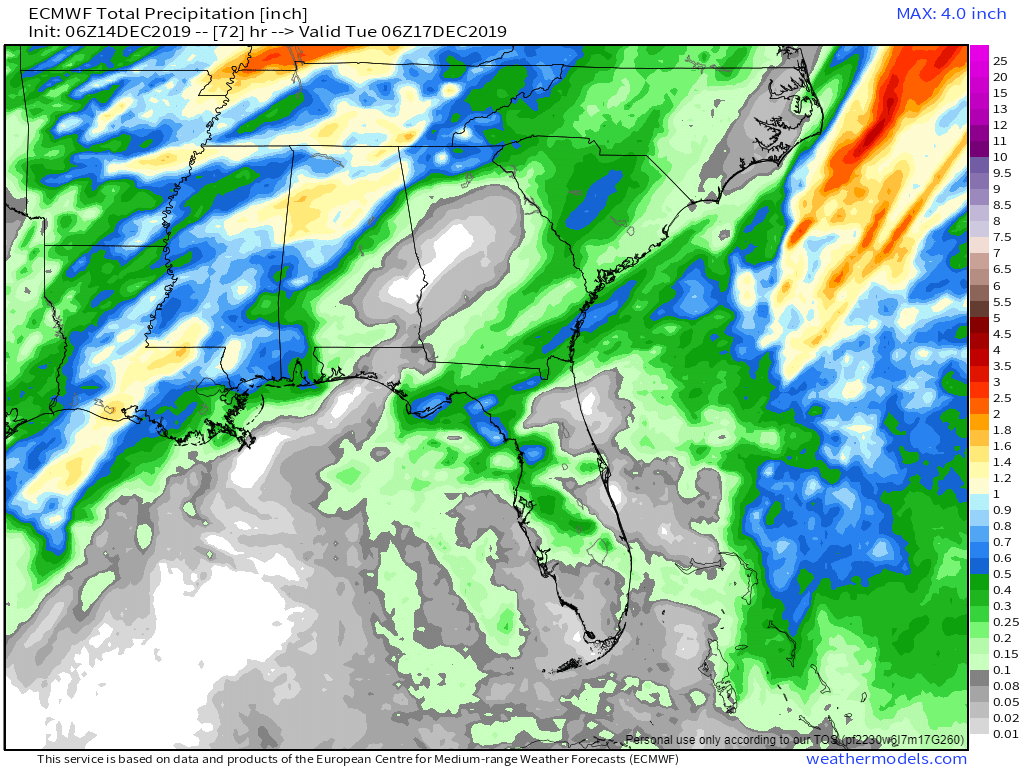 STORMS? PROBABLY, BORDERLINE STRONG/SEVERE.
Some storms may be strong with damaging winds along and south of I-40. We're located on the northeast edge of the greater severe storm risk: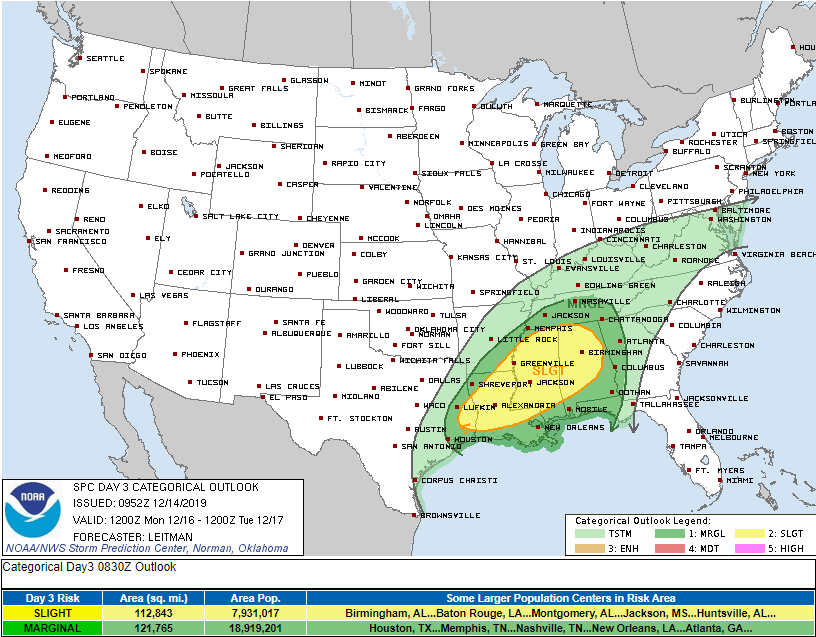 For us we have a 5% probability of a severe weather event — likely damaging thunderstorm winds — happening within 25 miles of us. The yellow risk area (above) has adjusted slightly over the past 3 days. Each day the risk has shifted further away.
Those in yellow in W TX, LA, MS and AL may have a rough Monday.
Storm concerns for us are low because the center of the system is expected to pass too close to us Monday night. See that red L? It's right on top of us.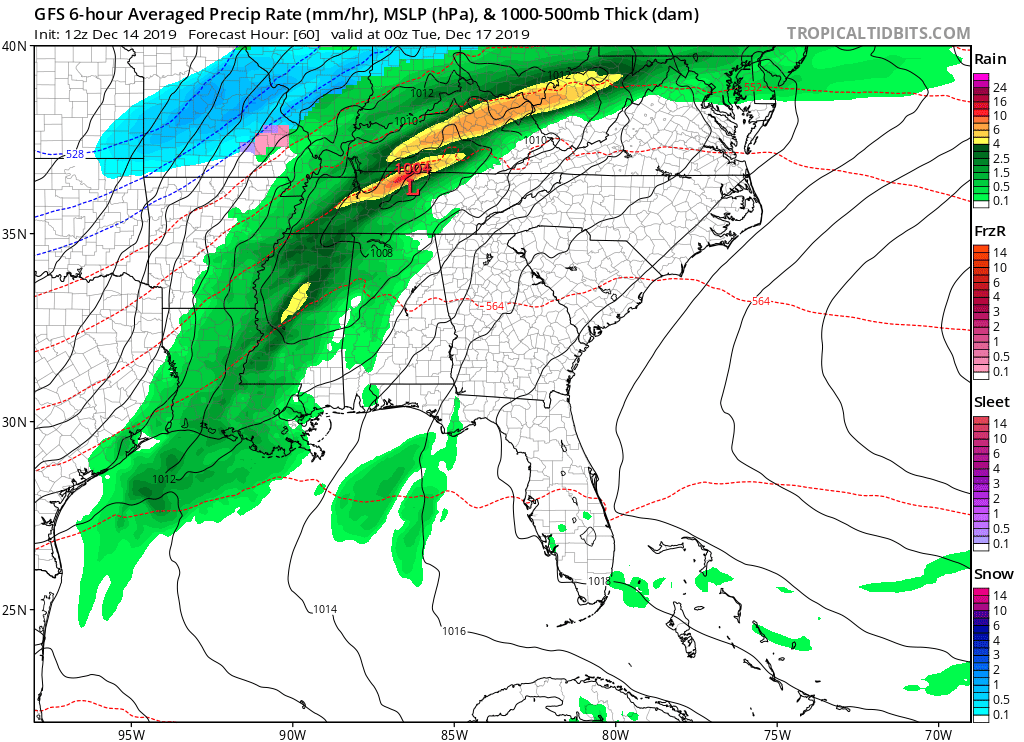 Too close to us for severe weather. If it was further north, we'd be more concerned about severe weather.
FLURRIES?
Usually when a cold weather L passes that close, snow wrapping around the back side of it is possible. NWS-Nashville noted that this morning:
Given the close proximity of the low and the strength of the 850 mb winds ahead of the cold front, believe some thunderstorms are possible ahead and along the surface front Monday and Monday evening. Fropa will take place between 00Z and 06Z Tuesday, and the surface low passes by close enough that we'll get some wrap-around moisture overnight, with perhaps some snow on the back end of this system, especially across northwest Middle Tennessee where the cold air will be deepest.

NWS-Nashville, Morning Forecast Discussion, 12/14/19
You may see a flurry or two of zero consequence Tuesday morning. It's hardly worth mentioning. The data shows it's unlikely it'll happen, there isn't enough moisture on the back end of this system to produce anything meaningful, the ground will be too warm (splat/melt), and it's not in our forecast. Depending on how you feel about snow: no worries/ruined dreams. I'm almost sorry to even talk about it but we don't hide data from you.
Winter isn't even here yet. It's still Fall, technically.
Cold & Dry Beginning Tuesday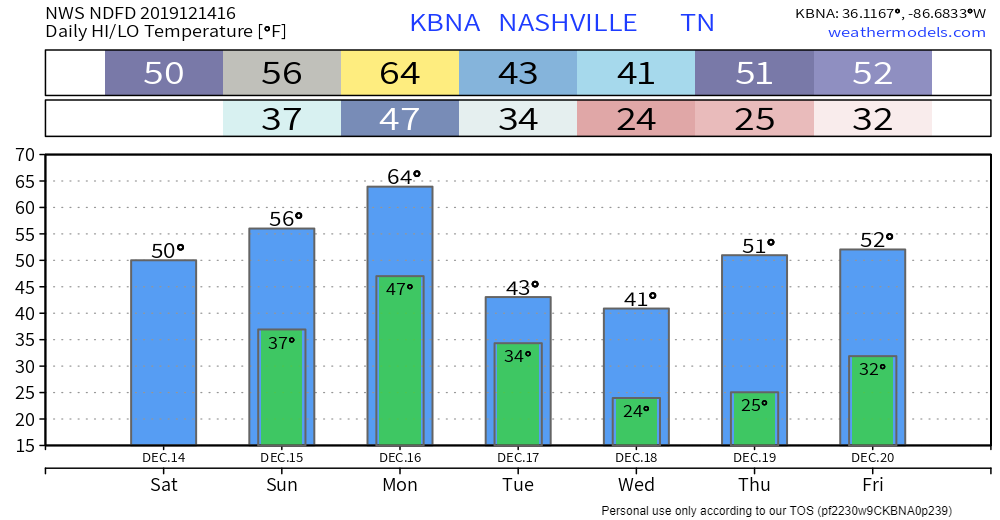 Looking Toward Christmas
The don't-bet-much-on-it Euro Ensemble model data looking 15 days away shows the Monday rain event, then no precip until after Christmas (rain).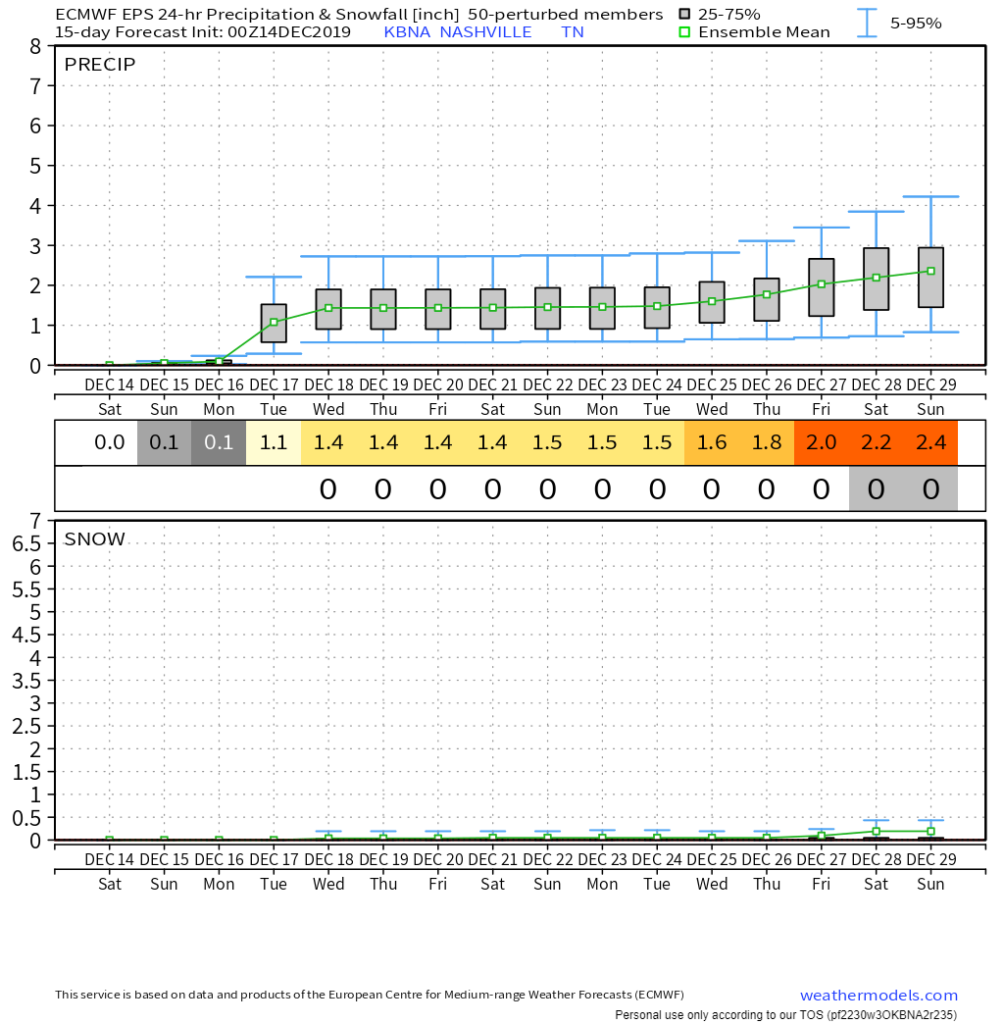 A White Christmas is super-rare here. Bet heavily against it again this year.