Read this entire post to be well informed. If you don't want to read the whole thing, probably better off not reading it at all.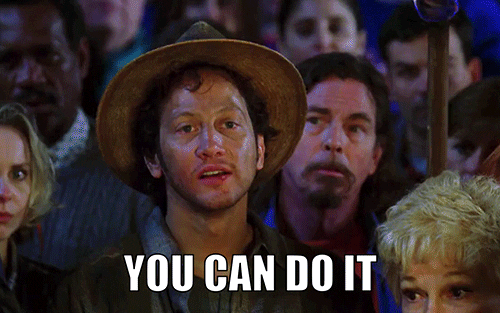 It starts as off and on rain Tuesday morning.
HRRR model, 0z run.
Rain, sleet, and snow mix in Tuesday morning.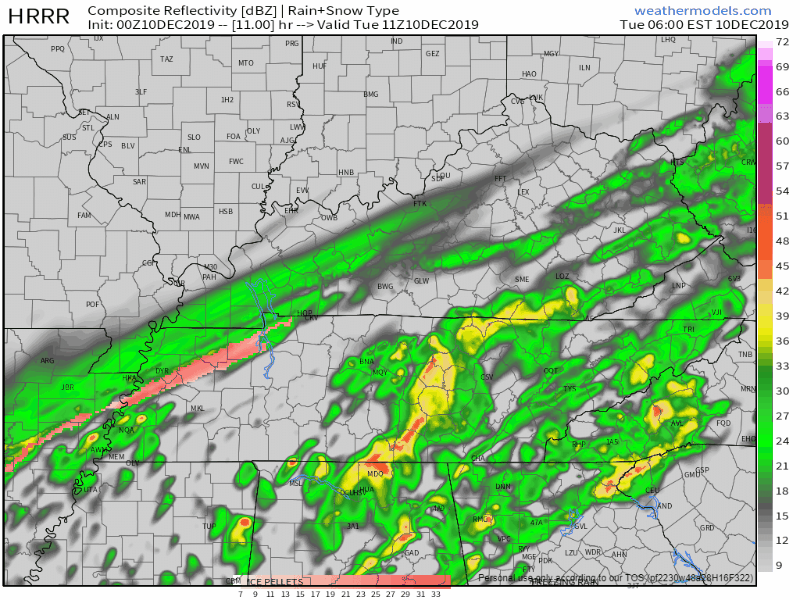 This is because snowmaking temps will be arriving in the morning.
Here's the HRRR model for temps 5,000 feet up at 8 AM, notice the 0 (Celsius) arriving in Nashville: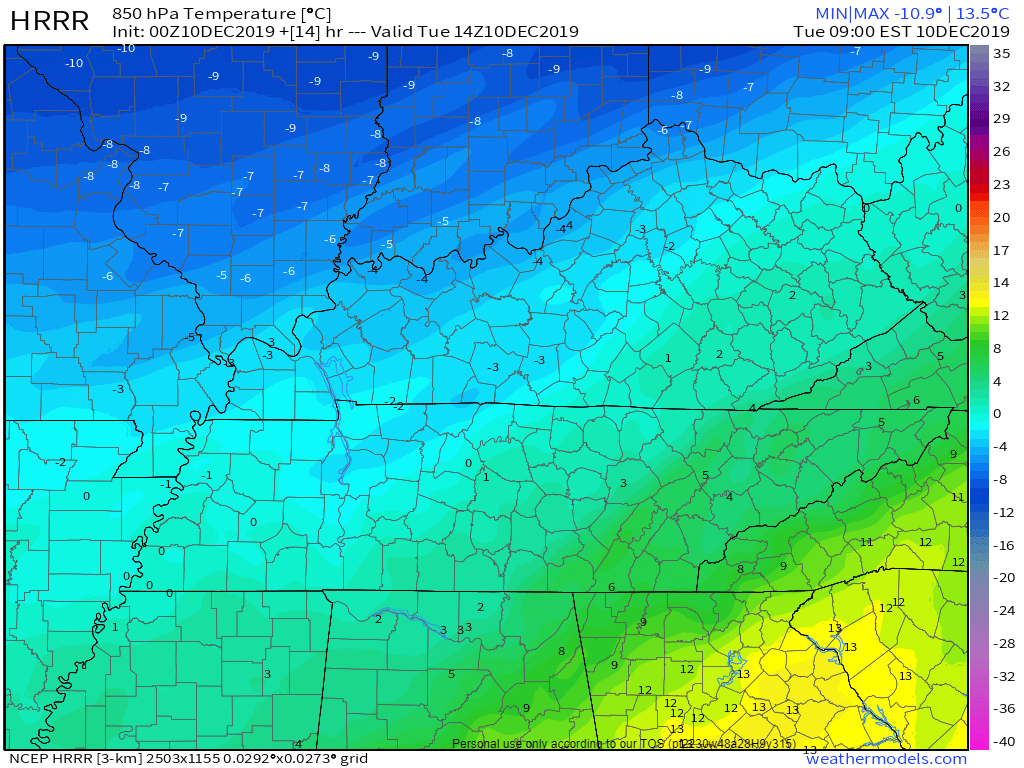 And here are temps at 5,000 feet at 9 AM, minus 2 Celsius: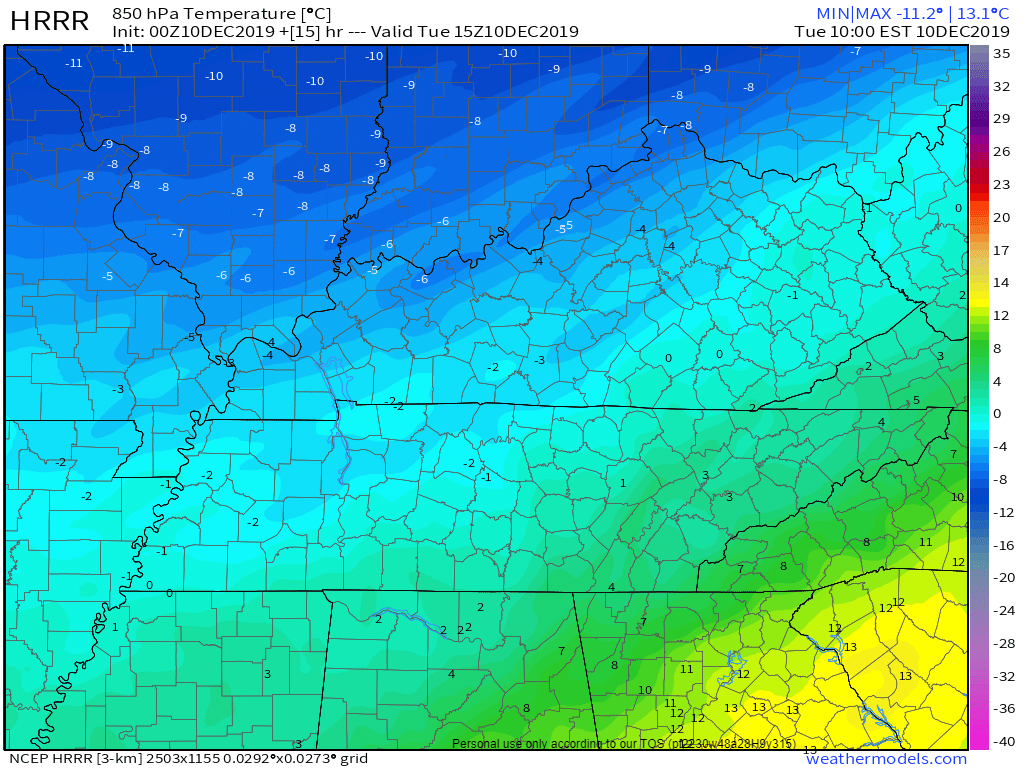 Again, those are temps at 5,000 feet, where snow is made. Those 5,000 foot temps should stay below freezing all day.
But down here on the ground, temps remain above freezing. By 9 AM the HRRR model thinks the air temp on the ground will be 36°: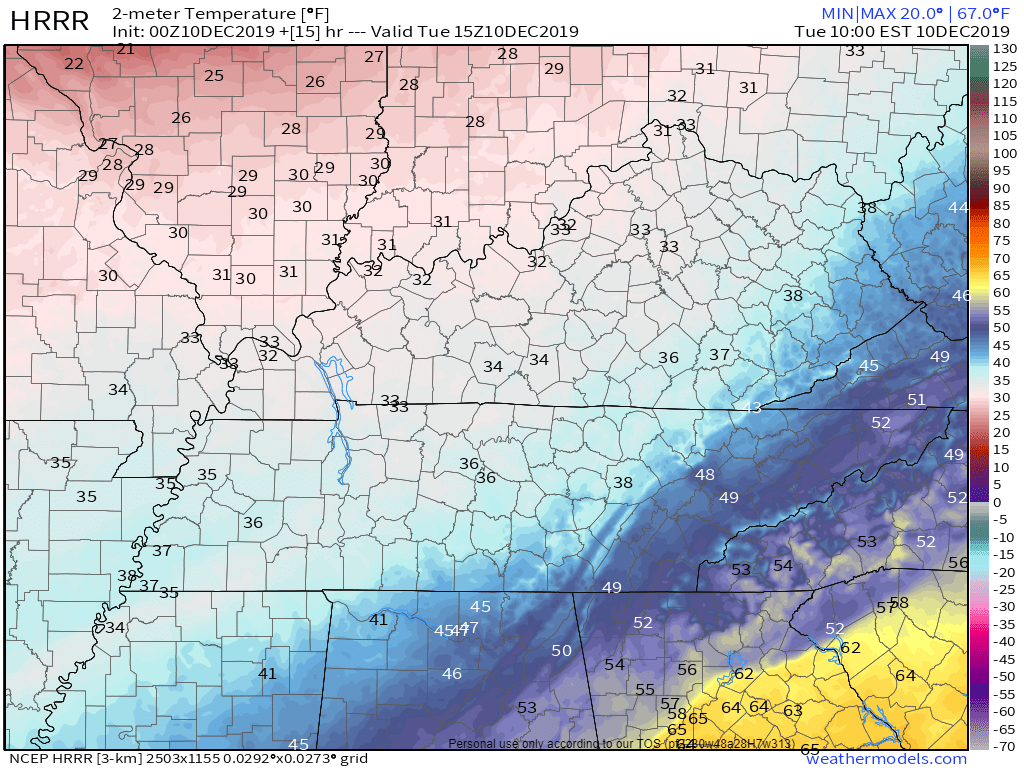 From there, some models think the temp will drop close to freezing, allowing for accumulation. Not the HRRR. It thinks the temp will go up Tuesday afternoon and we top out at 40° (!!), before dropping close to freezing (33°) by midnight: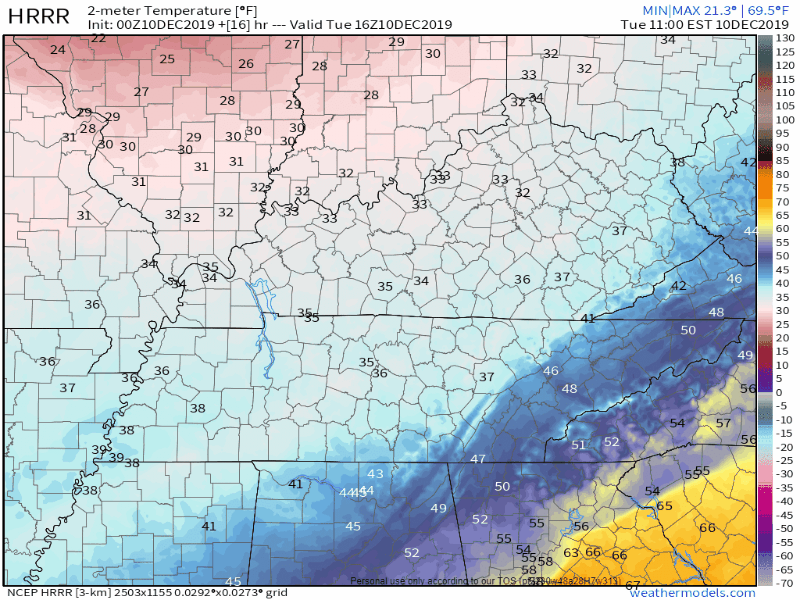 Meanwhile, the ground/roads have been spending afternoons in the 60°s the past few days.
Sooo, splat/melt.
So while the rest of the day and night Tuesday is full of rain, sleet, and snow falling . . .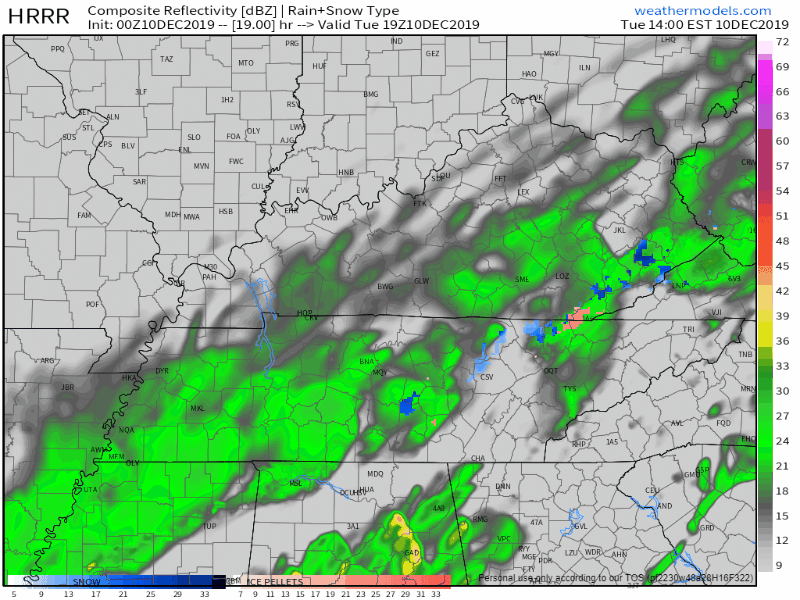 . . . accumulation will be difficult, if not impossible.
HRRR snowfall map is a total snowfail: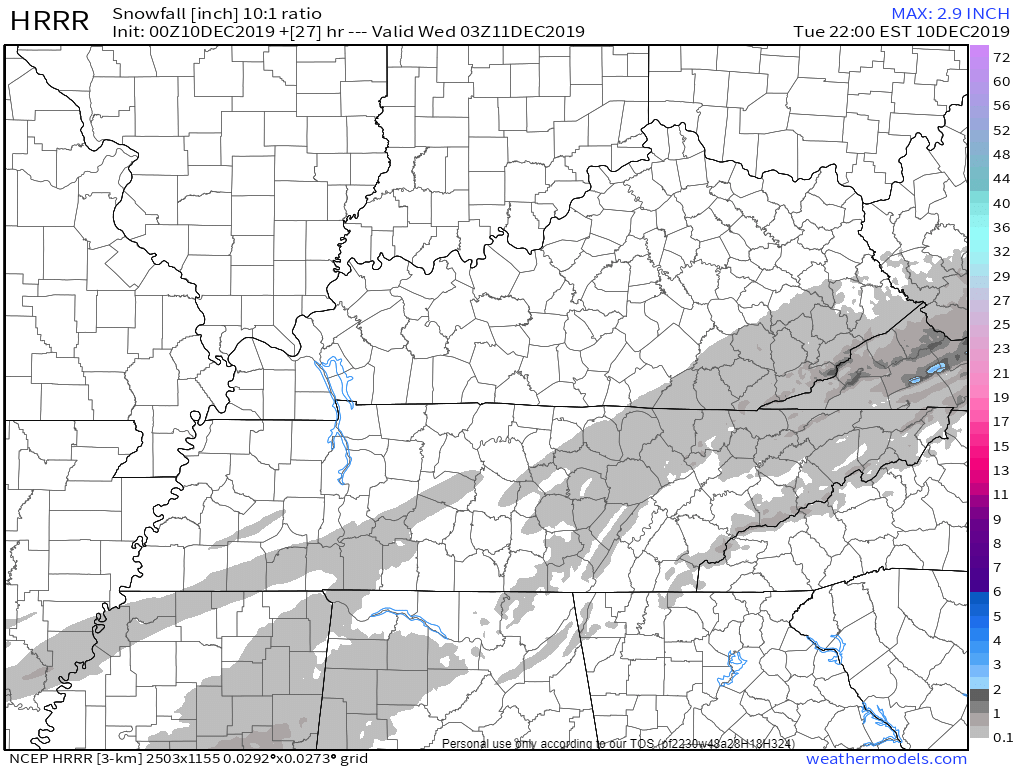 If the HRRR model is correct. It might not be right.
Euro model, 18z run.
Here's the Euro from midnight tonight to midnight Tuesday night. Green is rain. Pink is sleet/mix. Blue is snow.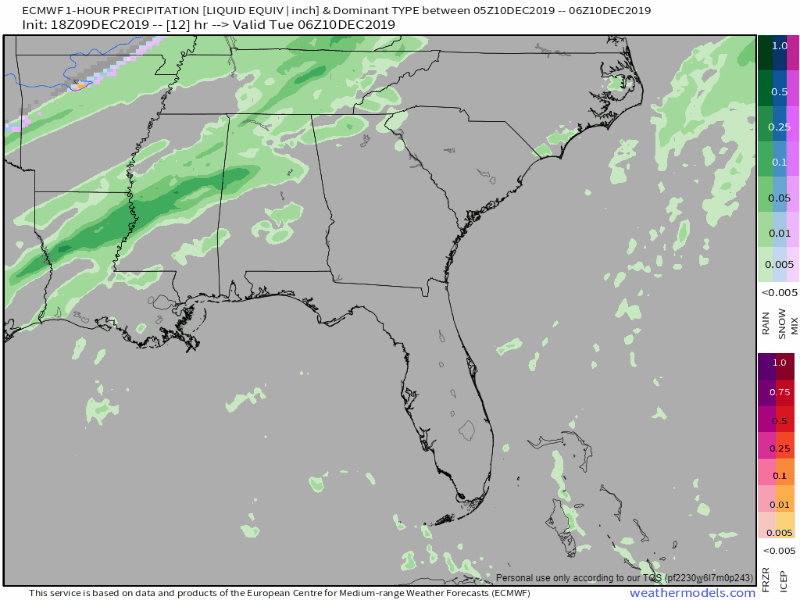 Like the HRRR model, it thinks temps aloft (at 5,000 feet) will be cold enough to make snow.
Like the HRRR model, surface temps stay above freezing all day: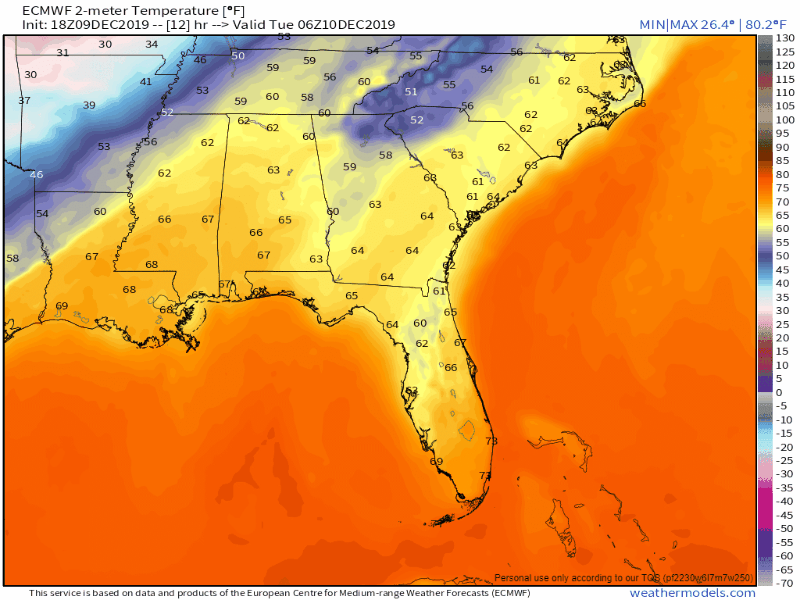 Splat/Melt.
GFS Model, 18z run.
Same thing. Plenty of moisture. Temps aloft turning it to rain, sleet, and snow.
But surface temps stay above freezing until around 9 PM Tuesday, long after the precip has moved east: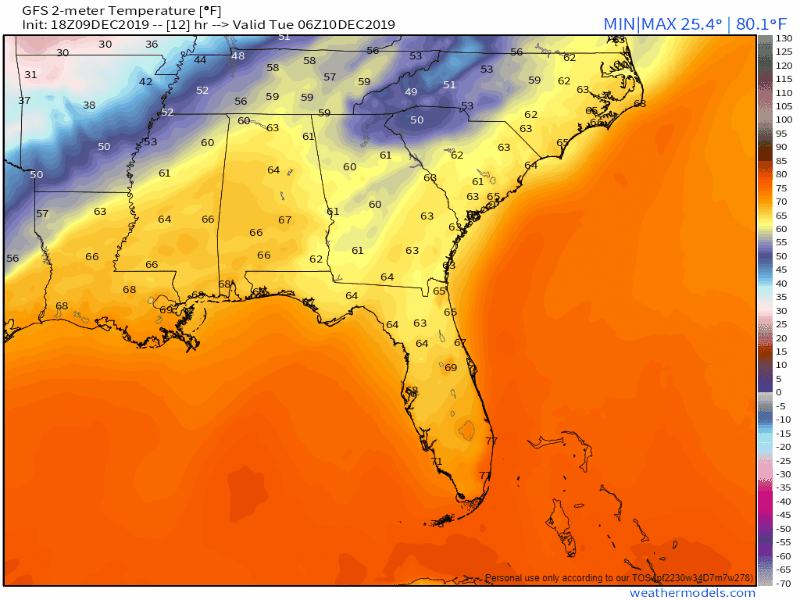 Is it that simple? Splat then melt? Nope.
A deep dive into the GFS model shows maybe surface temps won't stay above freezing all day. This shows us at 30° Tuesday night. When it's still snowing!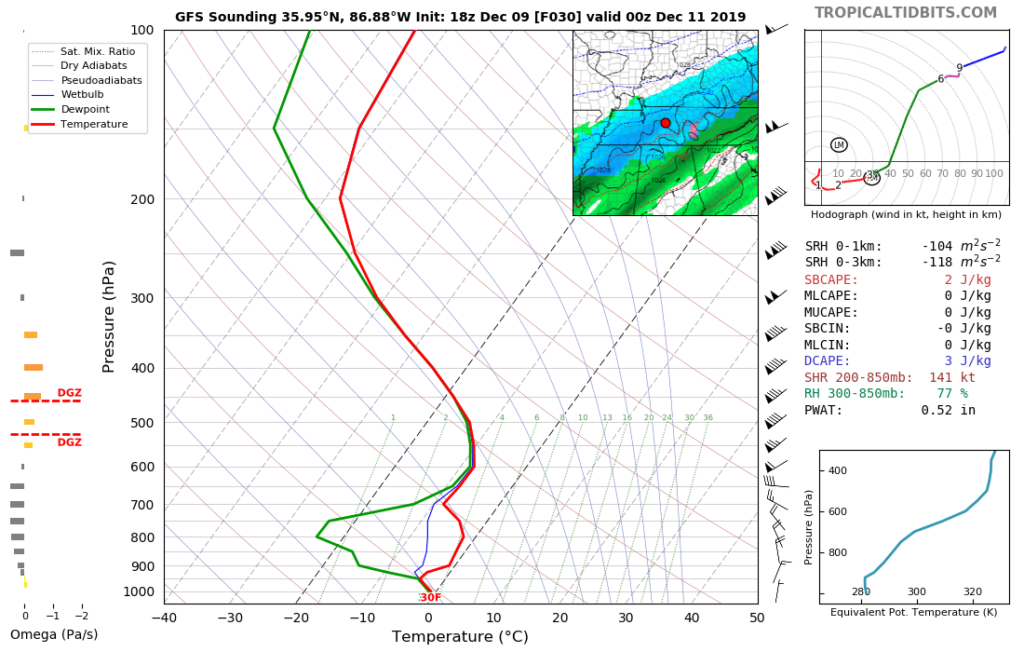 It's not all accumulation, though. The space between the big green line and the red line is where the Dry Air Monster lives. He'll eat the snow. When the D.A.M. is full, the snow falls unabated to the quarterback. You're the quarterback. This model shows a very hungry D.A.M., he will eat a lot of snow.
The point of telling you this is other models have other ideas. Below is the very latest HRRR model sounding (1z) showing no Dry Air Monster at 9 AM while it's raining/sleeting/snowing and melting: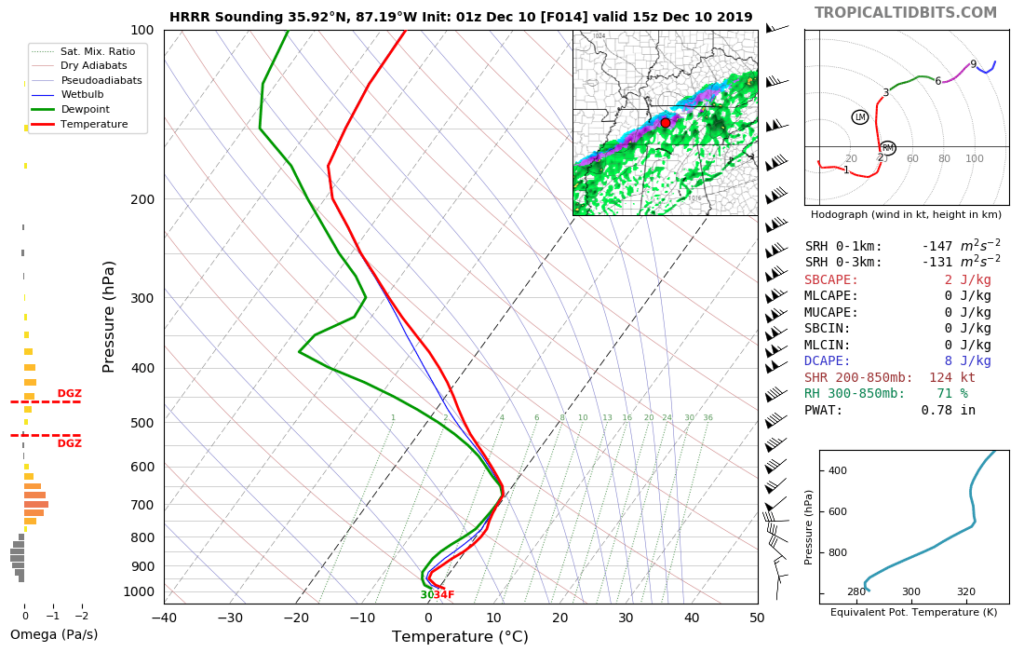 But then the D.A.M. shows up at noon after the precip ends, and surface temps remain above freezing.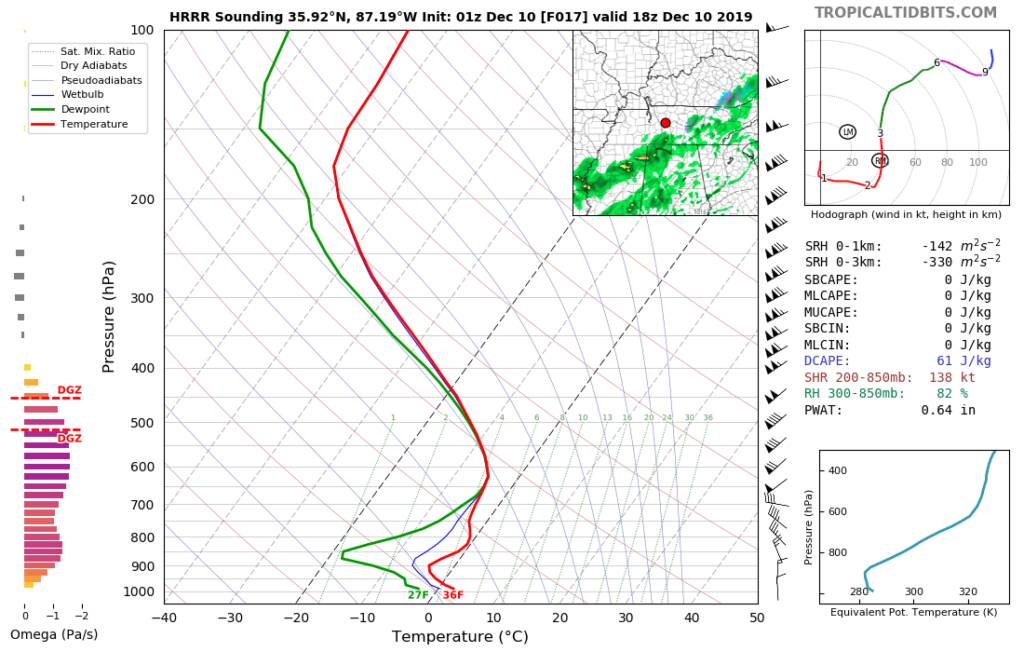 It's just not cold enough.
Confused? Exactly! There are no clear signals here.
Takeaways.
I think we will see snow fall out of the sky Tuesday.
The ground is very warm, already unreceptive to snow accumulation.
Surface temps may not cool fast enough even bring the air temp to freezing. The ground is going to be warmer than the air, probably by a lot.
A lot splat/melt happening at first. It may splat/melt all day.
If there are travel impacts, they will be to bridges, overpasses, and areas at elevation first.
The official forecast is responsible, a range between 0″ and 1″. Any accumulation, if it occurs, would be in the afternoon.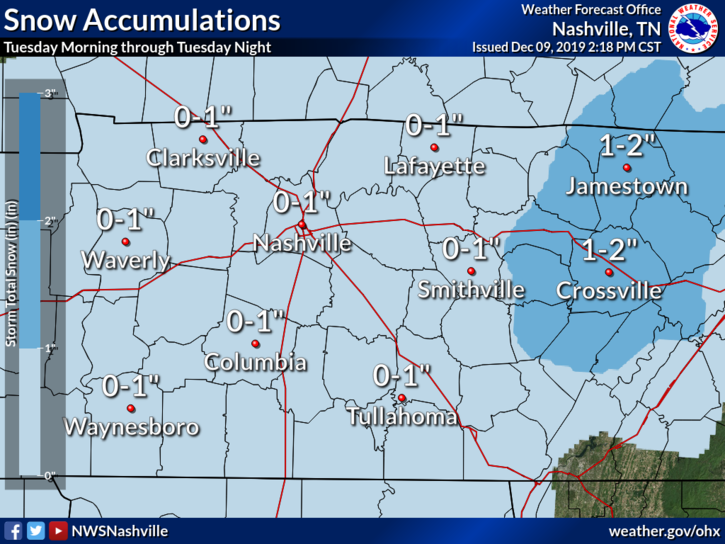 Impacts will be low, generally speaking, but that will not comfort your insurer or Tuesday plans if you spin off an overpass into a side railing.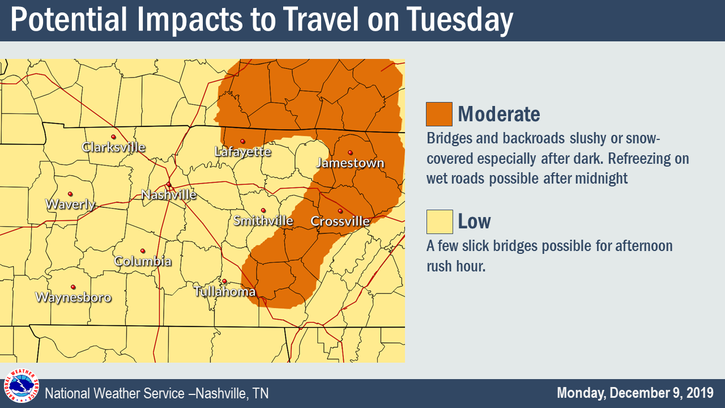 There's a remote possibility of a boom, where a heavy squall line sets up and overcomes the Dry Air Monster and warm ground temps. I think that's exceptionally unlikely but to rule it out is top-shelf arrogance and a failure to learn from history.
It's more likely that air temps will be near/above freezing + warm ground temps = a splat/melt event.
Black ice may be a problem overnight Tuesday into Wednesday morning when surface temps drop into the mid 20°s.
We will know more in the morning. New information is expected around 4 AM. We will be up then, posting that information to Twitter.
Then it'll be a day to watch the radar, observe what's incoming from the northwest, and see what happens. We'll be on the Tweeter all day.
Plan for the potential of travel hazards tomorrow. Get some sleep.