It's not a "minor" travel impact to you if you slide into an overpass wall, so be smart out there. Fortunately we have a traffic problem and no one goes more than 25 MPH anymore.
But first:
Rain Incoming
Rain will move closer this afternoon. It should be here after dark. Winds increase along with the rain, gusting up to 35 MPH. Here's the latest HRRR model:
Despite lots of cloud cover, temperatures this afternoon are going to soar up into the upper 60°s, around 68° for the high.
Plan for Travel Impacts Tuesday
Expect rain in the morning to transition to snow beginning between 7 AM Tuesday to Noon Tuesday.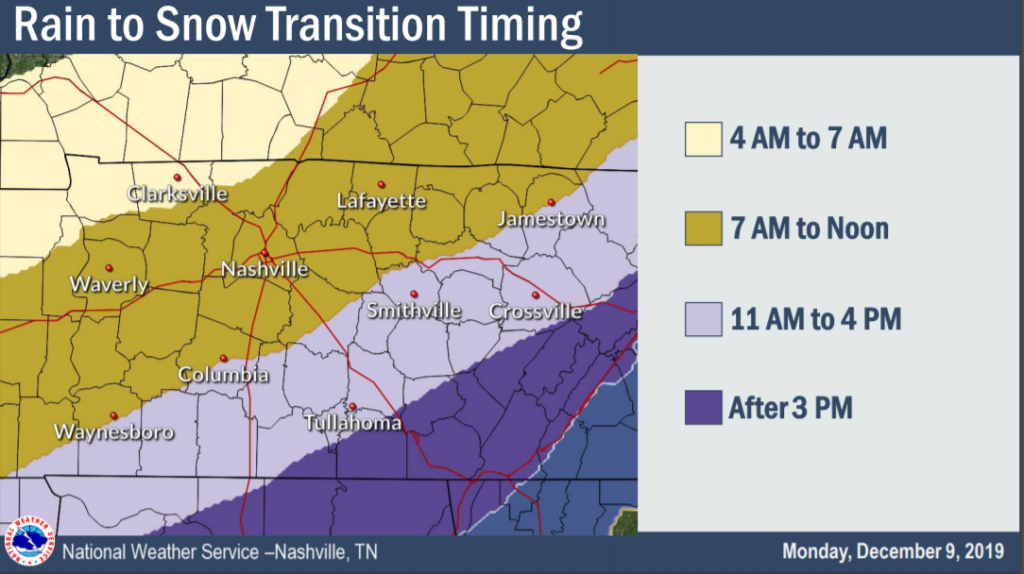 Confidence on timing is improving. Cold air rushing quickly behind the cold front will create a rain/snow line. Anyway, that's when it starts.
It will take time for accumulation because the ground is warm and the air temps will initially be above freezing when the first sleet or snow pellets fall.
Here's what the NWS-Nashville also has to say on the rain/snow line timing:
Plan ahead for at least minor travel impacts through the afternoon and evening commute, especially along and north of the I-40 corridor.

NWS-Nashville Forecast Discussion 12/9/19
AMOUNTS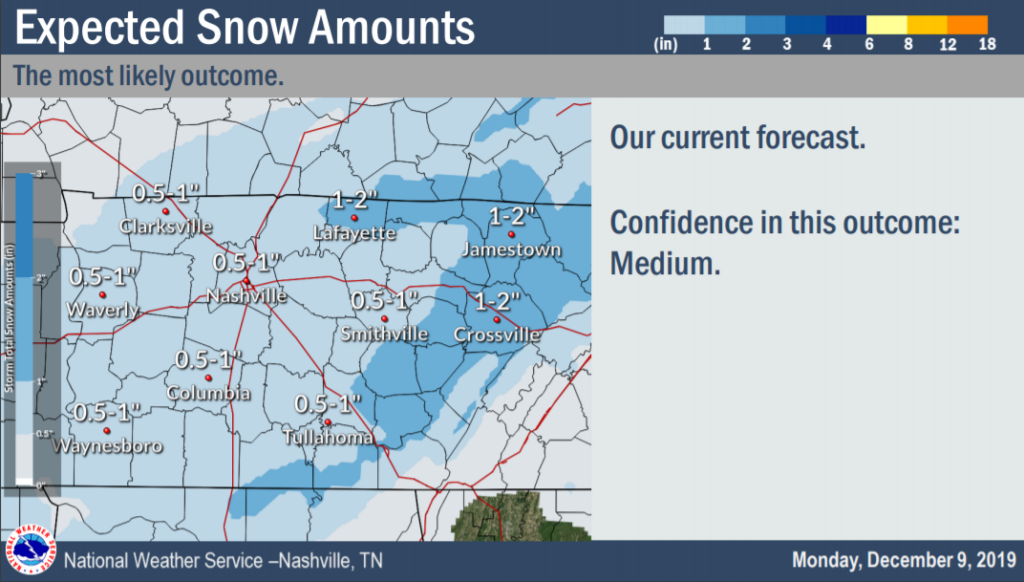 IMPACTS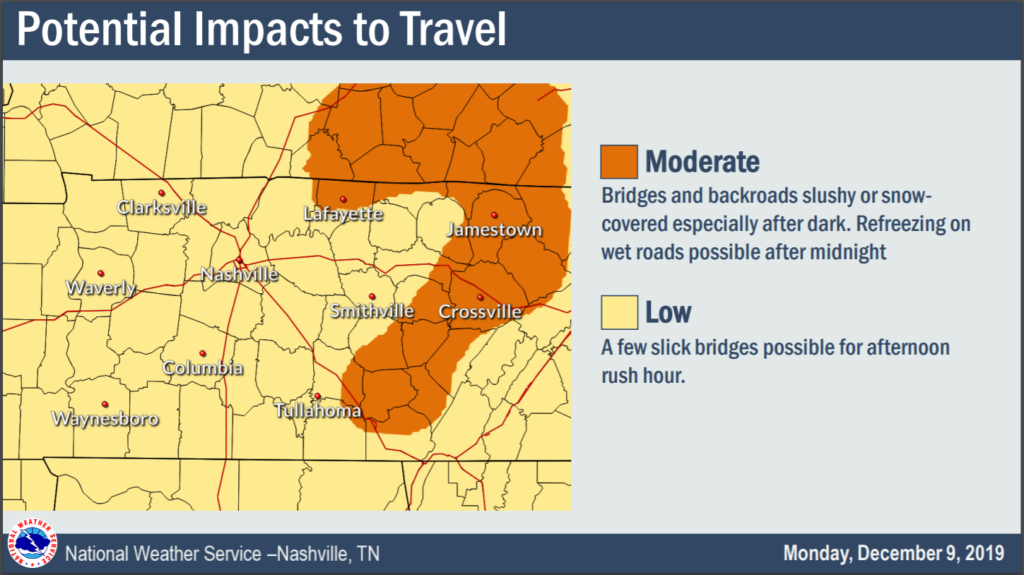 Bridges, overpasses, and areas at elevation will be impacted first.
Other spots may be too warm. The ground is already very warm, and the air temp will only get close to freezing Tuesday afternoon. It will have to snow very hard, very fast to overcome the relatively much-warmer ground and accumulate 0.5″ to 1″ Tuesday afternoon. If this happens expect problems for tertiary and secondary roads.
Below-freezing temps arrive Tuesday night into the wee hours of Wednesday morning. We will bottom out at 25F before sunrise Wednesday, so anything wet Tuesday night should turn to black ice.
The models show a mixed bad of rain, sleet, and snow off and on all day tomorrow.
NAM3 model:
HRRR model: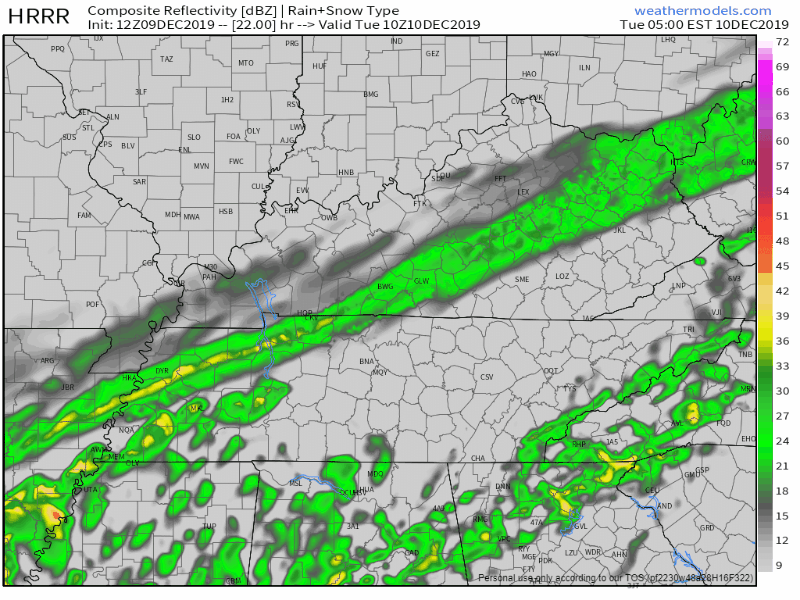 Euro model: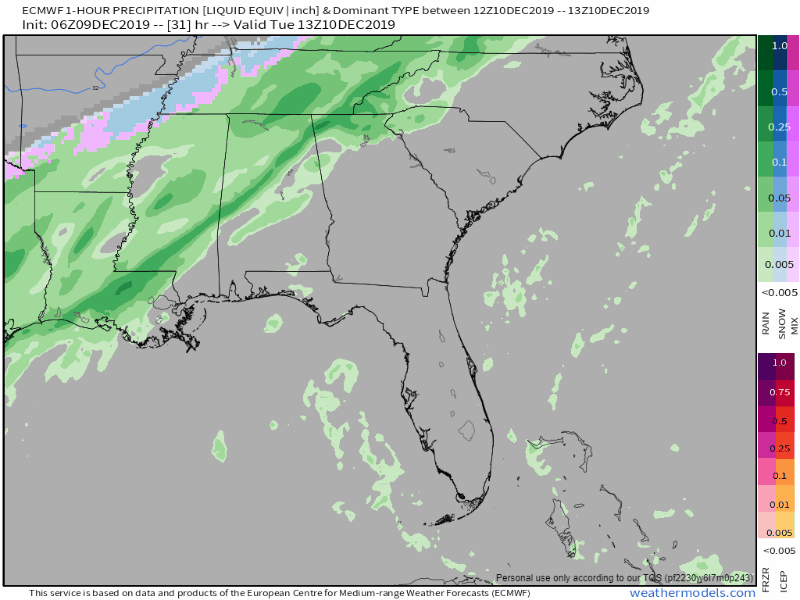 HOW THE FORECAST COULD BUST
1.) Moisture could pull out much quicker than expected, shrinking the window for accumulation.
2.) A period of sleet/snow pellets could decrease overall accumulations.
3.) Snow rates will determine road impacts and overall snow amounts due to the warm ground temperatures.
4.) A steady north wind will help dry off roads.
Here's the NWS-Nashville graphic repeating what we just wrote because We Embrace the Uncertainty when uncertainty is reality: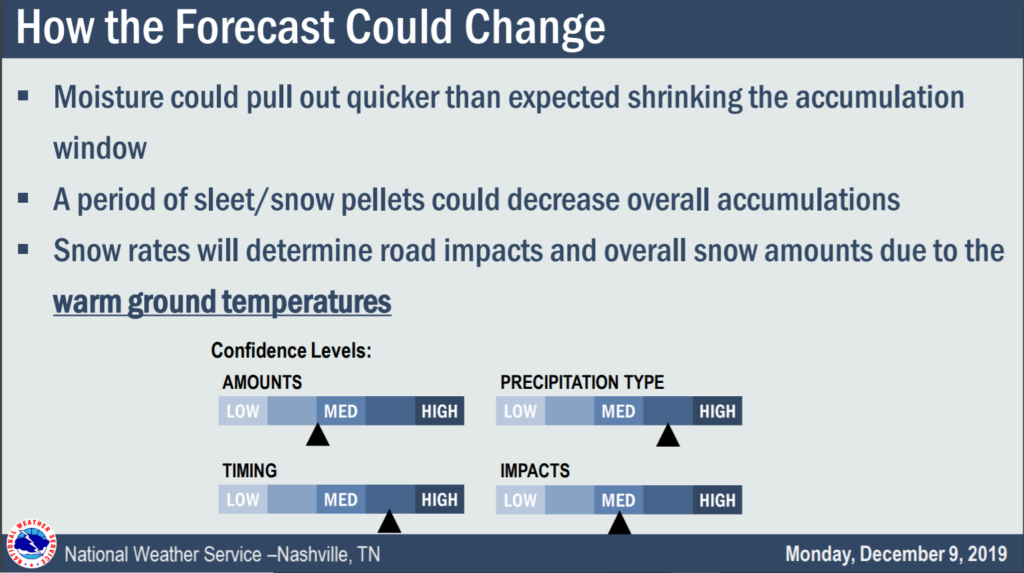 That being said, the forecast right now is predicting 0.5″ to 1″ of snow for Nashville and most of Middle Tennessee.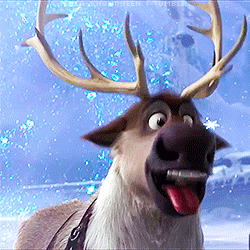 Week At A Glance
The cold front moving through will keep our temperatures in the 40s for Wednesday (melting anything leftover from Tuesday's snow event) and Thursday. More rain in the forecast for the start of the weekend, more to come as we get closer to those days.
The Climate Prediction Center's 6-10 day temperature outlook does have us warming up to above-normal temperatures for the next week or so, so the freezing temperatures don't stick around forever.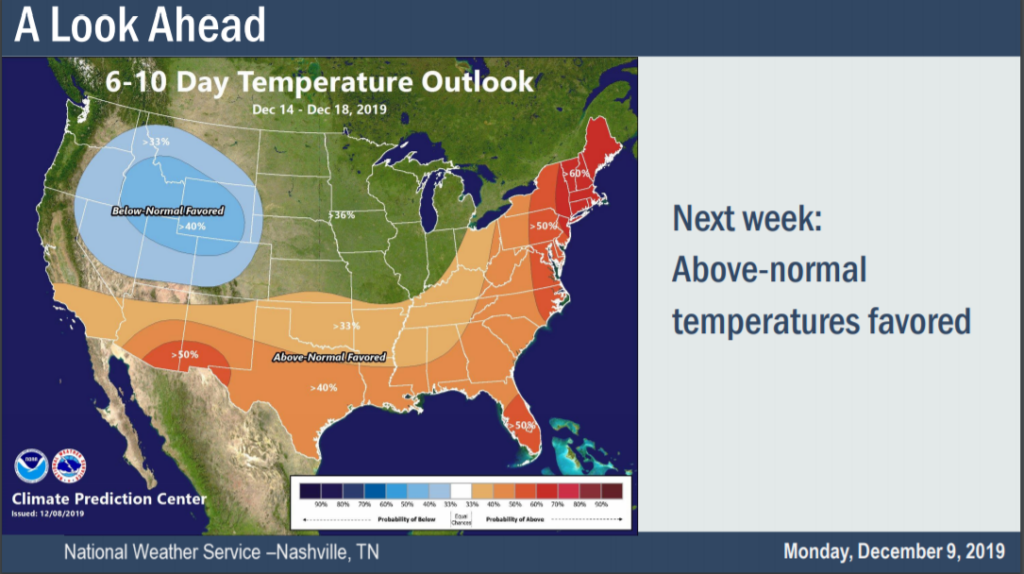 Check back for more updates!