Why Another Blog Today?
New model data arrived. NWS-Nashville made maps you need to see for Tuesday. Forecast is evolving. Snow forecast is trending upwards but forecast confidence remains low.
All quotes from NWS-Nashville.
Light Snow Accumulations Possible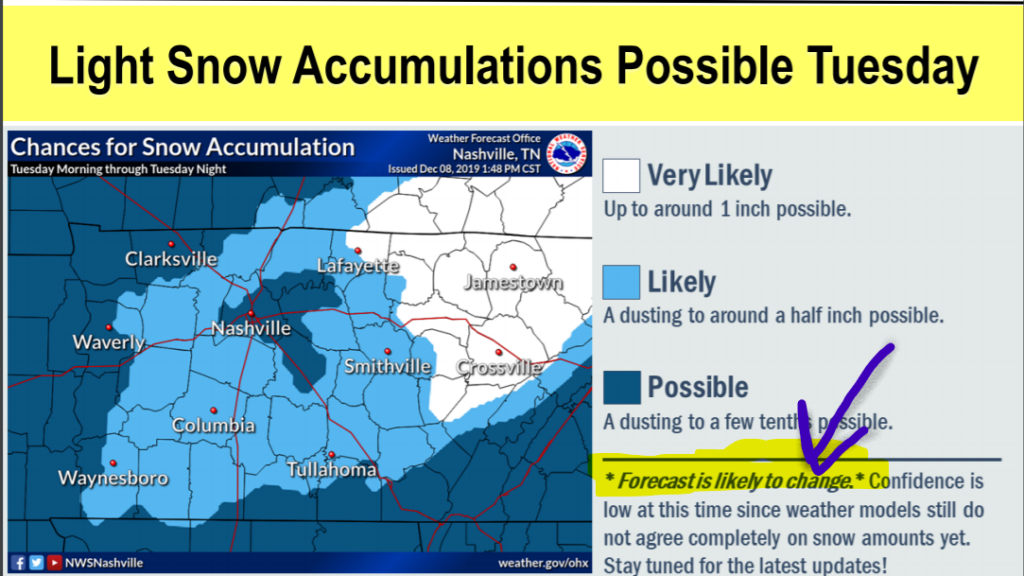 Low Confidence
NWS-Nashville made these points:
A lot of uncertainty still exists, and confidence is low on snowfall amounts at this time. . . . Models have trended upward with snow amounts with latest data, but could just as easily bring amounts down in the next runs.
Rain First, then Rain/Snow/Sleet/Mix
Soaking Tuesday morning rain to an afternoon sleet, snow, or mix.
Below is the Euro model running from midnight Monday night through 11 PM Tuesday.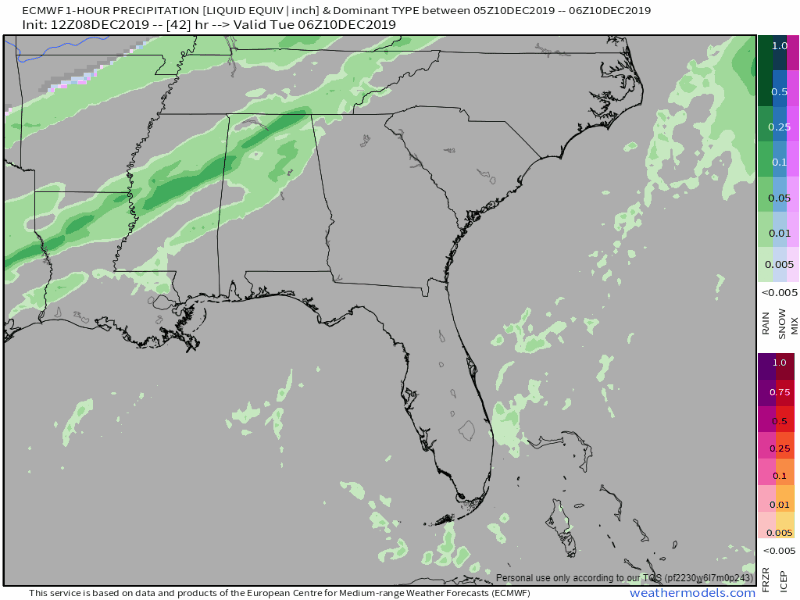 And temps during the same time: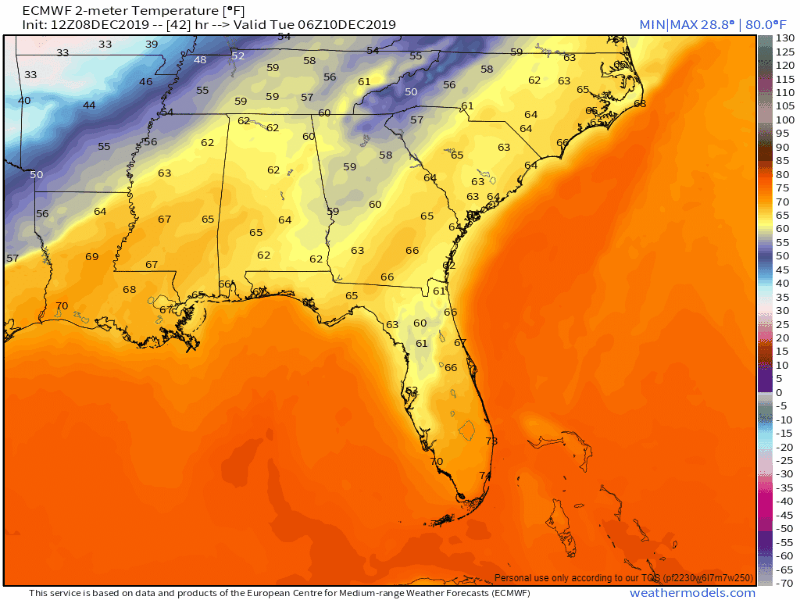 Wintry Precip ETA Tuesday Afternoon
Maybe as early as lunch for Joelton.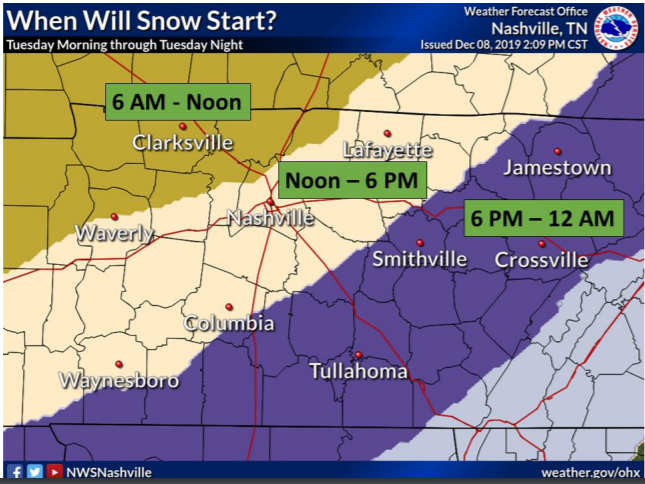 It should end around dark.
Where
NWS-Nashville has all of Will Co in a "likely" dusting category. Nashville (except Joelton/NW Nashville) is in a "possible" dusting area.
Impacts
Some slick spots and spotty travel hazards possible. No sledding. No snowmen.
Some road impacts may occur if temperatures are cold enough for slick spots to develop, especially during the late afternoon/evening commute.
Important Points
Wintry precip may only last a few hours.
Model soundings show the low levels beginning to dry out a couple hours after the rain to snow transition. Seeder feeder processes may prolong the snow a couple more hours, but it is something to take note of.
The ground is warm and the air temp may not make it to freezing in time for accumulation.
[I]t will take some time or decent snowfall rates to get snow to begin to accumulate given warm, wet surfaces.
We hit 60 this afternoon. Expect mid 60s Monday afternoon.
Ground temps will be at least a few degrees warmer than the air temp, and the air temp Tuesday may only get to 33F, then 32F, but by then the precip will end. Ground will be inhospitable to snow.
Snow falling doesn't always mean snow accumulating. Tueday, most snow or wintry mix should splat/melt.
However, bridges, overpasses, and areas at elevation will cool faster, there ice/black ice might form, especially after midnight Tuesday night when temps drop into the upper then mid 20s.
Re-embrace forecast uncertainty:
Amount of moisture behind the front as well as surface temperatures will be the key to the potential snowfall amounts.

Roads may stay warm enough to minimize travel impacts, but again that will all depend on how quickly the cold air moves into the area.
We will rise above freezing after dark Wednesday morning, melting anything that tried to freeze. High Wednesday 42F.
Expect several updates and potential changes to this forecast. We'll post them here; for the latest information we're on Twitter @NashSevereWx.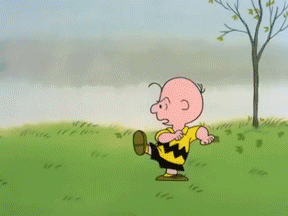 Before the Rain/Snow Event

I just talked about rain/snow Tuesday December 10, let me go back to the future, Monday (December 9).
Expect spotty, light predawn rain.
A soaking rain after dark. HRRR model: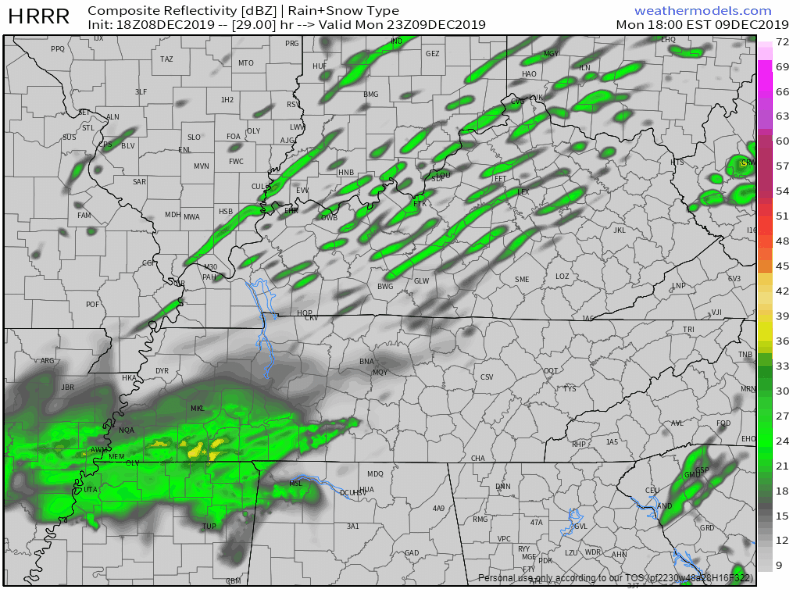 Great Scott.