Today Brings a Dry Start to the Weekend
We will hit a high near 56°F today, with some clouds hanging around.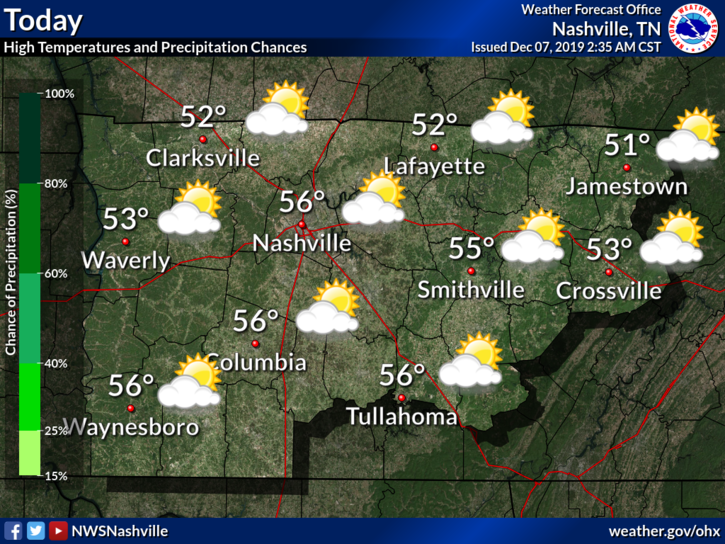 Saturday is leading us with an excellent start to the weekend. If you have any outdoor activities or need to decorate for Christmas, today is the best of the best.
Sunday Looks Dry as Well, Rain Chances into Sunday Night
Sunday doesn't look too bad.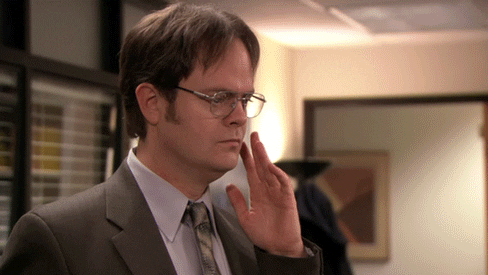 There is a slight chance for some showers Sunday night, however. NWS-Nashville:
Expect an appreciable increase in cloud cover Sunday as low-level winds begin advecting moisture up from the south. While a spot rain shower cannot be ruled out Sunday night, guidance suggests an uptick in PoPs will wait until daylight hours on Monday.

NWS Nashville Discussion, 12/7/19
This uptick in rain chances will most likely to our south, according to the models.
But the rain will truly begin to come in on Monday.
Monday's a Soaker, Tuesday's Uncertain
And here we go, the rain is back.
These rain chances look to increase early morning on Monday, persisting all day.
The GFS has on and off rain beginning around 7 AM, with more widespread rain by the afternoon.
There is blue appearing on these model runs. More on that down below.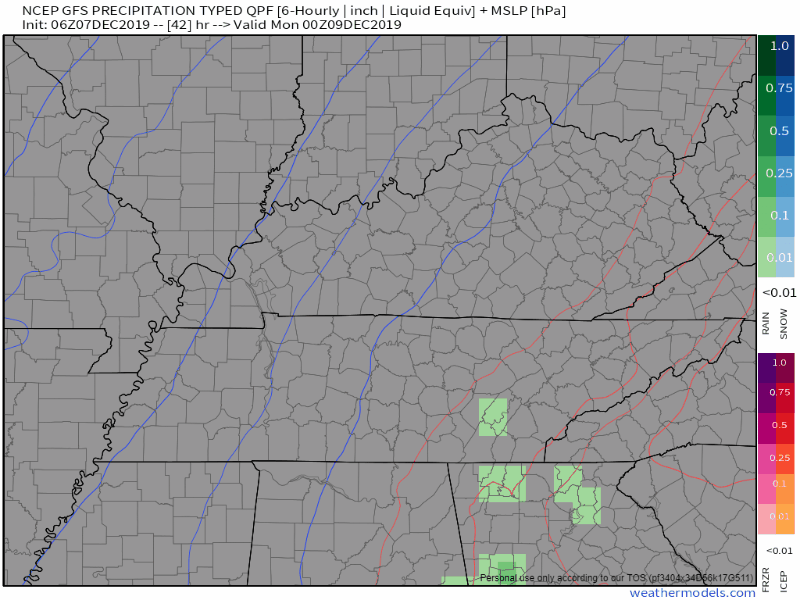 The Euro has the rain moving in a bit later, but more or less a similar story.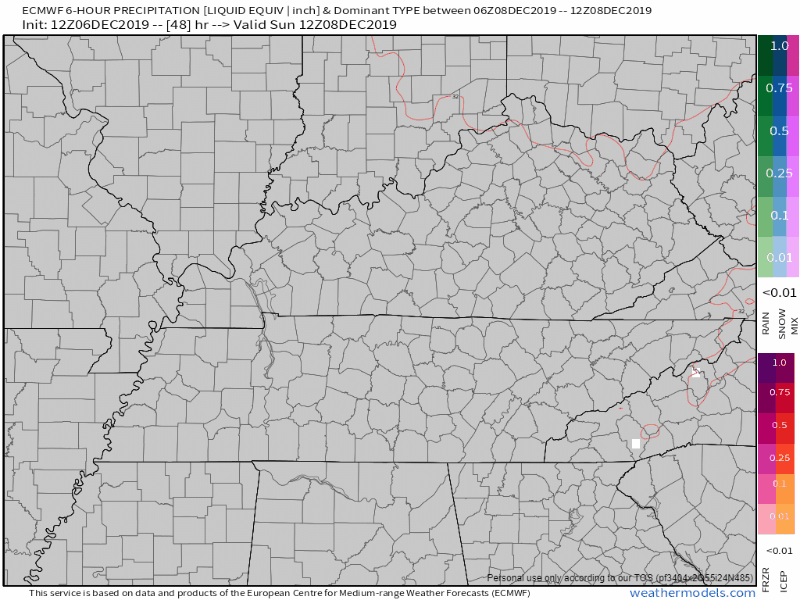 Now for the elephant in the room – the blue stuff (I'm not saying the s word).
As of right now, this change over to winter precip will be so short-lived, any potential impacts are negligible.
NWS-Nashville has more to add to this:
Timing differences in the models are now ironing out, suggesting precipitation moves east of the area by sunrise Wednesday morning. As colder air rushes in behind the precip, there may be a brief period of rain/snow mix along and east of I-40 late Tuesday or early Wednesday morning. Precip does not appear to linger long enough for any impactful accumulations.

NWS Nashville Discussion, 12/7/19
This is always the story for our winter, how quick does the cold air move in and how long does the moisture stick around AFTER the cold air is in place. Also, how quickly do surfaces cool down?
All of these factors have a role in how this will play out. For now? The transition will happen too late for any accumulations to have an impact.
Of course, this can and probably will change. We are still four days out from this event.
As always, be sure to keep up with our forecasts here as conditions evolve and check us out on Twitter @NashSevereWx!