Rain To Move Out By Late Afternoon
We've dealt with scattered showers throughout the morning, but those will quickly be on their way out. The latest HRRR model has these showers fizzling out for much of us no later than 5PM-6PM:
HOW MUCH RAIN?
Not much at all, really. New precipitation amounts are showing less than a tenth of an inch possible through this afternoon. No flooding concern.
The blanket of clouds and mix of rain keep our temperature near 56° for the high this afternoon.
Weekend Mostly Dry, Showers Sunday Night
We'll steer clear of the rain for Saturday, but it will still be cool. Near 53° for the high. The Christmas Parade should be in great shape, but bring a jacket with you to keep you warm.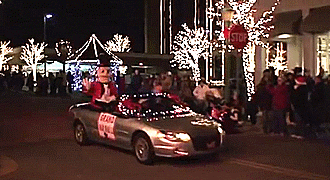 Temperatures will hike back up into the upper 50s and lower 60s for Sunday, and we'll stay mostly cloudy until the evening hours, when we could see a little bit of our next rain system make its way into Middle Tennessee. Although we may see a few sprinkles Sunday night, Monday and Tuesday will likely be our washout days.
Cold Front Brings Widespread Rain Monday Into Tuesday
Monday and Tuesday will not be the greatest days for any afternoon plans. Rain arrives Monday afternoon ahead of a strong cold front, and persists into Tuesday.
What do I mean by strong cold front? The high for Monday is 62° , and the high for Tuesday is 46°.
What do the models say? Well, timing is still a bit uncertain being a few days out still, but here's the GFS:
You might've noticed a little blue on the GFS at the tail end of the front. Don't get excited about it, chances are slim to none for us to see snow. Cold air rushing behind the front COULD produce a bit of a wintry mix for some of us, but this rarely happens here in December, so don't count on it.
Then there's the Euro:
The Euro isn't as impressed or really buying into the chance for any wintry precipitation, but the models are in pretty good agreement over the fact that both Monday and Tuesday will likely be a washout. Rain will move out by Tuesday night into early Wednesday morning.
Check back for more updates as usual!