Winds 28 MPH today, high 53°, perfect for kite enthusiasts.
Clouds increase this afternoon. A light shower is possible late this afternoon/early tonight.
Tonight temps drop into the 40°s with wind chills in the 30°s.
Overnight, temps will keep falling into the 30°s…..
---
Models show precip moving down I-24 from Kentucky after midnight.
Snow possible.
But snow falling and snow sticking are two different things.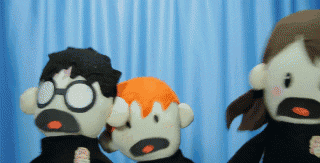 Will Snow Fall Tonight/Overnight?
Maybe.
HRRR model thinks so: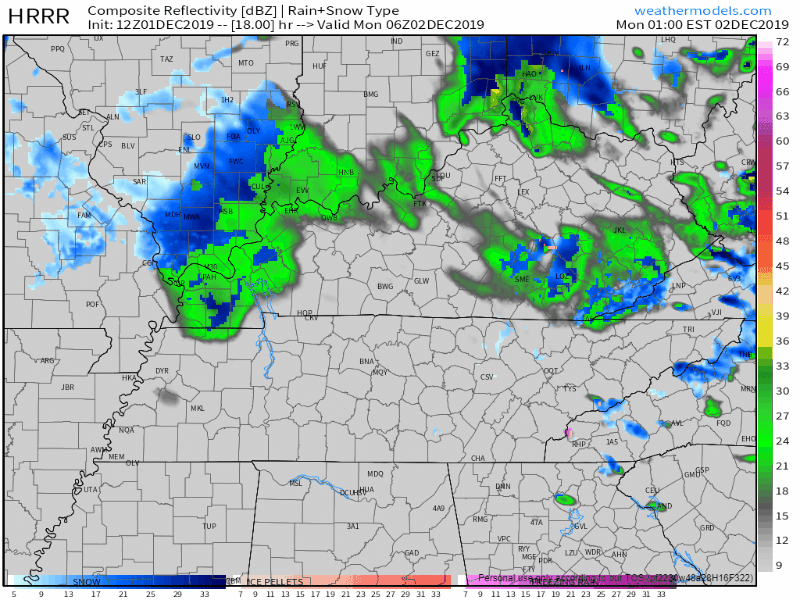 The Euro model predicts a mixed bag-o-precip, rain, sleet, snow (mostly rain):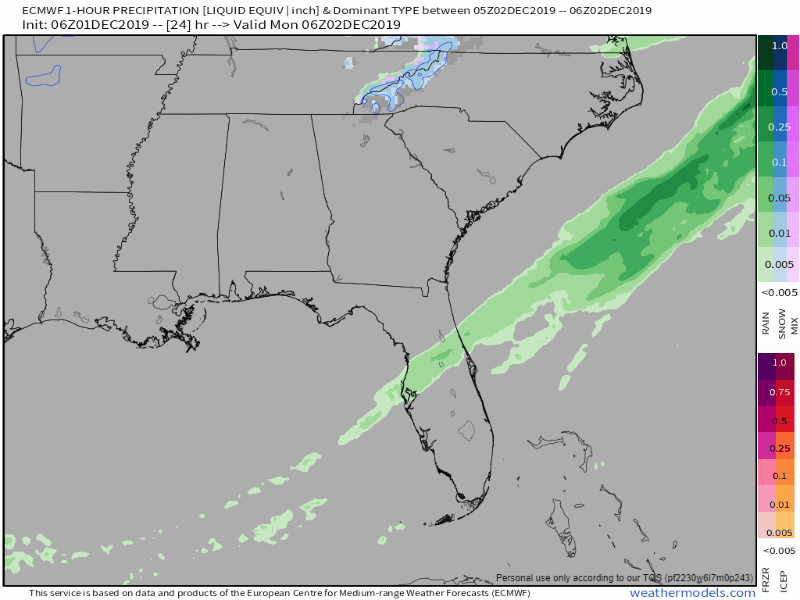 The GFS model is not a believer; it thinks it will all swing east of us: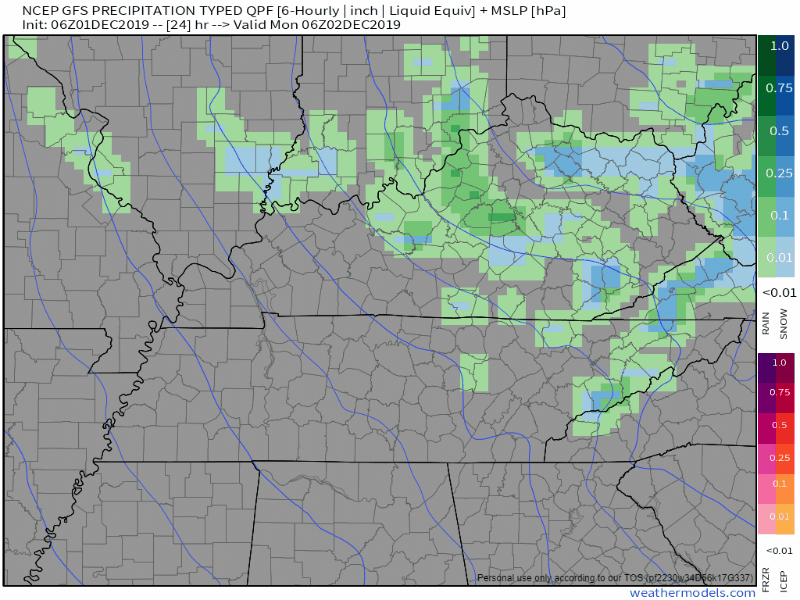 It may not precipitate here at all, but if it does (it might), and if it's snow (it may be):
Will Snow Stick to Anything?
Gut instinct: no.
Here's why.
The ground is too warm. Inhospitable to sticking snow. High temps last three days: 65°, 62°, 65°. Today'll be 53°.
The ground won't get cold enough. It's colder way overhead than on the ground. Colder temps aloft will change any precip from rain to sleet to maybe snow, but temps on the ground will be warmer. Many areas won't even make it to freezing, but those at elevation and other isolated rural areas might. The official low is 34° at BNA before sunrise Monday morning. Even if it got below freezing, that's the air temp, it still takes time to cool the ground to freezing. Like putting water in ice cube trays in the freezer, it takes time for ice to form, and I don't think we'll have the time. We"ll be at 36° by 9 AM, 38° by noon. High Monday afternoon 41°.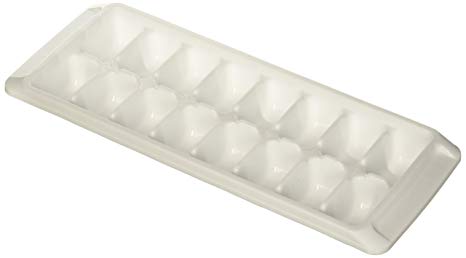 Weather model data doesn't think anything will stick. The HRRR model thinks we'll see the most snow fall but it doesn't think it'll stick to much/anything. It predicts no accumulation just about everywhere in Nashville and Will Co with a trace amount in Joelton, over by Fairview, and in those hills near College Grove: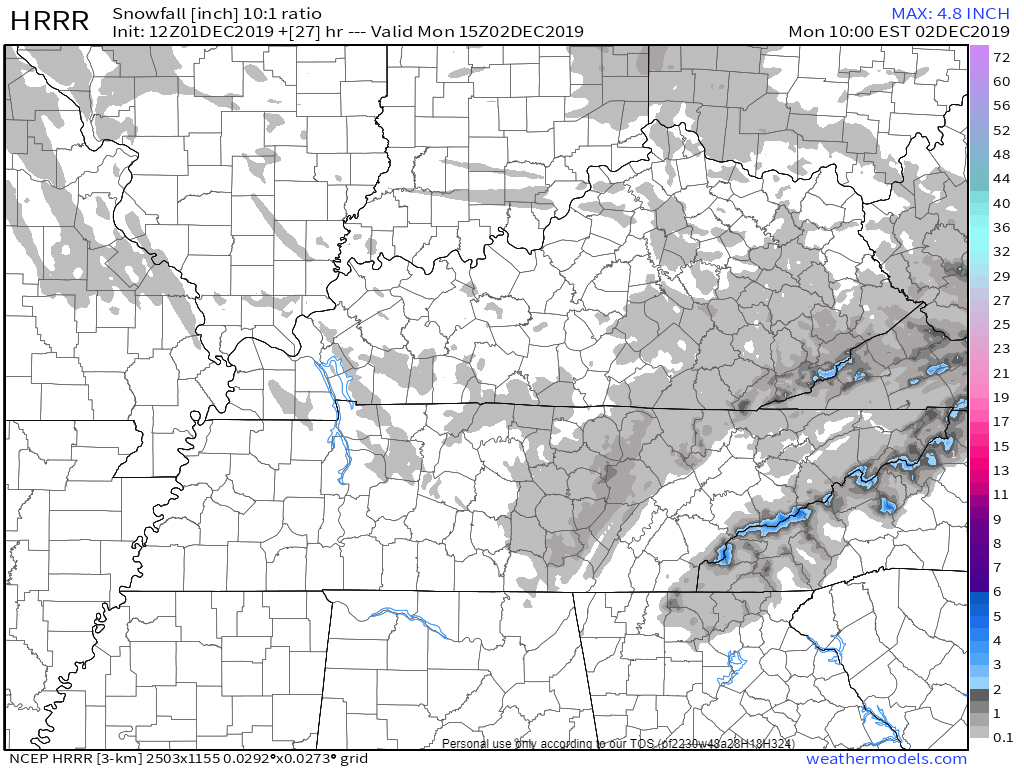 Notice no accumulation in Nashville or Will Co in the NWS-Nashville graphic below … except for maybe a little bit of barely-a-dusting in Joelton aka Hoth.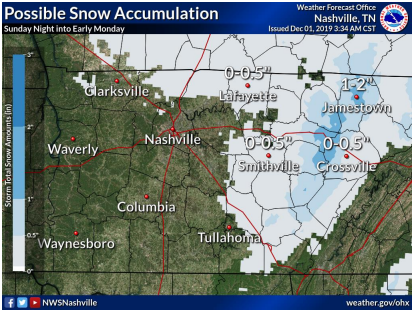 The Cumberland Plateau is in line for a little snow, but not us: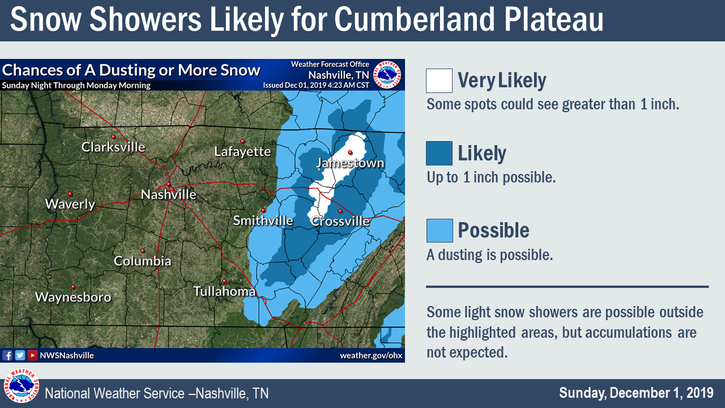 ---
However!
If the forecast is off a few degrees it'll make a big difference, but for now this looks like a meh-event. Another weak "bridges, overpasses, and at elevation" event.
Check back on Twitter later today for frequent updates and changes.
It's a snow event in Middle Tennessee, never be confident in a forecast.

We approach this forecast with humility. We think it's a not-a-big-deal and probably not even a deal at all. Forecasts, especially snow forecasts, can be wrong, so we'll be on Twitter trying to get it right all day.
---
Uneventful week ahead. Next rain chance Friday.
---
Our 15% off discount with code "HOLIDAY" is running until midnight Monday. Hoodie, shirts, beanie/toboggon/toque/too many names, and a regular hat. It's good stuff, grab some.