Heavy Rain and Wind Possible
The main focus today will be the severe threat off to our west.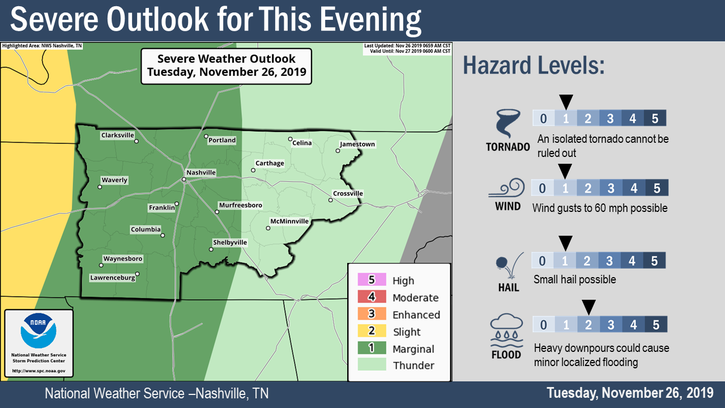 The concern for us will be any lingering storms as they move toward us. Wind and heavy rains are what we expect for us here in Middle TN.
Scattered storms are possible ahead of what will become a line of storms. As far as timing and duration go, this will be an overnight event.
Some techie information from NWS-Nashville:

Latest WPC QPF continues to show around 1/2 inch to 1 inch of rain with this system, which will not cause any issues. Despite the very strong bulk shear with this system and dewpoints rising into the low 60s across our southern counties, model forecast soundings show MUCAPE remaining well below 500 J/Kg due to poor low and mid level lapse rates. Therefore, the threat for any severe storms in our area looks very marginal at best. Still, cannot rule out a storm or two with strong winds or hail due to the near 100 knots of deep layer shear.

NWS Nashville Forecast Discussion, 11/26/2019
For severe weather around here, we first look for two ingredients. Shear and instability. It takes both for organized severe weather to occur. For this event, shear is very high (changing wind direction with height). Instability is almost non-existent. Therefore, the severe risk here is low, but not zero. Stated another way, the Storm Prediction Center gives these chances of (x) occurring within 25 miles of you: Tornado (2%), 58+ mph winds (5%), 1″+ diameter hail (<5%).
About a half-inch to an inch of rain is possible once this is over.
Here is the HRRR, showing some of those scattered storms in the later afternoon and the line of storms moving through overnight: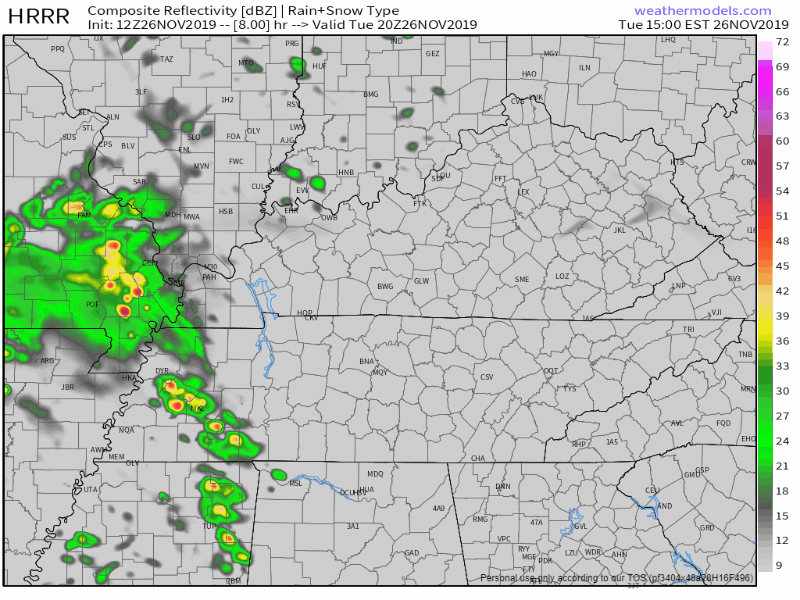 And here is the NAM3, timing is about the same but the NAM3 isn't as impressed by the line of storms. This model also has a lot more rain ahead of the front compared to the HRRR.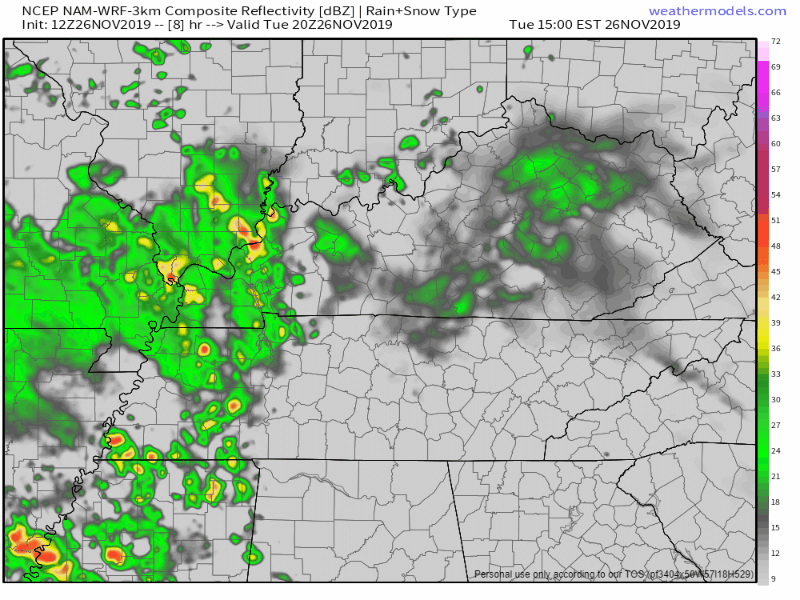 Those who will be outside camping tonight should pay extra attention. Anyone who lives in mobile homes should also watch closely as there could be some strong/gusty winds at times.
Clearing out on Wednesday
The rain should be moving out on Wednesday morning.
Along with this, our high should hang out in the low 60°s. This will not last as the colder air behind the front settles in. Temperatures are expected to drop into the low 50s by Wednesday afternoon.
The Turkey Day Forecast
We should be rain-free for thanksgiving during the day.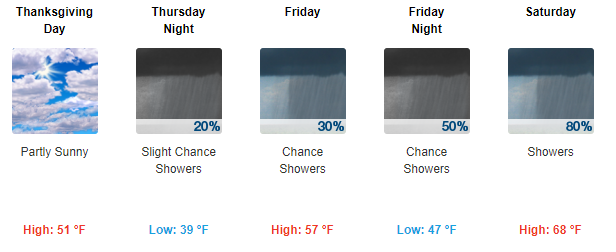 There is a slight chance of rain Thursday night, but by then most of our thanksgiving activities should be over with. All in all, it's looking alright!
Check back for updates to the forecast as conditions evolve and be sure to follow us on Twitter @NashSevereWx for the latest information as these storms roll through today.