Light, Scattered Showers Thursday
Brief scattered showers today. Here's a look at the HRRR model: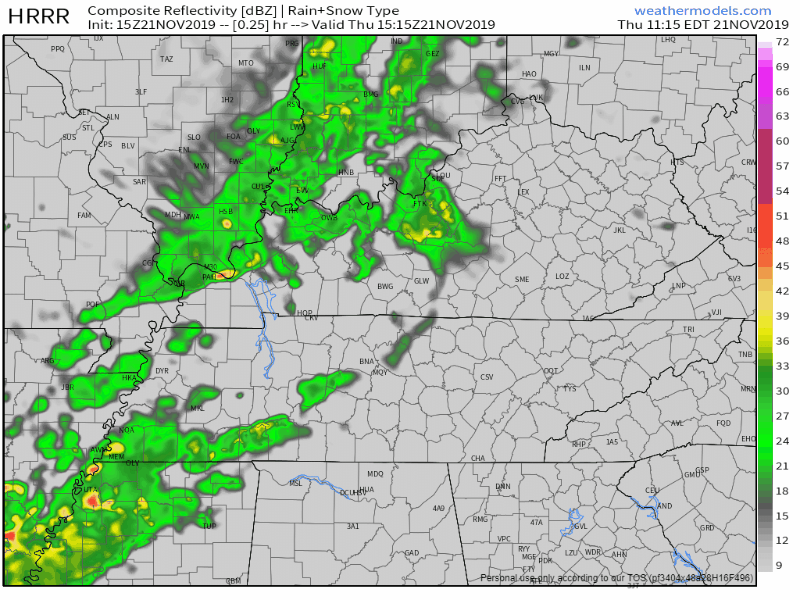 Here's the NAM3 model: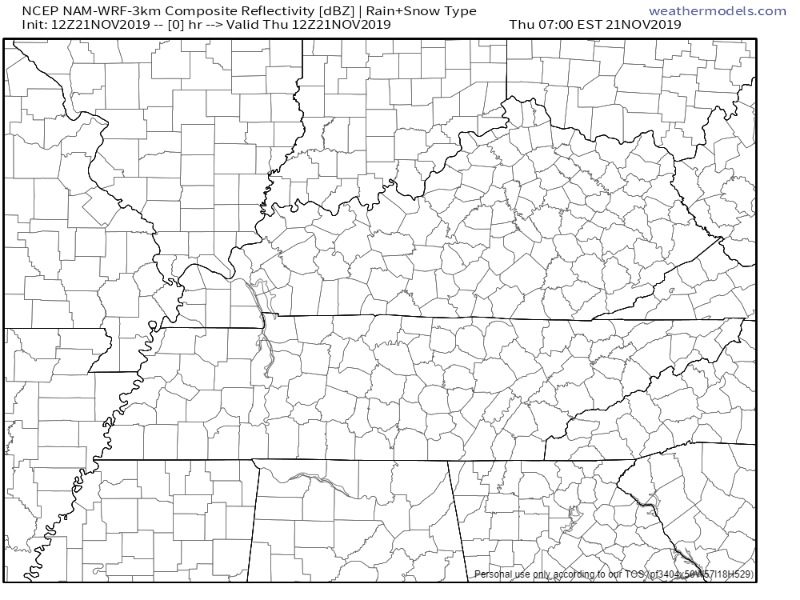 No exact timing or location on these showers, but most people should stay dry. Off and on, no big deal.
Thursday high temperatures will be above average at 65°.
Heavy Rain Friday . . . Into Saturday?
A cold front will move into the area tonight and stall, bringing quite a bit of rain.
Timing
The first wave will focus rain mainly along and north of I-40 late [Thursday night] into Friday morning. The second stronger wave with a pronounced surface low will be focused mostly over the southeast half of our area Friday night into Saturday morning.

NWS-Nashville AM Discussion
First wave Friday morning should soak us.
The second wave Friday night should miss us, passing to our southeast.
The NAM3 model shows rain Friday morning past lunch, then a break Friday late afternoon and night, followed by another wave early Saturday morning: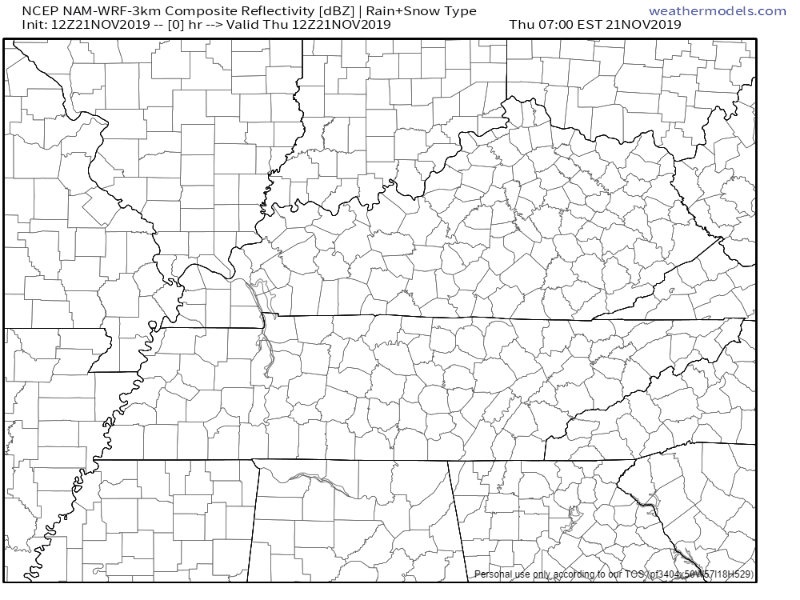 How much rain will we see?
Around 1-2 inches. Those south of us as much as 3 or 4 inches.
NWS-Nashville adds:
Some brief heavy downpours are possible, especially late Friday night when modest instability may create some rumbles of thunder.

NWS-Nashville AM Discussion, 11/21/19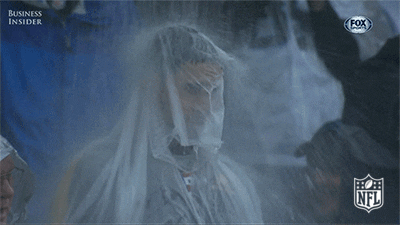 Anything severe?
Nope! You may hear some thunder, but this will be a rain event.
Heaviest Rain Gone Around/After Lunch Saturday
A brief shower or two may linger behind Saturday afternoon/evening. By Sunday, dry with partly sunny skies.
Cooler air will settle in, leaving us with a high of 53°.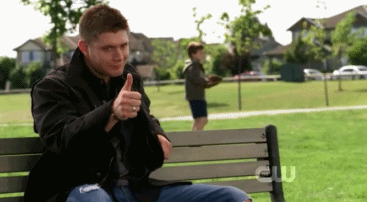 Thanksgiving Week Peek
Monday looks to be nice with mostly clear skies and a high of 59°.
A new rain/storm system should move through around the middle and end of next week:
A very breezy frontal system is expected to bring scattered showers Tuesday. This fast moving system should move out by early Wednesday, but models show more showers spreading across the region Thanksgiving Day into Friday. Post Thanksgiving travelers and shoppers could deal with very showery and unsettled conditions through the weekend across Middle Tn and surrounding regions.

NWS-Nashville AM Discussion, 11/21/19
This forecast can and will change, so don't be quick to change any Thanksgiving or travel plans. Just be aware and keep an eye on the forecast over the next few days. No wintry weather; you'll have to go toward the Great Lakes for that.
Of course we will keep you updated as we get closer.