Wednesday is a Go, Looking Dry (Before the Rain)
Today, expect the sunny stuff. Light wind from the east, reaching around 59°F.
It makes you wonder… where did all that winter go?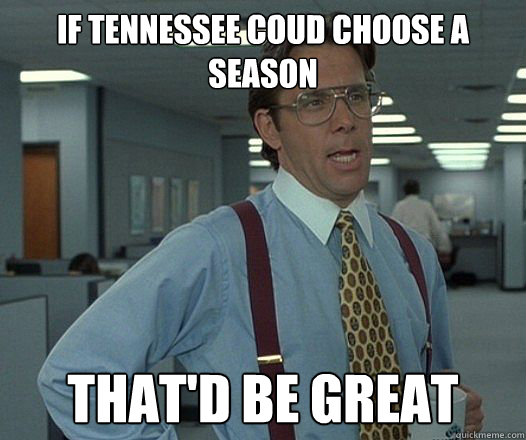 We like to go back and forth this time of year, apparently.
Rain Chances Increase on Thursday Night
High around 65°F, with increasing rain chances.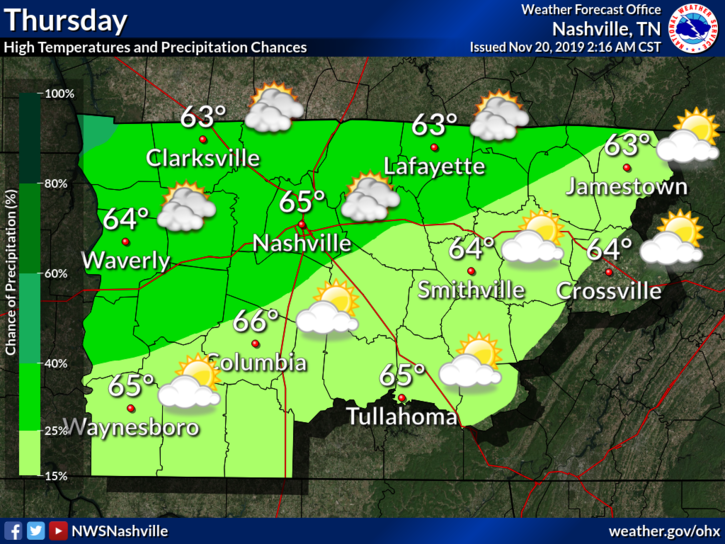 The sunny stuff goes bye-bye and is replaced with the cloudy and rainy stuff. (Okay, I'll stop saying 'stuff' now.)
These rain chances go up around 1 PM, going up more into the night.
Guess What? More Rain Friday and Saturday
The NAM3 shows scattered showers tomorrow, becoming more widespread into early Friday morning: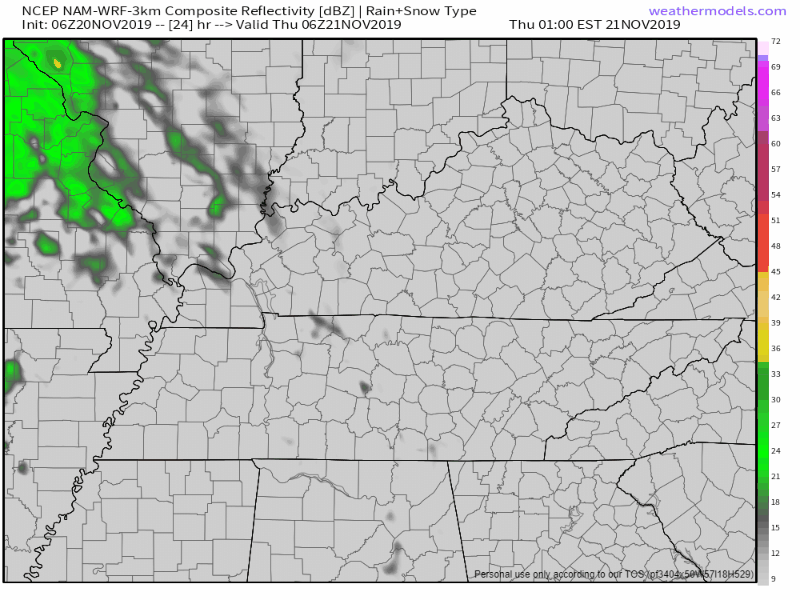 NWS-Nashville talks about the rain amounts and what's expected:
The first wave will come late Thursday night into Friday morning with the main band of rainfall focused over the north half of the area with 1 to 1.5 inch amounts. The second wave will be a stronger area of low pressure Friday night into Saturday morning with the focus for downpours over our southern counties- 1 to 2 inches. Overall it looks like event totals will be 1.5 to 2 inches with localized greater amounts in the south. This means a soaking, but low risk for flooding. A rumble of thunder cannot be ruled out over our south counties late Friday night, but this would be isolated at most with all models showing very limited instability.

NWS Nashville AFD, 11/20/2019 from 5:17 AM
So overall, we are looking at 1.5 to 2 inches of rain, with locally heavier amounts possible. No severe weather is expected, just rain.
Rain will be ending on Saturday morning.
[An Editor's Look Into Thanksgiving Week]
Weather looks to be pretty calm into early next week, but a strong system is being indicated on models which could bring some "significant weather to parts of the country," according to our National Weather Service. That's vague and for good reason. It's a long way off. Here's what OHX thinks this will mean for us.
For Middle Tn, a fast moving cold front will come through sometime late Tuesday or early Wednesday. Breezy conditions will occur Tuesday and Wednesday and a band of showers will accompany the front passage. Some thunderstorms could occur, but at this time, models are showing a fast moving system with low instability. It looks like the showers and front will move out of the area by late Wednesday, leaving conditions dry and cooler for Thanksgiving. But, another fast developing system could bring more showers by Thursday night or Friday. Confidence on details is low [emphasis added] so far into the future, but Thanksgiving travelers and shoppers will want to pay attention to forecasts through next week as an unsettled pattern develops.

NWS Nashville AFD, 11/20/2019 from 5:17 AM
When they say confidence is low, it means they expect revisions. They expect details to change. If you make holiday critical plans based what you read today and then unplug, you'll wish you hadn't. Stay tuned.
Check back to updates to the forecast as conditions evolve and follow us on Twitter @NashSevereWx!