First things first, thank you to all the veterans across the world, past and present, who have served our country and made it what it is today! Happy Veterans Day!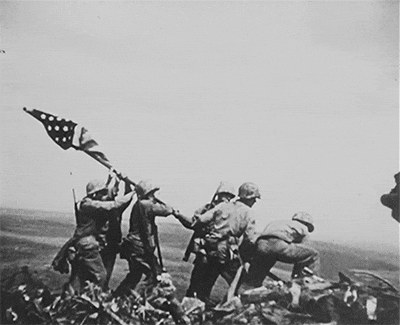 This forecast may change a few times, so stay connected to us on Twitter, we'll be all over this event.
A few hours here or there may make the difference.
Those you planning to travel late tonight and early Tuesday morning are most vulnerable to a potential icing event.
We didn't get below freezing last night and the ground is warm.
Today's high is 64°; this is important for tonight's wintry precip.
Rain Begins Today During the PM Commute.
HRRR model from 4 PM to 8 PM:
Arctic air will race in behind the rain with a mean north wind blowing up to 20 MPH
By 9 PM the wind chill will hit 30°, by midnight 22°, by 3 AM 16°.
The temp will be cut in half from our afternoon high in the mid 60°s to around freezing by midnight.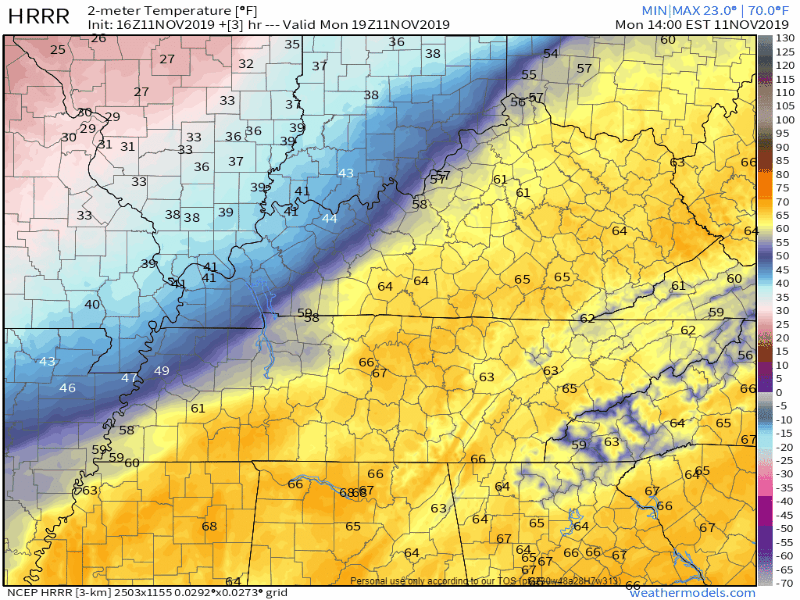 Weather models think rain will change to a wintry mix, then snow.
Because temps aloft will get below freezing before surface temps do, we could see a changeover to a rain/sleet/snow mix as early as 8-9 PM. First snowflakes or sleet/ice pellets should melt on impact on all surfaces, but that won't be true for more than a few hours. Around after midnight, things get ice-messy.
HRRR model from 9 PM to 3 AM shows rain changing to a mix to snow, then ending: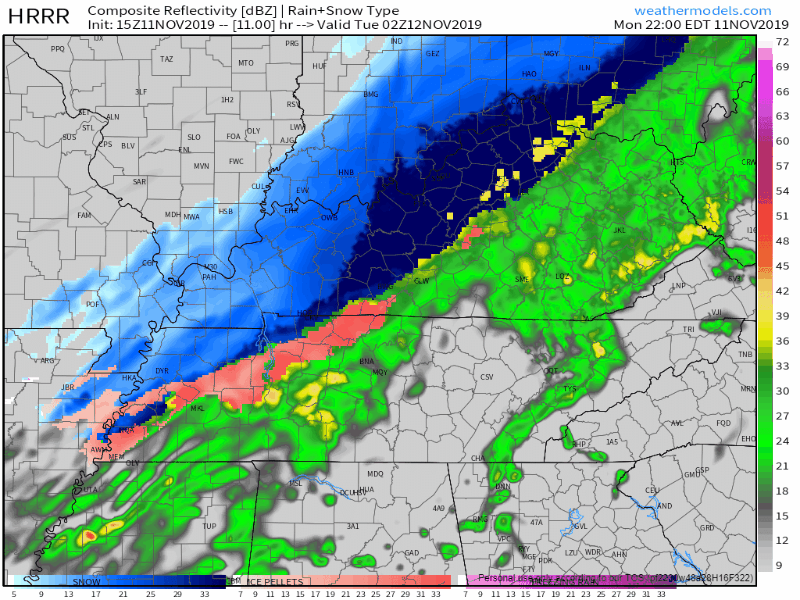 NAM3 model from 9 PM to 4 AM has a similar idea: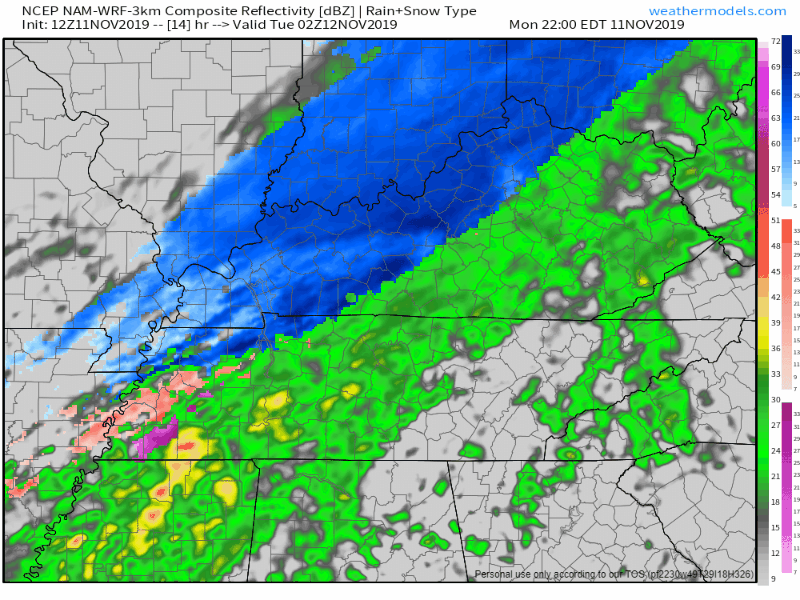 Euro model from 8 PM tonight to 4 AM Tuesday: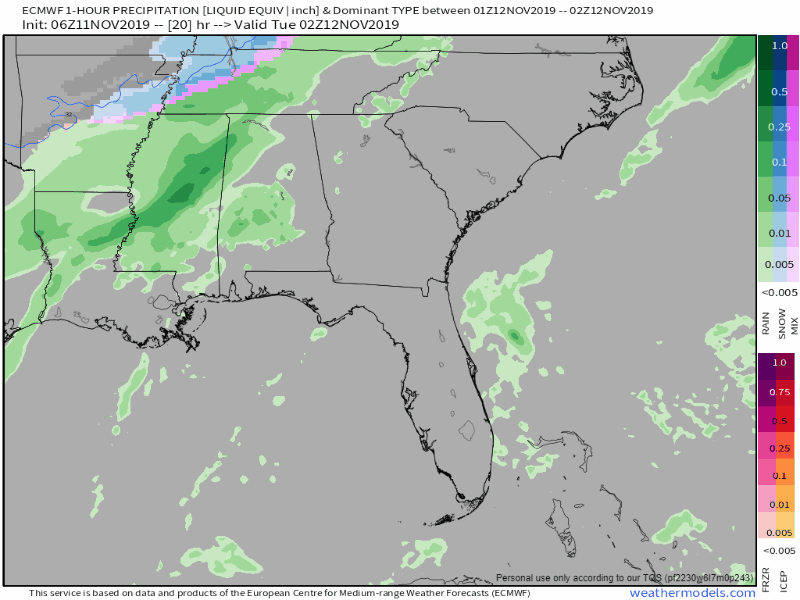 Initial wintry precip/snow falling before 11 PM to Midnight should melt.
Winds blowing near 20 MPH will help dry surfaces.
This is not a lot of rain.
Some of the rain will runoff.
All surfaces are really warm from mid 60° temps this afternoon.
Therefore initial flakes will melt.
It's possible it won't snow at all and we only see rain, but the most likely scenario is you'll see flakes if you stay up late enough.
Cold air is really dry, and is often late to a snow party in Middle Tennessee when that cold air comes in behind a front like tonight (and not from a 700mb low pressure system passing south of us), so you are not promised any snow.
It may just be rain/mix, but even if there is no snow, black ice is a concern.
However the most likely forecast: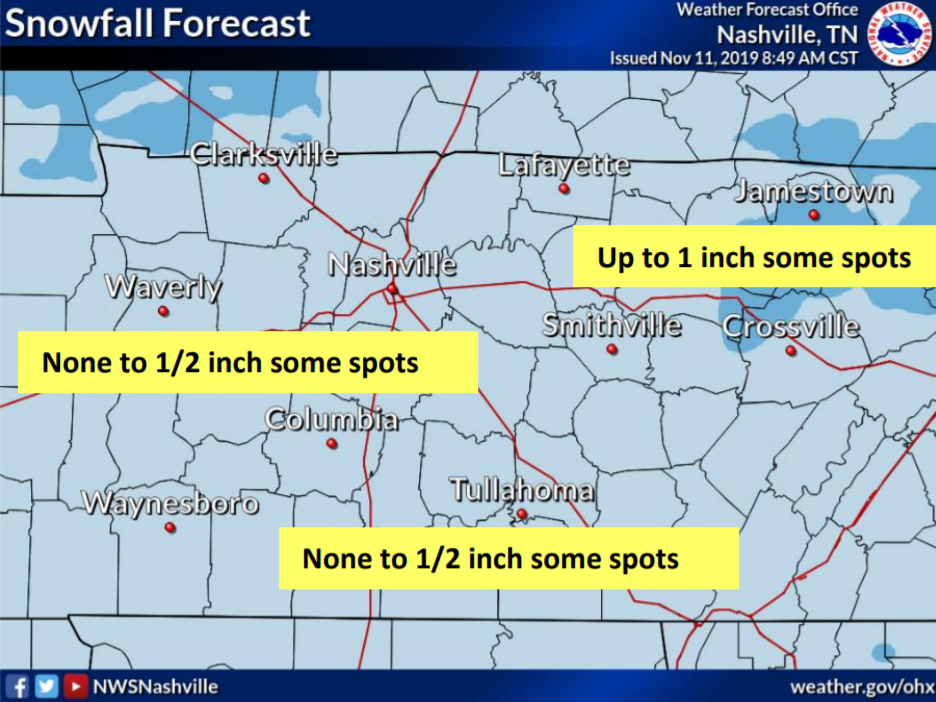 For us, none to 0.5″ in some spots. Here's what NWS-Nashville has to say on tonight's event:
"However, the arctic air that will be responsible for tonight's wintry precip is still back over central Missouri. The timing of that cold air is key to tonight's potential snowfall accumulations. Earlier arrival means a little more snow, later arrival means less."

NWS-Nashville Morning Forecast Discussion (11/11/19)
Snow or not, some roads will be wet, and bridges, overpasses, and areas at elevation will freeze faster.
Sub-freezing temps are expected around/after midnight. Unlike many potential events that turn out to be non-events, tonight all model data thinks temps will get down into the mid 20°s. Bridges, overpasses, those on hills, roads with trees blocking the north wind, stretches of 840 near Fairview at elevation — we're concerned about travel conditions for you beginning around midnight and extending through the sunrise hours.
Other roads will have a more difficult time collecting ice.
We won't know the full extent of roadway freezing until around 3-6 AM Tuesday morning. It's called black ice because it's hard to see it form on the road. Approach all ramps, bridges, overpasses, and elevated areas slowly and cautiously.
Potentially mitigating/eliminating impacts: a north wind drying the roads, rainfall underperforming, the sun coming out Tuesday morning.
Very cold Tuesday Morning And Afternoon
Tuesday morning wind chills will be down around 10°.
We might not get above freezing for the high on Tuesday.
Warming Through Rest Of The Workweek
High temps will climb into the mid 40°s Wednesday, mostly sunny.
We hold onto the sun through Thursday and Friday as well as our highs reach back into the low 50s before we start our weekend.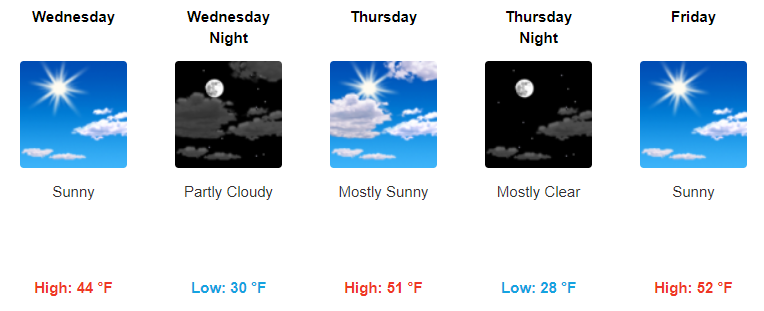 Stay warm out there and check back for more updates! We will be live tweeting this event all day and tonight and overnight.