Beautiful Sunday
Be sure to take advantage of the great weather Sunday has to offer, because Monday has something else in mind.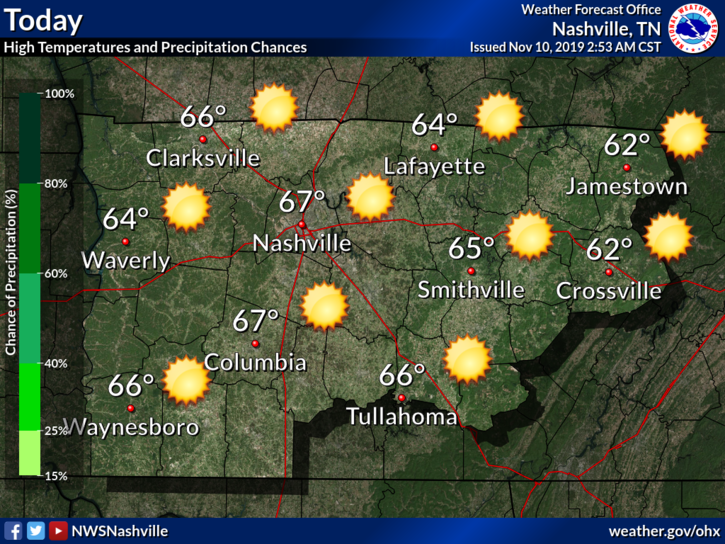 Cold Front, Cooler Temps, Rain/Snow?
A cold front will sweep the region Monday, bringing rain, cooler temperatures, and the potential for some winter precipitation (if any at all).
Timing of Rain:
Rainfall will reach our northwest during the late morning and overspread the area in the afternoon. Temperatures will begin to fall rather noticeably right behind the fropa [frontal passage].

NWS-Nashville AM Discussion, 11/10/19
The NAM3 model predicts the rain reaching us around 1 PM: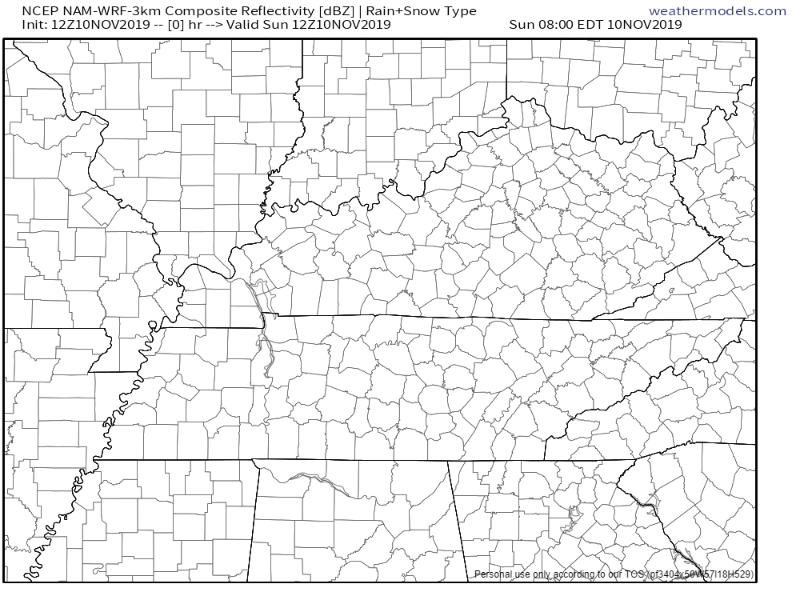 Timing could change, but we should generally expect rain to begin in the afternoon hours.
What's that Blue Stuff on Radar?
There is still the potential for a dusting of snow overnight on Monday.
Here's what NWS-Nashville currently says:
A changeover to snow is still expected though the snow window does look rather brief. Within the grids I will indicate a transition in our far northwest around 6 pm, Nashville around 10 pm or so, and then the Plateau just after midnight. As for snowfall accumulations, it still looks like a trace possible far south and up to one half inch across portions of the Plateau and Highland rim.

NWS-Nashville AM Discussion, 11/10/19
Impacts?
While there won't be much snow accumulation (ground temps will still be fairly warm), there is the potential for slick spots on roads overnight Monday into Tuesday morning.
Temperatures will reach a low of 25° Monday night, allowing for any rain/mixed precip to potentially freeze over on roads.
Be especially cautious on bridges and overpasses. Black ice is some serious stuff, and can be hard to see.
Here are some more details, ICYMI:
REMEMBER: this is subject to change. Winter is tricky in the south, and the snow/winter mix is highly dependent on how fast that cold air catches up to the moisture.
Mostly Clear Skies the Rest of the Week, Gradual Warm-Up
Be sure to bundle up because Tuesday's high will reach 33° and will drop to a low of 18° just before sunrise Wednesday. Brrrr.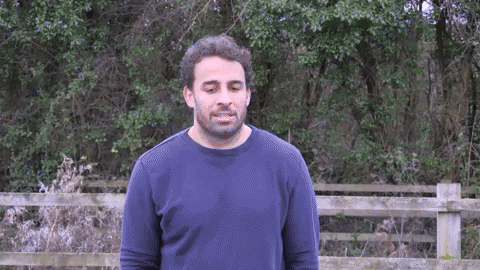 Good news? No rain is expected for the remainder of the week, and we should gradually warm up throughout the week. Temperatures should be back to near-average by next Sunday.