Today was the last good day of weather this week. And probably for a while. Tho Sunday looks OK.
RAIN THURSDAY
Should start around Thursday around 7 AM and end around 7 PM. Steady and light. No storms or worries.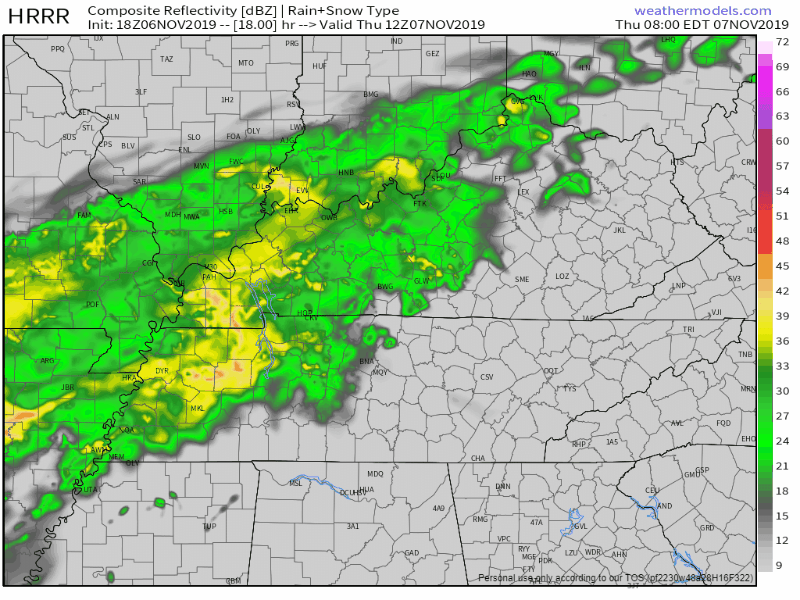 About a half inch. This much usually rains out outdoor sportsball activities.
THEN COLDER, FIND YOUR HEAVY WINTER COAT.
A cold north wind comes after the rain. Thursday night wind chills in the 30s.
Wind chills Friday morning in the low 20s. Temps will dip below freezing for a handful of hours before/around sunrise Friday but not long enough to freeze anything other than your will to get out the door. The wind tho! Gonna be cold, be ready.
Saturday morning before sunrise we may hard freeze. The low temp is 25 and I suspect some of us will get into the low 20s. Not the wind chill, the actual temperature.
Afternoon highs: Friday 45, Saturday 52, Sunday 63.
Sunday actually looks pretty great, light winds, no rain.
TELL ME ABOUT THE SNOW.
Jodi's tweet is perfectly reasonable.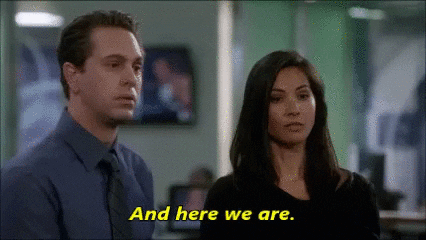 This morning NWS-Nashville wrote:
Rain shower chances will return on Mon as a strong cold front approaches. GFS indicates that colder air may catch up to the moisture on Monday nt. Will therefore include low chances of a rain to snow mix for late Mon nt.
Here's what they're talking about, below is the GFS model showing rain here Monday afternoon:
Transitioning to a rain/snow mix Monday night into the early hours of Tuesday morning: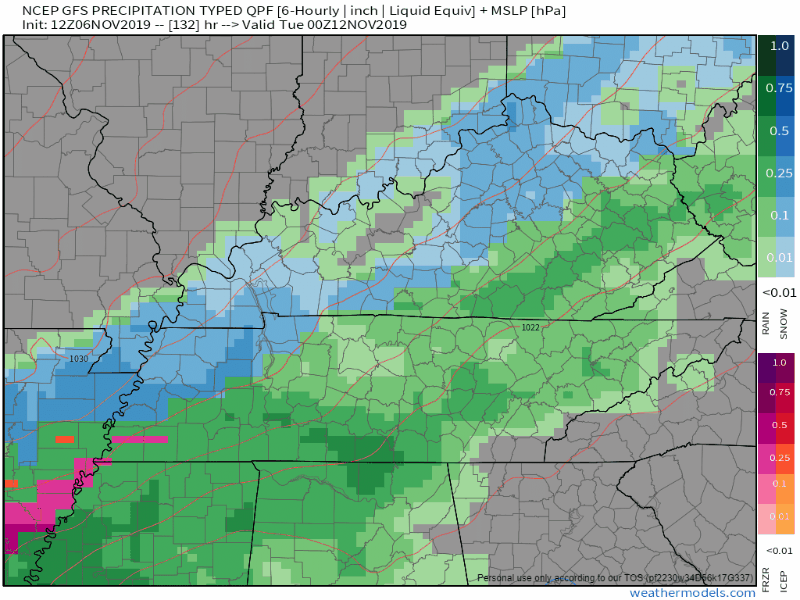 Next, below, we have the Euro model doing pretty much the same thing, although a few hours later. Call it rain to snow Monday night then back to rain briefly Tuesday afternoon: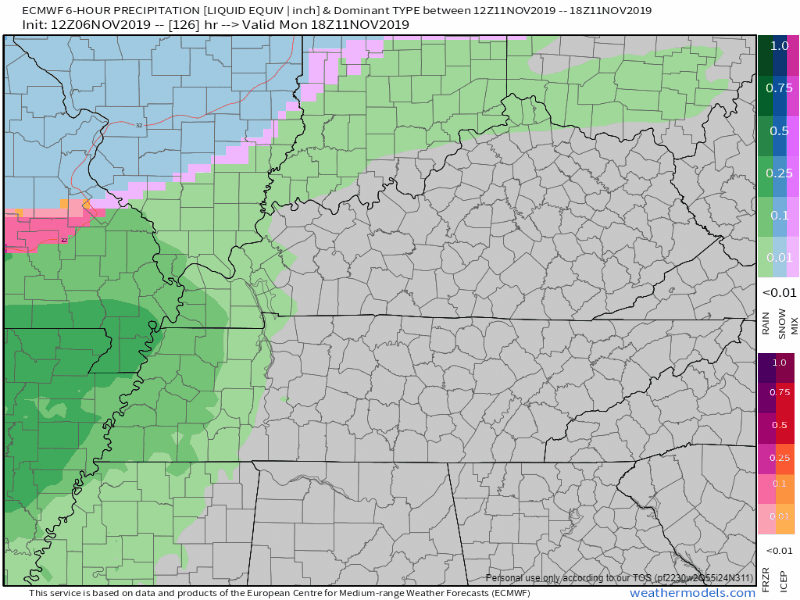 If you stop reading right here then you will commit an error and your time reading so far will be for nothing.
The high Sunday will be 63. Monday's high is 50. The ground will be really warm, wet, and unreceptive to initial snowflakes.
The models do not agree on timing. Because current runs have precip arriving after dark, it's turning all that precip over to snow. Small changes in precip timing can make this all rain.
There's suggestion in the Euro model that the ground will only be below freezing a few precious hours, just as the precip is pulling away. Thus some flakes, but only a bridges and overpasses worry.
A forecast of accumulating snow (like that 1″ in that app, above) at this range of 5 days out, coming via cold front is very often wrong. The models do a bad job of timing the precip and arrival of freezing surface air, which is often quite dry. Trusting that the model is right at this range is like putting in your punter to play QB and expecting him to pass for 250 yards just because he ran a few successful fake punt passes in college. Sure it could happen — Brett Kern could definitely do it obviously — but should you bet on it? No. No you should not. Instead you'd rather have a low pressure center come up from the south which this most certainly is not. Or wait a few days for a more reliable passer not named Brett.
Could we get accumulating snow? I suppose it's possible, so yeah, cue the I'm Saying There's a Chance gif/meme. But I'm not betting on it. You have to believe the models and even the model data is all over the place. It inspires no confidence. It's got from 8″ which is ridiculous to 3″ which believes everything goes right and nothing goes wrong down to 1″ down to nothing. There are ensemble models like the one below that suggest about 1″ but remember how much of that would actually stick to a warm ground especially since Tuesday afternoon we should get back above freezing?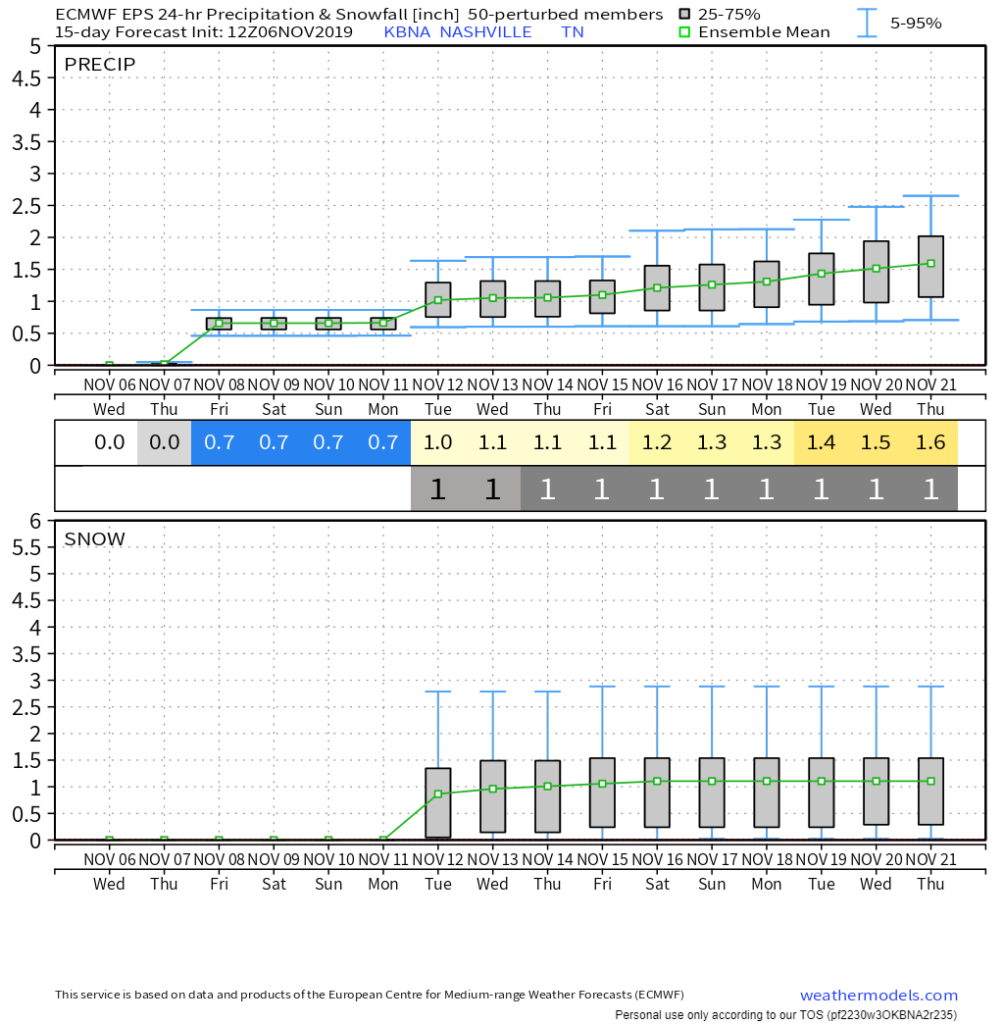 So, when you tell people what we're saying about this, say "they think there is a very low chance of low/no impact snow, check back this weekend when the model data improves." The problem with your app is that it pinpoints an exact amount, which is the same as calling empirically bad data "good," and the data is not good, it's, well, model data at this range sucks. It's good for seeing ranges and possibilities but little else.
We won't hide data from you, but you should understand what model data can do. Or really, what it can't do. What it can't do is give meaningful, actionable forecast amounts 5 days away. Expect forecast confidence to slowly, gradually grow as we near this potential event.
Note how specific and seriously NWS-Nashville is taking this event, they have the right approach:
I leave you with NWS-Nashville's parting shot during today's afternoon forecast discussion:
This system will bear watching for the potential of a little wintry precip, as cold air rushes in behind a frontal boundary. Post-frontal snow in Middle TN is not always the most fruitful. With a conservative approach in mind, the forecast highlights a chance for rain and/or light snow Monday night into Tuesday morning. It is much too soon to determine the specifics of where, when, what, or how much of anything. Rather, it is just a tiny glimmer of hope for those wishing to see a snowflake before Thanksgiving.