Tuesday's and Wednesday's weather? Great.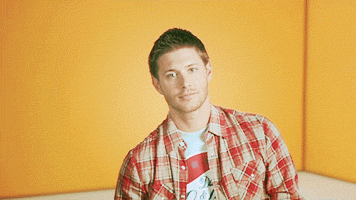 Tuesday's (today's) high will reach 62°.
Wednesday's high will reach 67°.
Skies will be mostly sunny and we should feel a light breeze.
Rain and Cooler Air Thursday
A cold front will sweep the region Thursday.
Rain ETA around 6 AM, departing around 6 PM, so says the Euro model: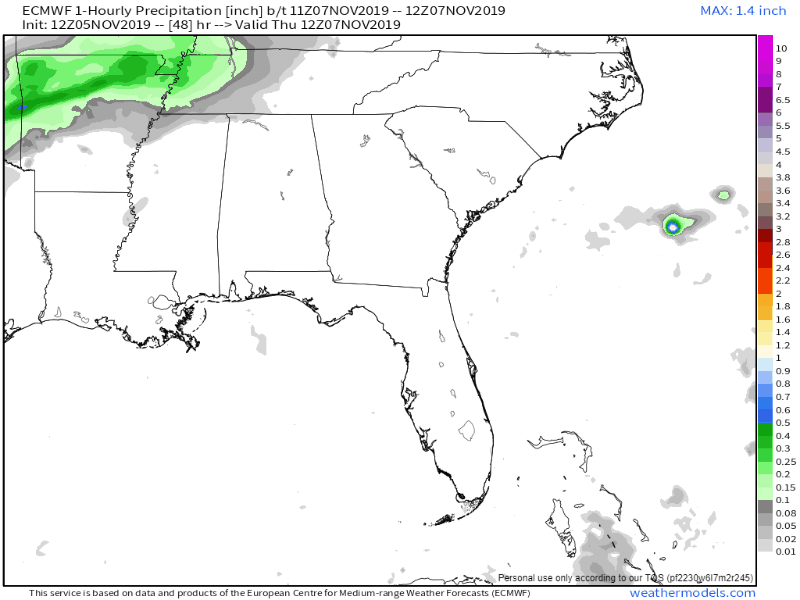 Severe weather not expected, and it shouldn't be a total washout, but those with rolly ball evening sports may face a rainout.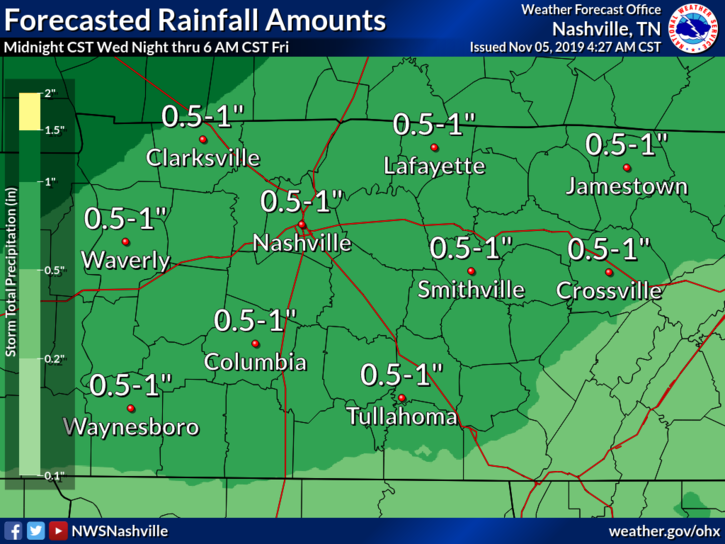 Will we see any Snow?
Probably not. NWS-Nashville elaborates below:
A closer look, at both the global and Euro 850 mb moisture fields, indicates a failure in regard to sufficiently colder air catching up with the moisture… At any rate, temps will fall to near and just below freezing by Friday morning.

NWS-Nashville AM Disucssion, 11/5/19
Even though we may have the moisture for frozen precip, we also need that cold air, and right now it looks like that cold air won't be able to keep up. By the time the cold air reaches us, the moisture will have already moved out.
Right now, the GFS keeps the snow and mixed precipitation far to our northeast, and the Euro model keeps it east.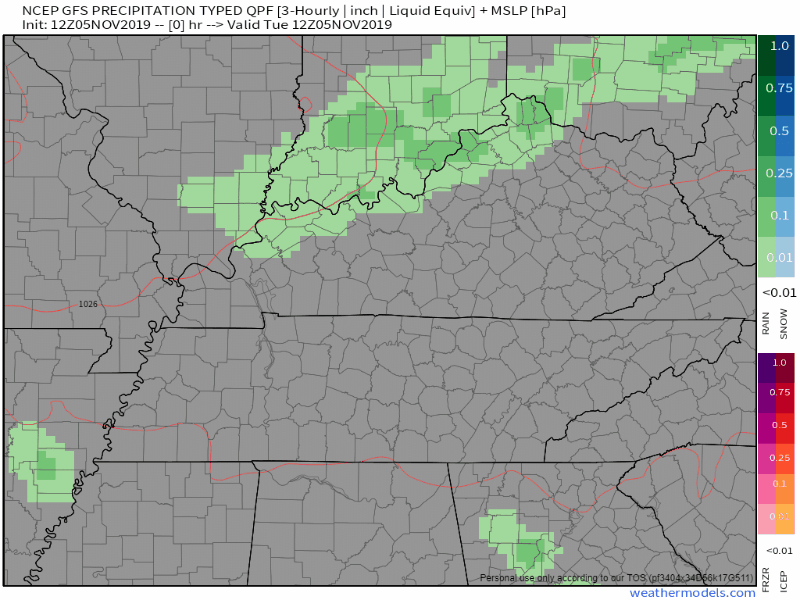 Even if we do see a couple of flurries, there won't be any impacts.
High temperatures Thursday will drop down to 57° and lows will dip down to 32° just before sunrise on Friday. The ground should be too warm for anything to freeze Friday morning.
Cool Temps and Clearing Skies this Weekend
Cold weather to start off the weekend, but temperatures will gradually warm up: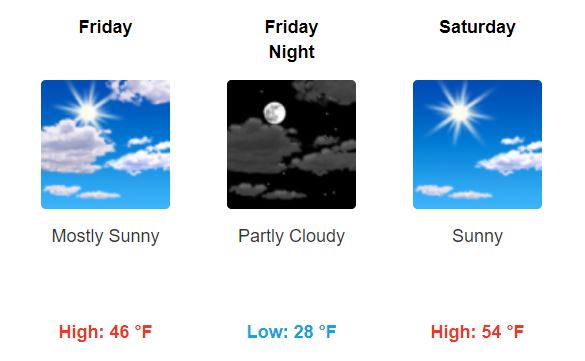 Saturday night will reach a low of 34°, and Sunday will reach a high of 59°.
Be sure to stay warm! I know I'll be bundled up in a blanket.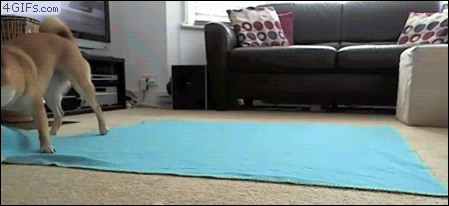 Editor's Note: Little Bit of Winter Early Next Week?
Weather model nerds are gagooing over an intrusion of arctic air showing up on the GFS and Euro models early next week. Temps 20 to 30 degrees below normal.
Below you see the Euro ensemble talking about a high of 36 next Tuesday and a few mornings in the 20s…we'll see about that, but there is increasing support for this in the models.
It even wants to drop a half inch of snow mid-week, but stop me if you've heard "it may snow a half inch in about week" before (lol, rarely happens). Apply a healthy dose of "I don't believe you" to this model range, fairly in voo-doo land. Also note snow and "accumulating snow" are very different things. Feels like this is the type of event where the Dry Air Monster comes in like the hamburglar.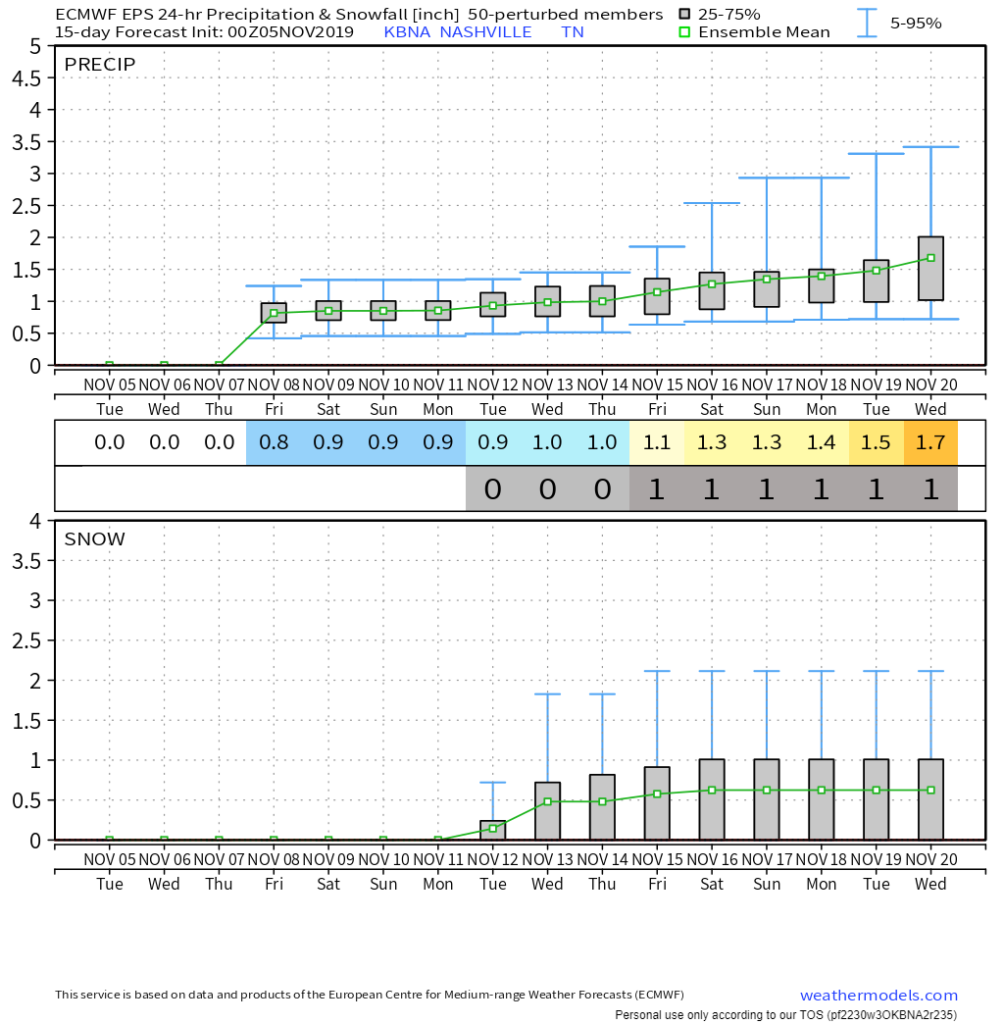 So, panic or party based on intellectually dishonest reasons if you want, we can't stop you, but we won't hide data from you.