Cold Trick or Treating; Freeze Warning Tonight-Overnight
Those cool showers have finally moved out of Middle Tennessee, bringing behind it plenty of cooler temperatures for all of us to "enjoy." Here's the HRRR, showing this line of showers along the cold front leaving us :
[Editor's Note: It's 41° and falling at my office. The high of 52° occurred as we were waking up this morning. It's a distant memory. Close, but not quite "blerg" criteria, which is no sun, no precip, under 40°. Either way, y.u.c.k. Also, full disclosure, there were some no-worry-flurries in W TN this morning as the temps aloft chilled. They were very brief. Word is Memphis handled it well. Let's do the same if by some off-chance we see one fly here.]
By the time trick or treating starts, (I'm assuming around 6PM-7PM), we'll already be down into the upper 30s. Temperatures continue to drop the later you're out grabbing candy. Winds this afternoon gusting around 15mph to 25mph will subside a bit tonight, but it'll still be blowing and very cold. We'll likely drop below freezing for the low, even down to 30°. Wind chills will be colder than that, likely in the upper 20s.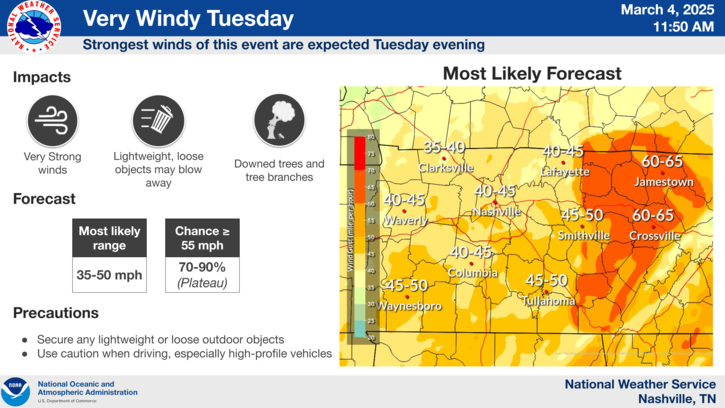 We'll be under a Freeze Warning tonight starting at 11PM, so the earlier you get out there to grab the candy, the better.
[Editor's Note: We think the wind will help dry hard surfaces some, so we don't believe ice will be a big issue, but we'll keep an eye on it.]
Frost In The Mornings, Sunny And Cool During The Afternoons This Week

Widespread frost will be likely in the mornings throughout the week with lows near freezing each night. The sun will come out and "warm" us up into the low and mid 50s through the weekend. Still about 10-15° below average for this time of year, but hey, it's better than the 90s like the beginning of this month if you ask me.
[Editor's Note: Do not take that as a @NashSevereWx endorsement of winter. David hates winter.]
Stay warm tonight and bring in all that candy.