Off & Rain, Maybe Storms, Today
Below the HRRR model shows rain running off and on until around 5 PM, then a second rain wave starting around 1 AM and lasting into the morning hours of Thursday.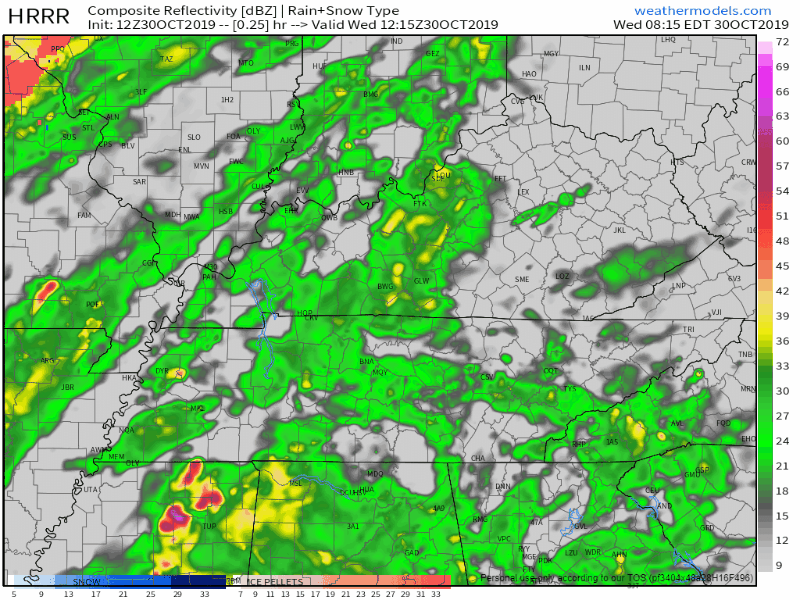 The NAM3 model pretty much agrees with that timing, the first round lasting off and on throughout the day, ending around 5 PM. Then a second round of rain starts back early Thursday morning and lasts to around 1 PM Thursday afternoon.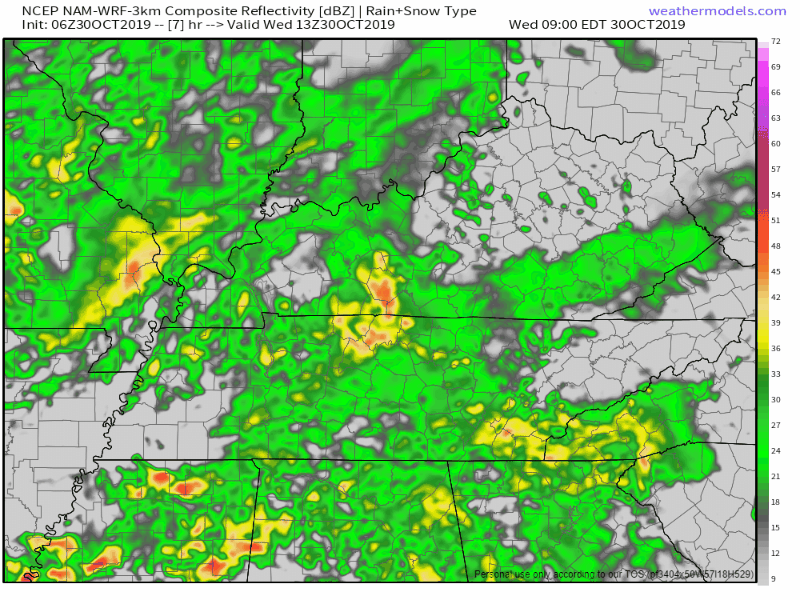 The severe threat today is low. Mainly going to see a few stronger storms, but overall it should just be a lot of rain falling. Keep that umbrella close and make it your friend. It'll be helpful today.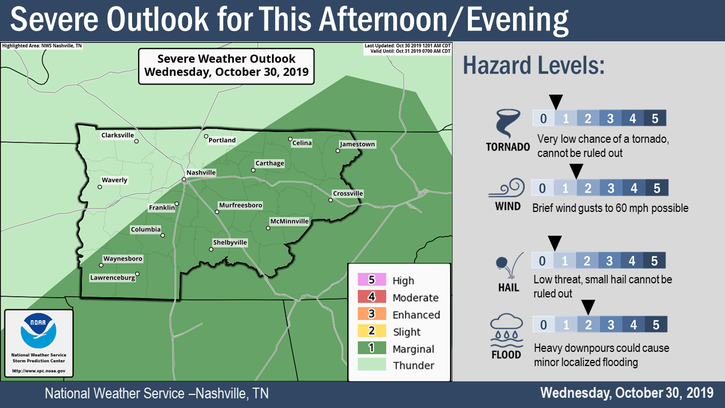 Tornadoes are possible mostly SE of Nashville, there the risk is low, a 2% probability of a tornado within 25 miles of those in that green shaded area. Damaging winds in that same area are a bit more likely, 5% within 25 miles, but even that's a low-end threat. This will be watched and tweeted about but no one is really worried about it.
Heavy rain is the most likely hazard but there are no Flash Flood or Flood Watches; still, we can't rule out localized flooding in the event a heavy shower sets up.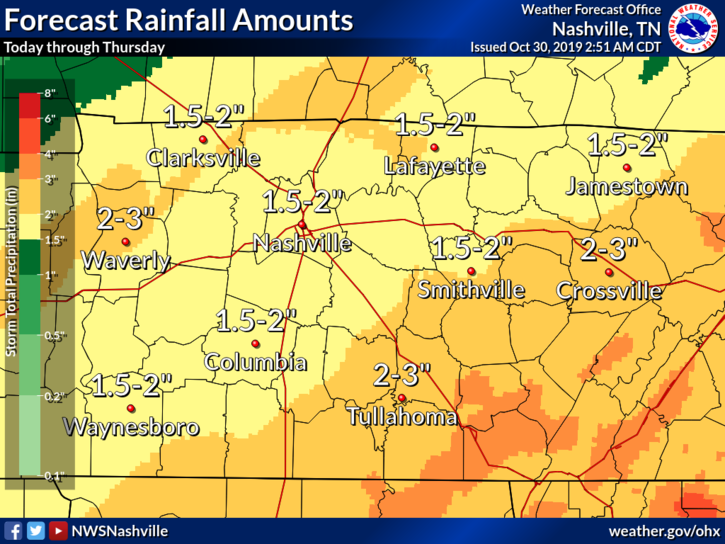 The rain should end around lunchtime Thursday, by the end of it all, we expect to have somewhere between 1.5 to 2 inches of rain.
Then bundle up, here comes the wind and the cold.
One of the Coldest Trick or Treats Ever Thursday Night
The high temp Thursday will happen just after midnight tonight. It'll get colder through the morning, colder in the afternoon (near 40!), still colder Thursday night (mid 30s!!). And you planned to take your kids trick or treating: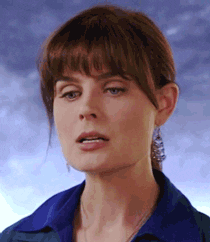 Colder, drier air to our west and northwest will be carried in here through the afternoon and evening by winds 12-16 MPH, perhaps gusting stronger and colder.
This will drive the wind chills through the 30s Thursday afternoon, behold the wind chill temps from the HRRR model running through 7 PM Thursday night:
NWS-Nashville thinks the wind chills will be even colder than that. They think upper 20s during trick or treat time.
It. Will. Feel. Near. Or. Below. Freezing. During. Trick. Or. Treating.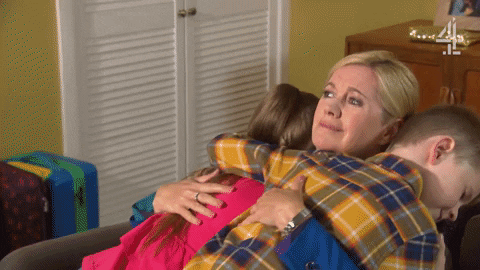 We may even see frost throughout the night and into Friday morning. In fact there's a Freeze Watch in effect late Thursday night into Friday, welcome to November:
Clearing out Friday into the Weekend
Cool and dry air settles in for the remainder of the forecast, but check out those frosty morning lows. Looks like Friday night will be less muddy, 5 to 7 degrees warmer, and very little/no wind.

As always, check back for updates to the forecast and be sure to follow us on Twitter @NashSevereWx!