Today's depressing cloud blanket turns rainy and maybe stormy tomorrow, you came to the right place for details.
Rain Wave #1: Timing
The NAM3 model thinks light rain while we sleep then heavier rain begins around 11 AM and ends around 4 PM or 5 PM: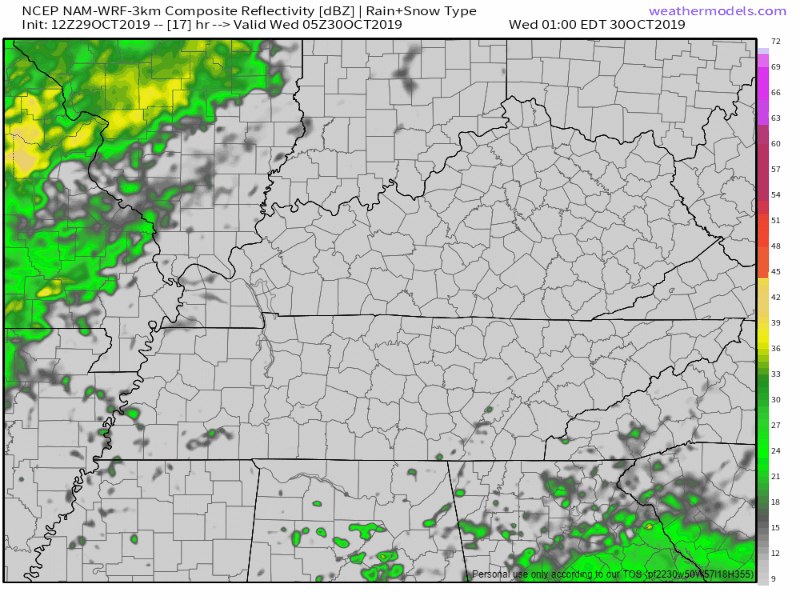 Rain might start and end before that (so thinks the HRRR model that I enjoy) so dress for rain before you leave from wherever it is you wake up.
At times downpours will be so heavy driving will be more difficult than it usually is. Also during this time there's mild concern about strong or severe storms . . .
Wave #1: Storms
The main threat is a low-probability threat of damaging winds depicted here by this Storm Prediction Center outlook:
This represents a 5% probability of a damaging wind event within 25 miles of you Wednesday.
Tornadoes are not likely but NWS-Nashville says "one can't be ruled out" somewhere in Middle Tennessee, so imagine the lowest threat of a tornado that's more than zero and here you are, you got it.
Same for hail, maybe small hail is possible.
Then comes Rain Wave #2, therefore a flooding concern.
By 7 PM Wednesday we should have about 1″ on the ground then along comes a second round of rain I've named Wave #2 late Wednesday night.
The NAM3 model thinks the heaviest rain will fall before sunrise Thursday and continue until lunchtime Thursday: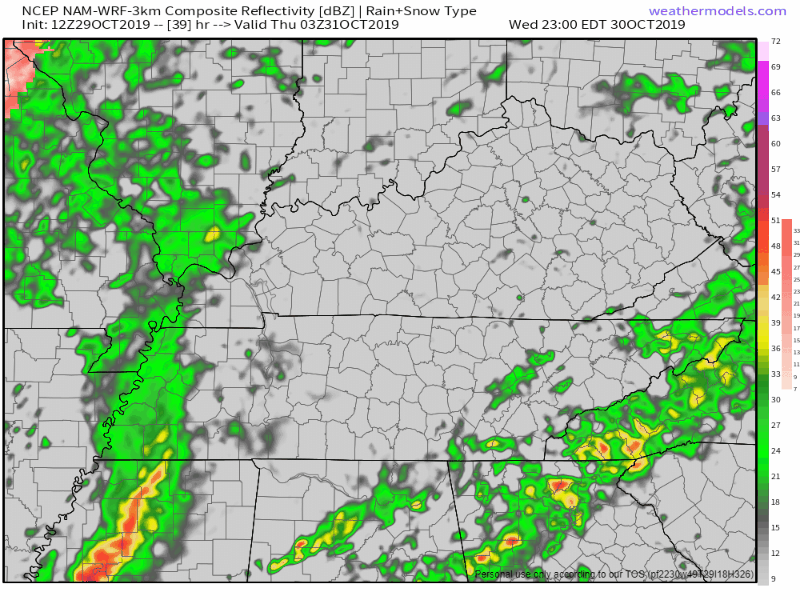 No severe weather is expected Thursday but flooding may be a problem. The ground is a bit saturated, we haven't had much sun, and by noon Thursday 2″ to 3″ will have fallen in about a day and a half, leading to localized flooding concerns.
The probability of flash flooding Wednesday PM into Thursday AM is around 10% to 20%. so says the Weather Prediction Center's Excessive Rainfall Outlook:
Frigid Trick or Treat; Should You Reschedule to Friday Night?
Weather models remain confident the rain will pull out of Middle Tennessee before trick or treating, so before dark Thursday, but with that you're giving the cold front time to blast us with a 10-15 MPH cold wind.
Temps will crash through the 40°s Thursday afternoon, the wind chill will make it worse. It should feel 38° around 4 PM if you're in the wind, and feel 33° by 7 PM for those wind-exposed. Yes you read that right.
Add to that wet shoes if walking through yards and cold houses from opening and closing doors, you better bundle up and crank that heat. If you need a last minute costume go as Ralphie's brother Randy.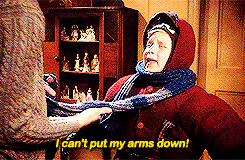 This sounds miserable because it is; don't decide yet (I don't trust the timing of that front) but if I had to decide today and you have the power to move it, Friday night is the better trick or treat night: still cold Friday night but 5° warmer with half the wind, we'll have had a full day of drying, and no school Saturday morning. Also if the front comes in slow, it'll be raining, and who wants to trespass for candy in that?
Reinforcing Shot of Cold Air This Weekend
October began as the hottest on record and it's going out with the coldest temps of the season.
Lows before sunrise Friday 33°, Saturday 32°, Sunday 31°, and Monday 33°. Mid 50°s each afternoon except low 60°s Monday.
No, I don't think anything will freeze Friday; some outlying lowlying areas may be cold enough but only briefly. The ground will be pretty warm and would take longer to cool to freezing than the freezing temps will remain; so maybe a few bridges may be questionable along the edges but I doubt it. I only bring it up because I'm sure someone would ask. No travel impacts expected.
No additional rain expected through Monday.