Sunday: Beautiful Fall Weather
Today will be comfortable and beautiful: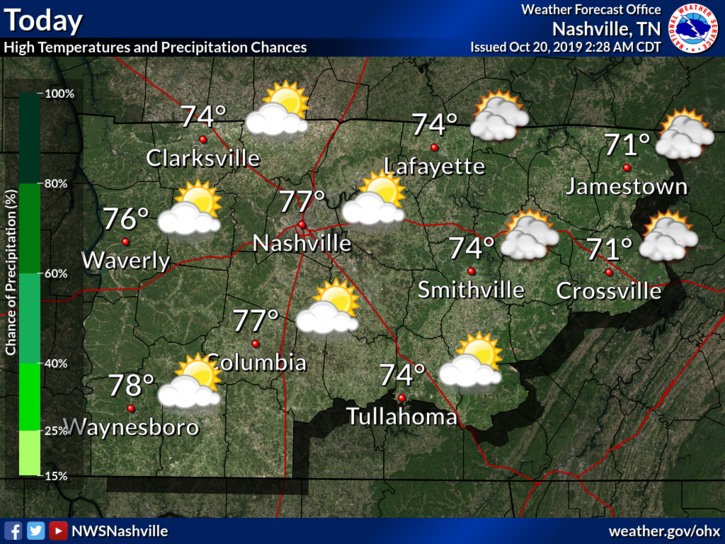 Clouds this morning should clear throughout the day, giving us partly sunny skies.
Rainy Monday, Storms (Some Severe) Possible
As a cold front moves through tomorrow, we can expect a bit of rain. Thunderstorms can't be ruled out, including severe (though this threat is low).
We are currently in a "Marginal Risk," or have a 5% chance of seeing a severe weather event within 25 miles of you: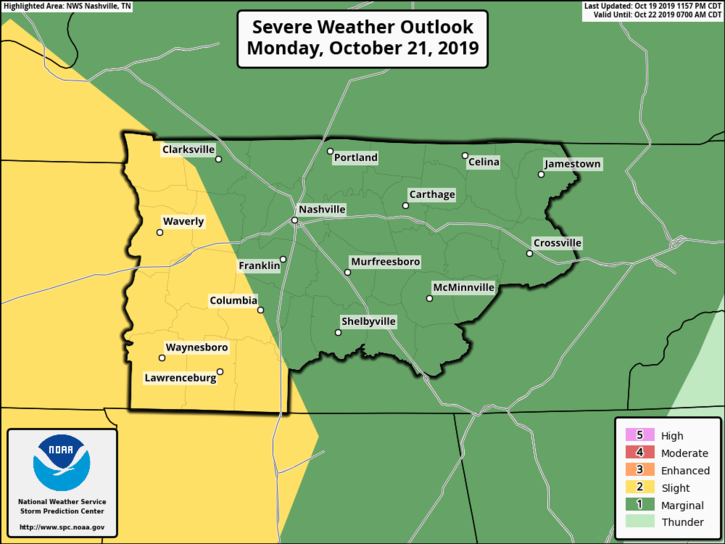 What can we expect to see tomorrow? Here's was NWS-Nashville currently says. I'll break it down below.
This will set the stage for our first potential severe weather threat of the fall season, with an expected QLCS organizing across Arkansas late tonight then racing eastward into West Tennessee Monday morning. Models continue to differ with timing of this line of storms, but in general the QLCS looks to cross the Tennessee River around midday Monday then continue eastward through the area during the afternoon and early evening before exiting. Have based timing of pops for tomorrow on the NBM and raised precip chances to near 100 percent, as everyone will see a good soaking rain in the 1 to 1.5 inch range with this event per latest WPC and model QPF.

SPC continues to highlight our counties west of I-65 in a slight risk for severe storms tomorrow, with a marginal risk elsewhere. However, the severe weather threat continues to appear quite low due to very minimal forecast instability (MLCAPE less than 500 J/Kg) shown on all models, even the usually aggressive NAM. This is typically not enough instability to support development of any tornadoes, especially with such strong low level shear forecast with 0-1km shear peaking near 50 knots. Therefore, appears main severe weather threat would be a few reports of damaging winds, with the highest risk over our western half.

NWS-Nashville AM Discussion, 10/20/19
Sorry, I know it's a lot, but it's all good information. Here's what you should take from it:
Rain and storms will move through in a line, and could drop a bit of rain (possibly up to 1″ or 1.5″). This is needed, considering we still have areas that are "Abnormally Dry" and in a "Moderate Drought."
Severe Weather Threat
The severe threat is low, but possible. Two ingredients that are needed for severe storms are instability (storm-fuel) and wind shear.
Storm-fuel looks like it'll be low tomorrow, which means we aren't very concerned with tornadoes. If anything, we could see some damaging winds (thanks to plenty of shear), though this threat is greatest to our west.
We will keep an eye on things and keep you all updated via Twitter.
Timing
The HRRR model throws in an early-morning thunderstorm with the main line reaching us in the afternoon (around 12pm):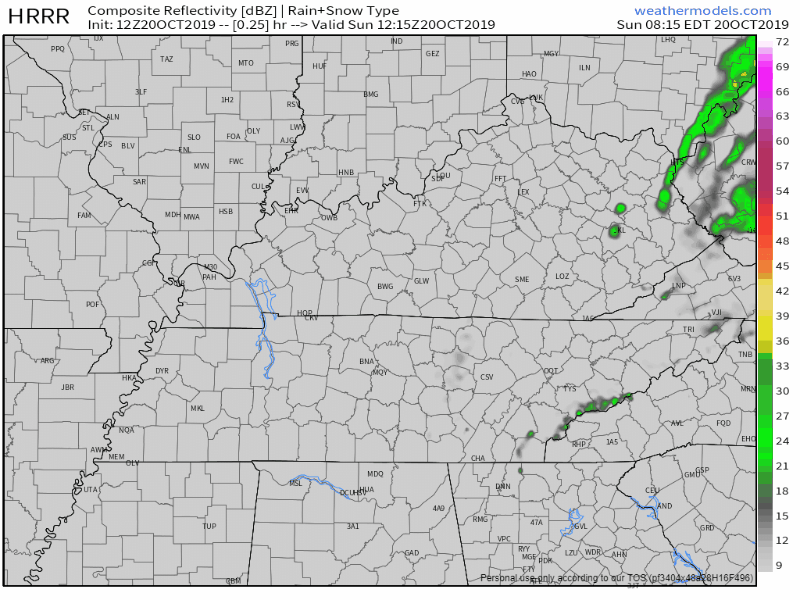 The NAM3 model says the early-morning storm will miss us, and the main line will reach us later in the day (around 3pm):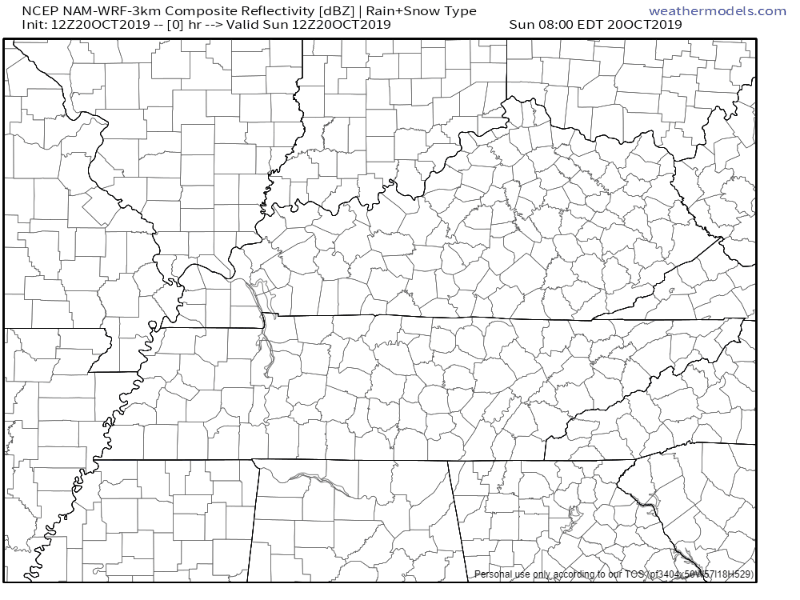 Hopefully models agree more by tomorrow, but the rain and storms should generally move in around midday.
Beautiful Weather Returns
Once this front passes, skies will clear up. Cooler air will set in Wednesday, and temperatures should be near-average.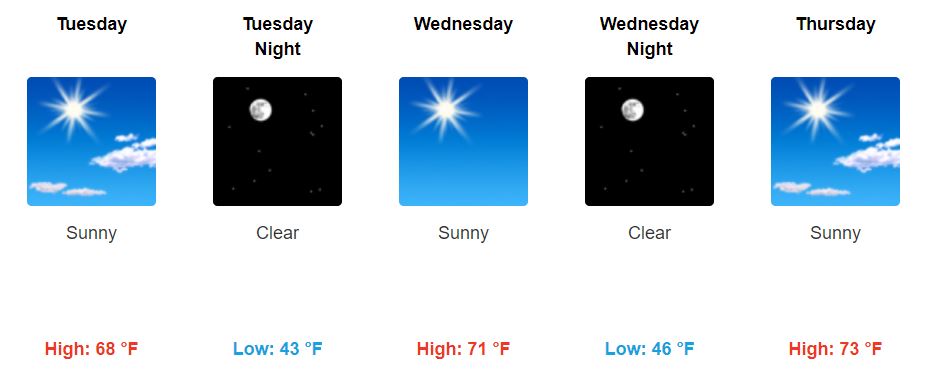 Peek at Friday and Next Weekend
GFS and ECMWF show our next weather maker in the form of a positively-tilted trough or cutoff low arriving Friday into Saturday, although solutions between the models are drastically different at this extended range.

NWS-Nashville AM Discussion, 10/20/19
We might could see some rain, but there is still lots of uncertainty as we are a few days out and models differ.