Overnight tonight into Monday morning, heavy rain, carrying potent tornado, hail, and damaging wind risks, will spread east from eastern Oklahoma into NW Arkansas.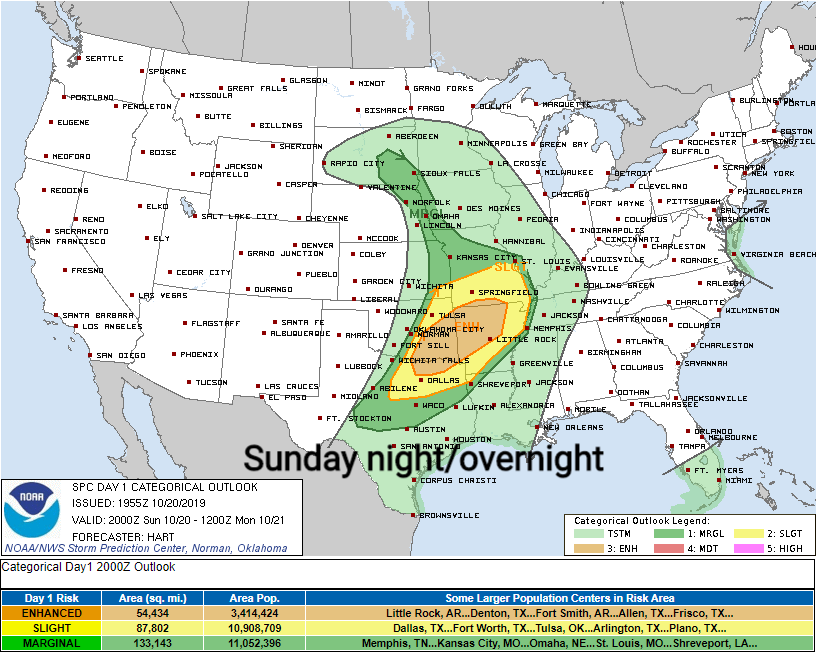 This system is moving our way but will weaken substantially by the time it arrives Monday.
Monday's Severe Threats: Meh, But Worth Mentioning.
Heavy rain (flooding unlikely) and damaging winds are our primary threats Monday, coming in the form of an east-moving main line stretching from north to south.
The probability of a severe weather event (damaging winds) happening within 25 miles of you Monday is 5%.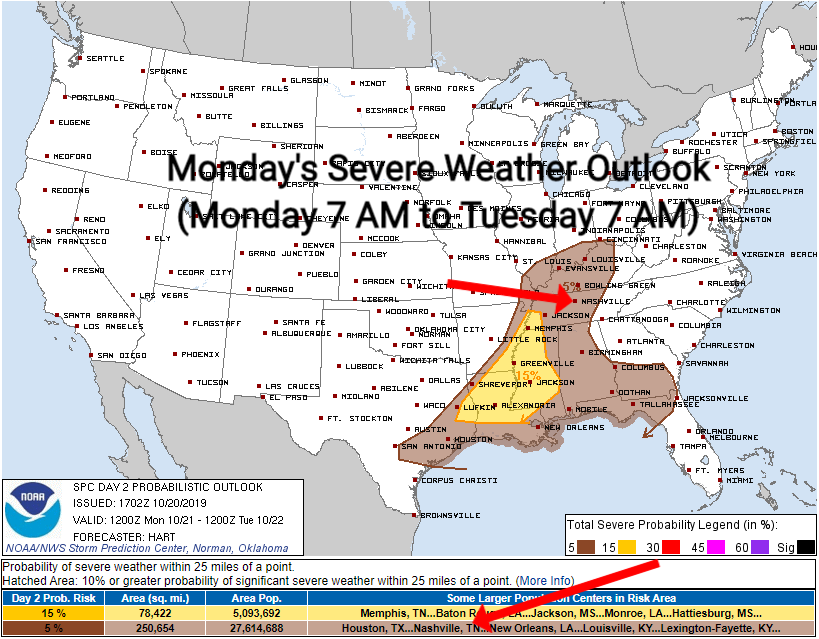 A lack of available storm fuel explains why this system will weaken on arrival.
Damaging winds will be the main concern, but again, widespread severe weather is not anticipated.

NWS-Nashville, Afternoon Forecast Discussion, 10/20/19
When? Officially NWS-Nashville went with a 1 PM to 4 PM ETA.
ETAs of the main line vary by weather model. HRRR and HREF models think lunchtime. NAM3 model thinks 3 PM. Euro, a few hours later, 4 PM to 5 PM or so. Complicating matters is that we may get a few showers ahead of the main rain line, so don't be surprised if a few showers streak in from the south Monday morning.
Monday night rainouts likely.
NWS-Nashville thinks we'll get 0.47″ by 7 PM; that's enough to rain out just about everything done outside.
Here's the HRRR model with an idea of what to expect: a steady rain for at least a few hours, briefly heavy.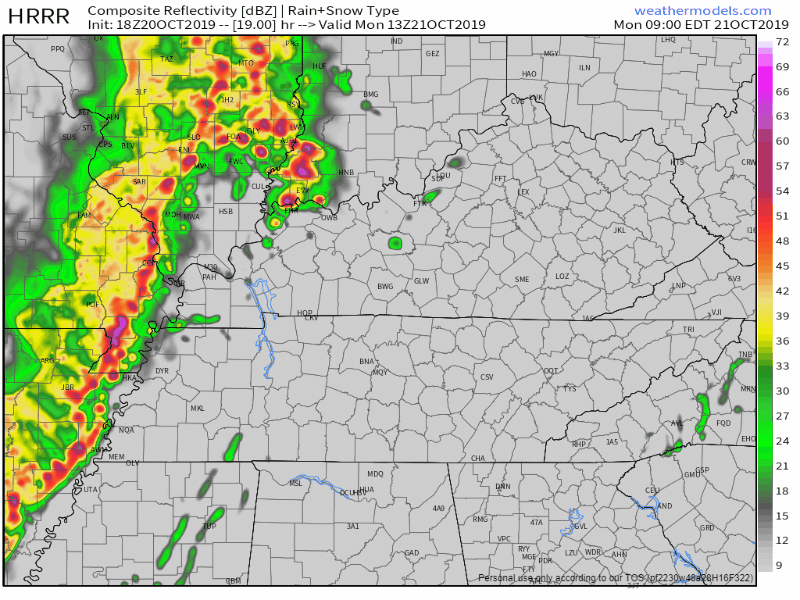 Rain should end well before midnight, total rainfall around 0.75″.
Starting Tuesday, morning lows in the 40°s, afternoon highs near 70°.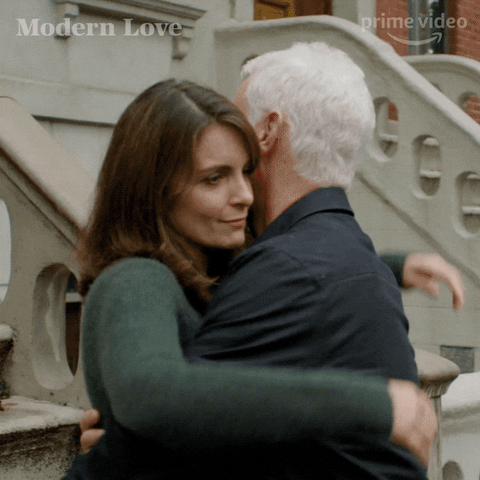 Next Rain Event is this weekend Uhhhhh, We Don't Know, The Data is a Mess
The quote below you don't need to read means: the two big models used to make forecasts at this range disagree on just about everything, so the forecaster went with "maybe it will rain Friday/Saturday, we don't know," in the same honest uncertainty that lingers at the beginning of a relationship, it hits the rocks, and you're not sure which way it's going to go.
(If you are not a weather nerd, skip this section and go right to the GIF, I'm almost done . . . ).
GFS and EURO models diverge in their solutions beyond Thursday. Over the weekend, the GFS suggests a strong longwave trough and cold front moving through…while the EURO depicts a cutoff low spinning up over the Southern Plains. Not only are the mid and upper level patterns different, but the timing is largely in contrast. Therefore, only slight chance/chance PoPs are in the forecast for Friday and beyond.

NWS-Nashville, Afternoon Forecast Discussion, 10/20/19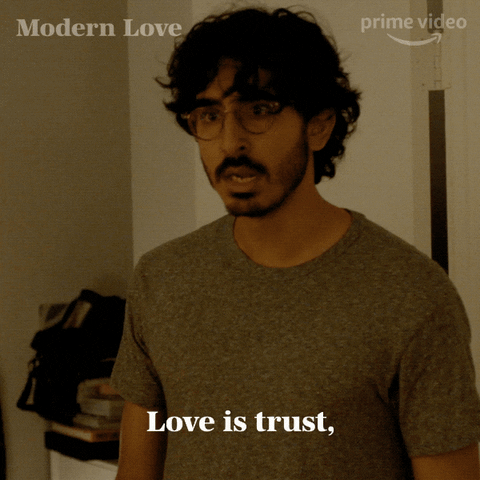 Trust no forecast 5+ days away.