It's going to be a gloomy, but much needed, rainy afternoon and early evening.
Rain will remain scattered and continue with us along this cold front into this evening.
Here's the latest HRRR model:
We have already seen between 2″ and 4″. Not much more will fall Monday.
Since this cold front is coming through with all of this rain, it's going to keep our temperatures pretty below normal for this time of year, at least for today. High of only 65° this afternoon, much different than last week with all of those record breaking high temperatures.
Beautiful Tuesday, Bit Warmer Through Thursday
The rain moves out of the area overnight, leaving us mostly sunny for Tuesday. A tad bit warmer than Monday, up to near 77° for the high. Dewpoint values stay in the mid 50s as well, giving us a much needed break from all that humidity last week.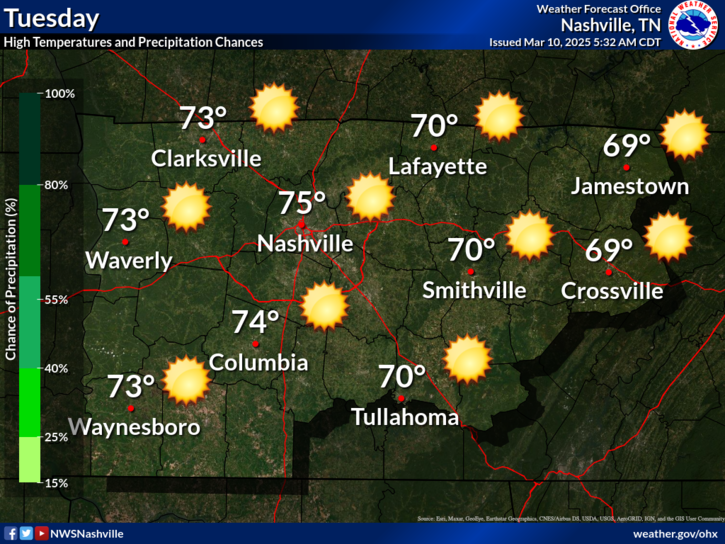 Wednesday and Thursday are warm, but not last-week warm, up in the low to mid 80s for highs. The sun sticks with us through midweek, providing us with great weather for any outdoor plans up until Friday.
Another cold front (with rain) arrives Friday night, maybe Saturday.
Models differ on timing. The GFS thinks the front will arrive Friday, the Euro thinks Saturday. Before the front, though, rain will fall. May not be much. For now NWS-Nashville is splitting the difference on timing, so Friday night, although a lean toward the Euro solution of Saturday ETA is preferred.
After the front expect highs in the upper 60s and low 70s as the sun makes its return once again to provide us with great weather for the weekend. Chilly though, low 40s possible Sunday morning.
Fall is finally beginning to show itself. Check back for more updates!