95° Today Ends String of Heat Records
This broke the old October 5 record, 92° set way back in 2018. (We tweeted a high of 94° earlier today, then we made it to 95° at 4:26 PM).
[T]oday was the 99th day of 90+ degree days. Yes, we'll pull up just short of 100 90+ degree days and we also never got to 100 degrees on the mercury. I guess that's little saving grace with all of the records we have broken in the last month.

NWS-Nashville, Afternoon Forecast Discussion, 10/5/19
Last call for jumping in the pool in 2019. It all changes Sunday.
Rain & A Few Storms Coming Sunday
Stray showers of little/no concern are possible Sunday morning while one last pool of summery humidity moves in from the south.
The ETA from the HRRR model has varied. It has had morning, early afternoon, and late afternoon arrivals of heavy rain and storms. Now the HRRR model is in line with other models: late afternoon/early evening Sunday ETA.
The HRRR model is my fave for these setups, but it can be off by a few hours, or several hours. No model is perfect.
Other models have a similar idea.
The NAM3 model thinks the Titans game will be unbothered, with only a no-worry stray shower or two, then the heavier rain arrives early Sunday night: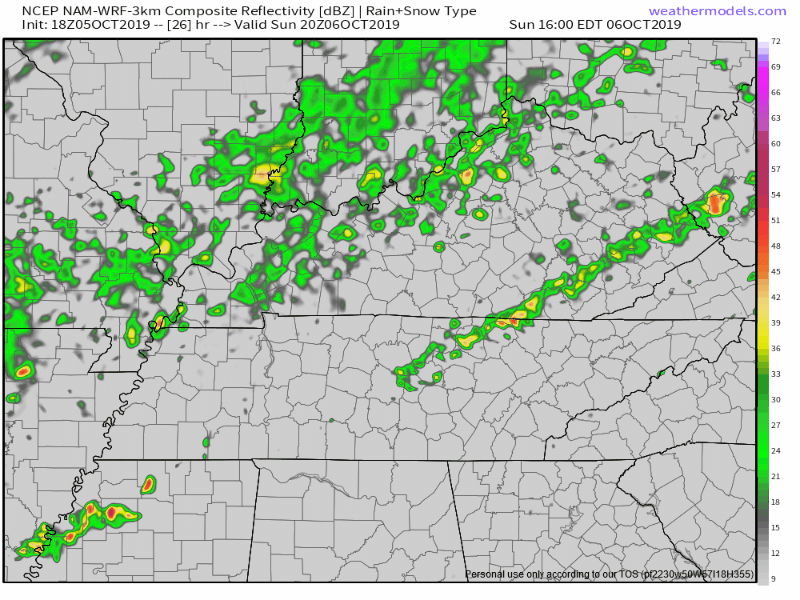 The HREF model agrees the heavier rain and storms will not arrive until 3 PM or after.
Bottom line for Titans fans: Exact hour/location ETA remains challenging, stay connected for forecast changes. Maybe a stray, light shower while tailgating. Heavy rain/lightning chances increase as Sunday progresses. Risky going unprepared for heavy rain, and, yes, even a lightning delay. Pack ponchos & patience. Heavy rain and weak storms will probably 1hold off until after the game, but it's close enough that there are no promises. Choose shoes wisely.
GUT FEELING: We'll finish beating the Bills with the storms not far behind us.
GUT CONFIDENCE: you've just eaten at your favorite restaurant, you've never gotten sick eating there before, but you ordered something you don't usually get and as you're chewing you feel that twinge in your innards, maybe it's nothing, maybe it's something, you think to yourself IDK how my stomach is going to react to this later, when we're done here I better be where I can get to an appropriate place, you know, just in case: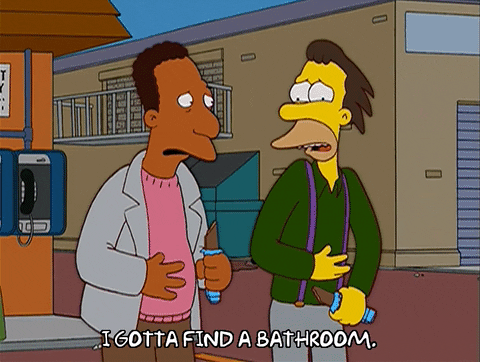 Storms will be possible Sunday. Today the Storm Prediction Center included us in its Sunday outlook for a low-probability risk of severe weather, aka a 5% chance of a damaging thunderstorm wind gust over 58 MPH within 25 miles of you.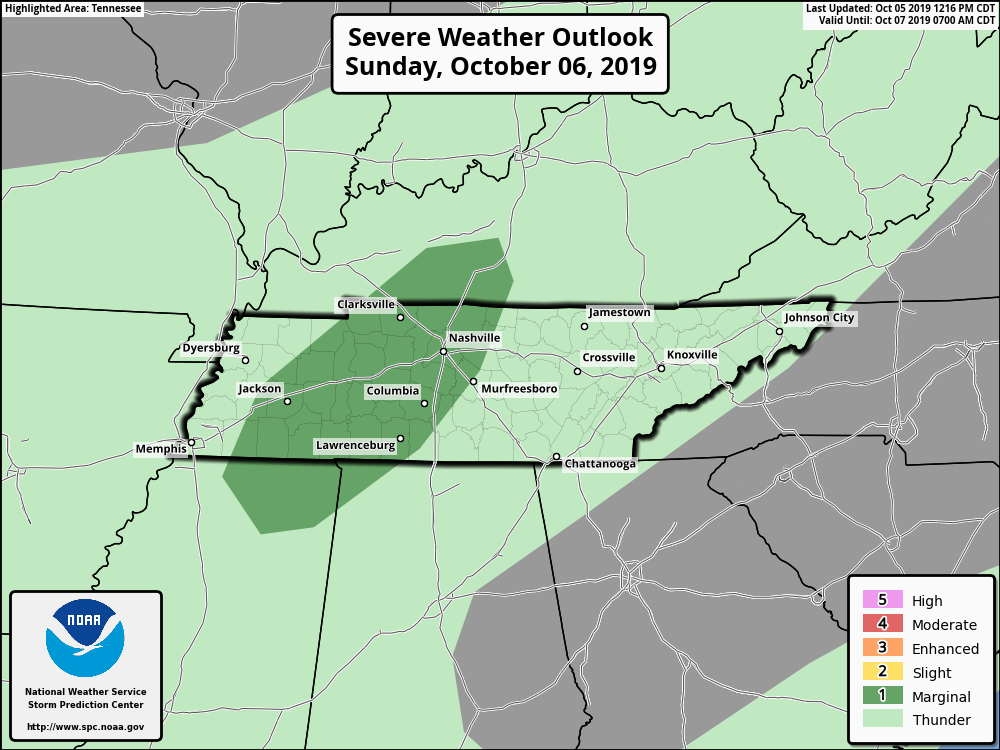 [O]nce we lose the heating of the day, the gusty wind potential will fall off and we should just be looking at general showers and thunderstorms Sunday night and Monday as the [cold] front makes its way through the mid-state.

NWS-Nashville, Afternoon Forecast Dsicussion, 10/5/19
Heaviest Rain Early Monday
Rain should continue at least through Monday morning. We should clear out sometime Monday afternoon or early evening. Total rainfall forecast: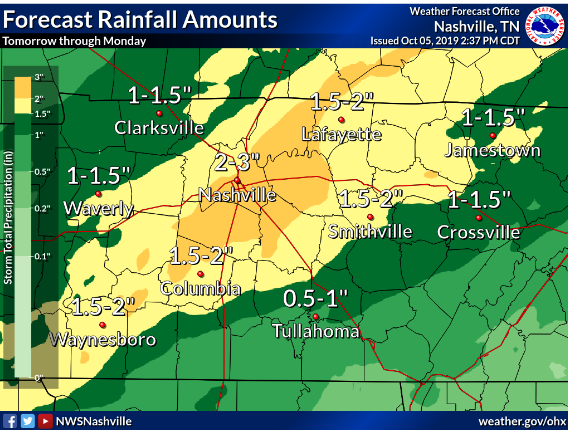 It won't end the drought.
It's going to take more than one weather system to get us out of these dry conditions.

NWS-Nashville, Afternoon Forecast Discussion, 10/5/19
Fall Temps Arrive!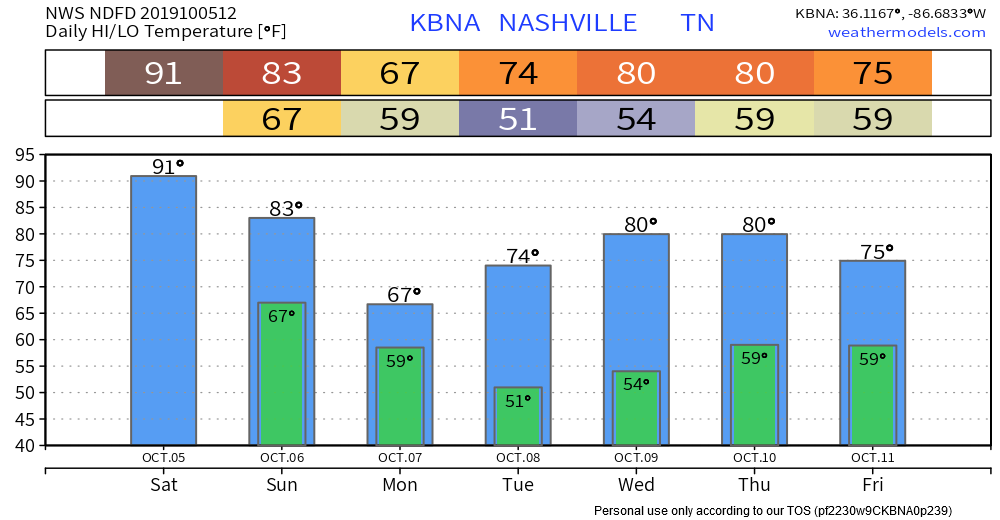 Next rain chance Thursday night or Friday morning. Models are 12 hours apart right now.
After that system comes through . . .
Folks, I do believe fall is on the way as morning lows in the upper 30s in a few spots are starting to creep back into the forecast. We'll temper our excitement for now but it's worth staying tuned.

NWS-Nashville, Afternoon Forecast Discussion, 10/5/19
NashvilleSevereWeather.com/shop & Subscribe to our YouTube Channel.