Sunday
Looks like we have a great day in store for us.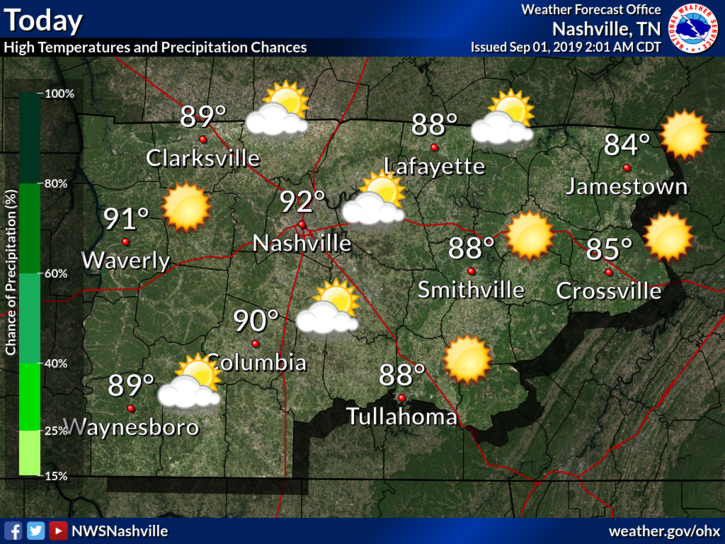 You may feel some stickiness in the air thanks to dewpoint temps in the mid-60s.
Rain? Unlikely, but showers have recently been popping up on the HRRR model: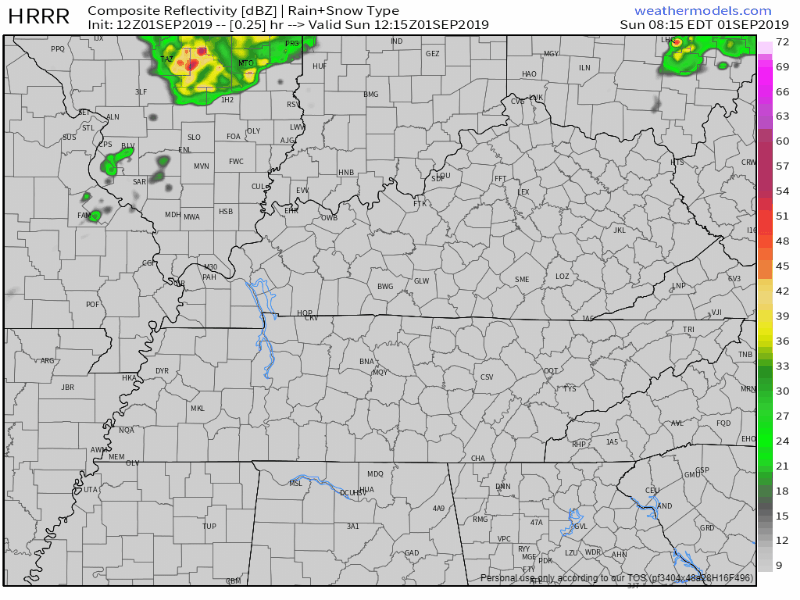 Here's what NWS-Nashville says:
"The upper trough will slide northeastward today, but looks to at least provide enough lift for some partly cloudy skies and even a passing shower. So, should some areas warm up a bit faster early on today, there may be a shower or two that show up on radar… if the trend continues, may need to add mention of precip with a morning update."
Right now, I wouldn't count on showers.
If the trend continues and some do develop, they will be light and short-lived. No frog stranglers.
Tonight is also the final night of this year's LIVE ON THE GREEN music festival.
Tonight's show features some great acts including the headliner Lake Street Dive. Fun starts at 12:30! Just like us, LOTG is free, local, and awesome.
Nice Week Ahead
To sum it up in a quick graphic:
Monday – Wednesday: Sticky and uncomfortable humidity. Bleh.
Thursday – Friday: Relief. High temperatures and dewpoints drop thanks to a cold front.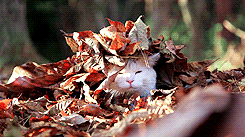 You may feel like this, but believe me, summer has not left. It is teasing us. It will be back shortly.
Next Weekend: Also nice and dry.
Hurricane Dorian Updates
Dorian has now been upgraded to a Category 5 hurricane and will make landfall on the Abaco Islands today.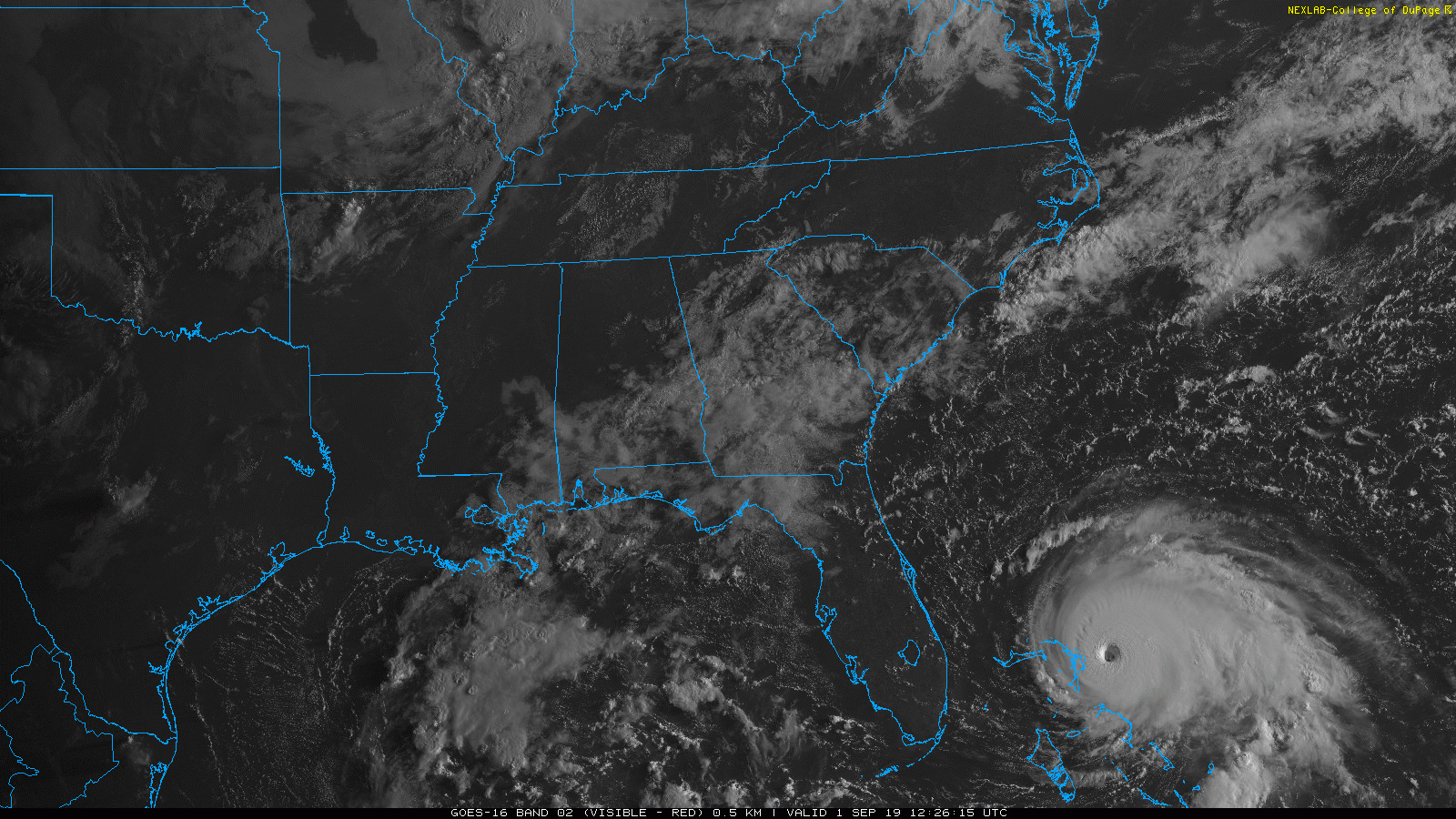 Latest key messages from the National Hurricane Center (NHC):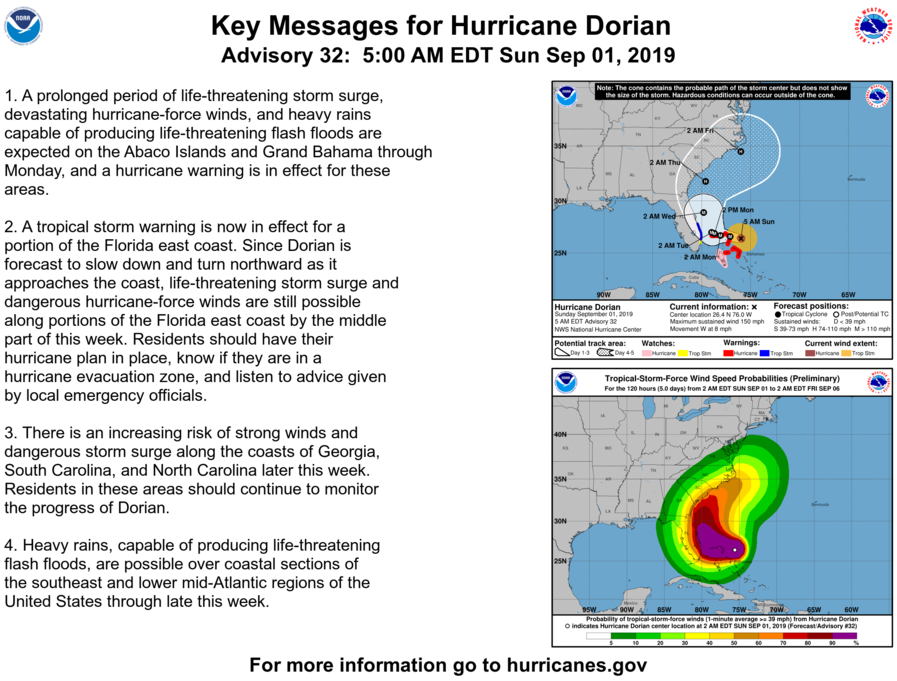 Will Dorian Affect Us?
From NWS-Nashville:
"Dorian looks to be off of the NC/VA coast on Friday, so still looking like no impacts for TN."
Keep checking back for updates!