Today
As of 8:00 AM CST, it may feel a little chilly thanks to a cold front that moved through earlier this morning.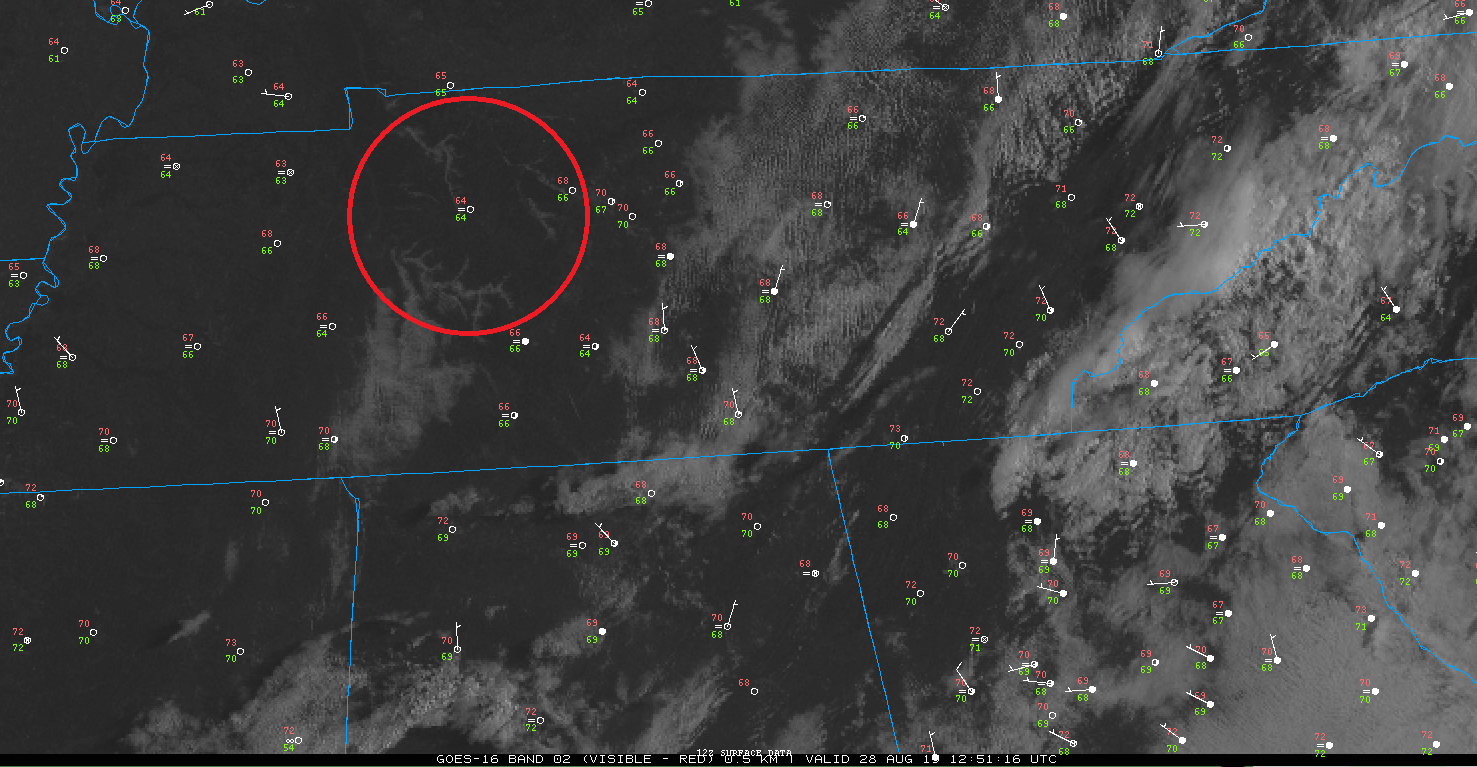 Above you can see our current temperature (number in red) is 70°F with a dewpoint around 67°F (number in green.)
Added bonus: you can see some valley fog settled to our west along the Tennessee River, circled in red!
Any remaining fog is expected to mix out by 9 AM.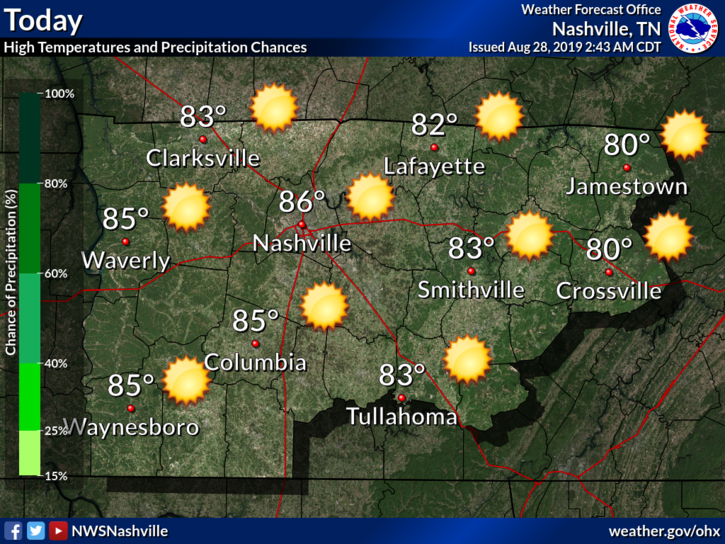 We should remain clear throughout the day, with a high reaching 86°F.
Thursday
Tomorrow should be nice as well, again with a high near 86°F.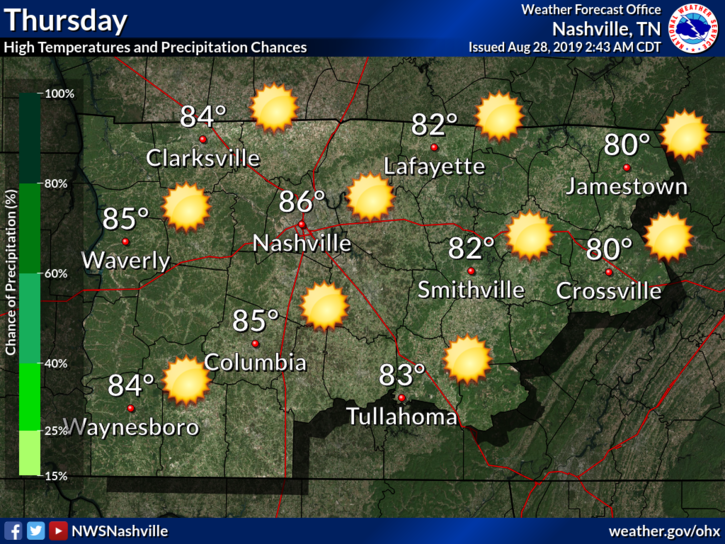 This air we have is relatively dry, with dewpoints in the low-60s or possibly in the upper-50s.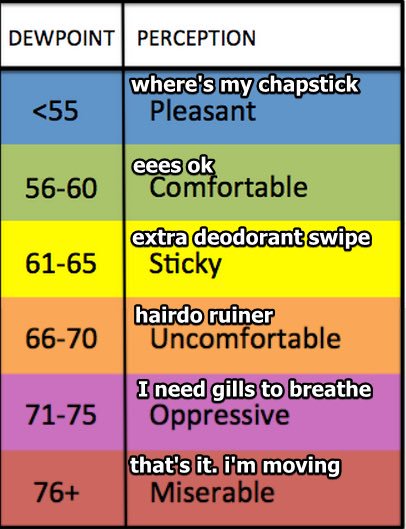 I greatly welcome fall-like weather at the end of August. Perfectly fine with me.
Friday into the Weekend
Our temperatures bounce back up to something more typical for the time of year.
More moisture will also begin to seep up into our area from the south.
This will put dewpoints back into the low to mid-60s.
Extra Tid-Bits
Tropical Storm Dorian is of interest through the weekend as well.
This is the current track the National Hurricane Center has on it, as of 8 AM AST.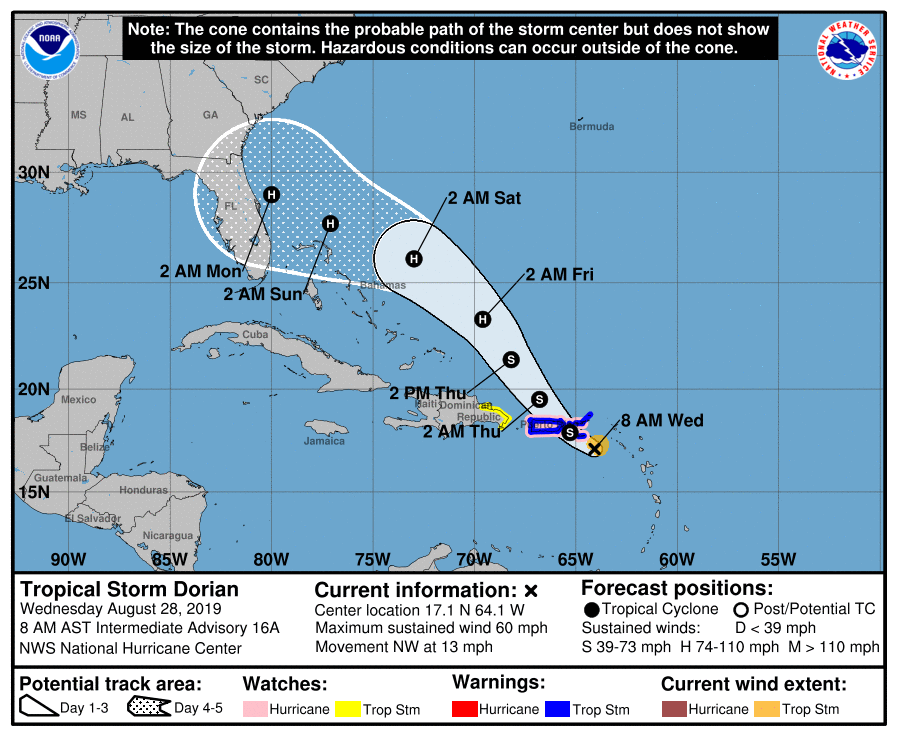 NWS-Nashville:
The bigger wx news for this weekend will be Tropical Storm Dorian, expected to increase to hurricane strength while on approach to Florida. We do not expect impacts here in Middle Tennessee with Dorian projected to start moving up the east coast on Labor Day. But that track forecast is several days out and could change, so if you have travel plans for Florida, or anywhere across the southeast states, you will want to keep up with the latest forecasts.
So we don't have to worry about any impacts here. But if you plan on traveling south-east, be sure to keep up with this storm.
As always, check back for updates to the forecast!
---