Wednesday
Another hot and steamy day is on tap as winds from the south continue to pump hot and humid air into the region. High temperatures will top out at 96 degrees with heat index values between 100 and 104. This is right below the threshold for a Heat Advisory, but it will still be oppressive out there.
Here are some heat safety tips to remember: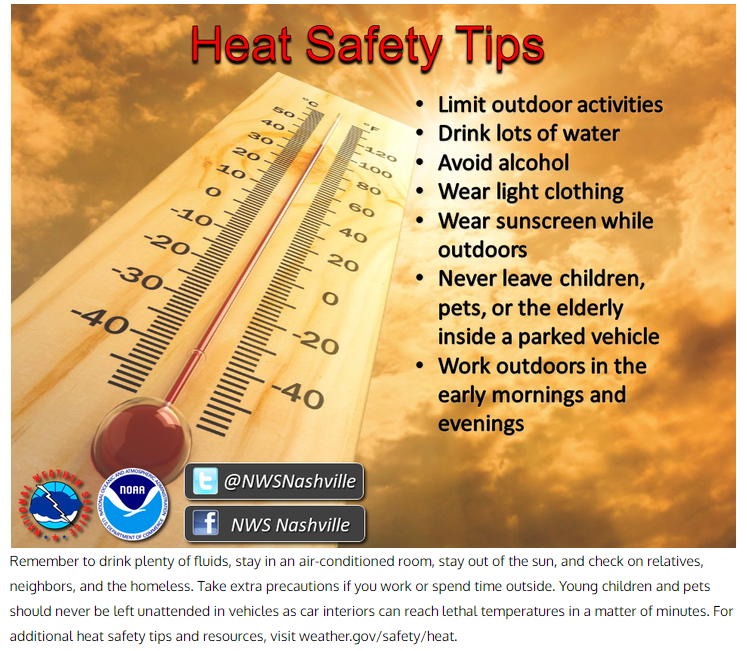 A few isolated showers and thunderstorms may develop this afternoon due to the combination of the heat and humidity, although we do not expect anything significant, as that will come Thursday and Friday.
The latest run of the HRRR shows almost nothing across the Middle Tennessee region, but remember that models are not perfect and in this summer pattern, an isolated thunderstorm could pop anywhere.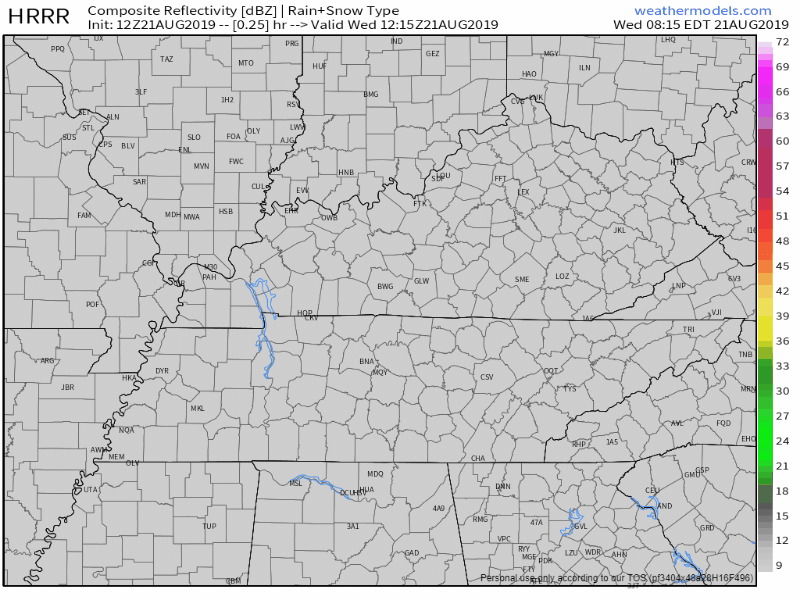 The latest NAM3 model agrees with the HRRR: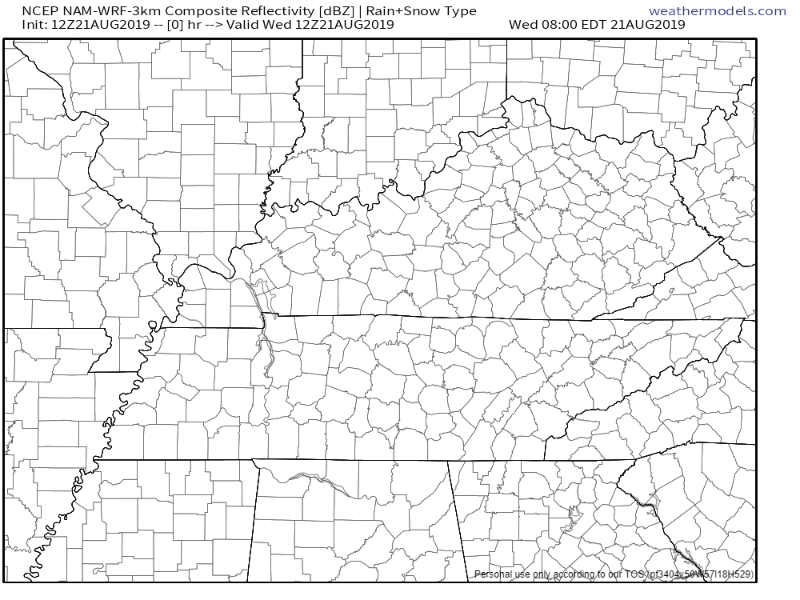 Thursday and Friday
A cold front will gradually drop south into the region bringing showers and thunderstorms. Temperatures will also be on the decline with a high of 91 Thursday and only 87 Friday, but dew points will still remain in the 70s.  Outdoor plans will most likely be altered, especially during the afternoon.  Here is the latest from the National Weather Service:
By Thu morning, cold front drops into the northern TN valley and moisture advection gets into gear. We are likely to see isolated showers/storms tonight, but later Thu is when more widespread development will begin. And right now it looks as if we will stay in this unsettled pattern at least into early next week.
Here is the NAM3 model for Thursday showing a line of showers coming through in the morning, along with storms firing in the late afternoon.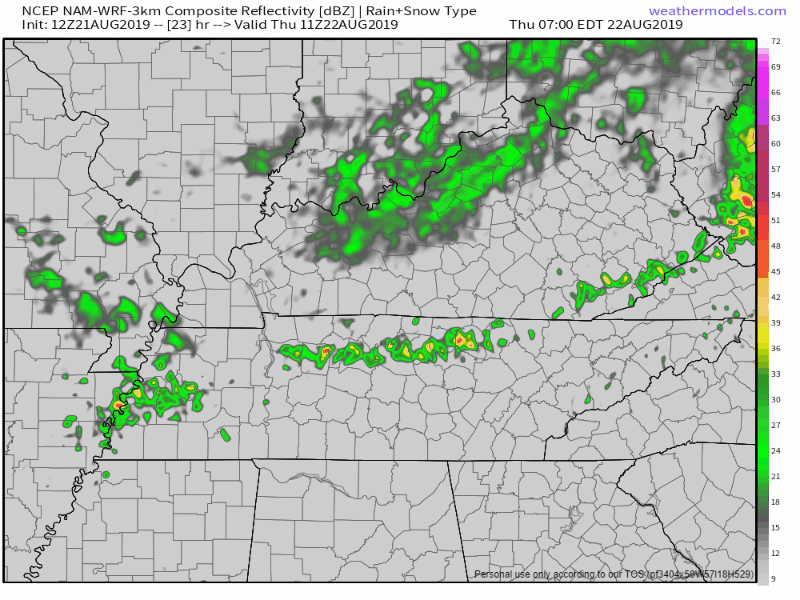 For those going to the festivities at Live On The Green in Public Square Park, you may want to grab a rain jacket just in case.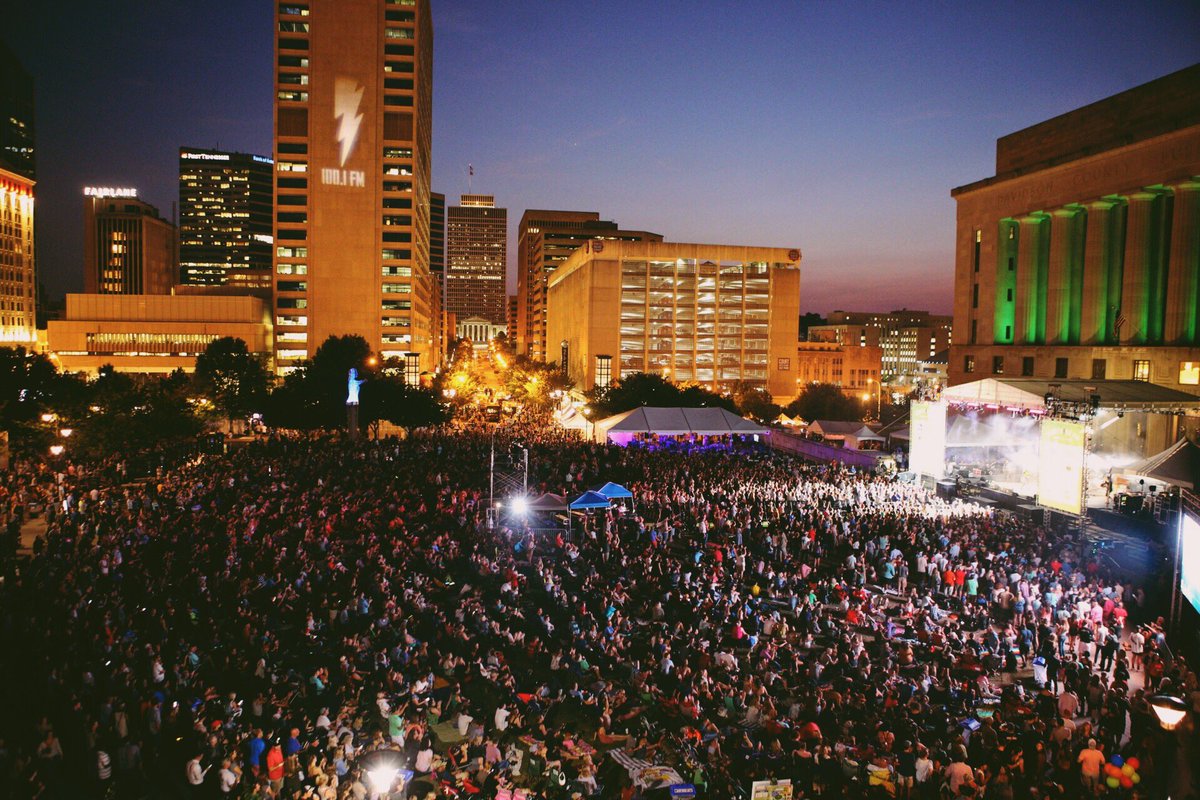 Weekend
The weekend looks to be unsettled as a frontal boundary stalls across the state, providing a focus for daily showers and thunderstorms. No specific ETAs but outdoor plans may be spoiled.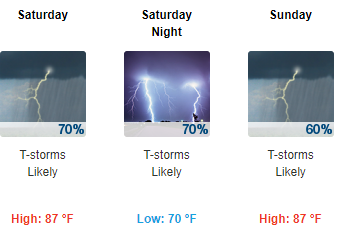 Stay cool and be sure to check back for updates!