Hot Tuesday
The heat index should reach 105° just west of us. They get the Heat Advisory. We don't.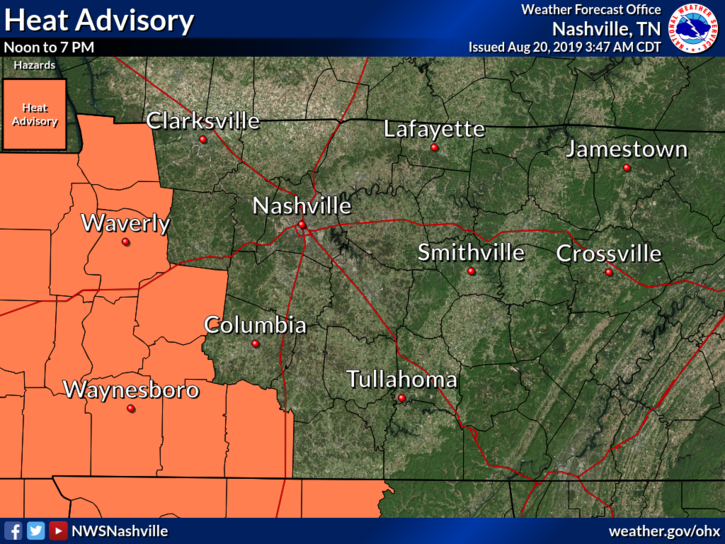 We just missed out.
Our heat index should reach up to 104° in Nashville & Will Co today, thanks to the combination of our high temperature of 96° and dewpoint values in the low 70s.
Tuesday's Rain Chances
TWO TYPES
First, pop up, slow moving storms by late afternoon – early tonight are possible. Exactly where is anyone's guess.
Second, tonight storms will drop south from the Ohio River, southeast through Kentucky, in our direction. For these the Storm Prediction Center thinks those north of I-40 have a "Marginal" (1/5) risk for some strong to severe storms this afternoon. This includes potential for damaging wind gusts. Storms should weaken on arrival, and will probably be no big deal. We will watch it today.
WEATHER MODELS, POSSIBLE TIMING
The HRRR model shows both types. First, isolated storms popping up after 2PM, then (#2) more widespread showers and storms arriving between 8PM-9PM, but weakening as they approach the area: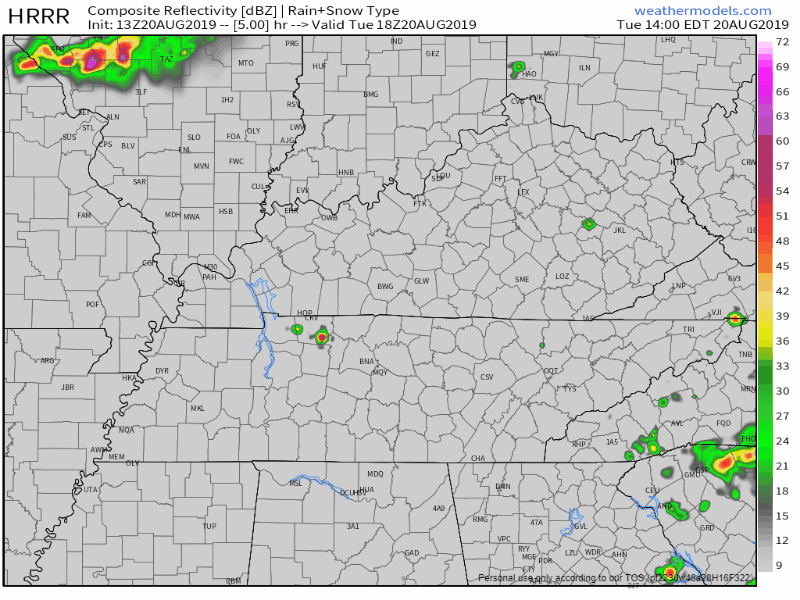 The NAM3 model predicts the storms will be a bit stronger than the HRRR predicts, but still weakening. NAM3 ETA about the same as HRRR, 8PM-9PM:
Be flexible on timing. Models often do a bad job timing these I-24 specials.
Rest of the Workweek
Wednesday we don't get too much of a break from this heat, as the heat index could be 100°-105° once again. Expect randomly placed showers and storms during the evening hours and into the early morning hours: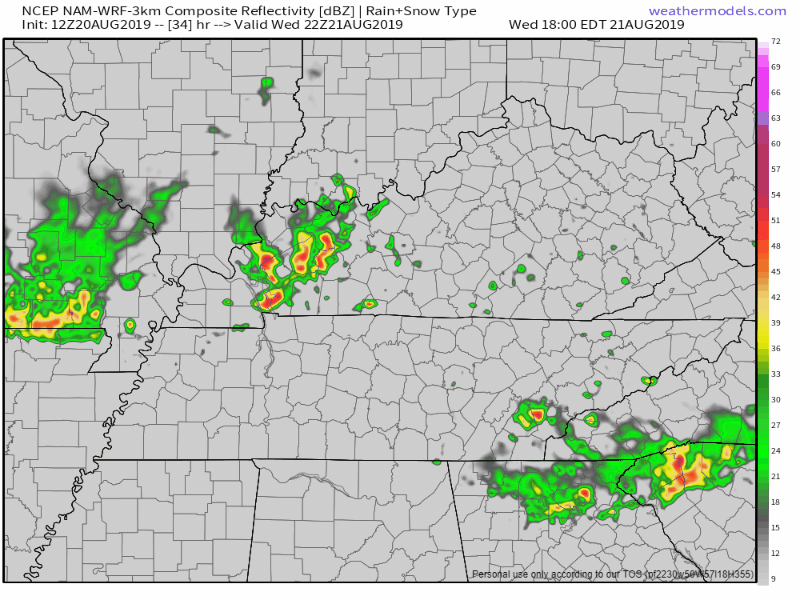 Thursday and Friday we get a break from the heat thanks to a cold front coming from the North. The tradeoff is an increase in rain.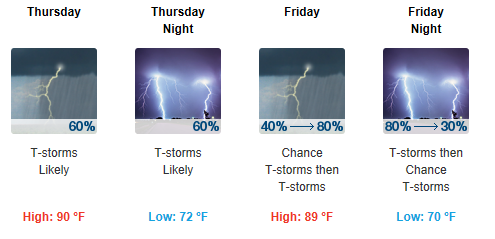 Highs stick around the low 90s, and mainly isolated showers for Thursday and more widespread rain on Friday, especially Friday night.
This could cause some problems for those of you heading out to the Live On The Green musical festival on Thursday, so you're may need an umbrella and maybe rain boots if you're heading out to Public Square Park this week, just to be safe.
.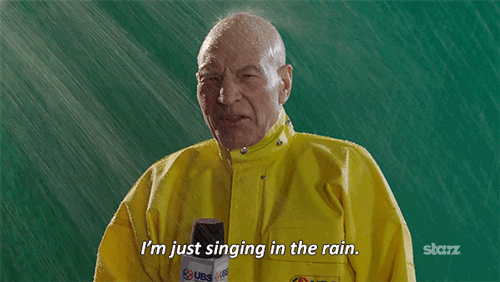 The Weekend
The sun returns to us for some of the weekend. Cooler temperatures, in the upper 80s. 
A chance for some summer afternoon pop-up showers are possible. For those of you heading out to Nissan Stadium to watch some preseason action against the Steelers, there is a chance for some showers, but lots of uncertainty for now. Models are flipping back and forth and we're still a few days out so this could change of course.
Editor's Note: that guy in the red hat, far left, has never seen Remember the Titans.
As always check back for more updates!