Monday
As the ridge of high pressure over Texas moves eastward into the lower Mississippi Valley today, temperatures will climb several degrees above normal. Dew points rise into the mid and upper 60s.  It will be a mostly sunny and hot afternoon with high temperatures around 95. Heat index readings will be between 100 and 105 degrees which will make it feel quite hot and oppressive.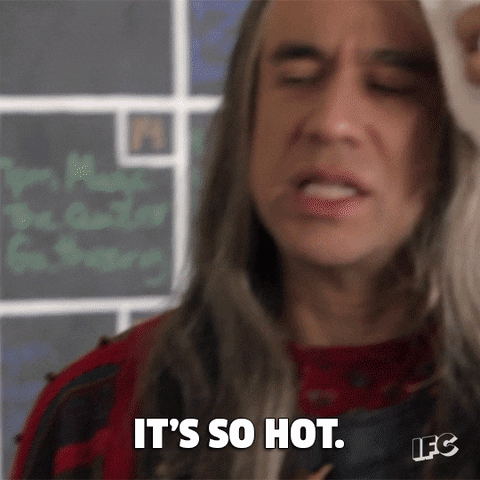 Tuesday – Heat Advisory in Effect
Tuesday will be the hottest day with some strong afternoon thunderstorms across Middle Tennessee. High temperatures will be around 97 with dew points in the mid 70s will allow for dangerously hot conditions as heat index readings reach between 105 and 110 degrees.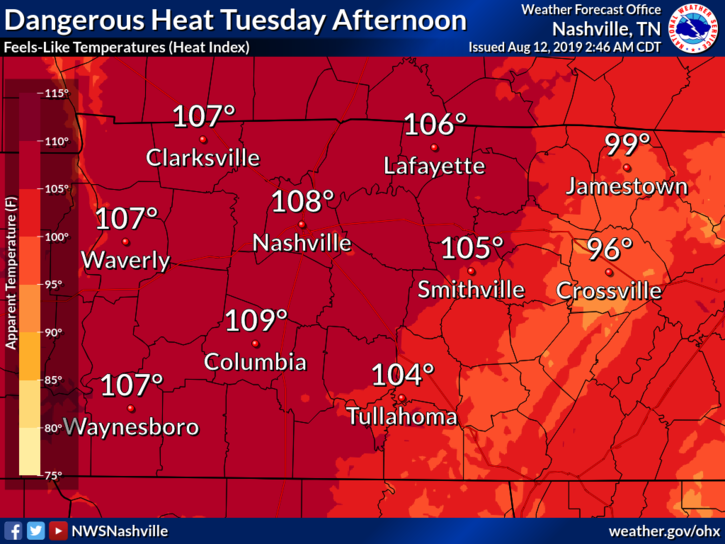 A Heat Advisory has been issued by NWS for Tuesday as heat index values climb above 105°. Here are their recommendations:
THE COMBINATION OF HOT TEMPERATURES AND HIGH HUMIDITY
WILL COMBINE TO CREATE A SITUATION IN WHICH HEAT ILLNESSES ARE
POSSIBLE. DRINK PLENTY OF FLUIDS, STAY IN AN AIR-CONDITIONED
ROOM, STAY OUT OF THE SUN, AND CHECK UP ON RELATIVES AND
NEIGHBORS.

   TAKE EXTRA PRECAUTIONS, IF YOU WORK OR SPEND TIME OUTSIDE.
WHEN POSSIBLE, RESCHEDULE STRENUOUS ACTIVITIES TO EARLY MORNING
OR EVENING. KNOW THE SIGNS AND SYMPTOMS OF HEAT EXHAUSTION AND
HEAT STROKE. WEAR LIGHT WEIGHT AND LOOSE FITTING CLOTHING WHEN
POSSIBLE AND DRINK PLENTY OF WATER.

   TO REDUCE RISK DURING OUTDOOR WORK, THE OCCUPATIONAL SAFETY
AND HEALTH ADMINISTRATION RECOMMENDS SCHEDULING FREQUENT REST
BREAKS IN SHADED OR AIR CONDITIONED ENVIRONMENTS. ANYONE OVERCOME
BY HEAT SHOULD BE MOVED TO A COOL AND SHADED LOCATION.   HEAT
STROKE IS AN EMERGENCY, CALL 9 1 1.
Storms
As a cold front approaches from the northwest, showers and thunderstorms are expected to develop across the Middle Tennessee region during the afternoon.  The high temperatures and dew points will provide a lot of storm fuel available and some of the storms could turn severe.  Main threats will be damaging wind gusts of 60 mph or more, flash flooding from heavy downpours, and some small hail.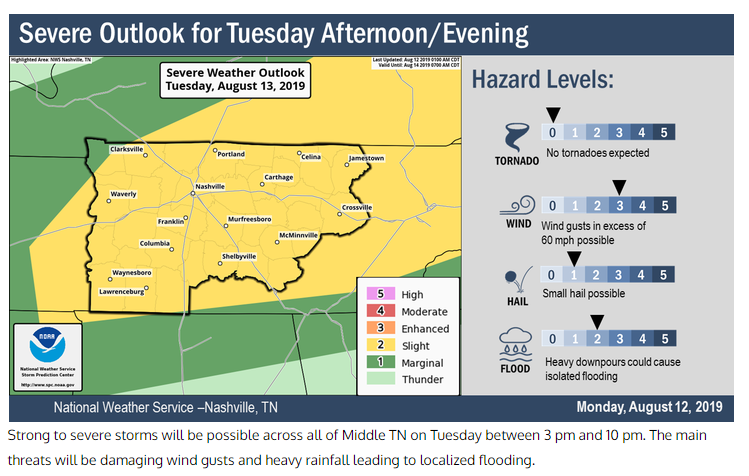 Here is the latest HRRR model showing the storms firing up in that 3-10 PM timeframe: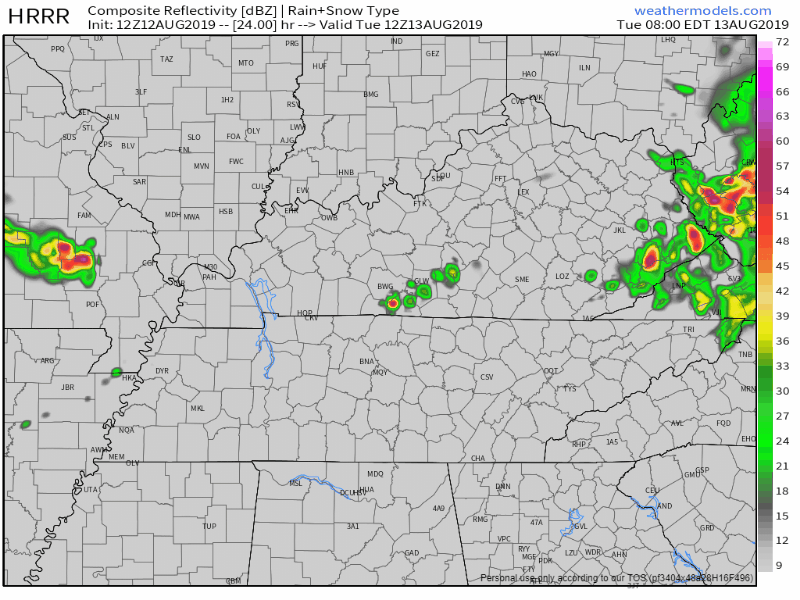 Rest of the Week
Turning cooler and less humid with plenty of sunshine Wednesday through the end of the work week.

Stay cool and check back for updates!